We use affiliate links. If you buy something through the links on this page, we may earn a commission at no cost to you. Learn more.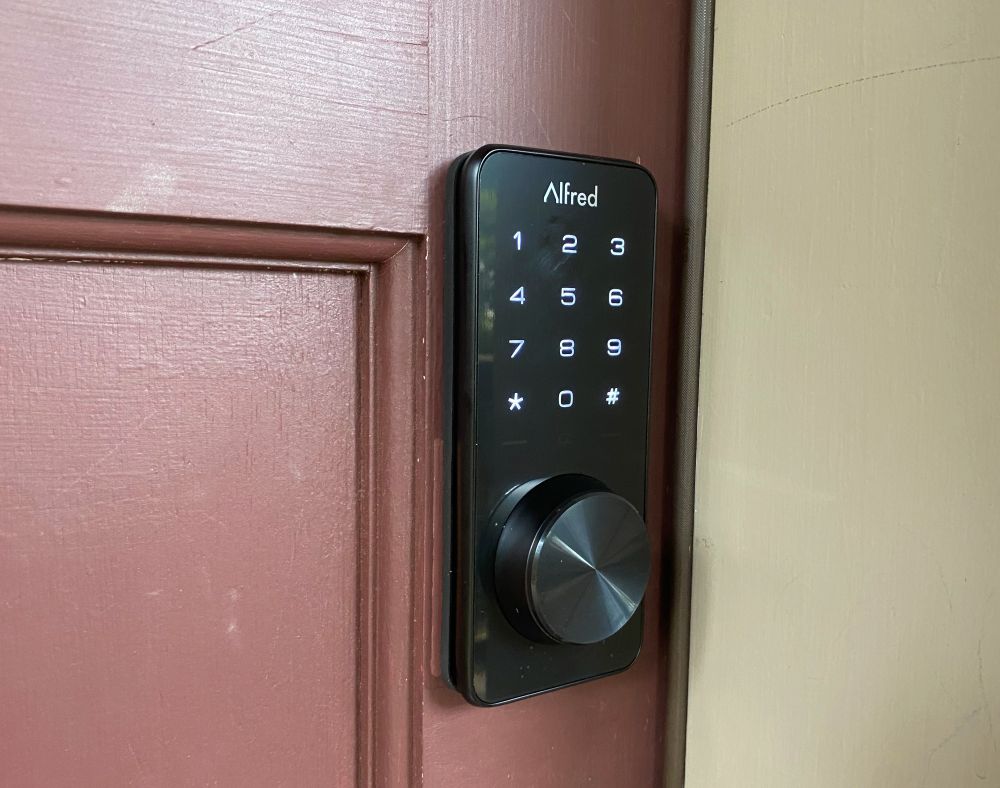 REVIEW – Do you still carry keys? These days the only keys I use regularly are for my e-bikes and bike locks. When you don't need to carry keys daily, it can be hard to remember to grab them on the way out. Your choices are to come up with a way to remember, or see if you can eliminate keys completely. The house and car are usual holdouts. App-enabled deadbolts are pretty commonplace, but a new one from Alfred up for review recently caught my eye. Can it remove a key from your ring?
What is it?
The Alfred DB1-B is an app-enabled smart lock that replaces a standard deadbolt on an entry door.
What's in the box?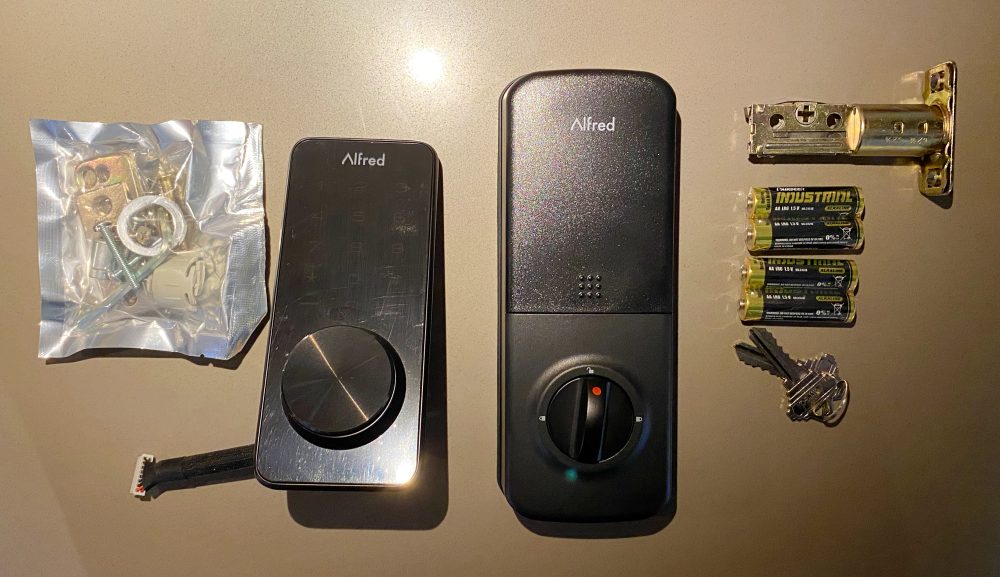 From left to right above
Hardware kit
External face of Alfred DB1-B smart lock
Internal side of Alfred DB1-B smart lock
Adjustable deadbolt
AA Alkaline batteries (4)
Keys (2)
Printed material – Installation guide, door installation template, App infosheet, programming instructions and Bilt infosheet.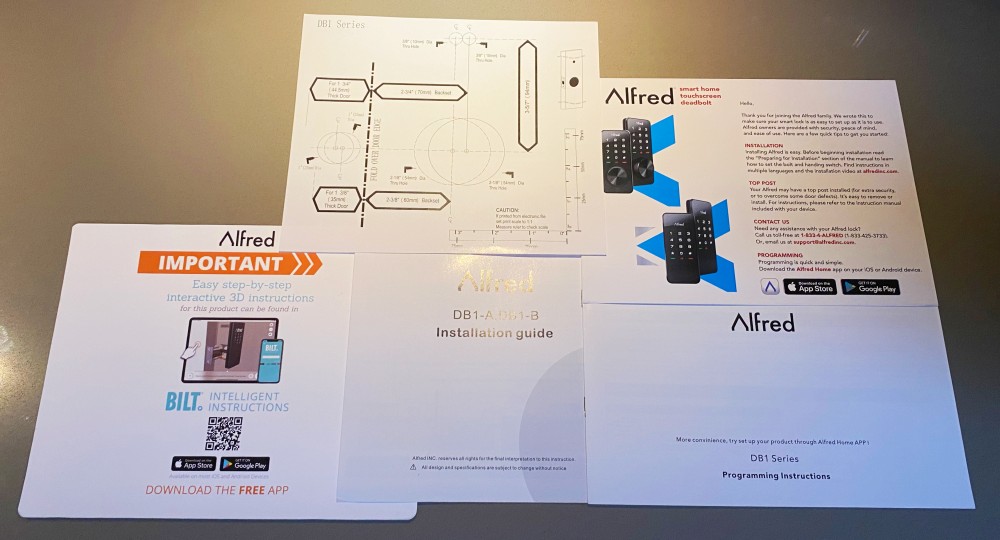 Hardware specs
Finish: Black only
Latch Bolt:Adjustable 2 3/4", 2 3/8″ backset, 3 faceplates square corner/round corner/drive in
Hand: Left or right (reversible)
Emergency: 2 keys included and emergency power port
Keypad: Standard 12 button layout
Pin Code: 4-12 digits
Door Thickness: Fits doors 40-60mm thick
Smart: Bluetooth and app enabled
Design and features
Alfred's DB1 is super clean visually and somewhat uncharacteristically for door hardware, only available in black. It's very stealth, especially with the "dead front" design where you can't see the keypad until activated. Additionally, what looks like a rotary input knob is actually a swivel cover for a traditional key.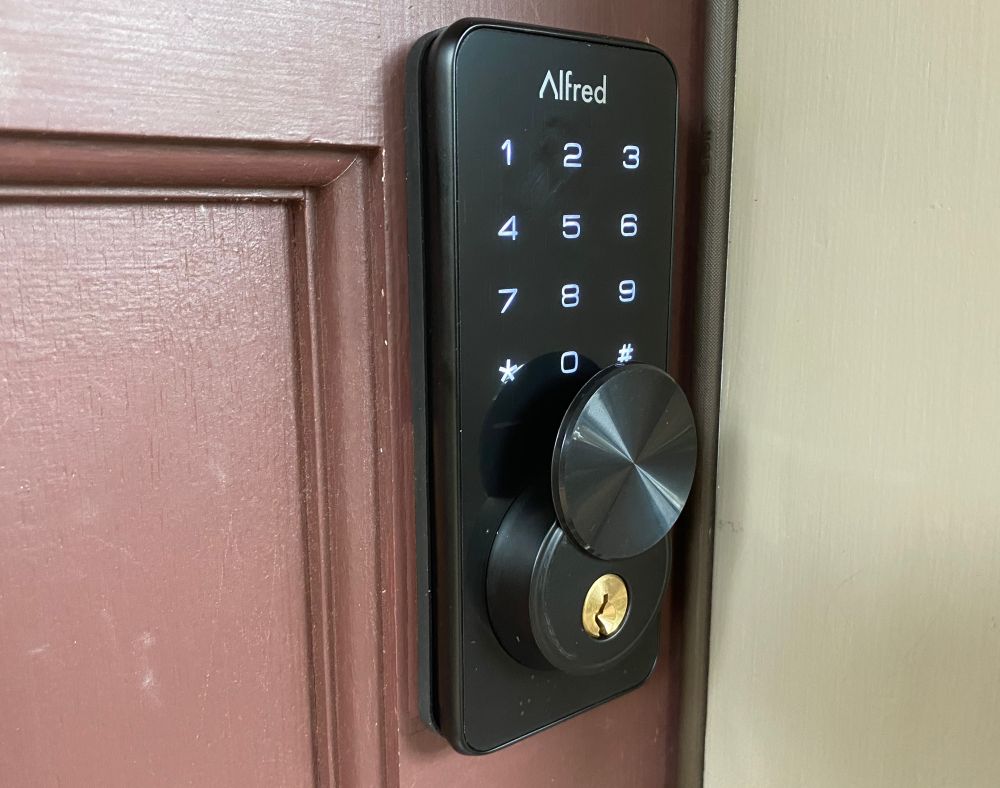 Alfred also makes a completely keyless version if you're interested.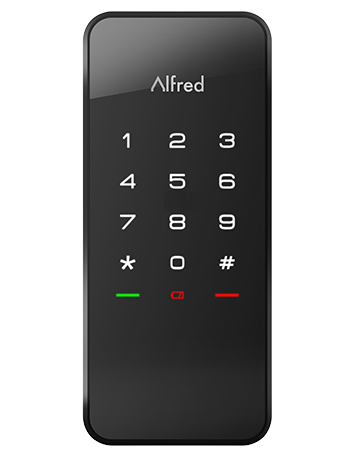 On the inside of the door, a rotary knob lets you lock or unlock manually. The unlock is a center position so that it will install easily on both left or right hand doors.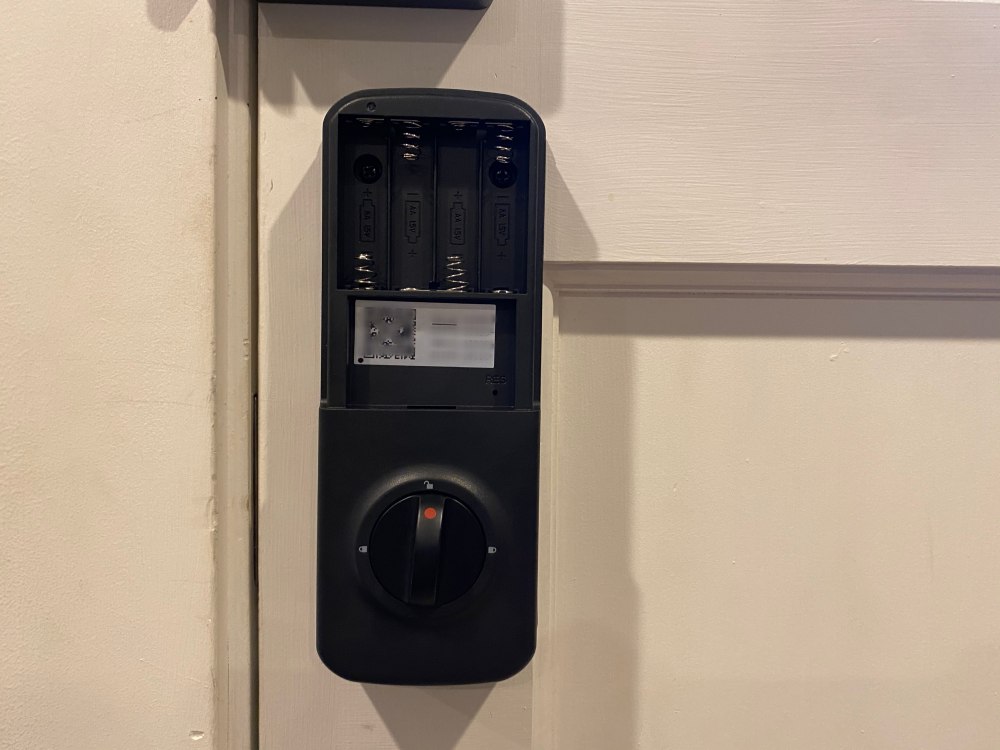 The unit is powered by 4 AA batteries that are included in the kit, and there is an emergency power port on the underside should it be needed.
Alfred includes a pretty solid feature set through the app…
Store up to 20 pin codes
Create multiple users, and assign codes including one-time use and time-sensitive codes
Know who is entering your house and when
Geofencing allows you to open the door without codes if your phone is on you
Z Wave technology built in for connecting to home Smart Hubs like Smart Things from Samsung
The install is relatively involved, but anyone should be able to do this. A couple of quick things to mention up front. First, Alfred has included everything you need to know to be able to install this on a new blank, un-cut door. I'm replacing a deadbolt as I would expect most users would be doing, so skipping that part of the install. Second, do yourself a favor and download the Bilt app that Alfred recommends. It's a step-by-step animated installation app that supports all kinds of brands. I found this super helpful in identifying specific parts and locations.
Okay, so let's get going.
Go ahead and uninstall the deadbolt that is currently on the door. Here's that step on my door (complete with the previous owner's around-the-hardware paint job.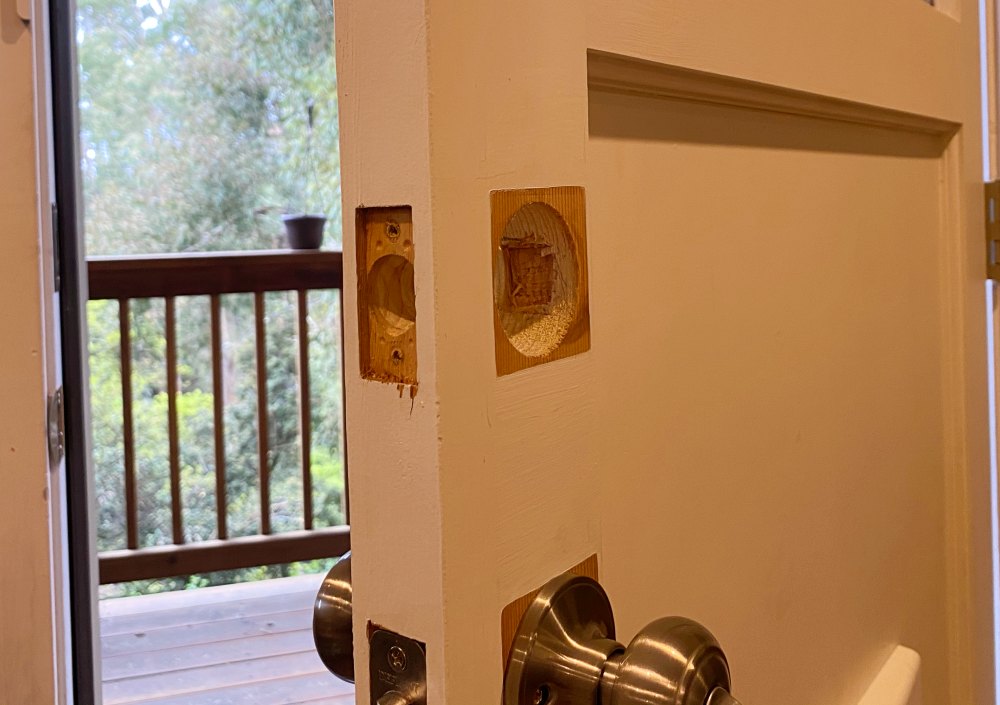 Measure from the edge of the door to the center of the hole and then adjust the new deadbolt to match. Select the right plate to match your jamb-facing door plate (rounded corner is pre-installed, so you'll need to pop that off if you need the squared).

As tempting as it may be to leave your jamb-side deadbolt receiver alone, you'll want to uninstall whatever was there and install the one from Alfred. The combination of deadbolt and receiver can be critical to proper function when being driven electronically. Below you can see the under plate which anchors separately from the finish plate to increase security.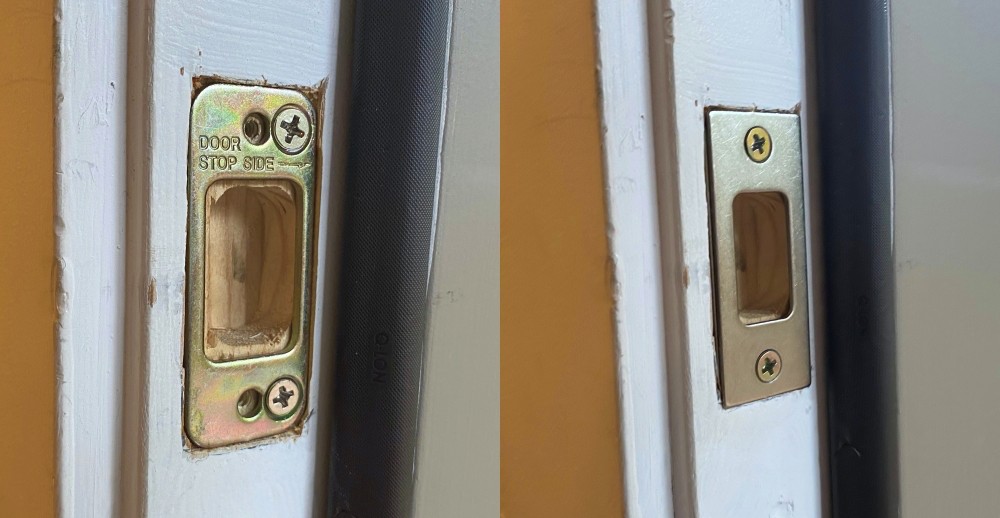 Now you can install the deadbolt and cover plate on the door itself. Once in place, use a flat-head screwdriver in the tumbler to verify that the deadbolt moves freely.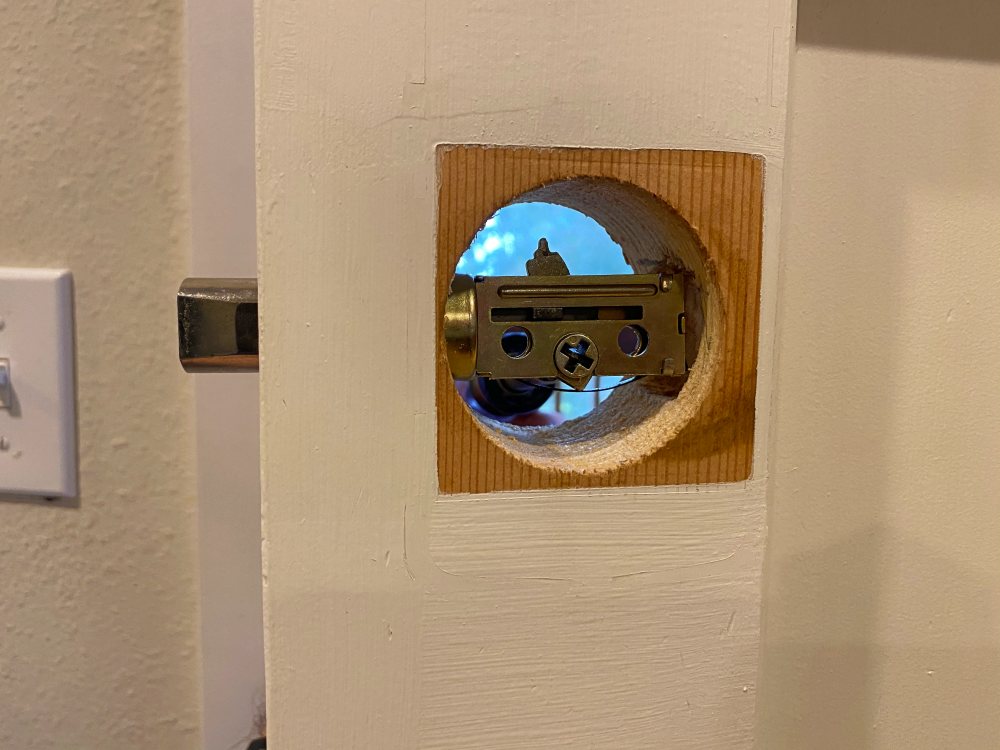 Next up is to install the touchpad on the external side of your door, making sure to feed the cable underneath the deadbolt mechanism and the blade through the center. The blade can free rotate prior to sliding through the door, so make sure that it is oriented correctly (horizontal) for the receiving side to be in the correct position (it's wrong in the photo below).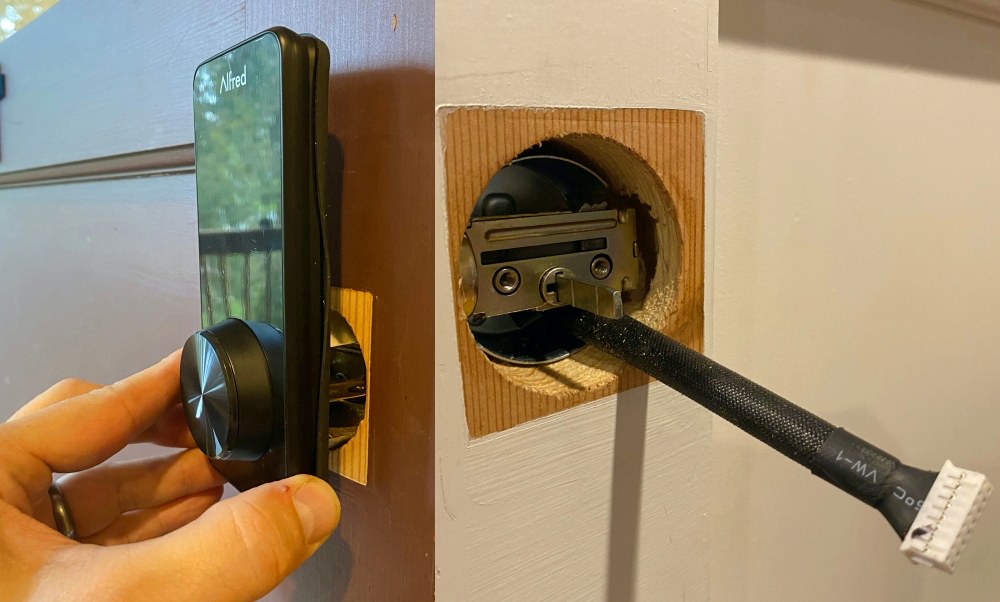 This part is slightly tricky. There's a small round cylinder in the parts bag shown below (noted by the green arrow). This needs to be placed into the rotary receiver with the notches aligned as shown on the right.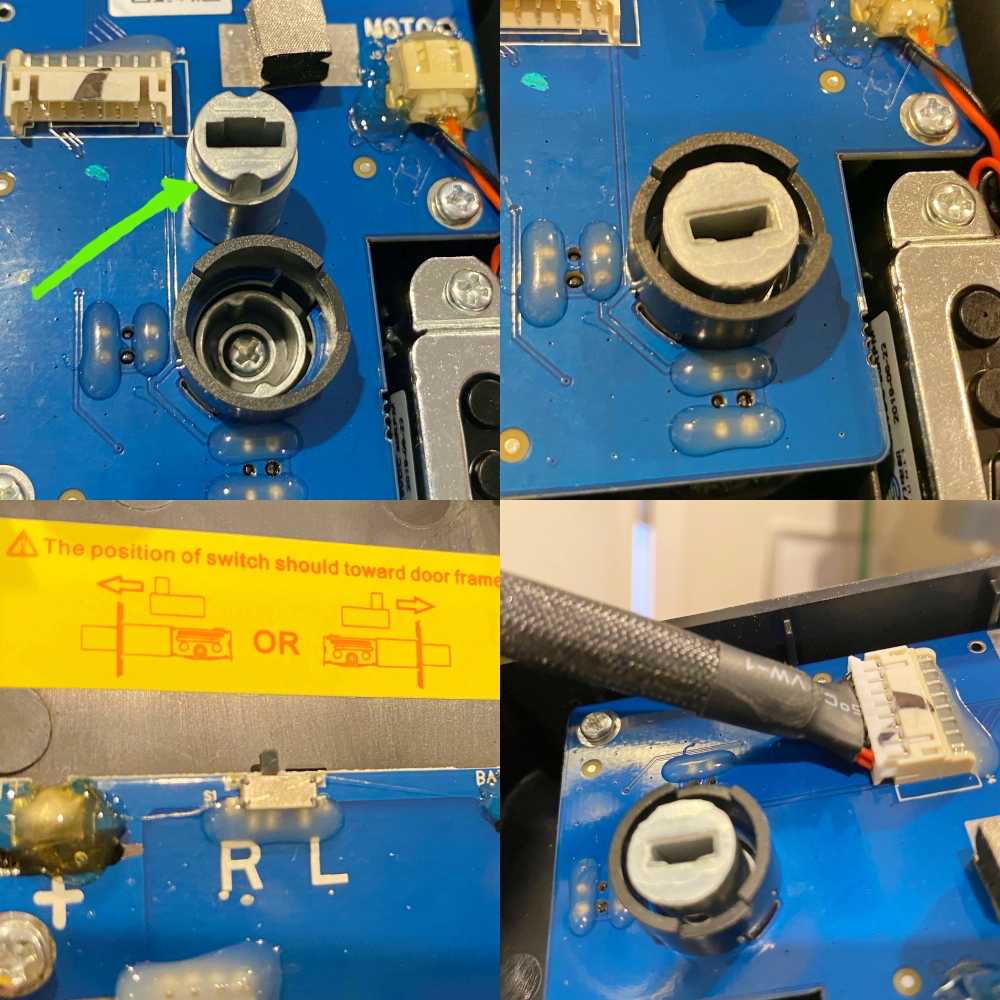 There's also a small switch you need to set specifying if your door is right or left hand close. The side with the sticker faces the door so you have to think 180º from what's shown. Last step here is to connect the cable into the receiver as shown above right.
Now you can install the inside facing panel. This secures with two screws in the battery compartment, and one facing directly down from the bottom that you may need a stubby screwdriver to turn depending on your doorknob placement.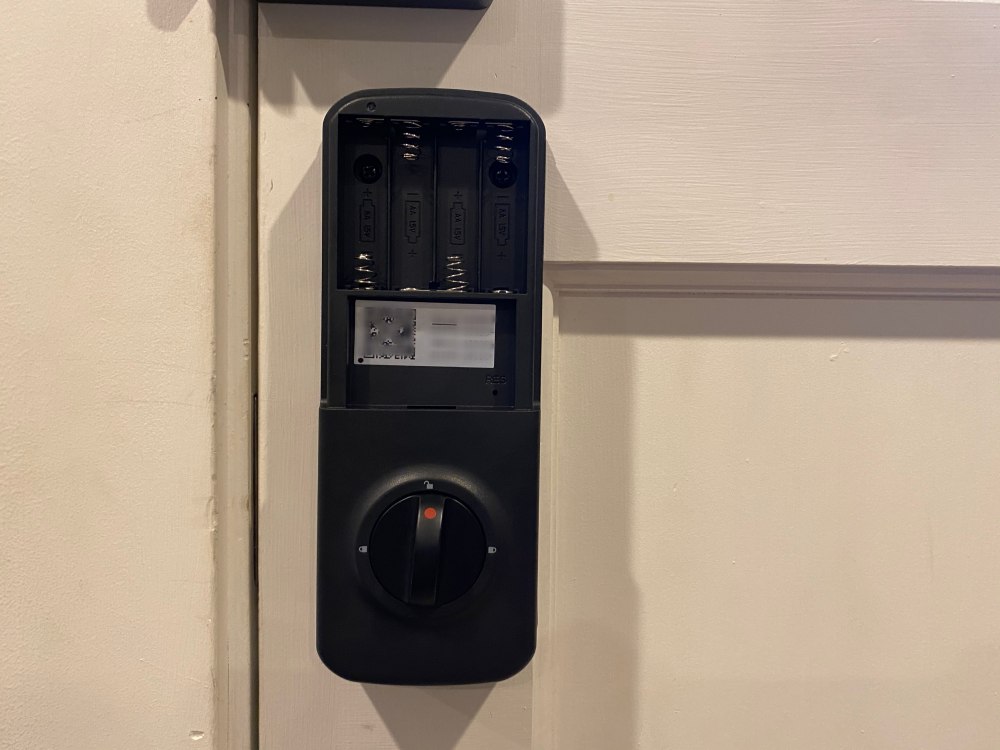 It's now a good time to download the App and get that set up.  Use the QR code on the info sheet or search for Alfred Home in the App store. Once downloaded you'll need to sign up with an email and verify your that address before you can pair your new lock.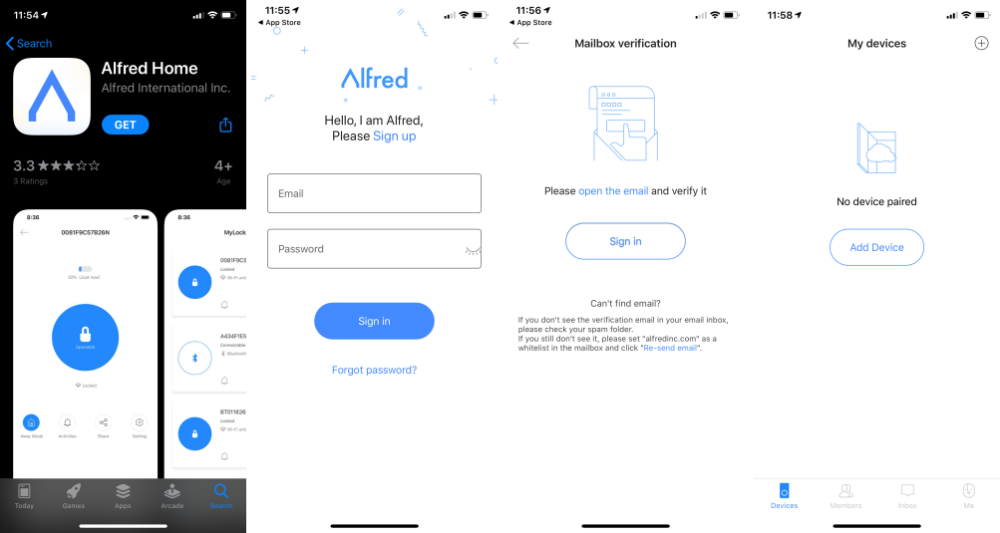 Now you can plave the included batteries in the DB1 and install the battery cover.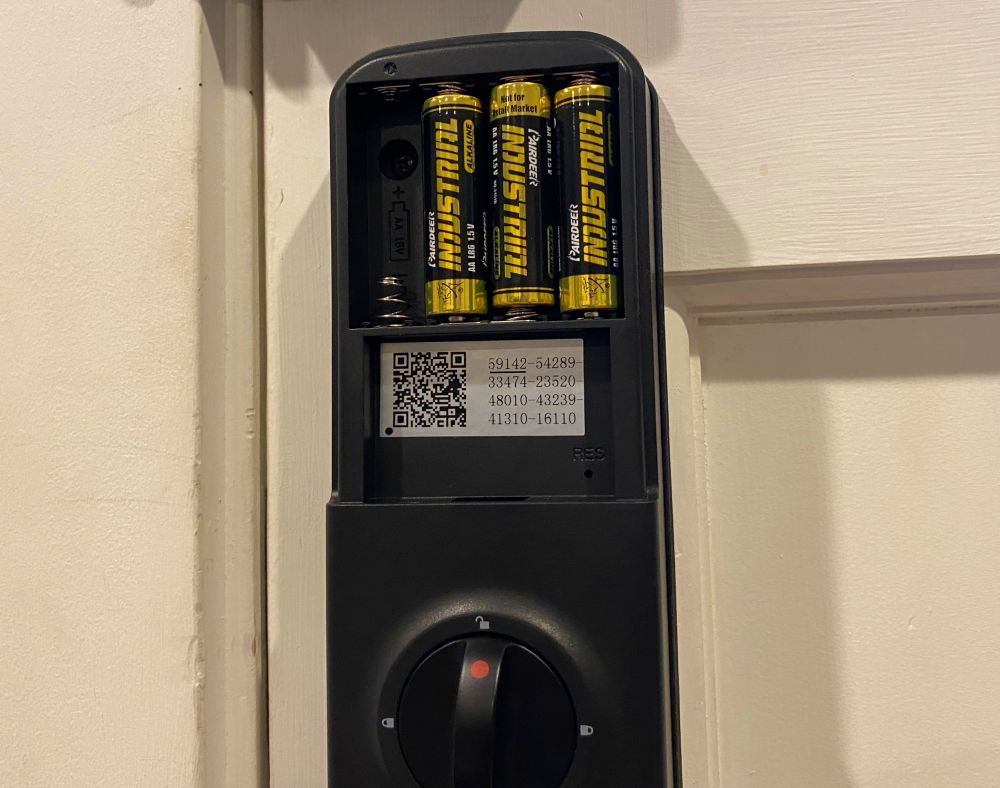 The App will walk you through the rest of the process, but click on Smart Lock, wake up the lock by placing your palm over the display, then choose the lock in the app. It will begin pairing and then ask you to name your lock and set a master code.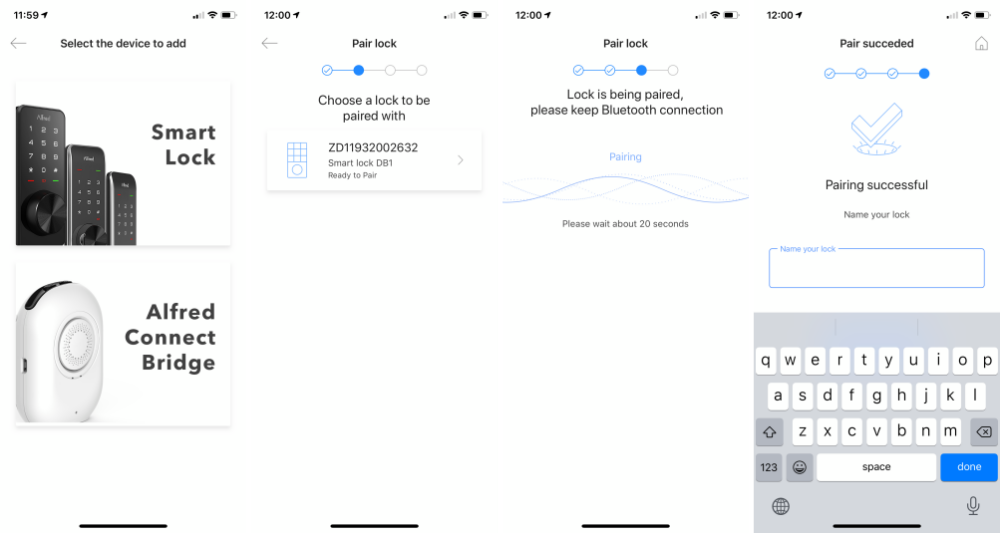 The final step of the install is to make sure that the app can lock and unlock properly. In my case, the manual knob worked fine as did the app unlock, but locking with the app failed. It would try, withdraw the deadbolt and try again, then give up. Turned out that I needed a bit more depth on the receiving side for the deadbolt to fully settle in the locked position. A few quick taps with the chisel to remove another 1mm or so of wood solved the problem.
Performance
With the install done, how does it fit into daily life? Well, the review period has happened to coincide with the California shelter-in-place orders so we haven't been leaving the house much. I also installed this on a separate level of the house that has a single exterior entry rather than the main front door, but that was the point.
Here's what I've learned. The DB1 works great using the code. A quick touch or palm cover wakes it up. Punch in the code and then the # and it unlocks. Press and hold any key to lock again, or manually close it from the inside.
I was excited about the geofencing option that allows you to just touch the lock to open in instead of entering a code. It works as advertised with the exception that the geofenced area is about a 200m sphere. On a main entry where you physically leave the house it works. In my case where you leave that floor and lock the door to spend the rest of the day elsewhere in the house, I never get beyond 200m so it doesn't allow touch-free re-entry. This seems a little odd to me as it shouldn't be too difficult to define a much smaller perimeter to listen for nearby BT. Punching in a code isn't a dealbreaker so I just turned that function off.
There's a couple of other useful modes you can turn on. Away mode deactivates all pin codes except the master code and app access. This is useful if you're fully heading out of town for a while and no-one is stopping by to check on dogs or water plants. Auto-lock mode automatically locks the deadbolt 30 seconds after opening the door. Helpful if remembering to lock the door is a challenge, but potentially an issue if remembering to close the door is your problem. A Power Save mode turns the bluetooth off after 2 minutes until you wake up the again in order to save battery. Unfortunately this mode is not compatible with the One Touch Unlock as it would solve my geofence issue.
I mentioned the emergency power port earlier, but it's a great feature worth covering in more detail. You can see the remaining battery level of the lock in your app at any time, but you may forget to check or may ignore any alerts that the batteries need to be replaced. Alfred planned for this scenario by including a micro-USB port on the bottom edge of the outside panel that faces straight down. Connecting a power bank to this can power it up for an instant unlock if needed.
Lastly, if you need to be able to unlock your door from your phone at a moment's notice you'll need Alfred's WiFi Bridge. It's an additional $49 and it connects to the lock via bluetooth and to your home WiFi network. It's not a requirement as you can always set up an additional access code ahead of time when you're within range of the lock. The WiFi Bridge does enable Amazon Alexa skills like voice control for extra convenience though.
What I like
Easy install process that anyone can do
Clean app interface with good feature set
Beautiful black hardware
What I'd change
More finite range control on the touch to unlock feature
Final thoughts
The Alfred DB1-B is a great value for a smart lock. The pin-code control, multiple users and app integration is well done and it just looks great. I'm hoping a firmware update can improve control over the geofencing diameter to enable some specific use cases. If this sounds good but black is not a good look for your home, take a look at their DB2 which adds some other finish options.
Price: $199
Where to buy: Amazon
Source: The sample of this product was provided by Alfred