We use affiliate links. If you buy something through the links on this page, we may earn a commission at no cost to you. Learn more.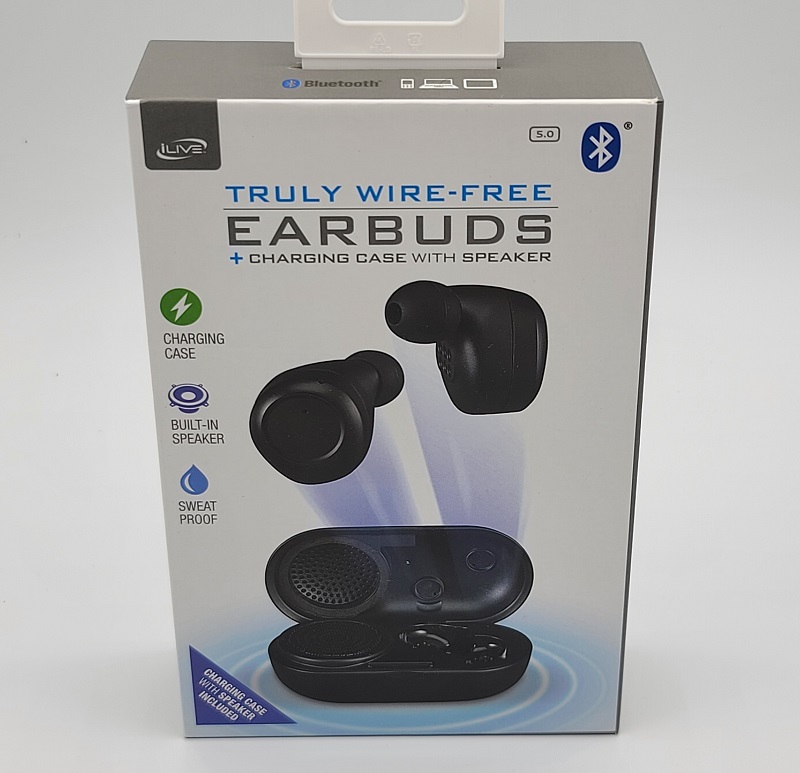 REVIEW – I've owned and tried many different "truly wireless" earbuds over the past few years, but haven't tried one yet that also included a speaker in the charging case.  Will these earbuds be another forgettable model aside from the extra speaker, or will they stand out from the crowded herd of options in this price range?  Let's find out!
What is it?
The Truly Wire-Free Earbuds with charging case and speaker are a set of bluetooth earbuds that you can connect to phones, tablets, or computers (as long as they have bluetooth).  You can use these as either earbuds, or as a portable bluetooth speaker.
What's in the box?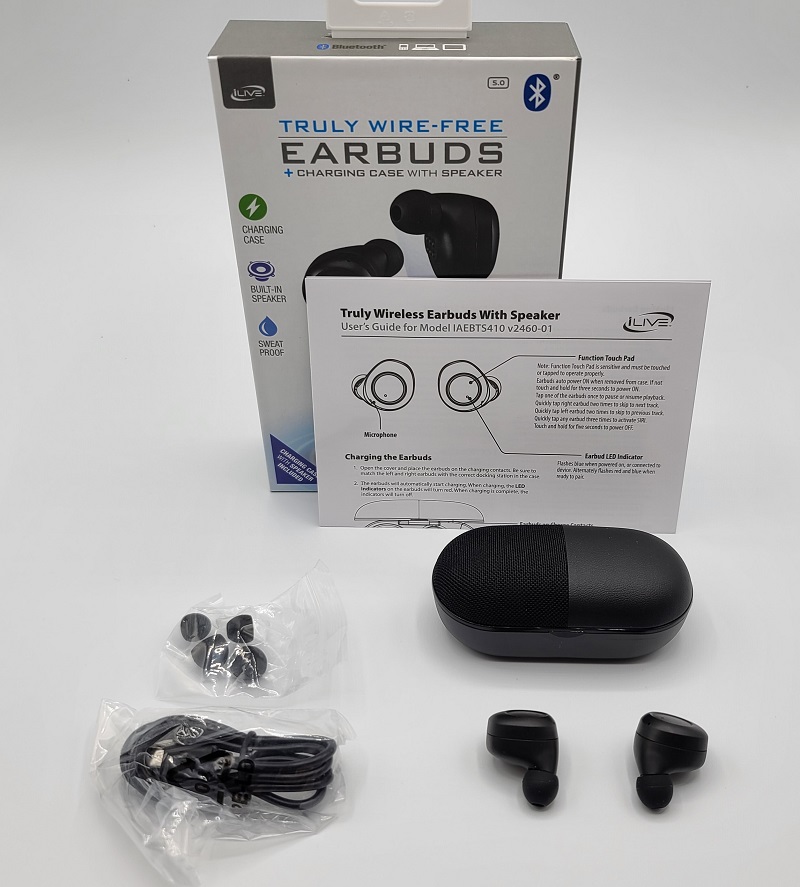 One pair of Truly wire-free earbuds
Charging case with speaker
3 sets of eartips
USB charging cable
User Manual/Guide
Hardware specs
TWS – True Wireless Stereo
Supports Bluetooth v5.0
Built-in Bluetooth Speaker
Sweatproof
Built-in microphone
Driver: 16mm
Frequency response: 20Hz – 20kHz
Nominal impedance: 16ohms
Sensitivity: 98dB +/-3dB
On-ear control: pairing/play/pause/phone answering/on/off
Rechargeable case
Micro-USB port for battery recharge
Charge indicator
LED power indicator
DC battery power: built-in rechargeable lithium-ion batteries
Charge time: 3 hours
Battery life (earbuds): ~6 hours at 50% volume
Battery life (speaker): ~4 hours at 50% volume
Dimensions (earbuds): 1.02 x 1.06 x 0.87″
Dimensions (case): 3.66 x 1.85 x 1.42″
Design and features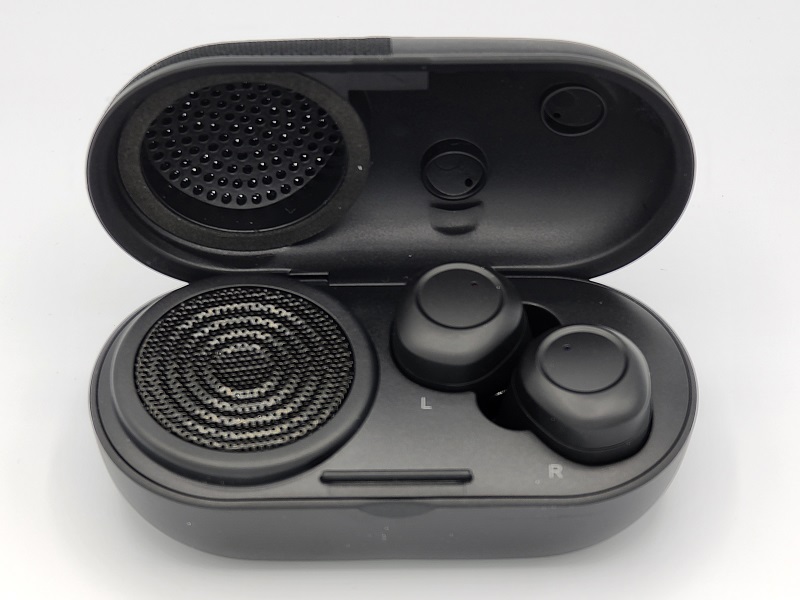 The earbuds come in a charging case (that can recharge the earbuds at least one additional full charge – in my testing they didn't seem to fully recharge twice, roughly once and then 50% more).  The case is fairly compact considering it also includes a speaker, but it's roughly double the size of an Airpods or Samsung Galaxy Buds case.  You can still carry it in a pocket, but you'll notice it.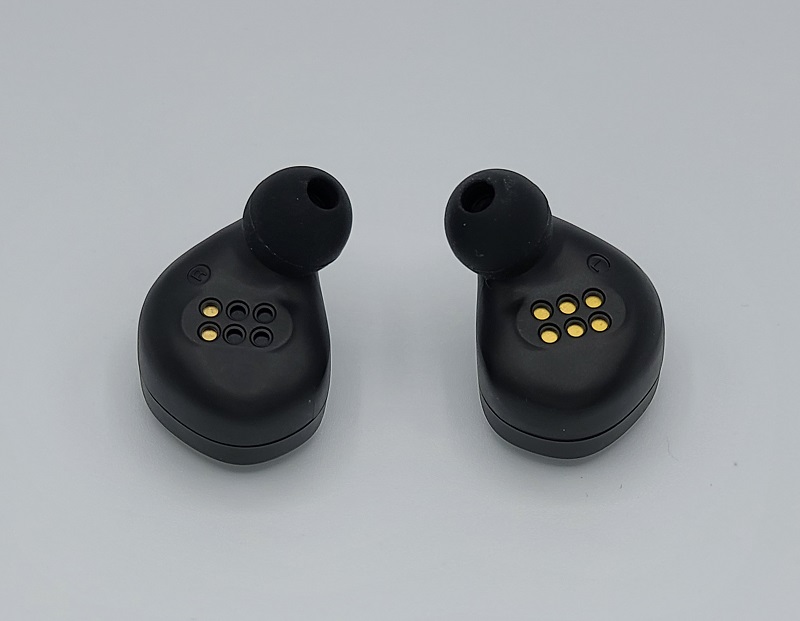 The earbuds themselves are an understated affair.  They're slightly larger than my usual Galaxy Buds, but once fit into the ear they look about the same size.  The fit was good, I was able to wear them for hours with no discomfort.  The multiple tips were nice, I had to use larger ones for my cavernous ear canals.
Installation and setup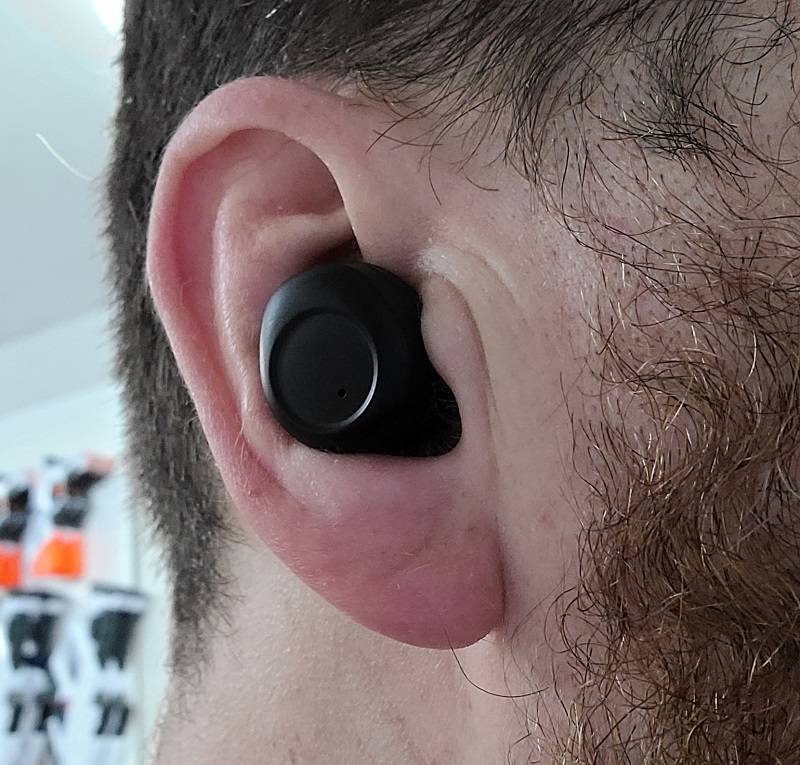 The setup was fairly easy, you pull out the earbuds and hold the single buttons on the outside of each one to power them on.  Once powered on, they automatically pair (confirmed by an in-ear voice prompt).  At this point, you can connect your device to them via Bluetooth, which was just as easy as any other Bluetooth device.  I didn't read the instructions carefully, and powered on one earbud and connected, then the other, which showed up as a second device.  Be smarter than me – just power them both on at the same time.  Fixing my mistake was as easy as powering both off, and then turning them on together.  You can use either earbud standalone, which is great for podcasts and audiobooks.
The sound quality was better than average for this price range.  I was impressed with the full bass: hip-hop and electronic music sounded especially great without being blown out.  The rest of the audio spectrum was good, I could clearly hear vocals and pick out individual instruments in a variety of genres of music.  Increasing volume to the verge of comfort for me happened at about the 80% mark, and nothing sounded distorted or blown-out.  I'm no audiophile, but I could definitely tell the difference between these and most other sub-$100 earbuds.
Call quality was fine, tested with several calls in quiet conditions, and the other parties could hear me clearly, and said I sounded "normal".  One person on the other end said I sounded quiet or distant, but the other said it sounded better than the usual phone quality.
I used these while running and working out, and they did resist a mild-to-medium amount of sweat with no noticeable adverse effects.  They do block a lot of noise if you get a good seal in your ear canal (they sealed very well in my ears, and my partner had to yell at me several times to get my attention after trying to talk to me in the same room).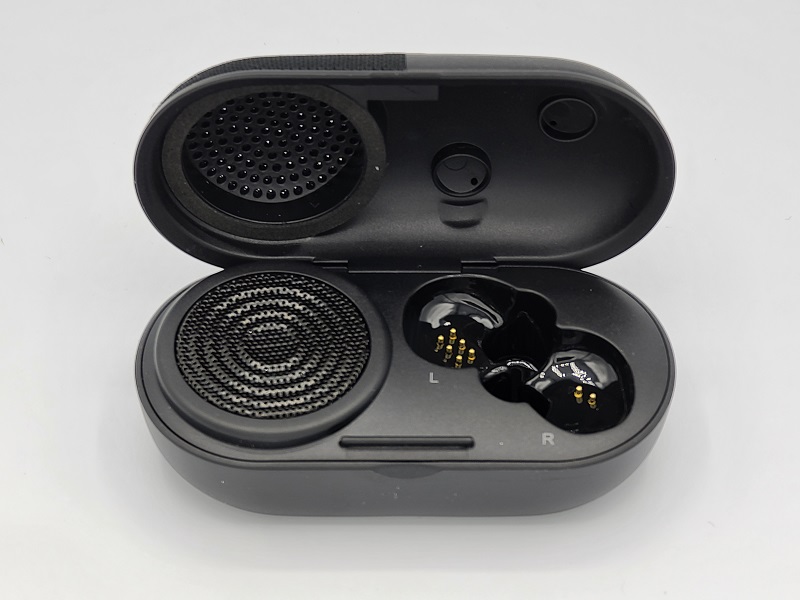 When you want to use the speaker function of this device, you simply put the earbuds back in the charging case and close the lid.  Your device will remain connected to the iLive Truly Wire-Free earbuds plus charging case and speaker until you disconnect it in your bluetooth settings.  When you place the earbuds back into the case and close it, the speaker then activates.  The speaker was better than I expected for this small form factor.  It will fill a small room nicely, and it reminded me of better-than-average laptop speakers.  Since there is only one speaker, you don't get stereo sound.  Some tablets/phones/laptops have pretty terrible speakers, so this could definitely be used to share audio with multiple people.  I appreciated the ability to take out the earbuds but keep listening to my podcast or audiobook.  I would worry about using these in public, especially in a setting like a school or library: if you don't disconnect the device via bluetooth settings before putting the earbuds back in the case, your audio is going to blast out over the speaker.  You may have no shame in advertising your love of Katy Perry, but disturbing others in a quiet place is just not cool, man.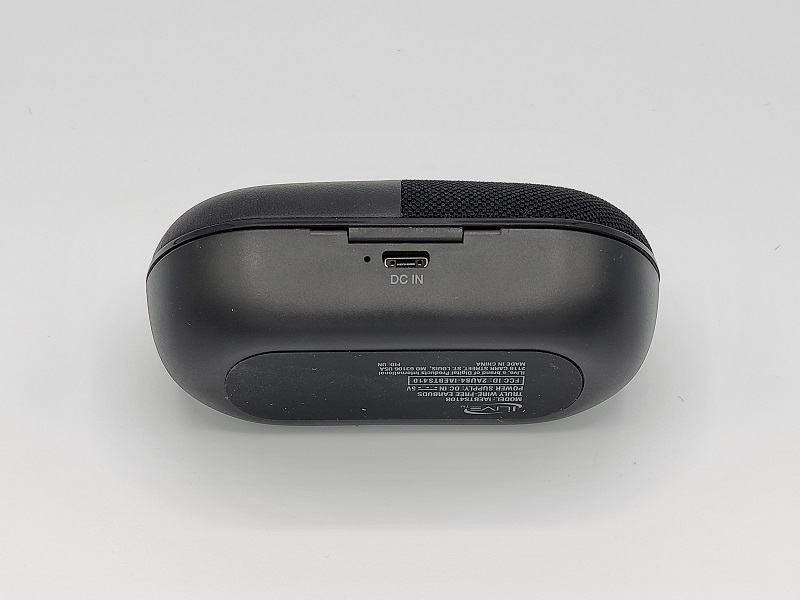 Charging the iLive Truly Wire-Free earbuds plus charging case and speaker is as simple as plugging in the micro-usb cable to a wall charger or computer USB port.  An LED indicator will light up while charging, and turn off when full.  The device lived up to the promise of 6+ hours on the earbuds and 4+ on the speaker.  I tested the earbud mode with several 6 hour sessions at 50% volume, and the battery was at 20-30% at the end of each.  With the speaker, I had 30% battery left after 4 hour listening sessions.  Charging from empty was right around the advertised 3 hours.
What I like
Good sound quality
Ability to use as a speaker
Good fit and comfort
What I'd change
It would be nice to have a physical switch/button to change between speaker/earbud mode so you don't accidentally disturb other people.
The multi-function buttons on each were sometimes slightly painful to push hard enough to register.  It wasn't terrible, but could be better.
Final thoughts
I had no idea that a device like the iLive Truly Wire-Free earbuds plus charging case and speaker  existed before doing this review.  I do appreciate manufacturers trying new things, so it was fun to try it out. Having used it for a while, I would recommend it if you're looking for good wire-free earbuds that also have a portable speaker option.  If you're looking for wireless earbuds to travel with and don't care about a speaker, I would look for something with a smaller case.
Price: $69.99
Where to buy: iLive Electronics
Source: The sample for this review was provided by iLive Electronics.