We use affiliate links. If you buy something through the links on this page, we may earn a commission at no cost to you. Learn more.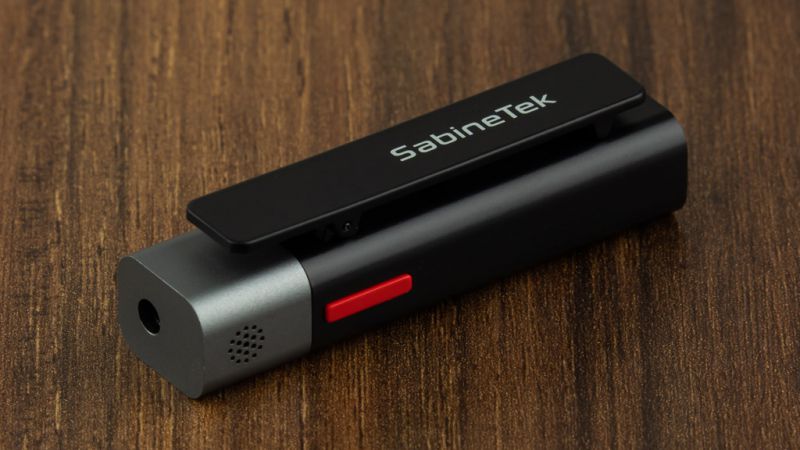 REVIEW – I occasionally record videos on my smartphone, but one of the annoying things is that the microphone doesn't work well for some outdoor conditions, mainly windy days. When the Sabinetek SmartMike+ review offer came along, I hoped it would solve that problem.
What is it?
The Sabinetek SmartMike+ is a Bluetooth 5.0 wireless microphone, and as the name implies, it has many smart features. It works with iOS and Android smartphones and is available in black and white.
What's in the box?
SmartMike+ Microphone
Earphone with 3.5mm jack
Foam windshield
Dead-cat windshield
USB Charging Cable (USB-A to Micro-USB)
Carry Pouch
Manual
Hardware specs
| | |
| --- | --- |
| Weight | 14g |
| Dimension | 5.8x1x1.5cm or 2.3×0.4×0.6in |
| Maximum Working Hours | 5 hours + can extend battery life with a power bank |
| Modes | 3 App mode: Vlog, Interview, & Audio |
| App | Free SmartMike+ App |
| Main Chipset | QUALCOMM CSR8670 |
| Bluetooth | 5.0 |
| Protocol | A2DP, HFP, SWISS (Sabine wireless interactive sound system) |
| Sample Rate | 48Khz |
| Recording Bandwidth | Full band (22.05Khz) |
| Wireless Channel | 2 |
| Charging Interface | Micro USB |
| Battery | 110mAh |
| Color | White, Black |
| Analog Interface | 3.5mm 4Pin |
| Warranty | 1 year |
Design and features
One of the annoying things about recording videos on your smartphone is that the built-in microphone is very susceptible to wind noise. Most Bluetooth wireless microphones are large, expensive, or both. Their large size is often a hindrance to the portability of a smartphone.
The Sabinetek SmartMike+ solves that problem with a tiny wireless microphone that is smaller than your pinky finger. Weighing in at just 14 grams (0.49 ounces), its size and weight make it extremely portable.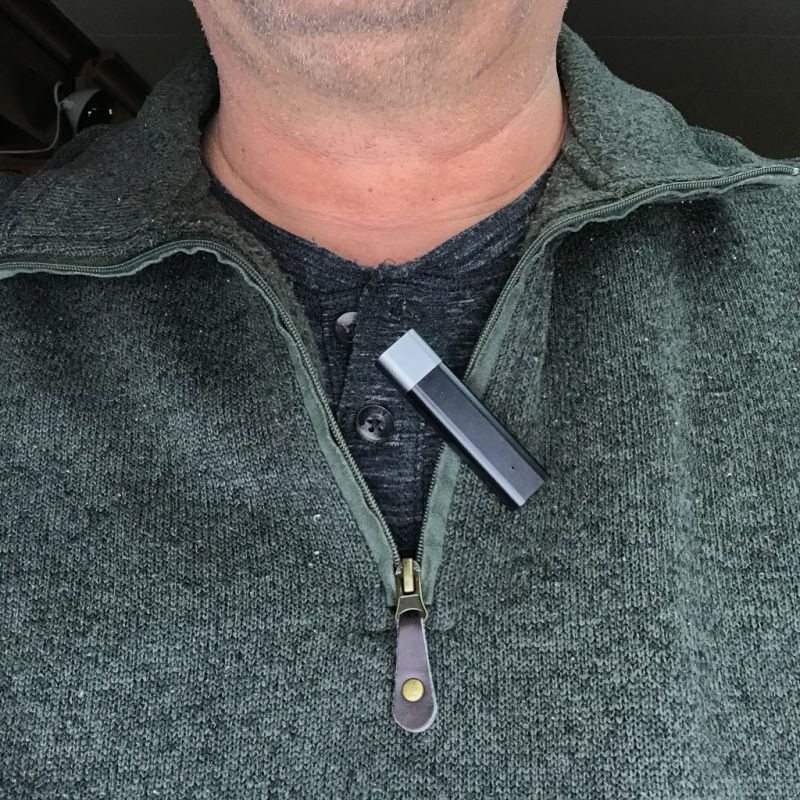 Featuring 44.1khz/48khz stereo sound pickup and transmission in real-time, the SmartMike+ outshines most conventional wireless Bluetooth microphones that only transmit mono voice quality at an 8khz/16khz rate (Apple AirPods). When using the SMike+ app, the interview mode also lets you record audio from the SmartMike+ and the phones' internal mic at the same time. You can even pair a second SmartMike+ to record three people at the same time.
Unlike some other Bluetooth devices, the SmartMike+ can also mix (in real-time) stereo sound and background music from third-party streaming apps, such as Spotify and iTunes.
The SmartMike+ has a 1 hour charge time, 5-6 battery life, and 110mAh battery capacity. The button can be clicked once to start recording, and once to end recording. When using the SMike+ app, double-clicking the button will switch back-and-forth between the front camera and the back camera. However, I did find that that click sound of the button was picked up by the microphone when doing so.
When used with the included earphone, the SmartMike+ can be used like any Bluetooth headset to make phone calls, listen to music, etc. My son said the audio was much clearer than my Apple AirPods.
Another neat feature of the SmartMike+ is that it can be paired with a second SmartMike+ to transform them into a transmitter and receiver (master/slave). In this mode, one SmartMike+ transmits the audio to the second SmartMike+, which can then be connected to any device via the 3.5mm jack. This makes connecting the wireless mic to a DSLR camera, computer, or other devices very easy.
The SMike+ App
I found the app simple to operate. There are three modes: Vlog, Interview, and Audio. Vlog mode is your typical video recording mode, just as you would use with your camera app. Interview mode also records video from the phone microphone as well as the SmartMike+, and audio mode records just audio.
There's a 3-second countdown timer when starting a recording. The button on the microphone can be single clicked to start and stop recording.
The app has the following settings:
+ Aspect ratio (1:1, 4:3, 16:9)
+ Background music (mixing levels, gain, monitor, noise suppression, and external mic)
+ Camera settings (Grids, front camera mirroring, Resolution (540p, 720p, 1080p, 4k), and retouch level
+ Five color filters
+ Device Settings such as LED light while recording (Off, blinking, breathing) and double-click function (Play/pause music, Front/back camera switch)
+ My Clips to play/delete videos as well as audio transcription, sharing/export, Wi-Fi transfer, and edit subtitles.
One of the features I thought was really neat is the audio transcription. Once your video recording has finished, you can tap on the CC icon and have the audio auto transcribed. Auto transcription supports over 120 languages. You can even tap on the subtitle while watching the video and edit it. Export options include Pure video, Video with subtitles, and subtitle file. When exporting the subtitle file, it is exported as a *.srt file, which is compatible with YouTube subtitles. The .srt file is a plain text file, which you can easily edit. There isn't an option to import a .srt file, but if you're getting that deep into your video production, you're probably going to be doing that on your computer.
There is also a cool feature in the My clips section of the app that makes transferring files to your computer very easy. Tapping the cloud icon takes you to a "File transfer via Wi-Fi" screen. This screen includes instructions on how to navigate to a URL like "http://192.168.0.148" in your desktop browser to access the files in the app. I found this feature pretty neat; however at first, I was only able to access the .srt files and the audio-only files; no videos showed in the video folder by default. I found that you have to tap the sharing icon, select Save to Files, select the SMike+ folder, then select the video folder, then tap Save. It makes sense once you know what to do, but wasn't very obvious to me.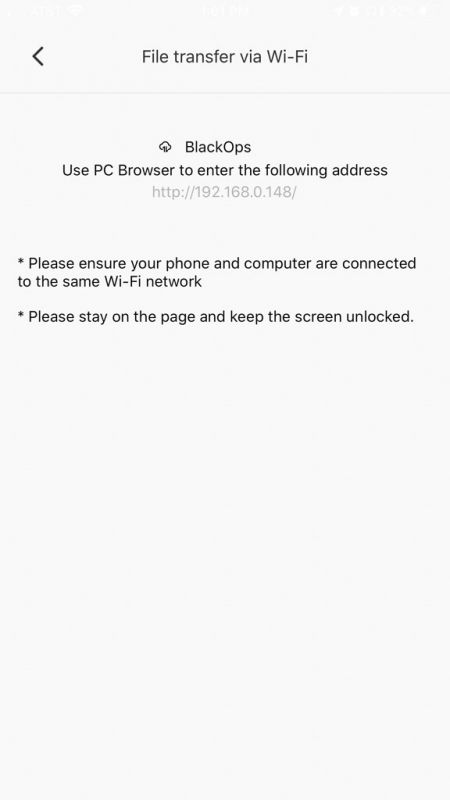 Setup
Setup is simple, and just like other Bluetooth devices.
Hold the power button on the SmartMike+ for 3 seconds.
In your phone Bluetooth Settings, select SmartMike+.
Performance
The audio of the SmartMike+ is outstanding. I'm not an audiophile, but it sounds great to me, and the foam and fur wind covers work great to block wind noise.
I did not realize just how bad the iPhone built-in microphone was until I connected the SmartMike+. Wow, what a difference.
What I like
Great audio quality
Auto transcription feature
Small size
Transfer via Wi-Fi feature
What I'd change
There's no battery level indicator on the device or in the app
The button should be able to be "clicked" without creating a click sound
Final thoughts
Sabinetek offers a 60-day 100% Money-Back Guarantee, but I don't think you'll need it because the SmartMike+ simply works as advertised. It's a tiny, portable, wireless, and sounds excellent. It's been a pleasure uncovering some of the great features in this device, something I wasn't quite expecting from such a small microphone.
Price: $139.00
Where to buy: Sabinetek and Amazon
Source: The sample of this product was provided by Sabinetek.