We use affiliate links. If you buy something through the links on this page, we may earn a commission at no cost to you. Learn more.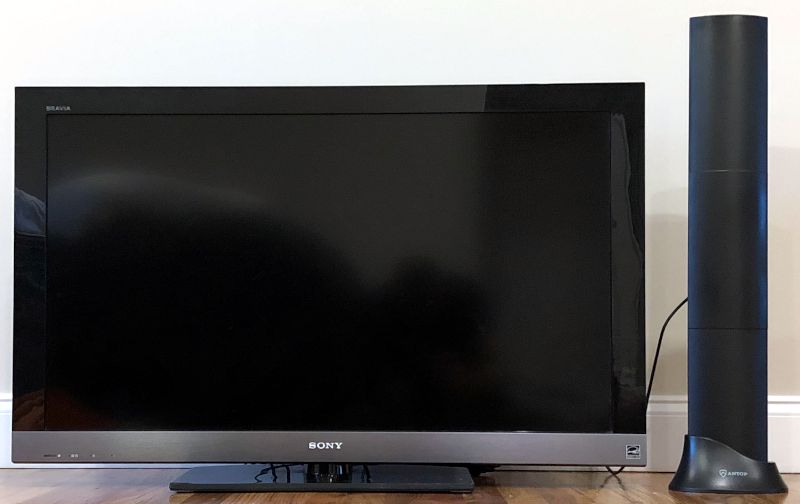 REVIEW – We don't watch a lot of TV these days, but we do use it to check the weather, catch up on local news, and track emergency events.  We recently moved to a new location that's definitely more rural than urban, so I thought this would be a good time to upgrade my TV's rabbit ears to something better.  That is why I am testing out one of ANTOP's amplified antennas.
What is it?
The Smart Bar HDTV & FM Amplified Antenna (model AT-500SBS) is an indoor antenna for your TV that receives and amplifies HD signals and features ANTOP's Smart Boost System (SBS), which allows you adjust its reception power.
What's in the box?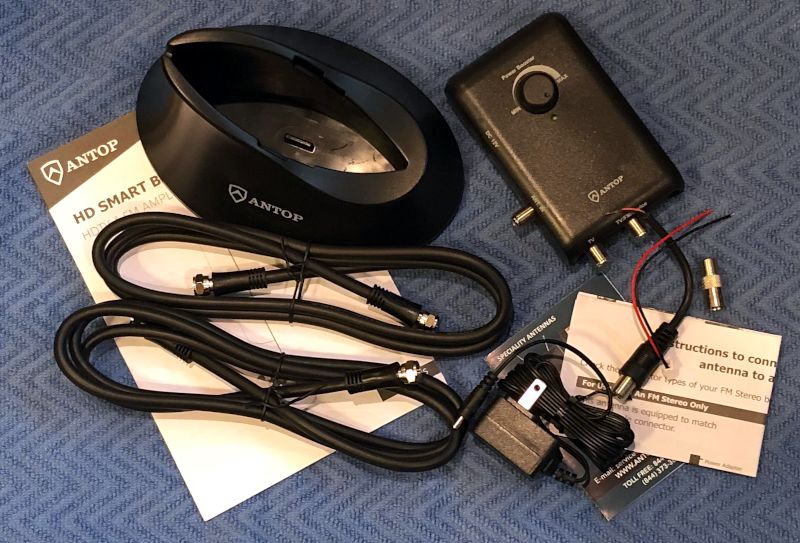 The antenna and a base
2 coaxial cables
The power booster and a DC power adapter
A manual with 5 pages of English instruction
Extra hardware and special instructions for connecting to an FM antenna
A marketing brochure
Hardware specs
VHF/UHF reception
60-80 mile range
4G LTE filter
29 inches tall
Design and features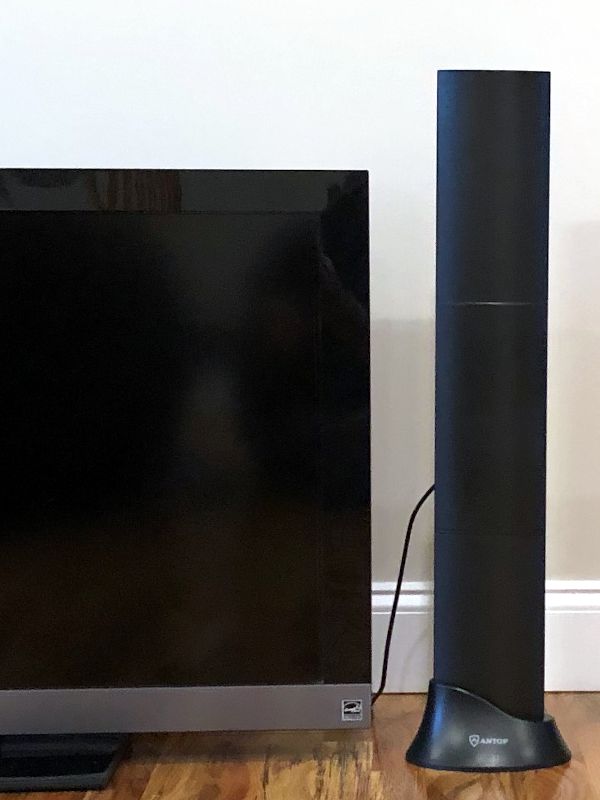 ANTOP's Smart Bar is a surprisingly long, solid black antenna.  It has an aesthetically-pleasing, high-tech look, more like one of those slick tower fans than a TV antenna, and it certainly doesn't look anything like the rabbit ears of old.  It can be mounted vertically, as I did, or horizontally.  The range of channels can be increased or decreased by adjusting the power booster dial.
Installation and setup
The Smart Bar is easy to setup.  To setup vertically, insert one end into the base and then slip the cable into the cable slots.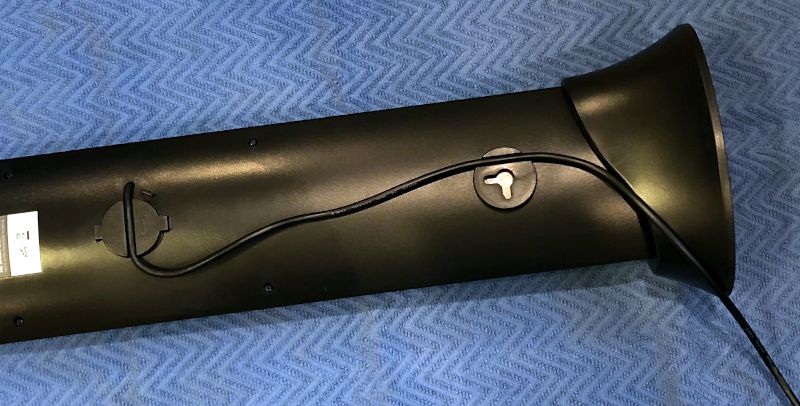 Connect the cable from the antenna to the power booster.  Connect one of the coaxial cables to the booster and to the back of your TV.  Finally, use the DC power adapter to power the booster.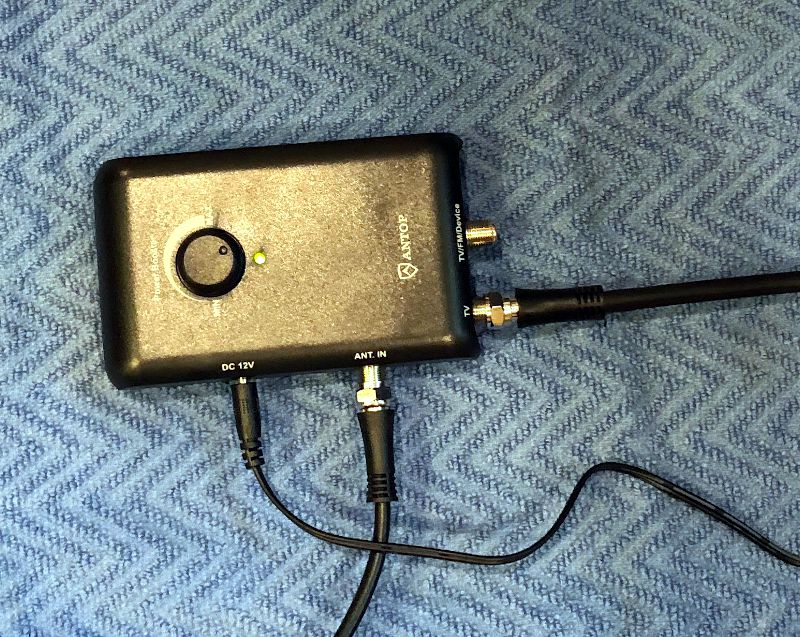 Set the booster to max, and use your TV's menu and find the setting where it searches for available channels; it should recognize that you are connected to an antenna. To get less channels, lower the booster value and try again.

Performance
The Smart Bar works just fine.  When set to max, I received 29 channels, 3 major networks and 26 miscellaneous channels. Reception for these channels was clear and crisp, even when the weather was cloudy.  When I dropped the boost down to half, I received the same number of channels.  I assume this means that while our new house is rural, it's not out-in-the-boon-docks rural, and so the extra power and the 60-80 mile range of the Smart Bar is more than I really need.  Looking at Antennas Direct, I found that all the major networks were located within 50 miles of my house.
For comparison, I plugged in a generic ultra-thin antenna that I purchased from Amazon.  It received 54 channels, including 5 major networks.  Unfortunately some of the channels were fuzzy, including 2 of the major networks, so although the numbers were higher for the ultra-thin, the actual performance was similar.  I then plugged in my old rabbit ears and tried again.  This time I received 50 channels, 5 major networks and 45 miscellaneous ones.  These channels were all clear as well, even during cloudy weather.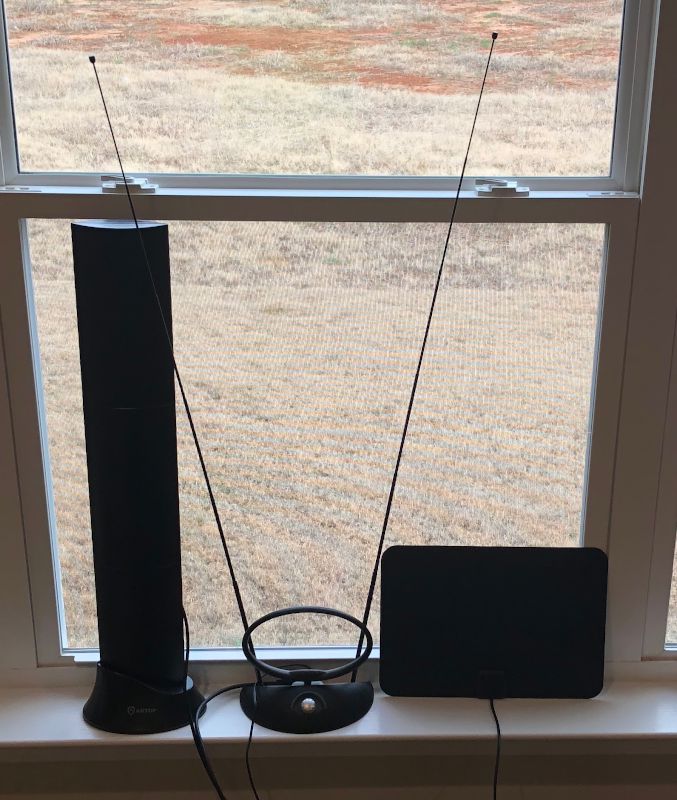 Extra Features
The Smart Bar's power booster has two coaxial outputs, which means that it can be used as an antenna for a second source, such as another TV, an over-the-air projector, or an FM stereo.  If you want to use it for the later, ANTOP has included special connection instructions as well as the extra hardware for connecting to stereos with spring clips, screw clips, IEC male connectors, 3.5 mm audio jacks, and 2 pin male connectors.  ANTOP has really gone above and beyond to allow you to use their antenna for FM, something that my other antennas do not do.  The Smart Bar also has a built-in 4G LTE filter designed to reduce interference from cell phone signals.
What I like
Good-looking design
Easy setup
Great support for FM stereo
What I'd change
Final thoughts
ANTOP's Smart Bar is easy to setup and easy to use.  It certainly looks a lot less dorky than a pair of rabbit ears, and it can fit behind a large screen TV (50 inches or greater) if you don't want to see it at all.  The second coaxial output can be great if you're wanting to use the antenna with an FM stereo or another source.  The challenge that I found with the Smart Bar is that its overall performance as an HDTV antenna is comparable with other products that cost ¼ of its price, at least in the area where I live.  I think this antenna is best for people who live way out in the country, where they really need the extra power to get good reception.
Price: $119.99
Where to buy:  ANTOP's website or Amazon
Source: The sample for this review was provided by ANTOP.