We use affiliate links. If you buy something through the links on this page, we may earn a commission at no cost to you. Learn more.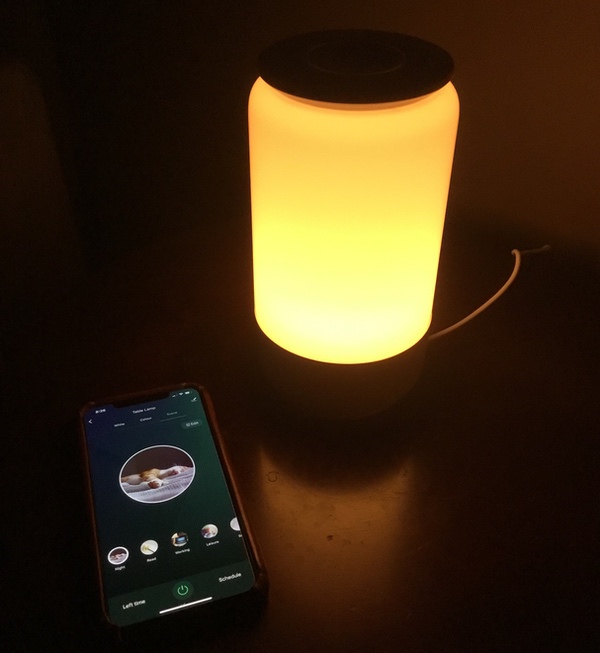 REVIEW – Light 'em up! We're taking a look at the HUGOI Smart LED Table Lamp, which allows you to customize your room's ambiance to fit your mood. And it's all controlled from your mobile app or voice-activated assistant. To the review!
What is it?
It's a wifi-enabled smart lamp that you can control with Alexa, Google Home, or your smartphone app.
What's in the box?
You'll get the lamp, a USB power cable, and a USB power brick.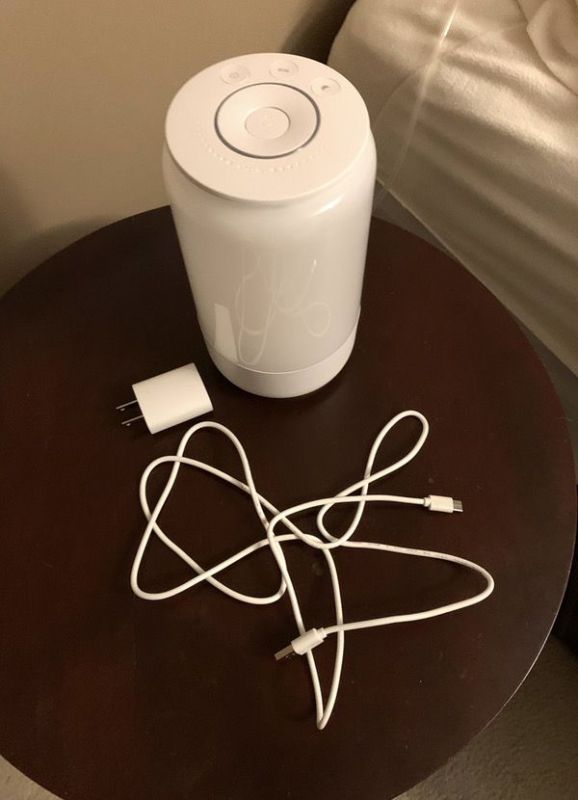 Hardware specs
Brightness dimmable from 3% to 100%
Color temperature from 2000K-4000K
16 million potential colors
4.3″ by 4.3″ by 8.3″
Alexa, Google Assistant, and IFTTT compatible
Compatible with the Smartlife app on Android and iOS
Design and features
The HUGOAI Smart LED Table Lamp is an attractive room accessory with a contemporary vibe. The contoured design will look great in your bedroom, on your desk, in the kids room, or just about anywhere you need some extra illumination.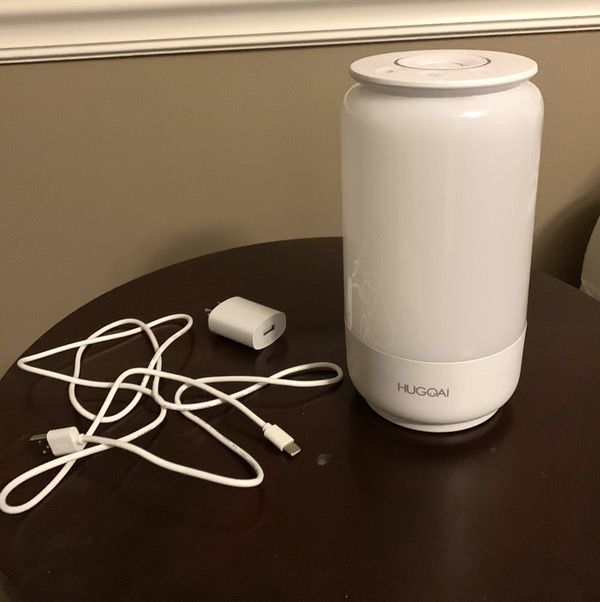 One of the nice features of this lamp is it's intuitive manual controls if you're not using the remote options. A big friendly power button (marked with a lightbulb icon) powers it up. This is ringed by a contoured dial that you use to adjust your settings, and an LED ring that indicates your connection status.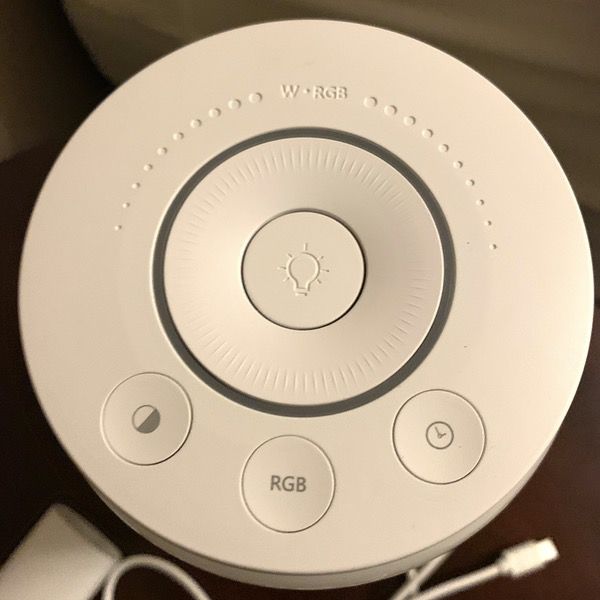 Never miss one of our posts again. Sent MON, WED, and FRI with the latest gadget reviews and news!
Three additional buttons allow for specific manual adjustments, as follows:
CCT Intensity (left button in the pic): enables white light, and toggles between CCT intensities (natural white, warm white, and soft white).
RBG color selection (center button): toggles between colors, or you can spin the dial to pick the color of choice.
Sleep mode (right button): immediately switches to a soft yellow night light mode, and shuts off in 30 minutes.
The basic manual functions are convenient, but I'm guessing you're here for the digital interface (right?). That's where the real fun begins, with full control of the lighting functions.
You'll start by downloading the Smartlife app for Android or iOS, and follow the instructions to pair the lamp through your wireless network. I did find that the install is a little twitchy. The instruction manual doesn't quite align with the menus in the app interface, and you'll need to manually connect your app to your wireless network. I was able to get it connected with some fiddling, but my teenager had no such issues when we replicated the test. He was up and running in 2 minutes, and made sure to remind me of his technical superiority. I'm just going with the "I worked the bugs out" excuse.
(Important note: this device is only compatible with 2.4 Ghz networks, so check your network specs before you buy!)
Once the app is paired, you have complete control of the lamp's full feature set. The menus are easy, with simple slider and dials to manage all of your controls. The "white" option is just that, allowing you to tweak the brightness and CCT intensity for your basic lighting needs.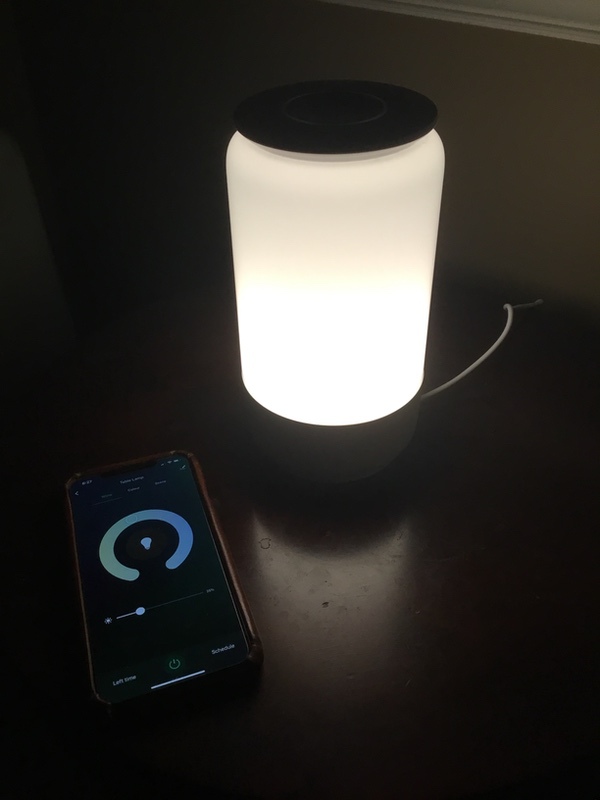 The "colour" menu enables you to manually choose from the full spectrum of available RGB colors.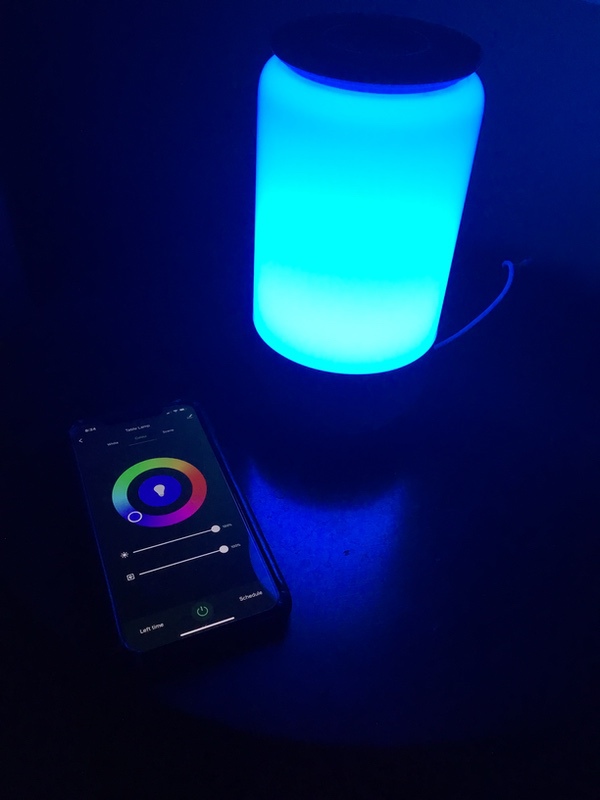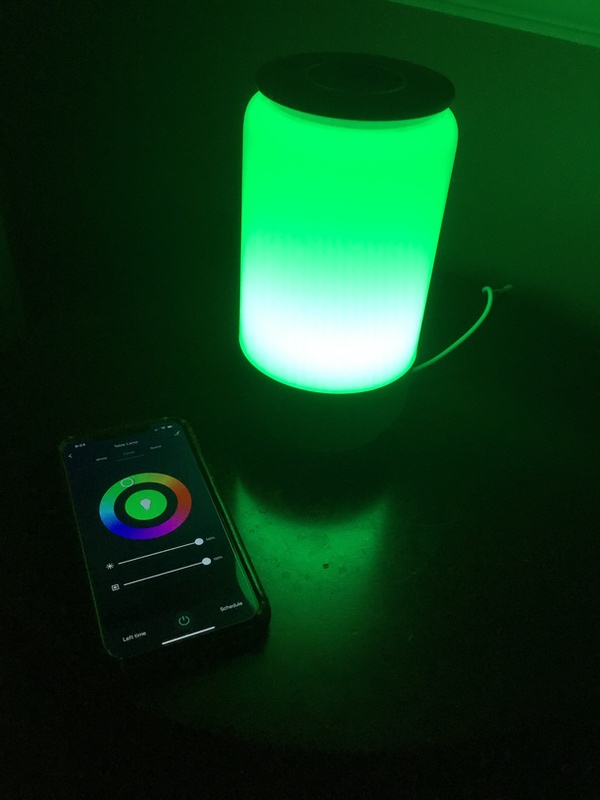 You can also tweak the CCT intensity and brightness for any color you choose in this menu with easy-to-manipulate sliders.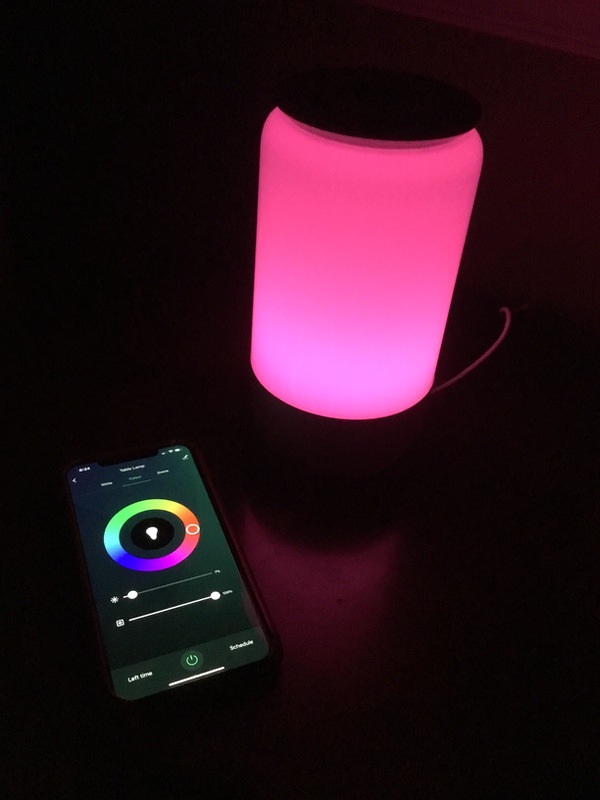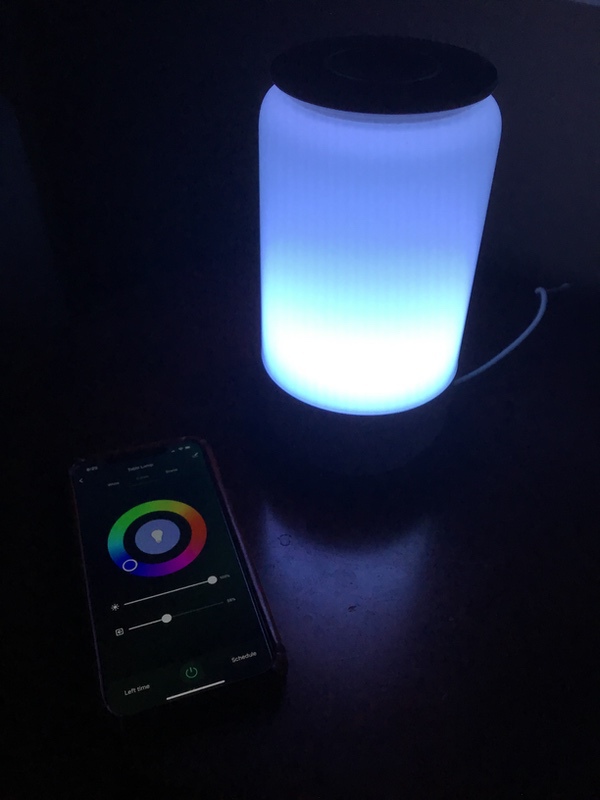 If you'd rather not play with these customizations, the "scene" menu lets you cycle through a range of preset color and brightness configurations. The pics below show the "reading" and "soft" preset options.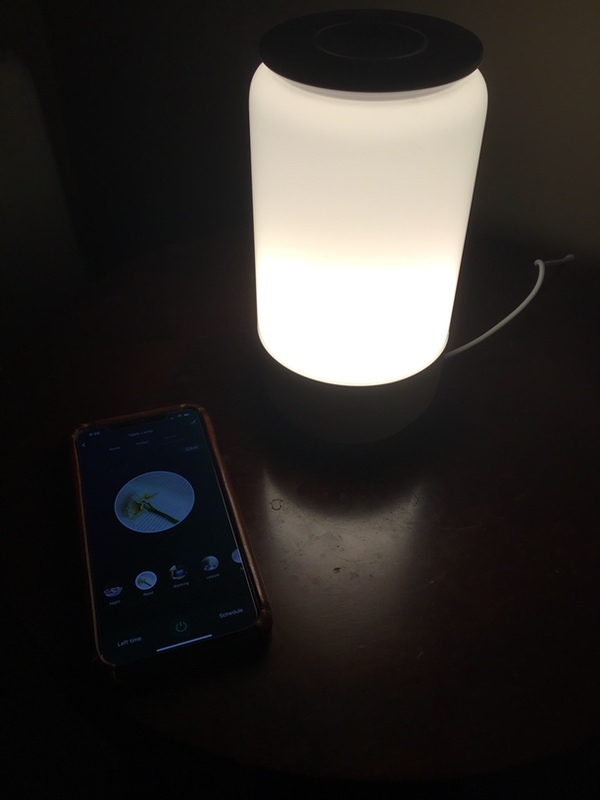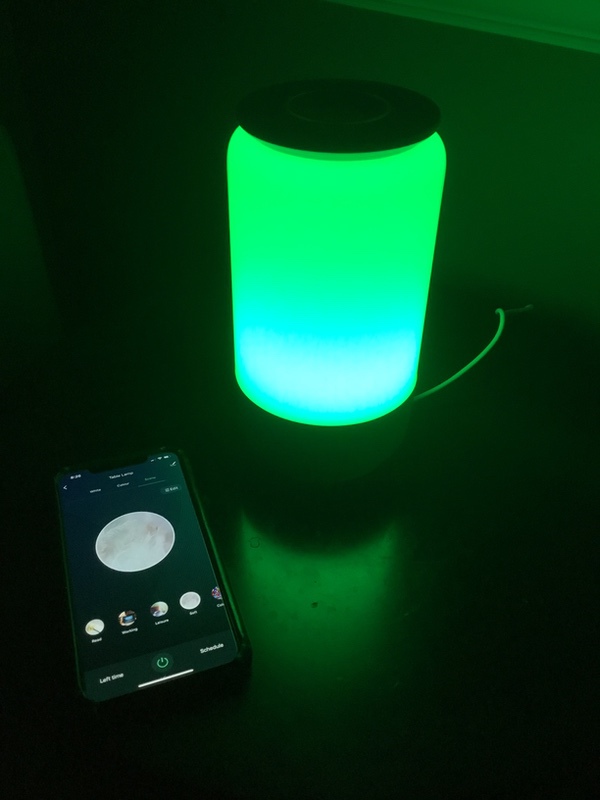 Some of the presets include cycling. "Colorful" mode, for example, cycles through a new color every few seconds. Different cycling options include variations in colors & intensities. This would be fun for parties.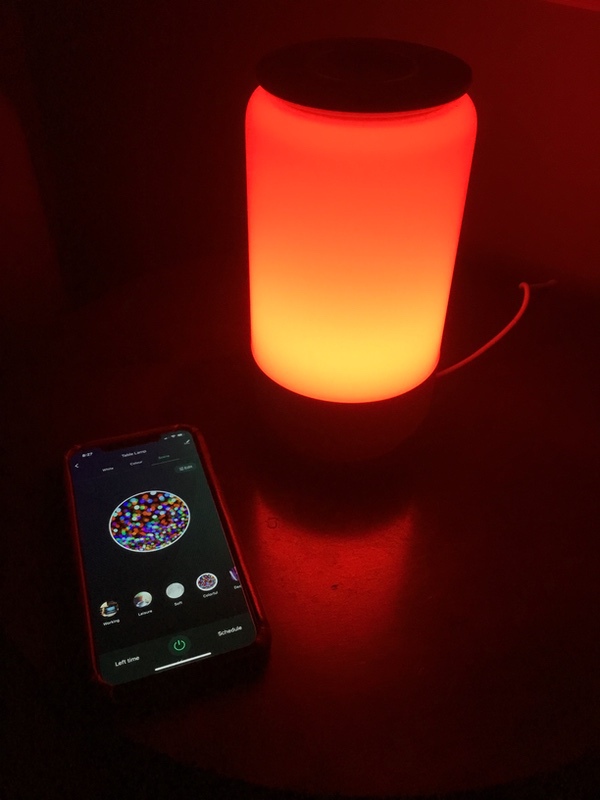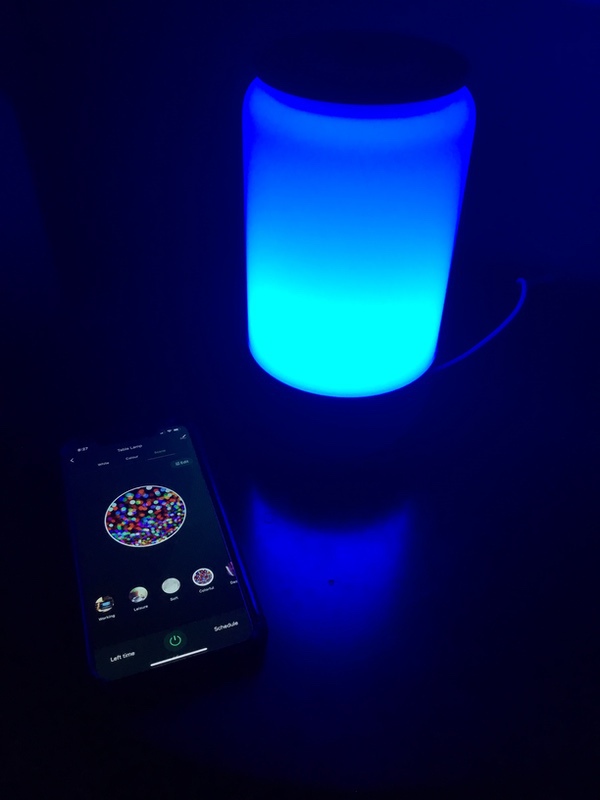 Finally, you use the app to set scheduled times for the map. You can set a power up and power down time, including repeating events, to have the light do it's thing automatically depending on your needs.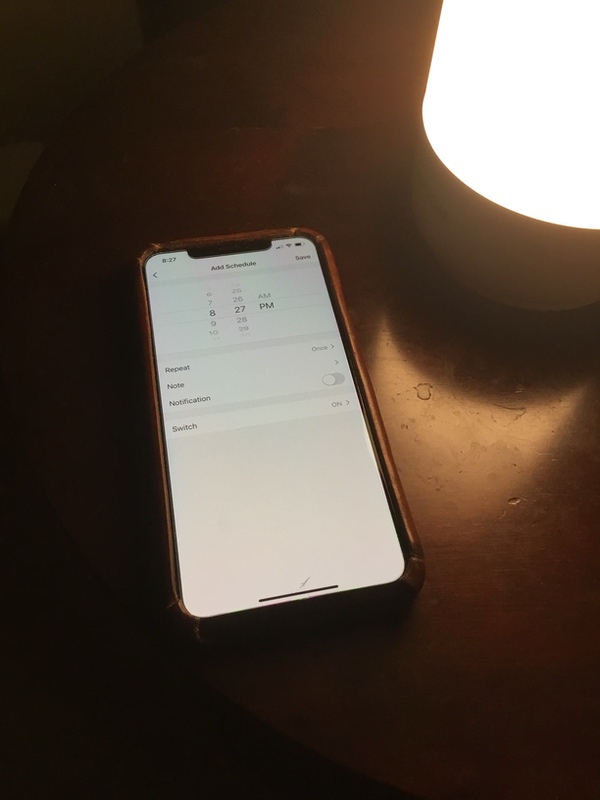 You can also set the lamp to work with your voice-activated home apps like Alexa and Google home. I did not set up these functions with my test, but I'll be evaluating those options in the future. You'll want to check the product page (link below) for compatibility with your system
After testing the lamp out in multiple rooms and functions in the house, I'm finding the lamp works best in a bedroom setting. It's not quite powerful enough to light up a whole room as you can see from the pics, but it makes for an excellent bedside lamp. The low-brightness night light function is great if you prefer a bit of glow in the darkness. I've found the scheduling function to be handy on dark winter mornings, when I schedule it to come on with my alarm. Some of the preset light options (like reading) are quite useful, but the color cycling options are more neat than practically useful.
What I like
Attractive looking room accessory
Fully customizable for brightness, intensity, and color options
Easy to manage with simple manual controls and a very intuitive smartphone app
What needs to be improved
Not bright enough to light up a whole room
Setup is a little twitchy, but nothing too difficult
Final thoughts
The HUGOAI Smart LED Table Lamp is a great little accessory that I like best for the bedroom or the kid's room. It's simple to use, and the ability to customize (and schedule) the colors and intensity adds some versatility. It's a great item as a gift that would work great in a dorm room if you have a college-bound student on your holiday list.
Price: $40.99
Where to buy: Get on over to the Amazon product page for the lamp.
Source: The sample of this product was provided by HUGOAI.