We use affiliate links. If you buy something through the links on this page, we may earn a commission at no cost to you. Learn more.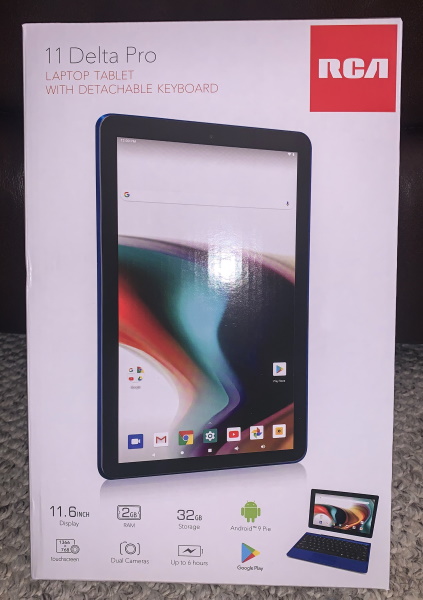 REVIEW – If you are a gadget nerd and techie like me, you probably have a bunch of mobile devices including tablets of various sizes and capabilities lying around your workspace. Despite that, I am always up for testing something new and if it offers additional convenience, then I am really interested. My next candidate in this category is the RCA 11 Delta Pro 11.6 Inch Quad-Core IPS Touchscreen Android 9.0 Tablet with Detachable Keyboard.
What is it?
The RCA 11 Delta Pro 2-in-1 tablet with a detachable keyboard features an 11.6-inch high definition screen, a 1.3GHz quad-core processor, and a detachable keyboard with a built-in trackpad. It operates on Android 9 Pie and can be used as a stand-alone tablet or in laptop mode with the keyboard attached.
What's in the box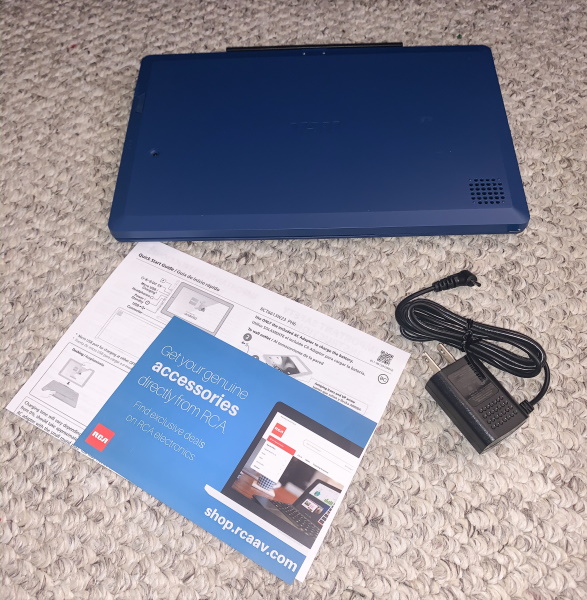 1 x RCA 11 Delta Pro 11.6 In Android 9.0 Tablet
1 x AC Adapter
1 x User Manual
Design and features
Specifications
1.3GHz quad-core processor; 2GB DDR of system memory; 32GB flash memory;
11.6-inch Multi-Touch Display; 1366 x 768 HD Resolution;
Micro SD card slot support up to 128GB (SD card not included)
Micro USB port (for charging); USB port (for data transfer); Stereo headphone jack;
Android 9.0; Compatible with Google Play and Apps & Games from PlayStore;
Front and Rear Cameras; Micro USB ports; WiFi; Bluetooth
Battery life up to 6 hours
Features
VERSATILE: Get the best of both worlds and use it as either a tablet/computer or notebook by easily removing the keyboard.
SPEED: 1.3GHz 4 Quad-Core Processor. 1366×768 Touchscreen Display (11.6″). Battery life up to 6 hours.
BUILT-IN: 2GB RAM, 32GB Flash Storage Memory (MicroSD-expandable up to 128GB), Dual 2MP Front/Rear Camera, Full USB, and Micro USB port, Bluetooth, and Rechargeable Battery.
FOR WORK OR PLAY: Stay efficient with Android OS 9.0 (Pie) and preinstalled apps available at the touch of your fingertips. Compatible with Google Play.
Available in: Charcoal, Blue, Purple, and Pink.
When the tablet and keyboard are folded closed, the tablet side has the camera, speaker and volume button. The keyboard side if just plain. The hinge is visible on the edge where the two connect.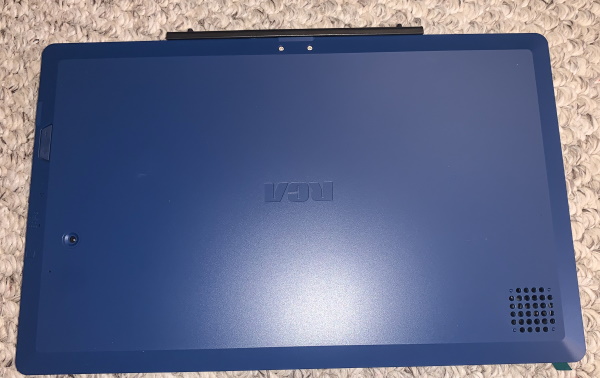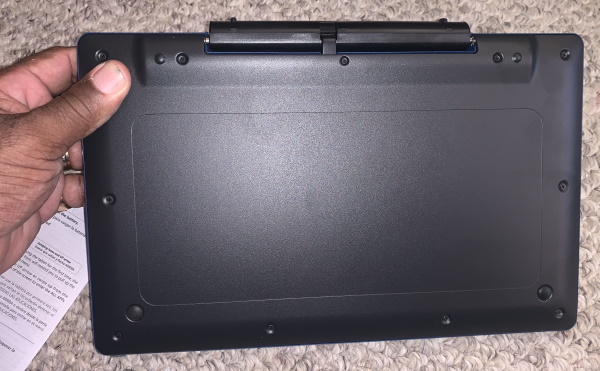 On one side of the tablet, there are all of the control buttons and connectivity ports. from left to right there is the USB port, the volume button, the power button, the headphone jack, the USB-c port, the power jack, and the micro USB card slot.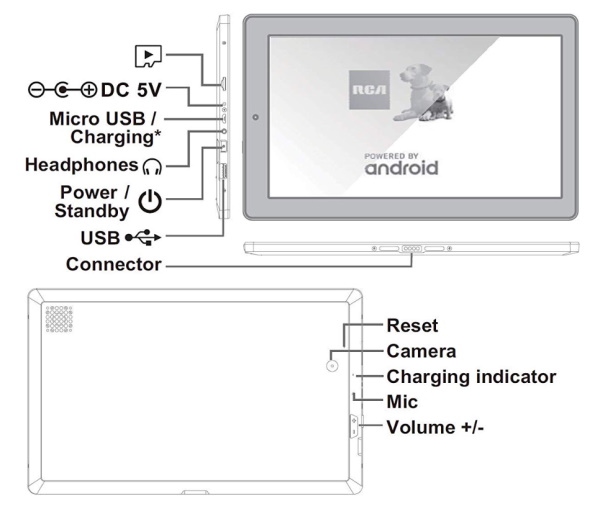 The photos below show the magnetic hinge that connects the tablet and keyboard. The keyboard is also powered via this connection.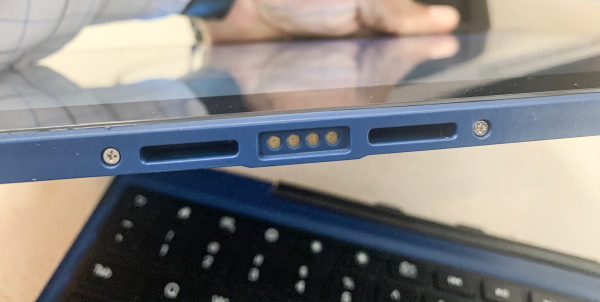 As can be seen below, the tablet and keyboard can be used in a laptop type format.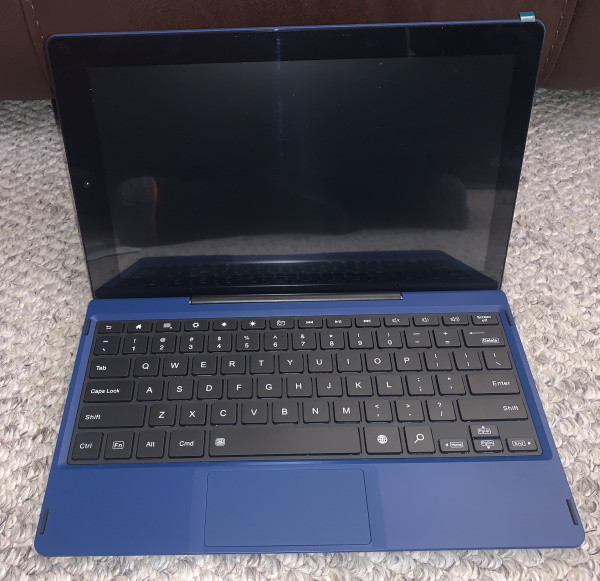 Performance
So anyone who has ever owned a tablet should have a basic understanding of the simple set up process. This tablet is no different. When I took it out of the box it felt solid, and I liked the overall design. I plugged in the charger and charged it until it was fully charged and ready to go. Powering it on revealed a splash screen that showed the brand and that it is powered by Android. The screens below provide a good idea of the familiar setup process.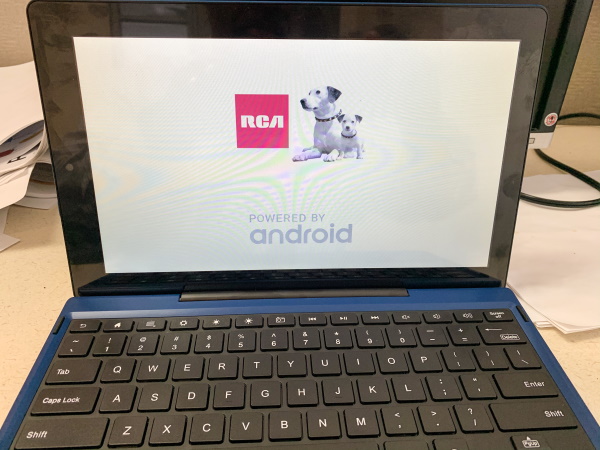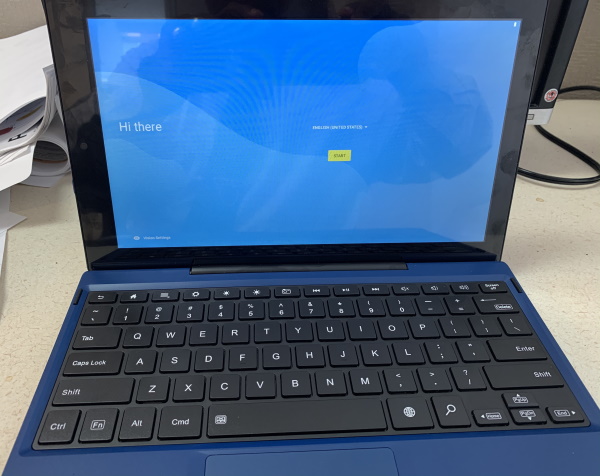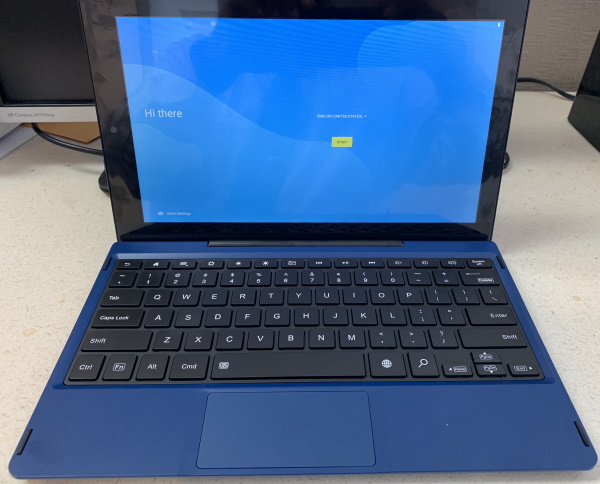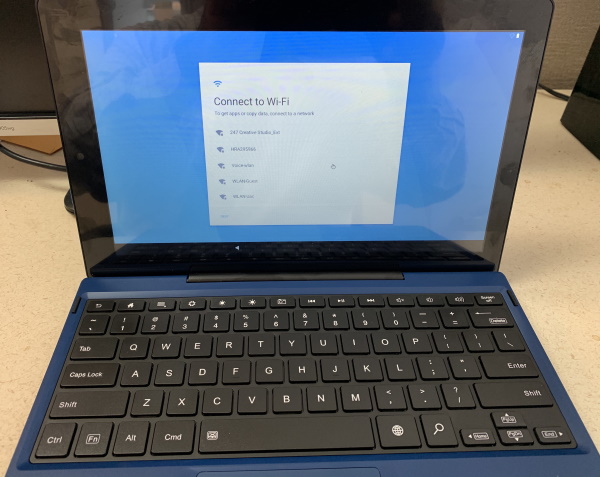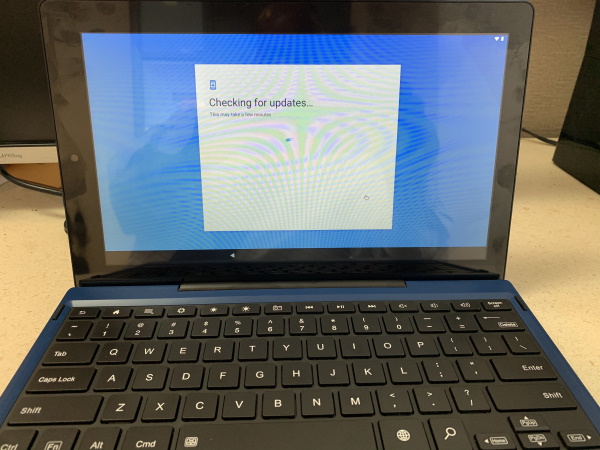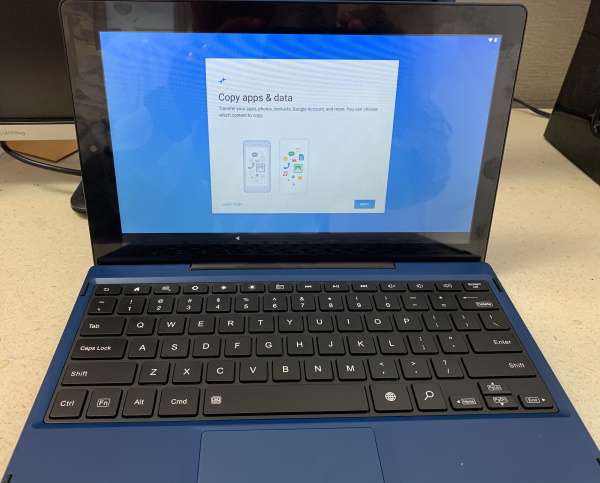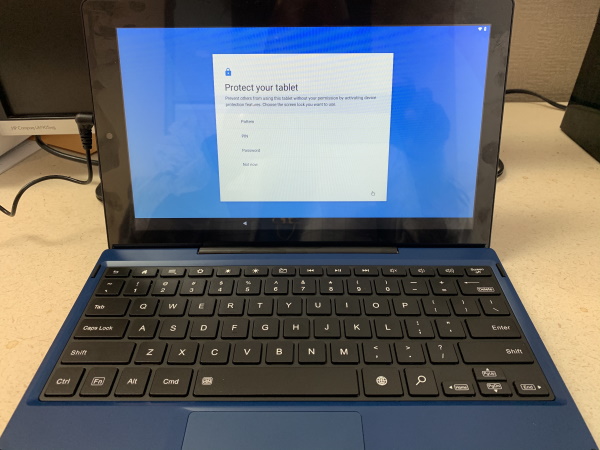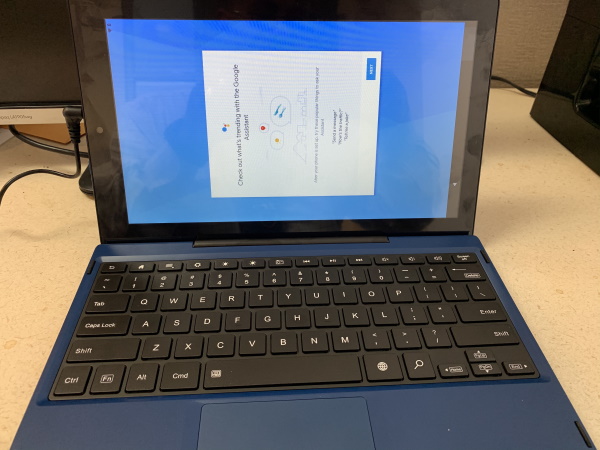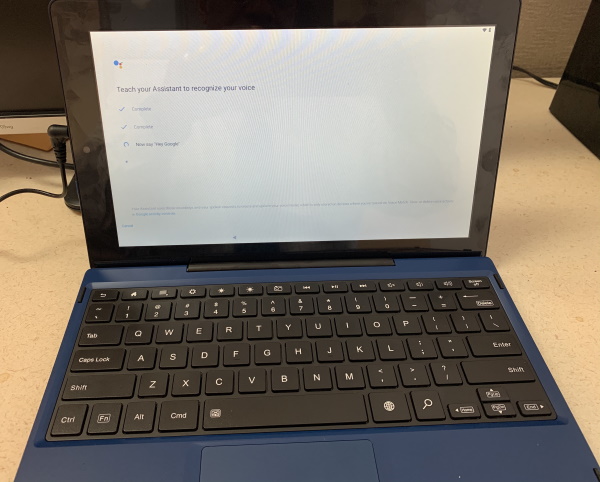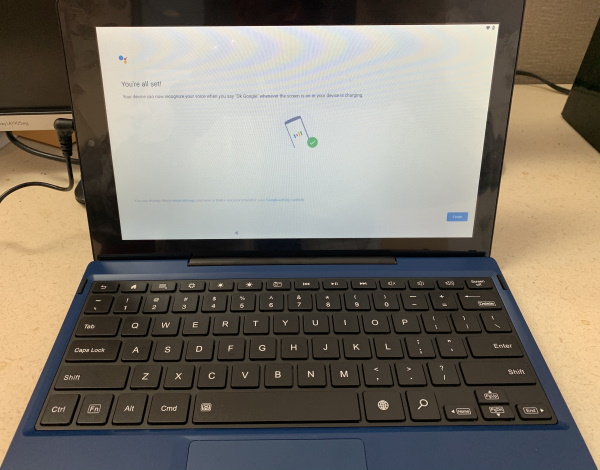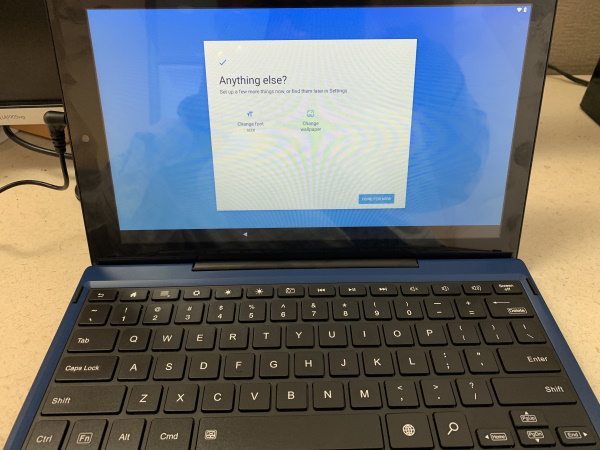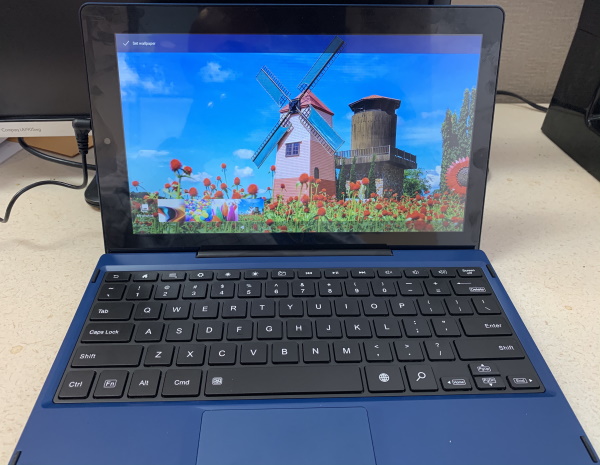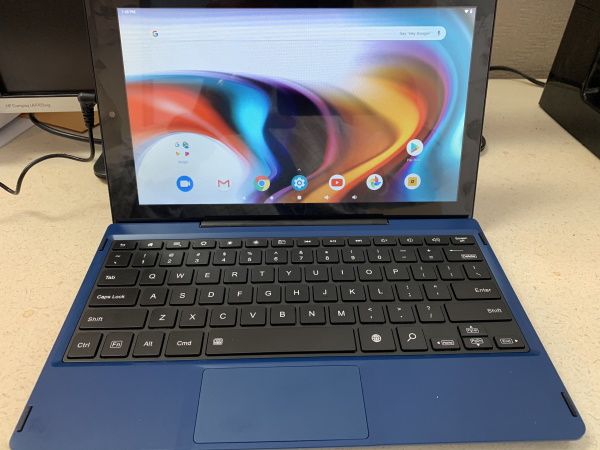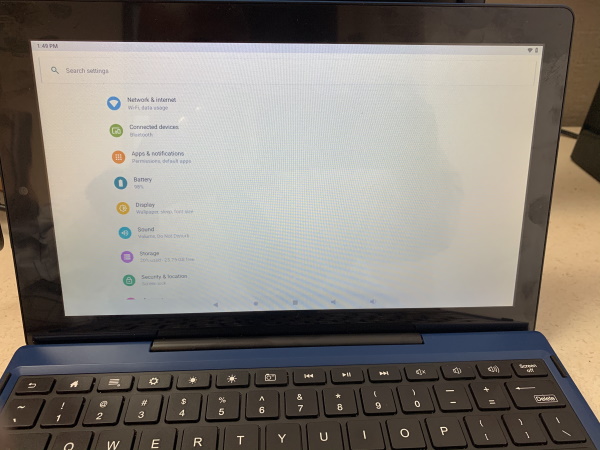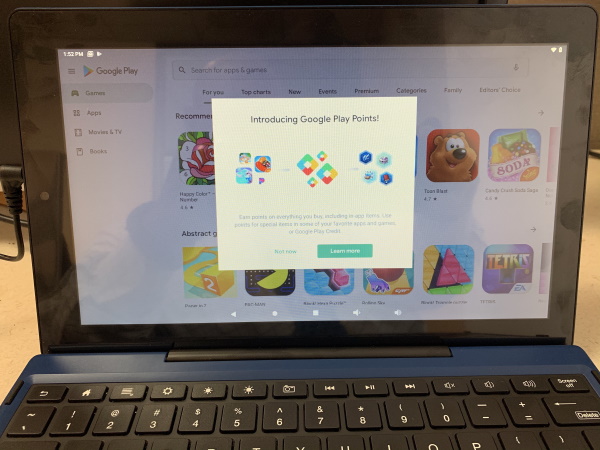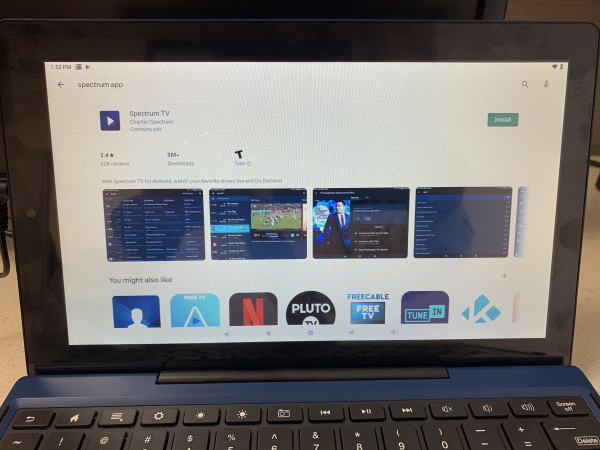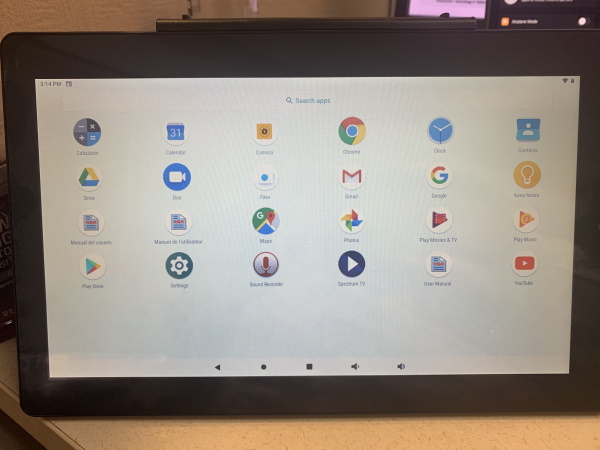 Once it was all set up, I put it through the paces of downloaded my email app, my TV viewing app, YouTube, Netflix, etc. I was pleasantly surprised that all of the apps perform relatively well. The only app that does hiccup at times and still does, it the Spectrum app which is live TV. Based on the good performance of Netflix and YouTube, I am not sure that the issue with the Spectrum app is a reflection of the capability of the tablet. Since I have seen this app have issues when used with Roku and Apple TV, I am still leaning towards giving the benefit of the doubt to the tablet.
I am not a gamer, so I cannot say much about the performance with games, but at this price point, this tablet performs well for the majority of everyday tasks. I did find that I got less battery life than I expected especially when using the Spectrum or Netflix apps as opposed to my iPad, but then again, the iPad is at least $1000 more than this tablet. I had no issues connecting to WiFi and Bluetooth nor did I with playback from a micro SD card. I really like that I can also save on the card. In addition, the USB port for data transfer is great. The touch screen is quite responsive and much better than several tablets that I have tested at this price point. RCA also includes the WPS Office app for document tasks.
The photo below shows the tablet in the reverse folded format, as I am watching TV via the Spectrum app.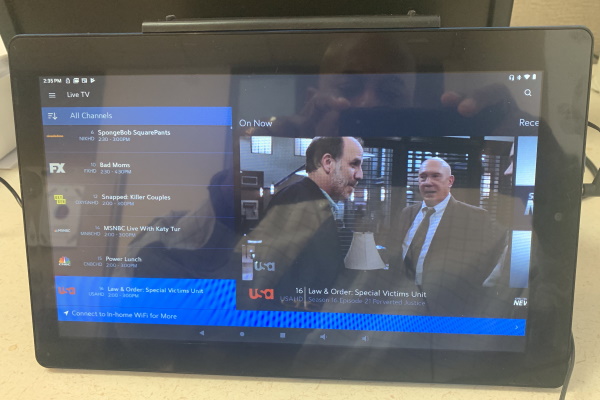 The following video is an example of how the tablet manages live TV via the Spectrum app:
What I like
The build quality
The display
The detachable and reversible keyboard
The built-in USB and Micro SD card slot
The adequate touch screen response
What I'd change
Add a bit more processing power to keep it affordable but even a bit more capable
Better battery life
Final thoughts
When I consider the price point of this tablet with a keyboard, in my opinion, it is a good "bang for the buck". It is responsive and capable of handling most everyday tasks including watching videos. The versatility of the removable keyboard and the fact that it does not have to be charged separately is great. It has a nice display and while it is may not be 100% ideal for major gaming or processes that require major resources, it can certainly fit the EDC needs of many, including the casual user. Good value!!
Price: $119.99
Where to buy: Amazon
Source: The sample for this review was provided by RCA