We use affiliate links. If you buy something through the links on this page, we may earn a commission at no cost to you. Learn more.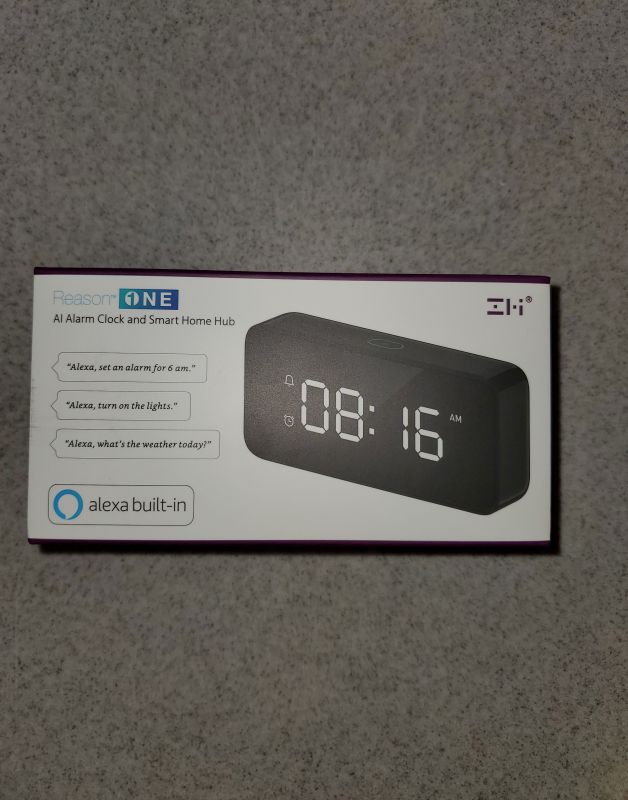 REVIEW – I know a lot of people just use their smartphones as alarm clocks instead of a traditional alarm clock on the bedside table.  I, however, still appreciate the standard alarm clock but want one that has Alexa built-in.  I currently have an ILive Voice Activated Alarm clock with Alexa on my nightstand that I reviewed last year, but a few things about it bother me.  Let's see if this new smart alarm clock can replace it.
What is it?
Reason One IA Alarm clock is an alarm clock with Alexa functionality built into it.   It operates just like an echo device except for a few noted exceptions I will make below.
What's in the box?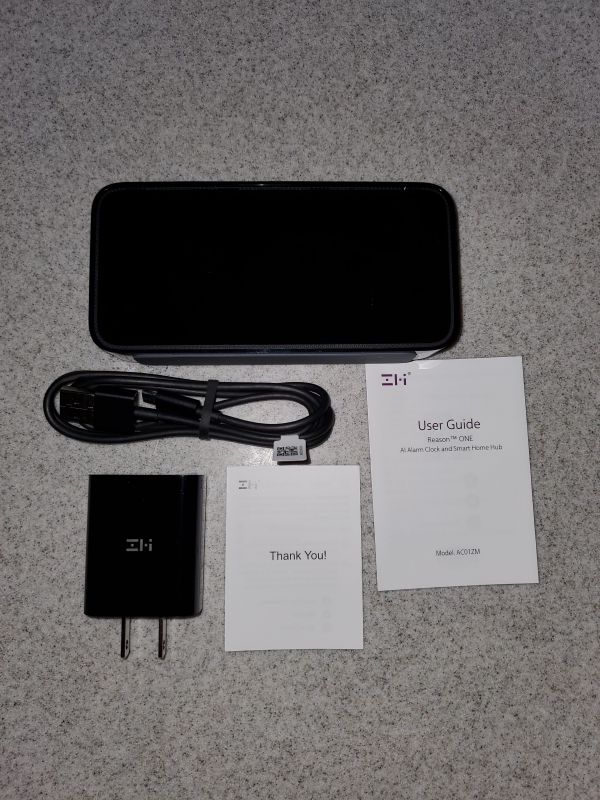 The following items came in the box:
The alarm clock itself.
Power cord
Power adapter/plug
Thank you card
User guide
Hardware specs
Model: AC01ZM
FCC ID: 2AMIN-AC01ZM
Language Supported: English (US)
Input Port: Micro-USB
Input: 5V𝌂1.5A
Power Adapter Input: 100-240V ~ 50/60Hz 0.5A
Connectivity: Wi-Fi 802.11 b/g/n 2.4 GHz
Operating Temperature: 32° to 95° F (0° to 35° C)
Dimensions: 4.97 × 2.39 × 1.06 in (126.2 × 60.8 × 27 mm)
Weight: 6.0 oz (170 g)
Design and features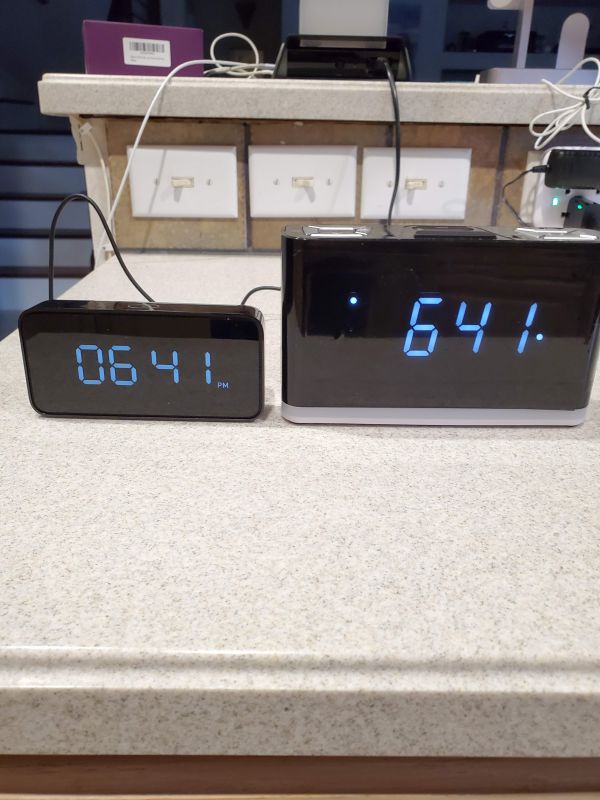 As noted above in the specs, this alarm clock is tiny.  I took a picture of it next to my existing ILive alarm clock.   The picture above gives you an idea of how small it is.  I love this.  It takes up less space on my nightstand.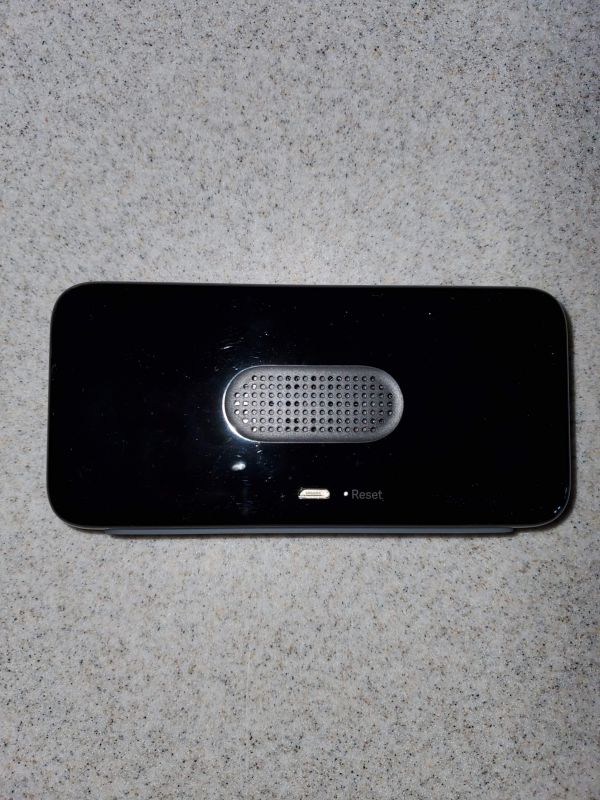 The above picture shows you the back of the alarm clock.  The grey oval is the speaker.  There is also a micro USB port for the power cord and a small reset button.
Setup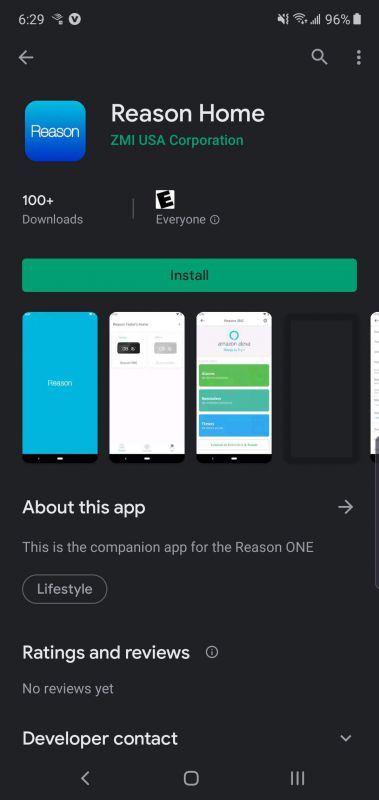 The first thing you need to do to get this clock up and running is to install the Reason Home app on your phone.  I am using a Galaxy Note 10 and downloaded the app from the Google Play store.  The above picture shows you what the app looks like in Google Play.  This app is also available for IOS.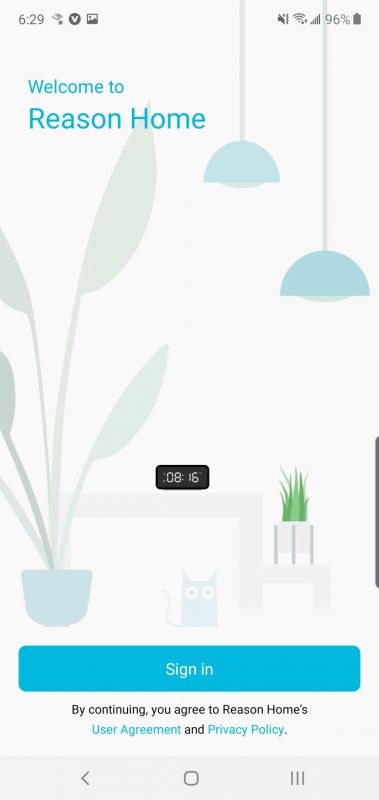 The app will ask you to sign in to an existing account or create a new account.  You have to click the 'Sign In' button to continue whether you have an account or not.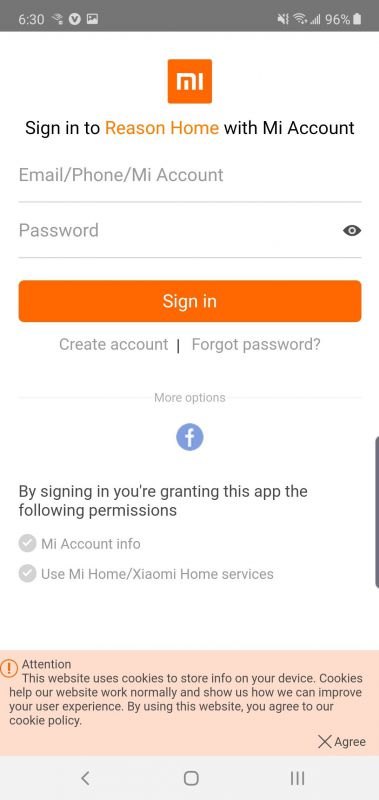 On the next page, you can enter existing account information, or click the create account button.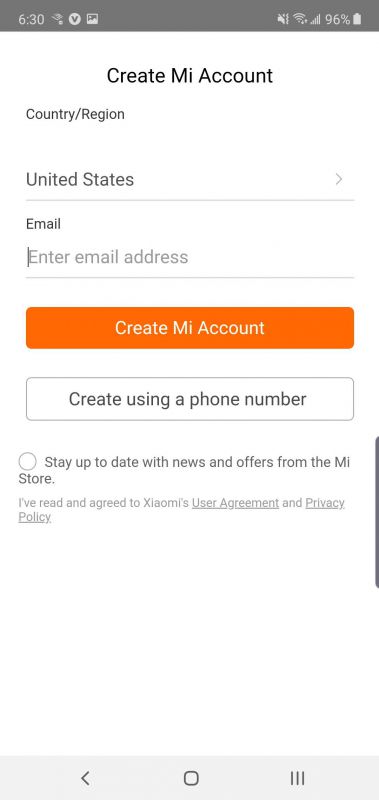 I clicked the create account and created a new account using my email address.  ZMI also offers an option to create an account with just your phone number.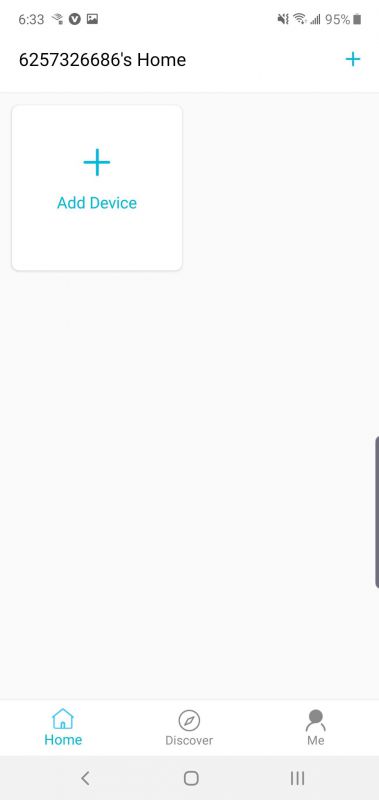 After creating your account, you will be presented with a page where you can add a device.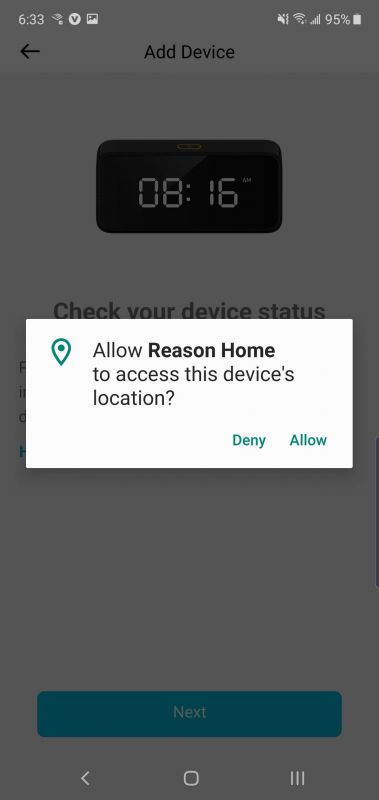 I clicked the add device and went through the steps to add the Reason One to my Home WiFi system.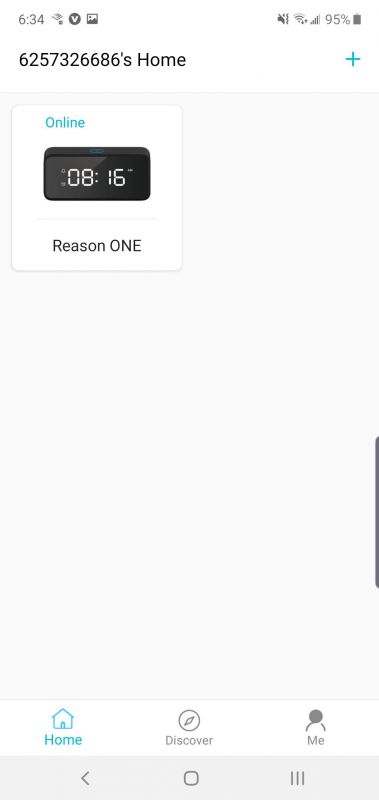 Once the device is successfully added, you are presented with an icon showing the device.  At this point, you can click on the device icon to start to hook up to your Alexa account.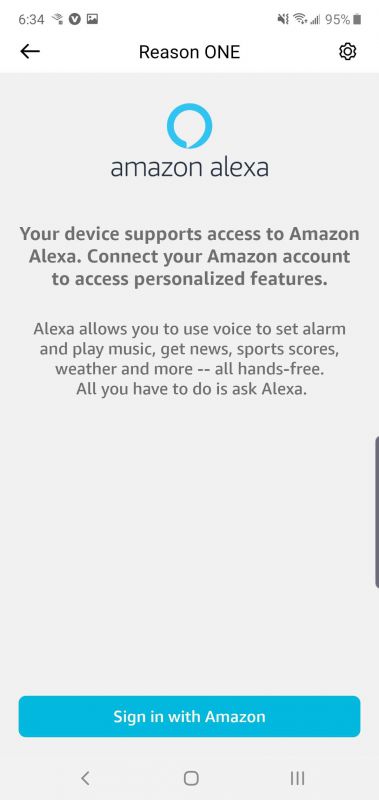 You will be presented with the sign in to the Amazon page.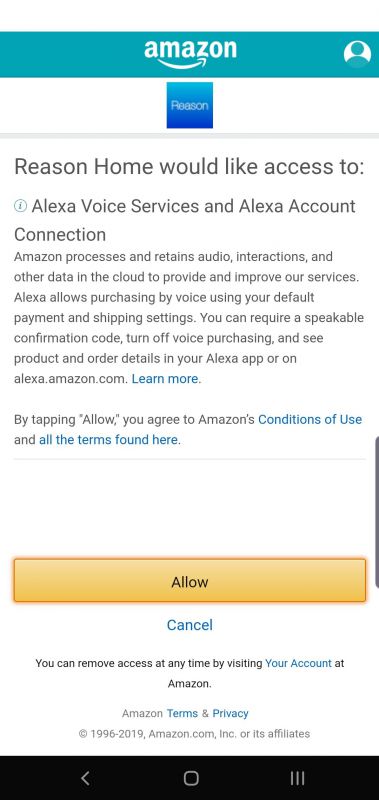 You must click on the 'Allow' button in order to get Alexa connected.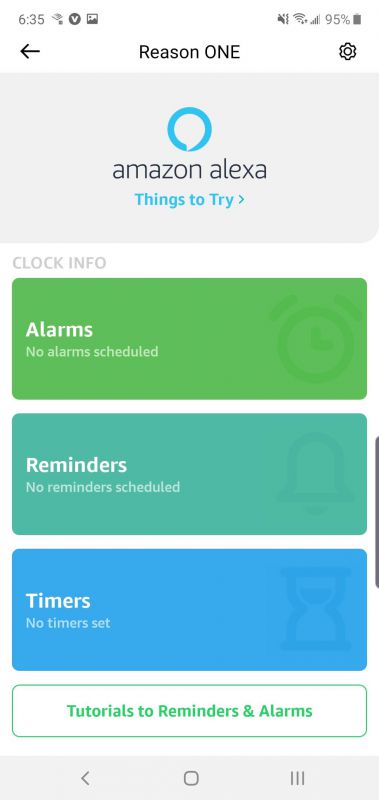 Once Alexa is connected to your Reason One, you can now see any Alarms, Reminders, and Timers you may have set.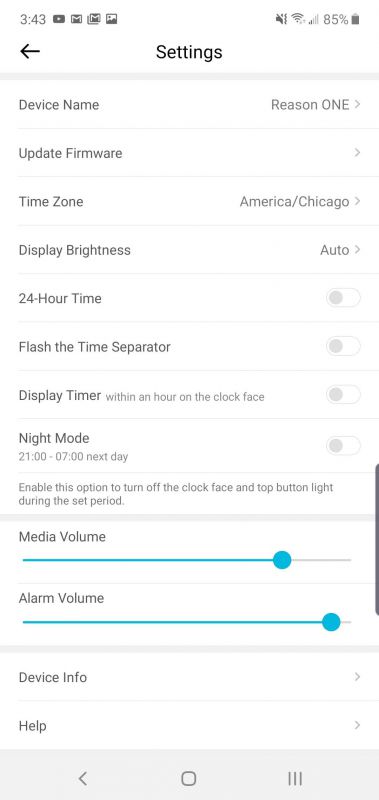 The above picture is a screenshot of the settings that are available on the alarm clock.  The Reason One only has that one button at the top of the unit that is used to cancel an alarm.  All other functionalities like volume, display brightness, and display options are controlled through the app.  Unfortunately, just like the ILive, you are not allowed to change the wake word on the device.  You have to use the word 'Alexa'.  We have an echo view in our main living room that is just outside the master bedroom.   With the ILive, the microphone was so sensitive, it could hear us talking in the family room.  The good thing about Reason One is that the microphone is not so sensitive.   It hears me just fine in the bedroom but has yet to try to respond to an 'Alexa' call from the family room.
From the screenshot of the settings, you can see that you have the ability to display the time as 24 hour time if you wish.  You can also have the clock display timer information when the current timer is within one hour.  I personally never use that feature, but I guess if you had this clock in the kitchen it would be beneficial.  Just don't confuse it with the actual time.
They also offer a night mode.  This actually turns the display completely off during the designated time.  I don't use this option myself.  If I do wake in the middle of the night, I do want to know what time it is.  What I do like is that they have an option to set the display to auto, dim, or bright.  There is an auto function, but I have been unable to determine if it is really dimming automatically when it gets dark.  Dim once again is pretty bright for me, and I have a piece of 'Dimmys' film over the clock display to make it darker.
You can also adjust the alarm and media volume on the app.  Unlike the ILive clock, there are no buttons to adjust the volume.  That is part of what makes the device so nice and small.  Clicking on device info will show you information like MAC address and WiFi network.  The Update Firmware will check for the latest firmware release and update the clock.  I have done one update so far.  I just kept the phone near the clock and the firmware updated in less than two minutes.  It was this last update that allowed me to be able to adjust the brightness of the display through the app.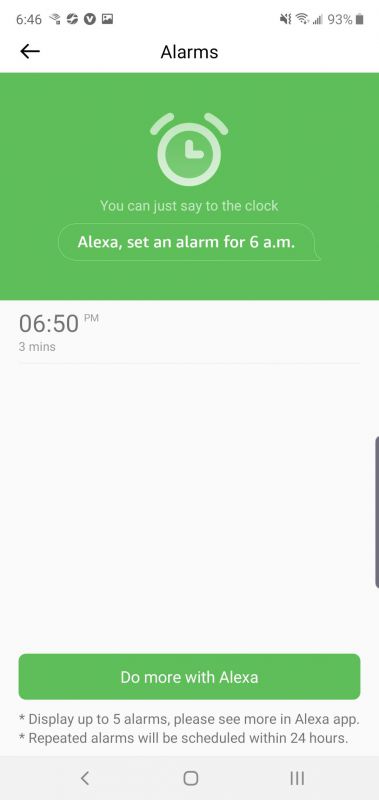 I set a basic alarm for 6:50 pm to test it out.  It worked exactly like it should with the standard alarm sound that Alexa uses.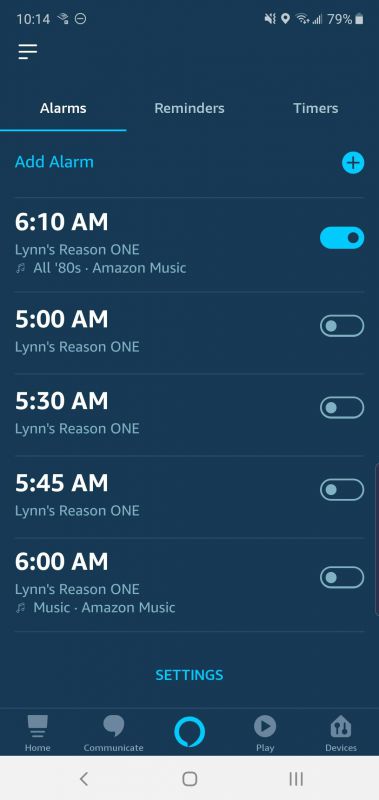 This is a view of an alarm within the Amazon Alexa app.  The Reason One app will simply state that there is an alarm set for 6:10 AM, but in the Alexa app, you can also see if it is more than just a standard alarm sound.  In this case, I set the alarm to wake me up with 80's music from Amazon Prime.  I am happy to say that worked perfectly.  You can even tell Alexa a specific song in which to wake you up if you wish, and if it is available, the app will use it.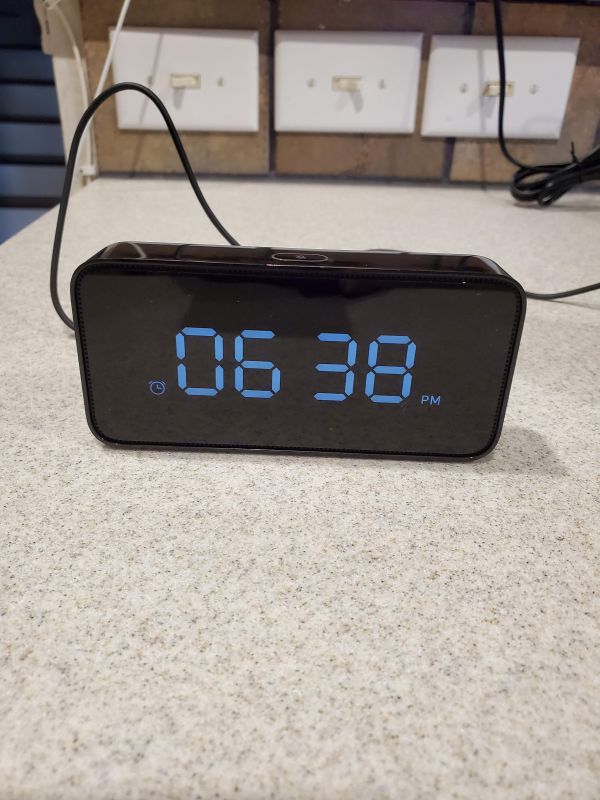 The above picture shows the alarm icon displaying on the clock, letting you know an alarm is set.   At this point, I want to mention the button on the top of the clock.  That button is what allows you to cancel an alarm when it is ringing instead of trying to talk to Alexa.  I love that feature.  However, what is not there is any way to snooze an alarm.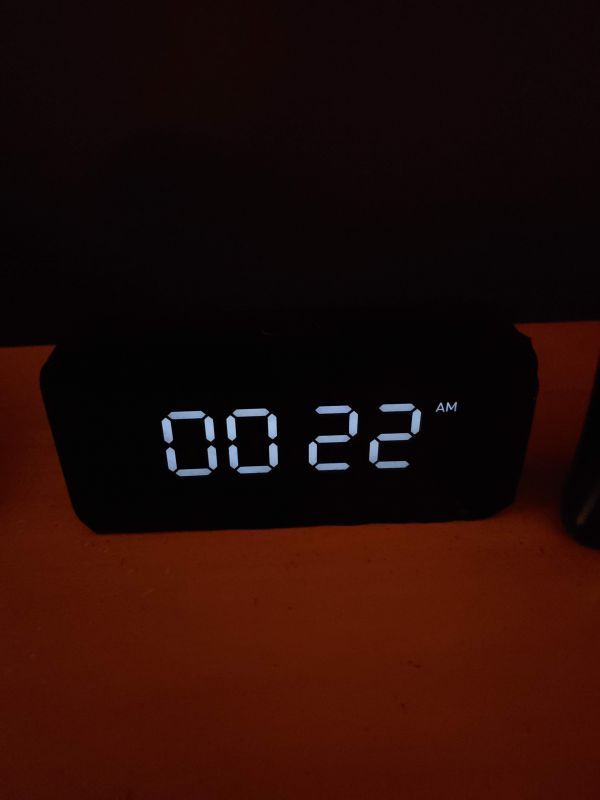 This last screenshot shows what midnight looks like on the clock.  This was before the last firmware update so that it may be fixed.  I am not a late-night person.  I was up later than usual due to attending a Halloween party that night.  You can see that the clock displays 00 instead of 12 like it should.   UPDATE – I just found out that this issue has been fixed.  It was most likely fixed when I did the last software update to it.
What I like
I love that it is small
I love that I can hit a button to cancel the alarm and not yell at it.
The appliance is straightforward.  There is just one button on top to cancel an alarm and a tiny reset button in the back.
It has all of the Alexa functionality that any Echo device has except for changing the wake word.
What needs to be improved
I could not see any way to snooze an alarm.
The wake word could not be changed from Alexa.
For some people, not having buttons on the appliance to control volume or adjust brightness could be an issue.  You can do it through the app.
There is no battery backup.  If you lose power when the alarm is supposed to go off, the alarm will not sound.  However, if you lose power overnight and power comes back on along with WiFi, it will automatically reset.  It does speak out loud when it resets though.
Final thoughts
I have switched out my old ILive Alexa alarm clock with the Reason One.  I personally never snooze and being able to hit a button instead of talking to it to cancel the alarm is a big plus for me.  Otherwise, the Alexa features between the two clocks are the same.  You would have to decide which one would work best for you.  If you like to listen to music in your bedroom, then the ILive clock has much better speakers.
Price: $19.99 from ZMI, but they charge $5.38 for three day USPS shipping.
Where to buy: ZMI USA and Amazon
Source: The sample of this product was provided by ZMI