We use affiliate links. If you buy something through the links on this page, we may earn a commission at no cost to you. Learn more.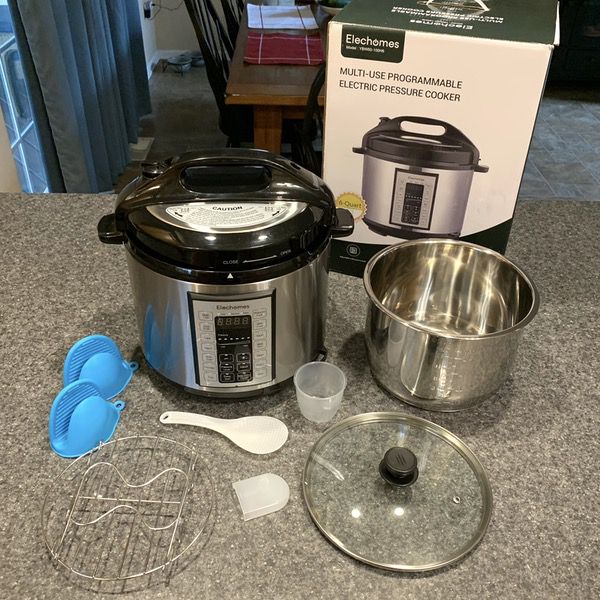 REVIEW – The Elechomes 9-in-1 6 Quart Pressure Cooker is looking to establish a permanent basecamp on your kitchen counter as a replacement for an assortment of other appliances. Does one tool really do it all? To the review!
What is it?
It's a multifunctional countertop cooking appliance that operates as a pressure cooker, slow cooker, sauté pan, rice cooker, yogurt maker, cake maker, egg cooker, steamer, and warmer.
What's in the box?
Your pressure cooker comes with a bunch of accessories including a rice measuring cup, a plastic scoop, silicone mitts for handling hot items, a steaming rack, a stainless steel work bowl, and a lid for slow cooking.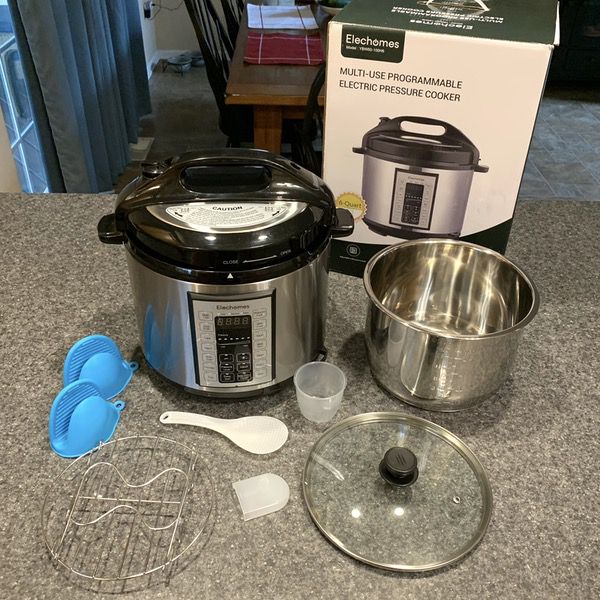 Hardware specs
14 different programmed functions including customizable cooking modes.
ETL and FDA certified.
Pressure cooking, searing, and slow cooking modes.
Food grade 304 stainless steel work bowl.
24 delayed cooking start feature.
13″ by 12″ by 12″.
12 .13 pounds.
Design and features
Like many devices in this category, the Elechomes 9-in-1 6 Quart Pressure Cooker uses variable heating levels and timer functions (in addition to Pressure cooking) to perform multiple duties in your kitchen. Your "9-in-1" functions are preset modes that use some variation of slow cooking, searing, pressure cooking, or steaming to accomplish specific tasks, or you can dial up your own combinations.
Beefy construction and locking sealed lid with a vent serve the pressure cooking function.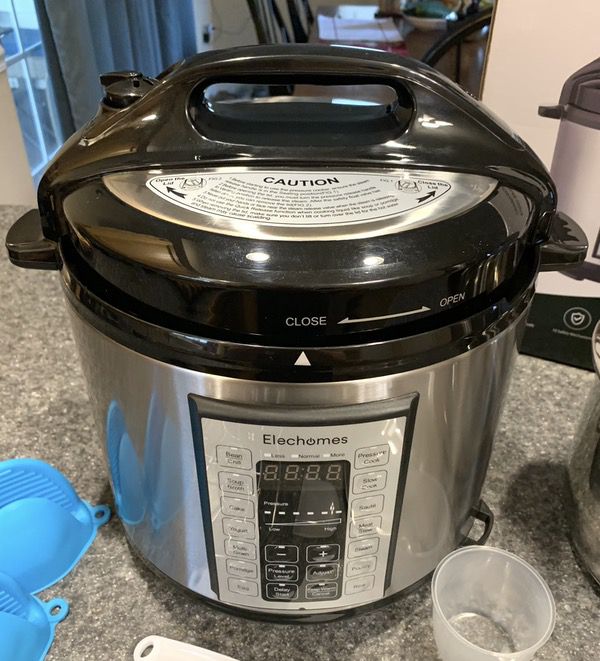 If you're planning on using the device for tasks that don't involve pressure cooking, the unit also includes a standard thick glass lid that replaces the pressure cooking top.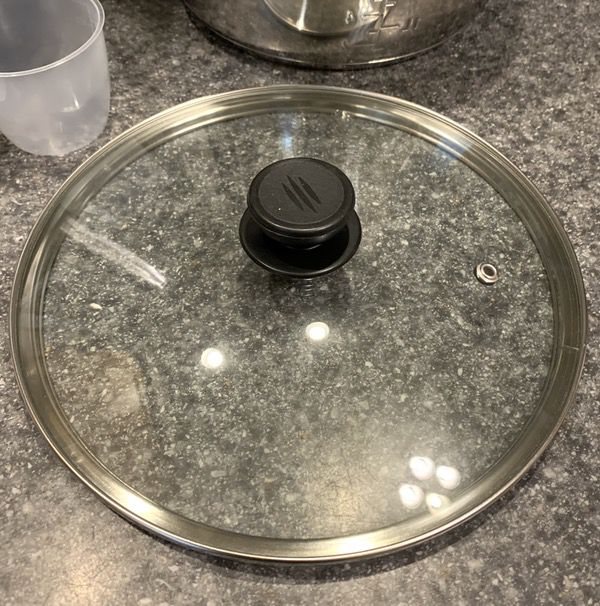 I REALLY like the heavy-duty stainless steel work bowl. This sucker is heavy, includes measurements on the sidewall, and has a thick base that could be used directly on my cooktop. It will hold up nicely to heat-intensive functions like searing.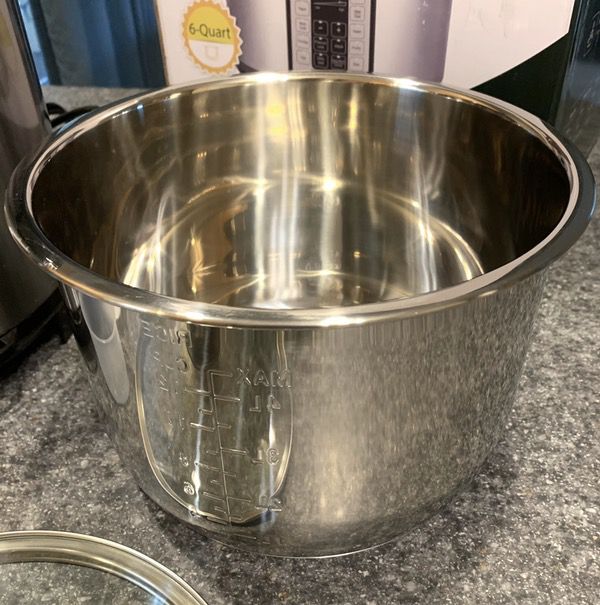 Unfortunately my test model showed up with some defects. First there was a big ol' dent in the housing, despite the fact that the external packaging was unharmed. It didn't affect cooking performance, but it's still a bummer.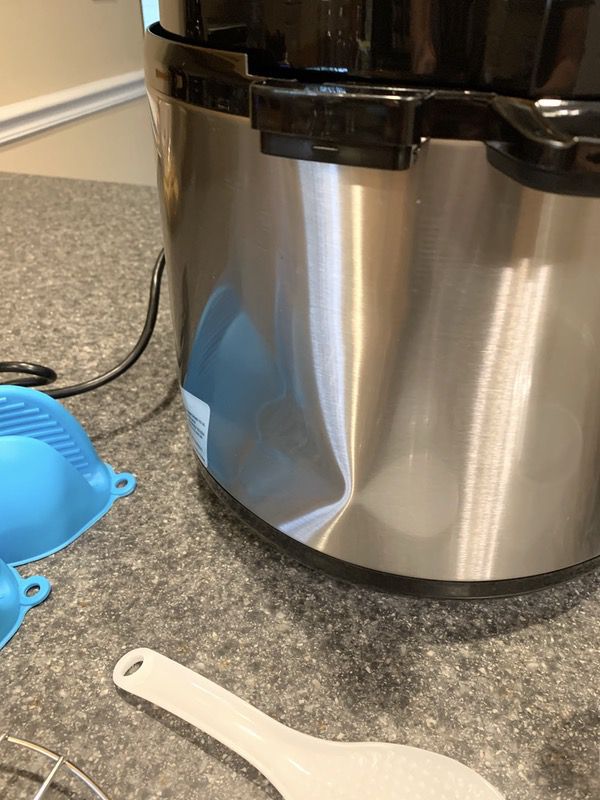 I also saw that the pop-up pressure indicator doesn't pop up as noted in the instructions. Typically these posts are highlighted with a red color so you can see them rise and drop as the unit pressurizes and depressurizes.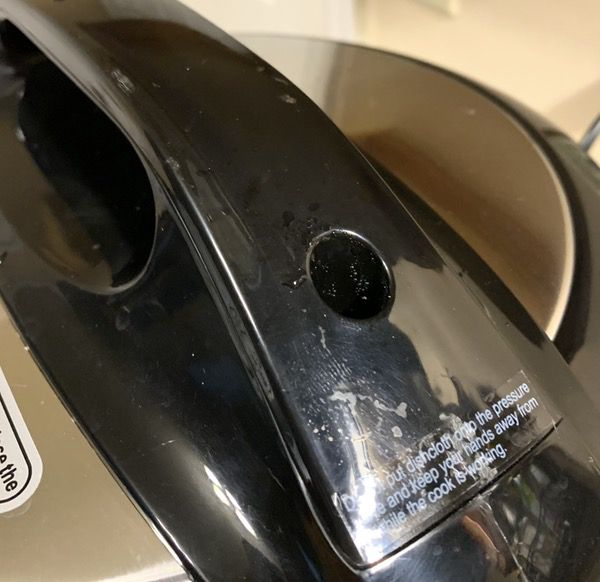 We got to work with a slow cooked 4-pound Italian pork roast for the first cook. The seasoned beast goes into the work bowl with some chicken stock. The 6 quart capacity of the work bowl is a great size for medium-sized meals.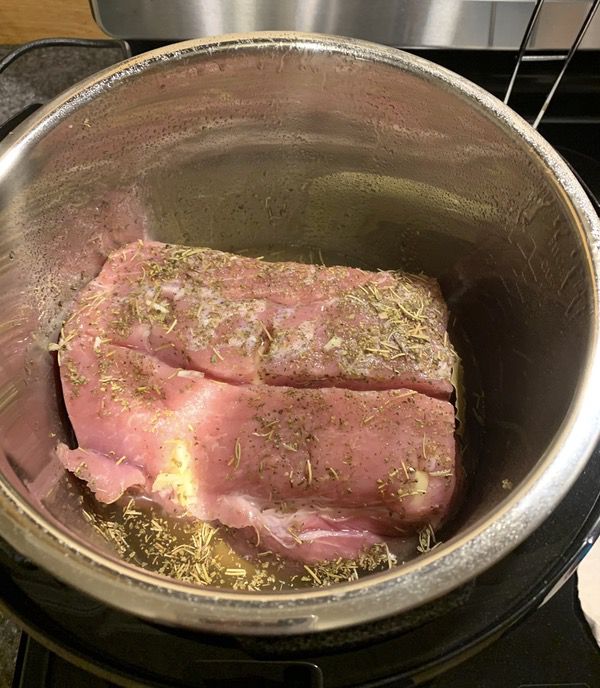 All of your controls are set from the front panel with easy-to-read buttons. You really only have three functions to choose from (Pressure Cook, Slow Cook, and Saute) with manual adjustments for heat, time and/or temperature. The preset functions are variations on these combinations that are pre-programmed. You'll want to check the manual and recipe book before using those preset features, however, so you know what you're getting into. There is some learning curve to working with those features as we'll see below.
I wanted to go manual for the pork roast, so I opted for the "Slow Cook" feature. You press that button, then adjust the heat to "Less," "Normal," or "More" with the Adjust button, then use the +/- buttons to set a cook time. I went for normal heat and 6 hours of cooking.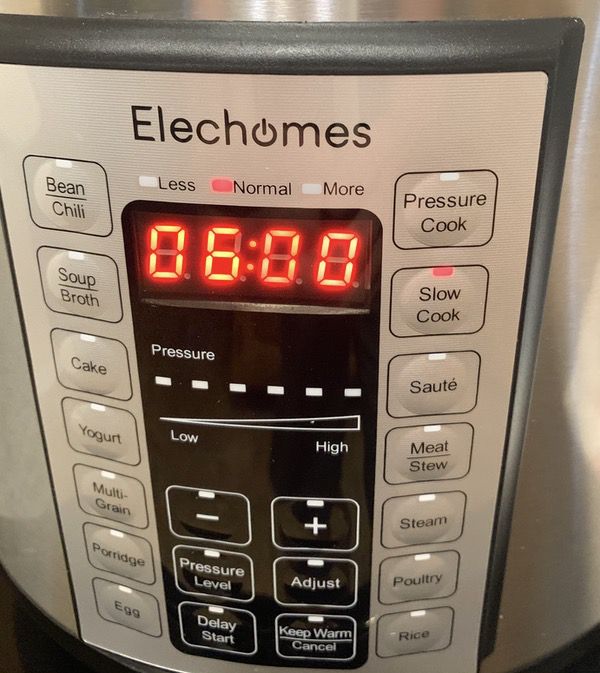 There is no start button once you have chosen your options. The unit gives you about 10 seconds and starts into the process. I found this to take a little getting used to as I was bouncing back and forth between the instruction books and the functions. Sometimes I had to stop it and restart it to make sure I was getting things right.
Once we got underway, the cooking process works just fine. At roughly the four hour mark, the pork mostly cooked through but had not reached pull-apart tender yet. I planned for this because I wanted to finish the recipe with the pressure cooker.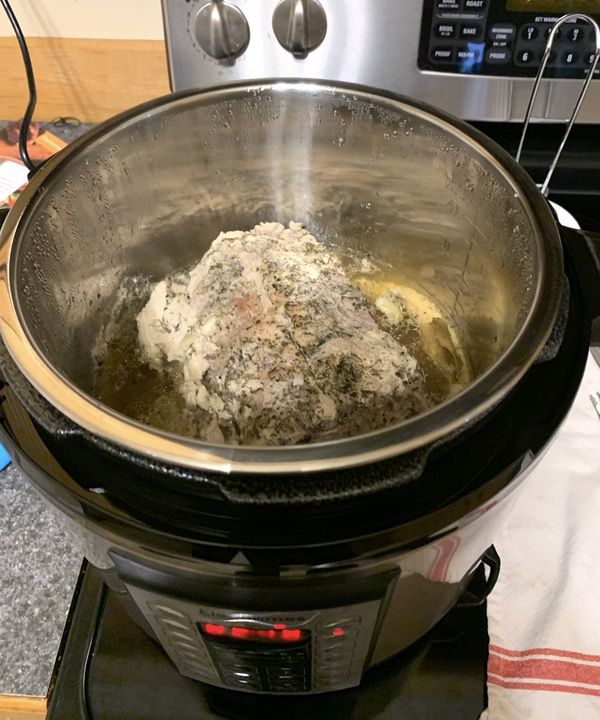 So on goes the pressure cooker lid, which is rotated and locked in place. The steam vent (on the top left of this picture) is rotated to the "lock" position.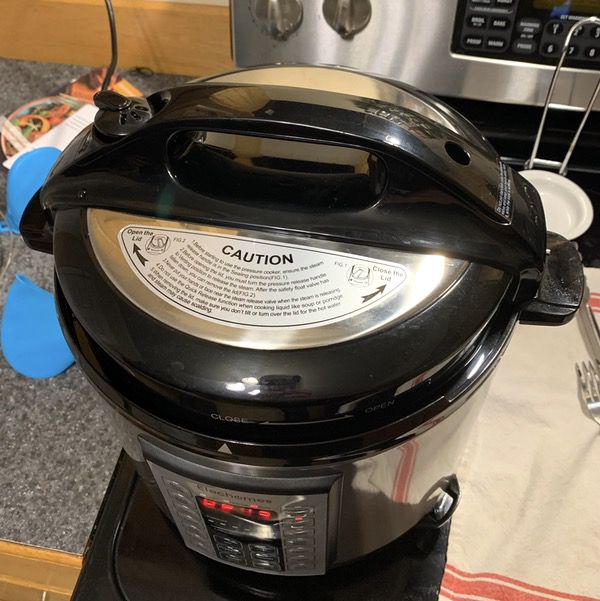 I then chose the "Pressure Cook" button for manual operation, bumping up the pressure to the fourth bar and setting the time to 30 minutes. I am not entirely clear on how the "pressure" adjustment makes a difference, but I tweaked it anyway.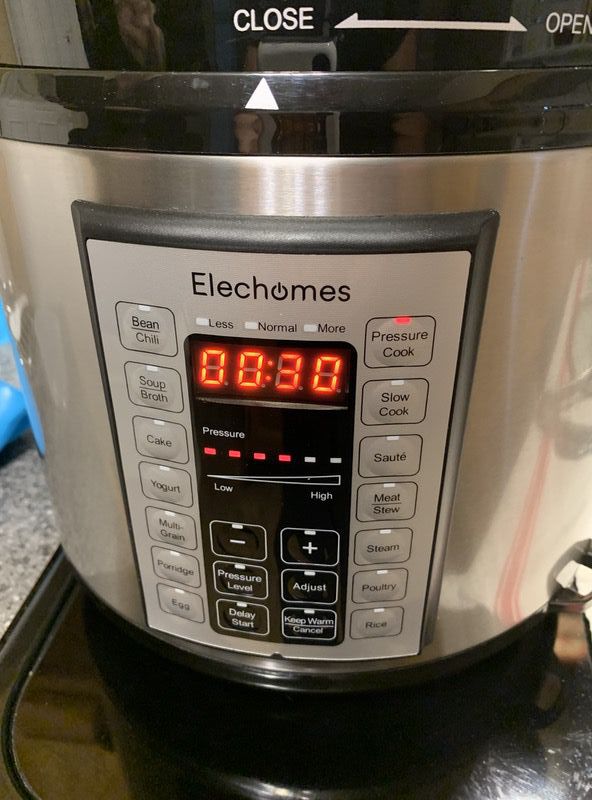 Once the process starts in pressure cooking mode (after the ten second delay), the LED will cycle to indicate that the pressure is building up. You'll hear the post click when pressure is engaged as the heat rises inside the unit and the device seals.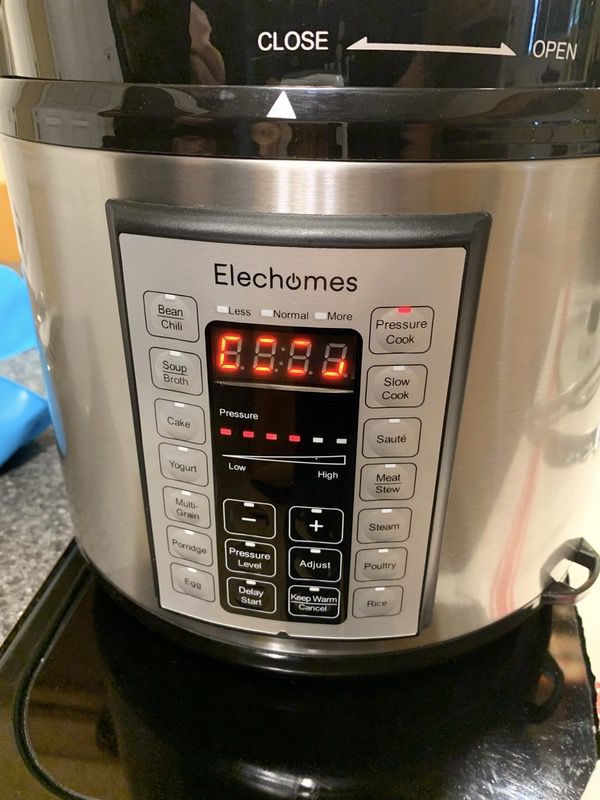 When pressurization is complete, the unit beeps and the LED indicates that your are in pressure cooking mode with a "P" and the remaining time.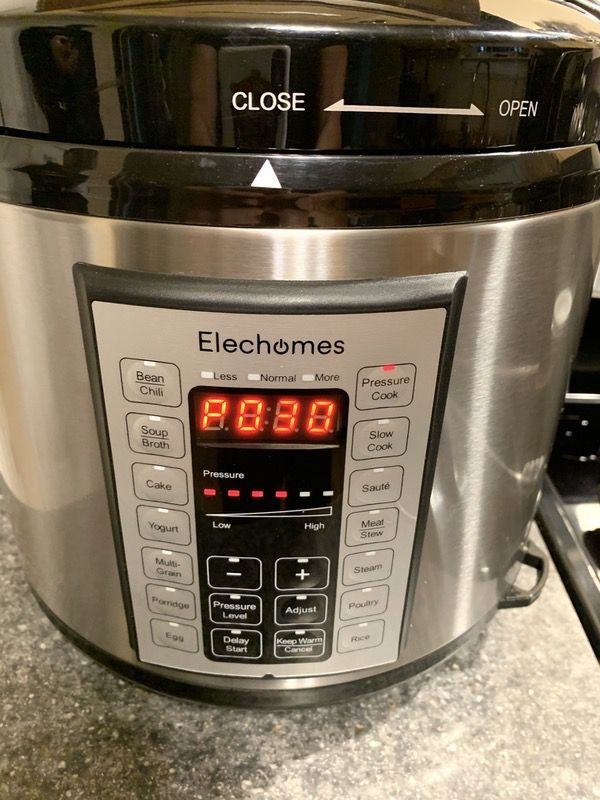 When the timer is complete, the unit beeps again and the LED changes to a "bb" indicator to let you know that the unit is in warming mode. You can let the pressure drop naturally (it takes up to 40 minutes), or you can flip that pressure valve on the left hand side to depressurize the unit faster, but you'll need to be careful! There's a lot of hot steam blasting out of that hole, and liquid dishes (like soup) could cause a small geyser. When the unit is depressurized, you'll hear the post click as it drops. Again, a better visual indicator would be useful here to let you know that it is safe to open the top.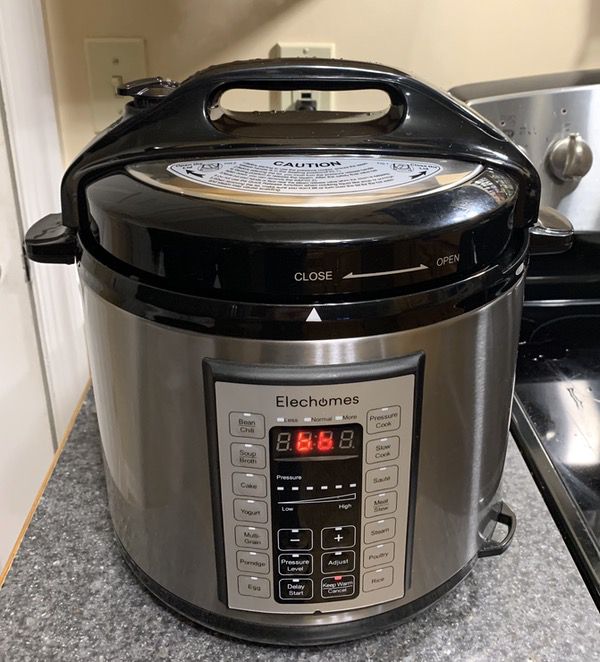 The results were pretty great! Tender pork all the way through that shredded with a fork. I'll need to do a follow-up test with a full pressure cook from start to finish.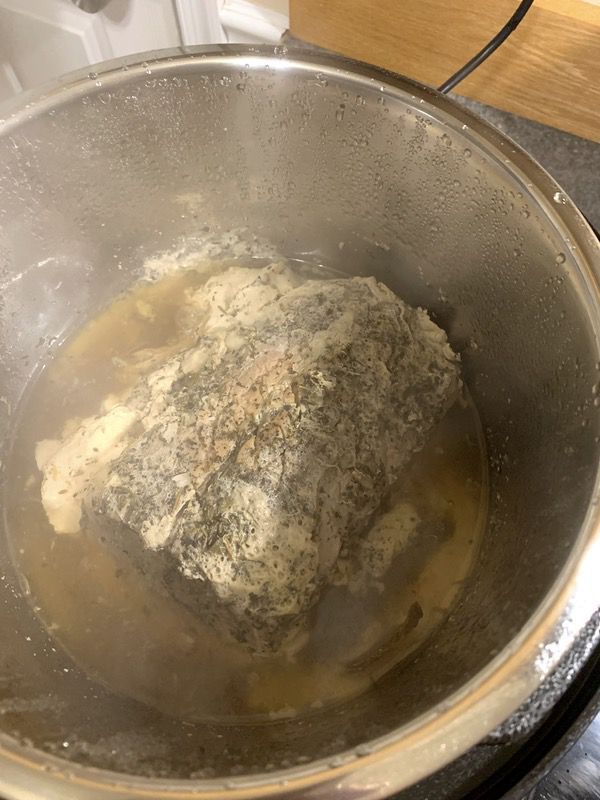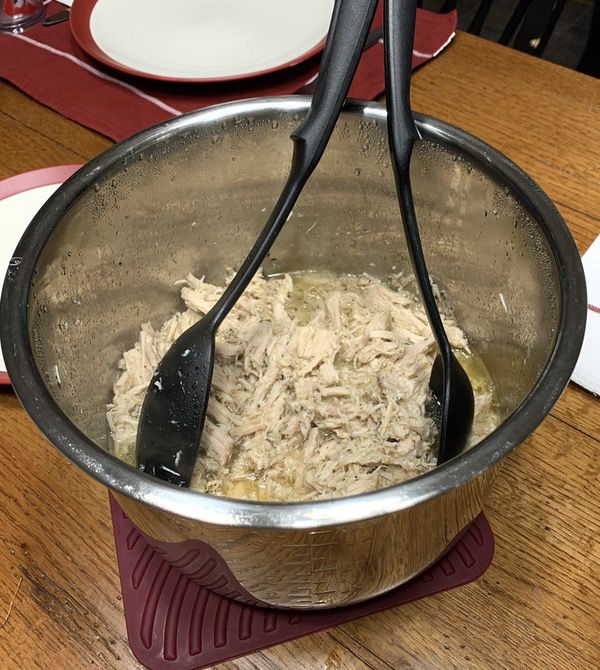 I tested the "Egg" mode as well, which is basically a 10-minute pressure cook. There's a steaming rack included in the kit for this purpose (as well as steaming duties). I laid out 6 eggs on the rack as shown below and added a cup of water to the work bowl per the instructions.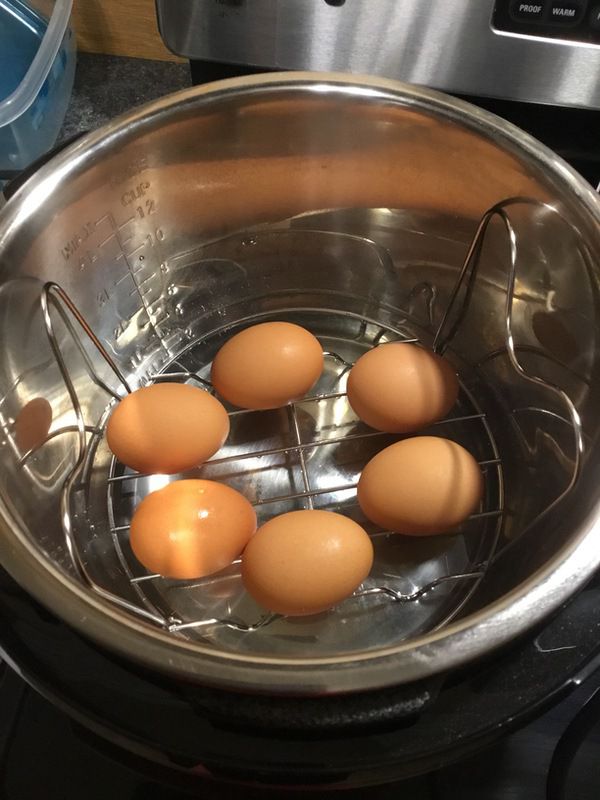 After a 5 minute warm up, I had perfectly hard boiled eggs with that 10 minute cook. 15 minutes start to finish. You can also set up to a 24 delay for the start of your program, which would be useful for doing overnight dishes like oatmeal.
Performance
So… does the Elechomes 9-in-1 6 Quart Pressure Cooker deliver on the promise to replace an assortment of your kitchen appliances? I say yes, but there are some qualifiers you should consider before purchasing.
When it comes to flexibility there's no doubt that this device delivers as intended. The multiple cooking modes make it super flexible, and the ability to manually adjust heat & timing levels enables you to accomplish all sorts of tasks. A lot of those functions (like boiling eggs and steaming) do come from different pressure cooking modes, so you'll need to get familiar with that cooking method. The ability to sear and cook in one device is a handy feature. But if you want to put together a pot of chili or set an overnight oatmeal recipe, you'll be able to do that as well.
The biggest issue you'll have to work with is the learning curve. Presets are handy for common functions, but you'll spend some time flipping back and forth between the instruction manual and cookbook to get familiar with how the settings work. And I'm not sure that all the functions are quite as easy to master as presented. Some functions in particular (like "Poultry") require adjustments based on the ingredient types and your specific cooking goals. And some (like "Cake") feel like a stretch. I'll continue playing with these features and let you know what I find out.
(And just to restate the obvious: pressure cooking is something that you should explore for safety reasons before you get into it. It's fairly easy and safe to do with modern units like this, but applying pressure and heat requires a little advanced preparation to ensure safety. Make sure you read all the cautions and warnings before attempting!)
One last note on the quality: my test model was a pre-release unit, so the issues there might simply be related to that. I'll keep an eye on other reviews to see if there is a consistent problem here.
What I like
Great usable size for a variety of dishes.
Excellent flexibility for accomplishing a number of different kitchen tasks.
A nice overall package that includes everything you need to steam, sear, slow cook, make rice, etc.
What needs to be improved
It has a bit of learning curve to get proficient.
Documentation and instruction guides could be clearer.
See notes about quality issues in the review.
Final thoughts
This is my very first adventure with one of these multifunctional cooking devices, so it's hard for me to comment on the performance compared to the class leaders (like the Insta Pot). That said, I believe that the Elechomes 9-in-1 6 Quart Pressure Cooker has earned a spot on my counter as a bonafide multitasker. I'm finding more practical uses for it the more I use it. It just takes some practice to put it into regular use.
Price: $89.99
Where to buy: Amazon
Source: The sample of this product was provided by Elechomes.