We use affiliate links. If you buy something through the links on this page, we may earn a commission at no cost to you. Learn more.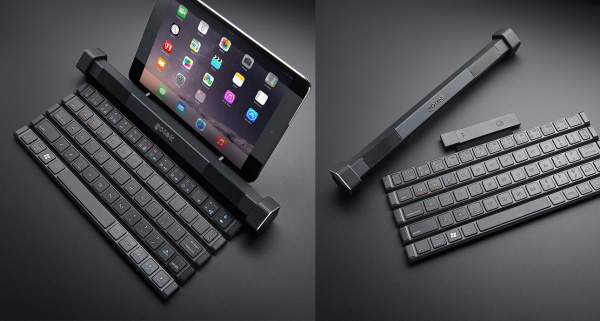 CROWDFUNDING NEWS – As an iPad fan and as someone who uses my iPad every day and for hours each day, any accessory that will add to the functionality and enjoyment is worth it if it works well. I have several accessories like USC-C multi-port attachments and USB-C hubs, and also a few keyboard cases and stand-alone keyboards.
A couple of days ago ai came across the Wireless Rollable Keyboard with BT Speaker by Gotek. This device seems like it could be the perfect accessory and it is universal, durable, lightweight and compact. It is designed to be used with your mobile devices including your iPad, iPhone, Android and Windows-based tablets (including Amazon Fire), and all the devices can be connected via a single touch. It has a built-in stand that folds out to support smartphones and tablets up to 10″. While its current design specs do not seem to say that it can support the iPad Pro 12.9", it looks like it just might.
The built-in Bluetooth speaker can be used together or separately from the keyboard and it also includes a built-in microphone that adds versatility including using it for phone calls. It is made from an aircraft-grade aluminum alloy that should keep it durable.
If you would like more information on this Wireless Rollable Keyboard with BT Speaker you can head over to the Indiegogo page and check it out. It can be purchased for $99, although it seems to be out-of-stock at the moment.