We use affiliate links. If you buy something through the links on this page, we may earn a commission at no cost to you. Learn more.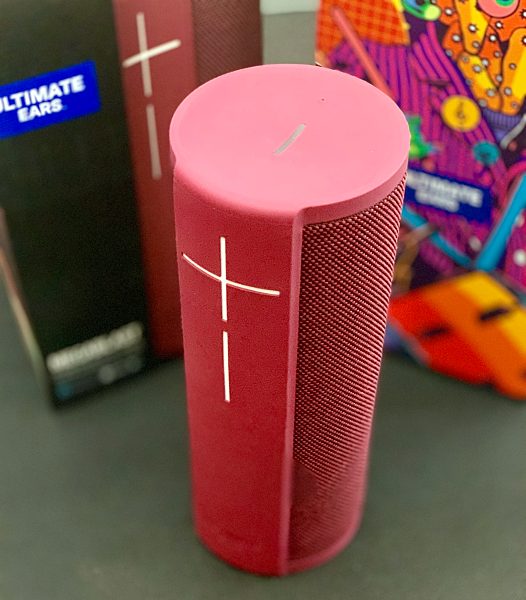 REVIEW – It's been a while since I reviewed a wireless speaker. I've heard good things about Ultimate Ears speakers, and I wanted a speaker that was portable, waterproof and could replace the Echo Dot that I currently use in my living room. The UE MegaBlast meets all these criteria so I decided to give it a listen.
What is it?
Ultimate Ears MegaBlast is a portable WiFi/Bluetooth speaker with 360º sound and built-in Amazon Alexa. 
What's in the box?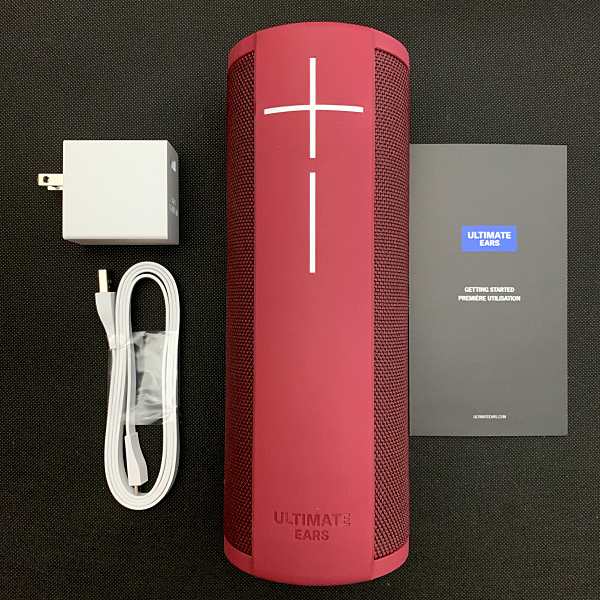 MegaBlast speaker

Micro-USB charging cable

Power adaptor

Removable D-ring

Quick start guide
Power Up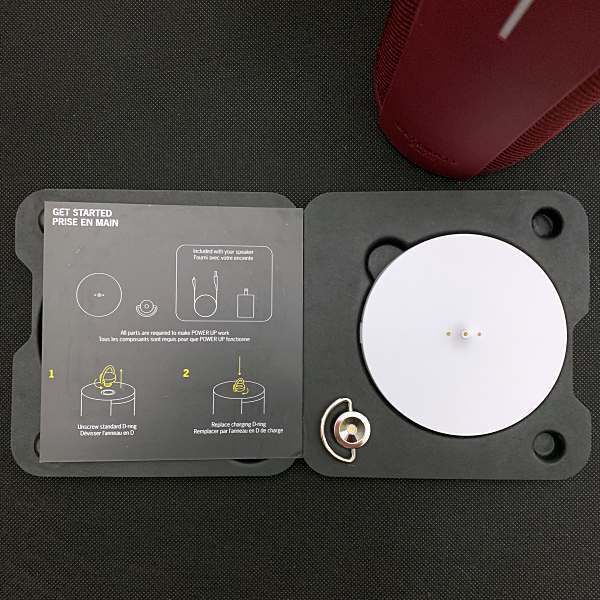 Power Up base

Charging D-ring

Quick start guide
Hardware specs
Maximum Sound Level: 93 dBC

Frequency Range: 60Hz – 20kHz

Drivers: Two 25mm tweeters, two 55mm active drivers and two 85mm x 50mm passive radiators

Wi-Fi range: 100m / 330ft

Bluetooth range: 45m / 150ft
Design and features
The MegaBlast's design is similar to other offerings from UE. Cylindrical with rubberized surfaces wrapped in acoustic fabric with those signature oversized volume control buttons on the front. It stands vertically, so it takes up less space.  It's aesthetically pleasing without being obnoxious, and it comes in cool colors. I choose to review the Merlot Red, it's also available in Graphite, Bluesteel, and Blizzard.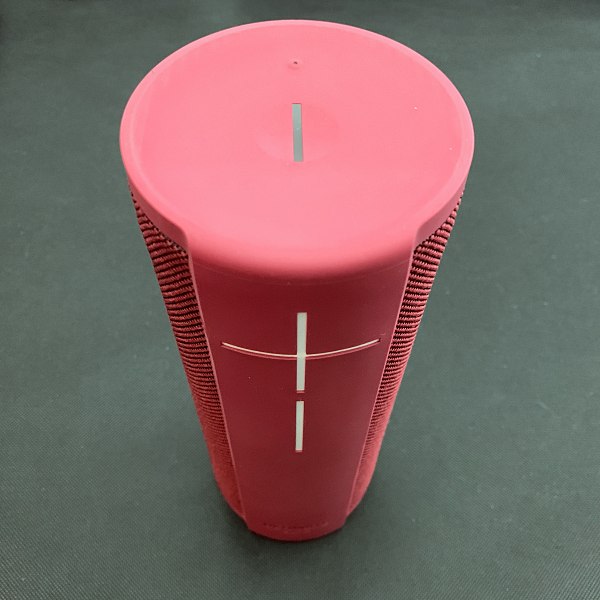 MegaBlast is UE's biggest speaker to date coming in at just under 91/2-inches tall. It has a little heft to it but is still extremely portable.
The on/off button, Bluetooth indicator LED, and LED power/Alexa indicator are located on the top of the speaker.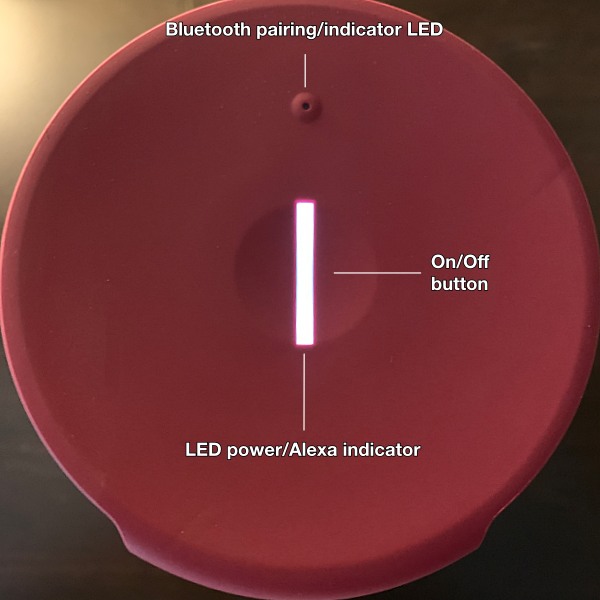 On the bottom, there's a D-ring that when removed reveals a standard tripod mount insert. The Micro-USB charging port is located under the rubber weather door. There's also a charge LED.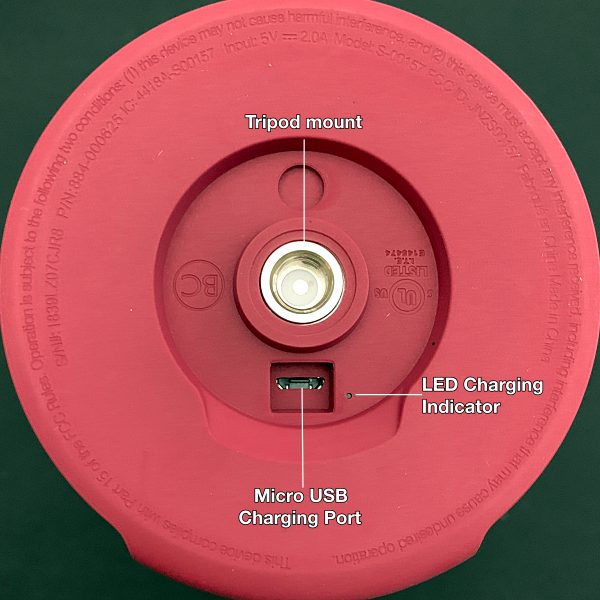 Connection
MegaBlast can be connected using both Wi-Fi and Bluetooth. Using WiFi, you can control your music with your voice. Or control Wi-Fi quality streams directly from music services such as Spotify and Amazon Music. When you're away from Wi-Fi, you can use your smartphone or other Bluetooth devices, minus the voice control of course.
MegaBlast can be paired with other MegaBlast or Blast speakers for louder, more immersive sound. Using the app, you can instantly connect up to eight speakers in total.
Durability
The speaker has an impressive IP67 waterproof and dust-proof rating, which means it can be totally submerged in water for up to 30 minutes.
It's also drop-proof, something I put to the test within my first hour of use. I accidentally knocked the speaker off of a countertop, it fell about six feet to the ground and came away with only a small scuff mark. Whew!
I also like the fact that if it gets dirty, you can just rinse it off and let it air dry.
Battery life
MegaBlast also boasts an equally impressive 16-hour battery life. I can't speak on the 16 hours, but listening to music using Wi-Fi for over 2 hours at a medium volume it went from 100% to 90%. Not bad. However, when using Bluetooth, the battery went from 100% to 50% over the same time span. That's not so good.
To check the battery percentage of the speaker, you can use the app or simultaneously press the + – buttons.
Power Up wireless charger
Speaking of battery life, UE also sent me one of their Power Up wireless chargers. The small white disk is the same size as MegaBlast's base and it can be used anywhere it can be plugged in.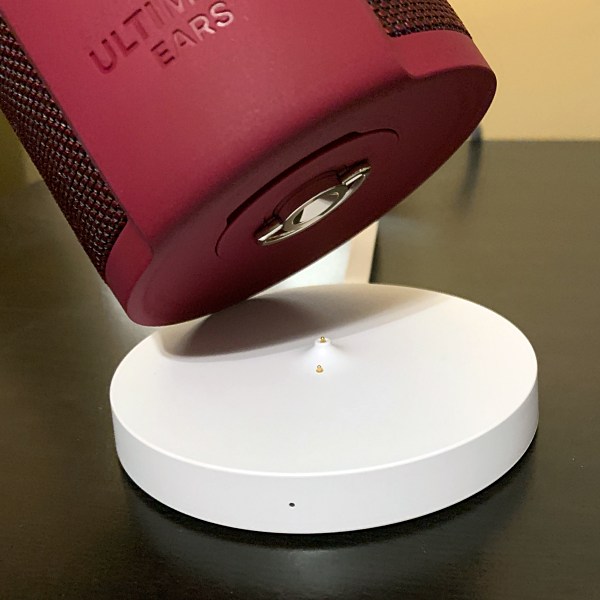 It comes with a charging D-ring that replaces the MegaBlast's standard D-ring. To charge simply place the speaker onto the Power Up.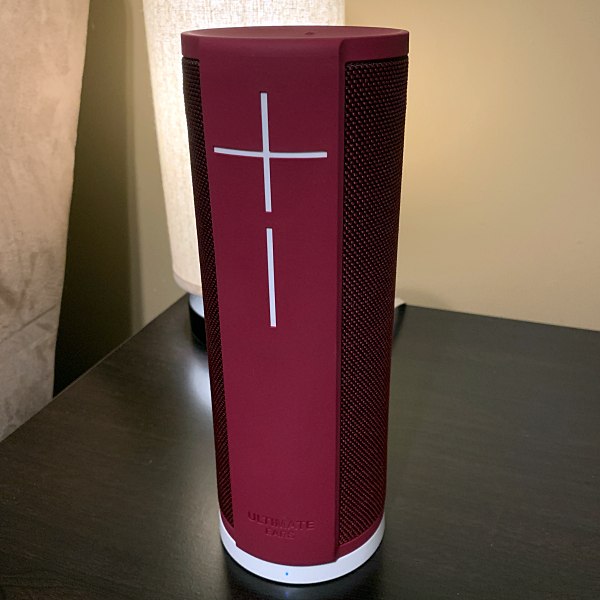 A small LED indicator on the front will blink to let you know that the speaker is charging. When the battery is charged, the light will remain solid. You can also use the speaker while it's charging.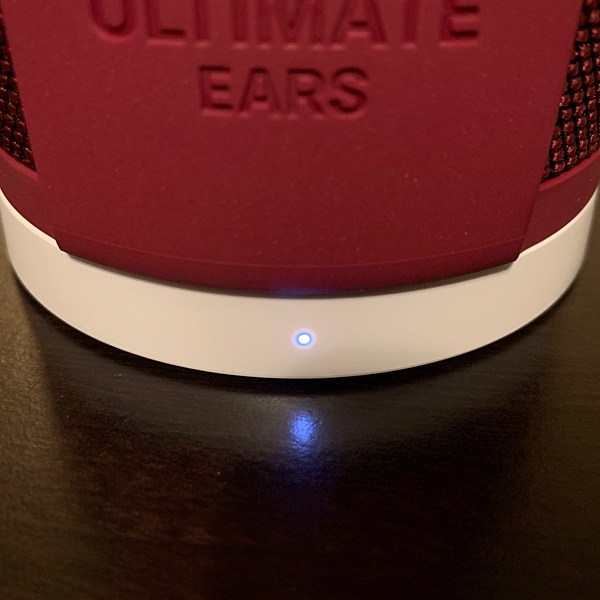 The Power Up allows me to keep the speaker on 24/7 so I have access to Alexa without having to worry about running down the battery. And when I grab the MegaBlast to take it into another room or outside I know that it's fully charged.
It also means no more remembering to plug or unplug the speaker.
IMO if you plan on getting a MegaBlast, the Power Up is a must-have accessory and worth the $39 price tag.
Setup and Blast app
To set up the speaker, download and launch the Blast app then follow the instructions. With the Blast app, you can control volume, EQ settings, add and create speaker groups, and check the speaker's battery and connection status. The app has a nice interface and is easy to navigate.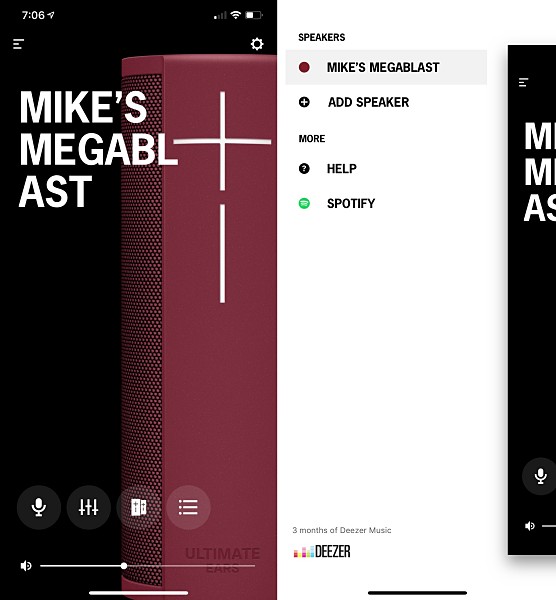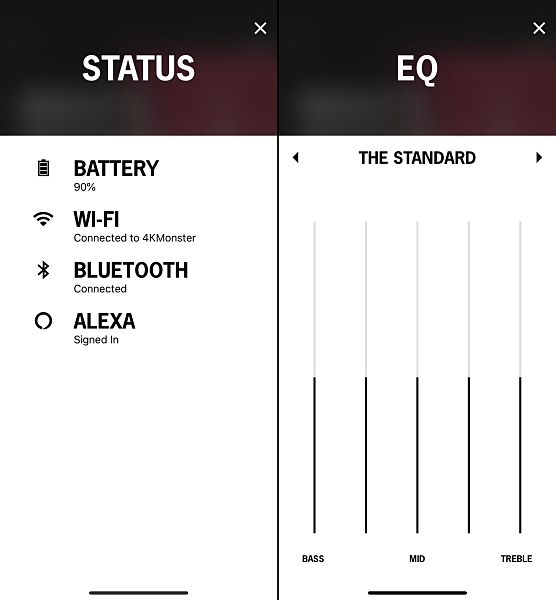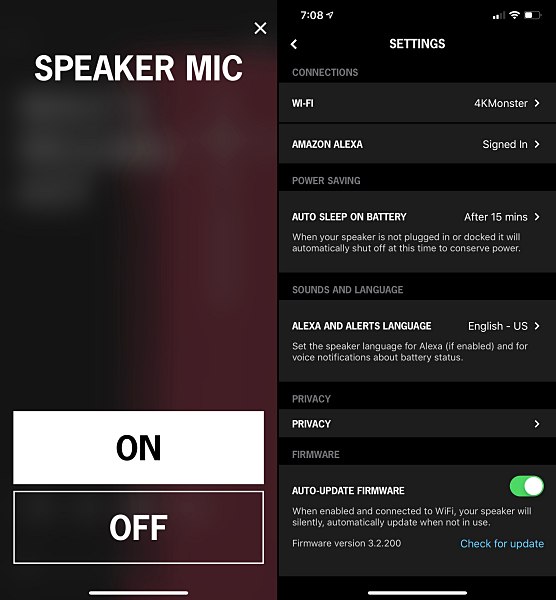 Say hello to Alexa
One of the MegaBlasts biggest features is that it comes with Amazon Alexa built-in. To enable Alexa, all you have to do is sign into your Amazon account using the Blast app during setup.
When you say the wake word "Alexa", the indicator light on top of the speaker glows brightly indicating that she's listening.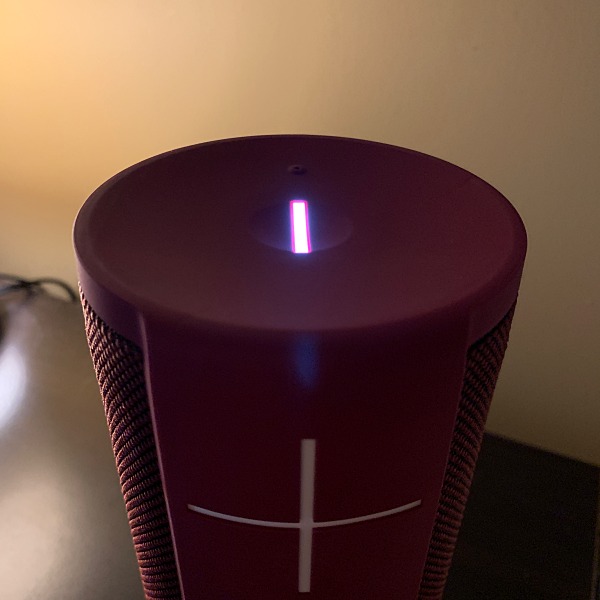 The only problem with that is if the speaker is across the room, it's hard to know if Alexa is hearing you, might be nice if there was an audible tone indicating Alexa is listening.
Otherwise, it works pretty much like my Echo Dot. I can use Alexa to control my lights and smart lock, set a timer,  control my music or access one of Alexa's growing range of skills.
The best thing is being able to do all these things wirelessly as long as your connected to WiFi or a mobile hotspot (Alexa does not work using Bluetooth).
I like being able to take Alexa with me from room to room. And being able to control my music without having to fumble with my phone is a definite plus.
Here's a link to all the music services you can control using Alexa.
I did run into one issue. When playing music at a high volume, Alexa had trouble hearing me even at close range. Hopefully, this is something that can be addressed with a firmware update.
If you don't want Alexa listening to you, you can enable Alexa Privacy Mode either through the Blast app or by simultaneously pressing the volume down and Bluetooth buttons.
Sound performance
With a name like MegaBlast, you would expect this speaker to get plenty loud, and it does. But it does so without losing any of the music's clarity. What you get is a rich, vibrant sound that is well balanced.
MegaBlast also delivers that bass but in a way that's not over manufactured or fake sounding.
The design of the speaker allows it to radiate music 360º, and it fills the room with sound. You feel like the music is surrounding you instead of coming directly at you.
You can use the Blast app to choose from 5 different preset EQ settings. The Standard, Custom, Voices, Cramped Spaces, and Bass Jump. I recommend using either The Standard or Custom to get the best sound.
I'll be the first to say I'm not a music snob or audio aficionado. But to me, the overall listening experience with the MegaBlast is excellent.
What I like
Cool design

Portable

IP67 waterproof

Durable

Built-in Alexa

Works with both Wi-Fi and Bluetooth

Very good room filling sound

Power Up wireless charger (sold separately)
What needs to be improved
It's hard to tell if Alexa is activated

Alexa has trouble hearing you over loud music
Final thoughts
The UE MegaBlast is the best sounding wireless speaker I've ever used. The built-in Alexa feature, while not perfect, is still very good and it sure beats my Echo dot for sound and of course portability. The only major issue I have is Alexa not being able to hear me when I listen to music at a high volume.
Price: $199 w/o Power Up – $239.98 w/Power Up
Where to buy: Amazon
Source: The sample for this review was provided by Ultimate Ears.