We use affiliate links. If you buy something through the links on this page, we may earn a commission at no cost to you. Learn more.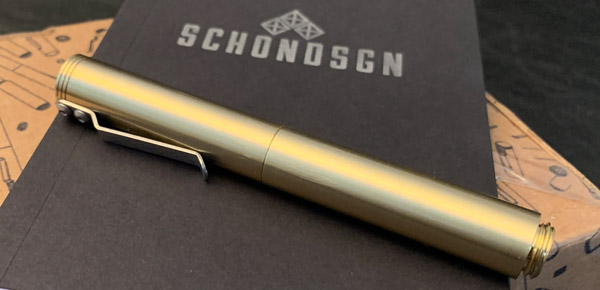 REVIEW – In today's world of our nonstop keyboard clicking, the written note is definitely the anomaly versus the standard anymore. Even our signatures are digital these days, involving a smart-chip, fingerprint, special code, etc. But the ballpoint pen endures…I would guess most of those reading this review have a nice writing instrument in their EDC bag right now. I am always looking to improve my EDC gear, tweaking it and trying new items in my quest for tech-Zen. In this case, Schon DSGN sent me one of their Classic Machined Pens, in brass to review. Let's see if it is worthy enough to make it into my EDC lineup.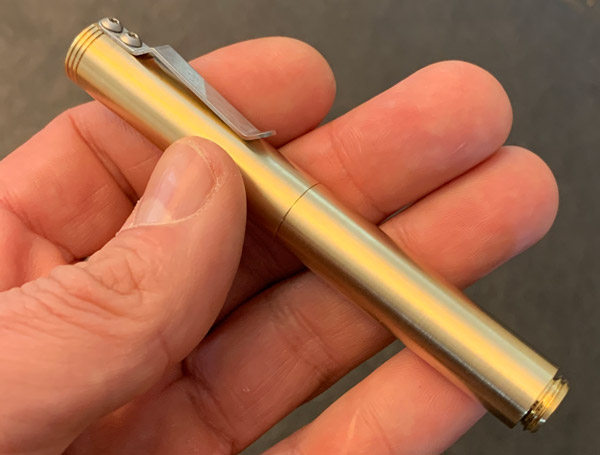 The Schon DSGN Classic Machined pen began as a Kickstarter project back in 2017. It was successfully launched by 741 backers who ultimately pledged $58,548 to bring this project to life. Schon DSGN was founded by Ian Schon with "the idea of creating objects without compromises".
What is it?
The Schon DSGN Classic pen is a small compact ballpoint pen machined from a single piece of metal. Each pen is turned from solid barstock and finished to give each specific material a distinct look.  SchonDSGN pens are 100% made in the USA.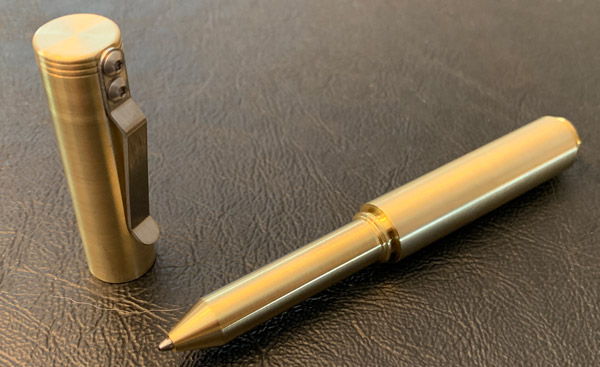 Design and features
Schon DSGN writing instruments are simple, dependable, high quality ball point pens. Each pen comes with a matching screw-on cap with threads on both sides of the pen, hopefully making the cap less losable. The machining and finish are excellent. Overall, the pen feels very substantial, great to hold and write with.
Specifications: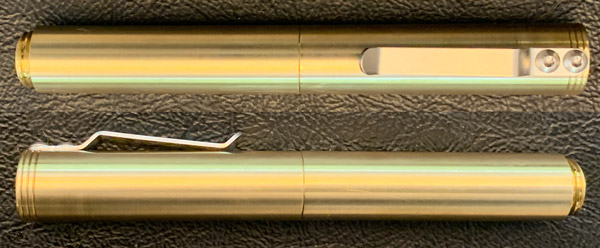 The Classic Machined pen is ½ an inch in diameter and 4" long when capped.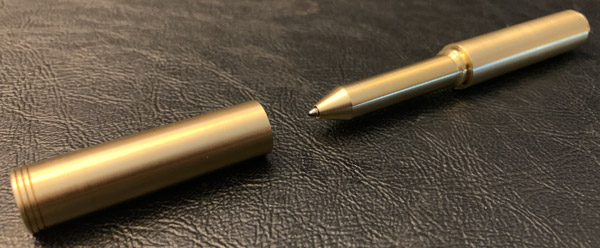 The threads are well done and the cap screws on and off the pen easily. Though once screwed onto either end, the cap stays attached and in place.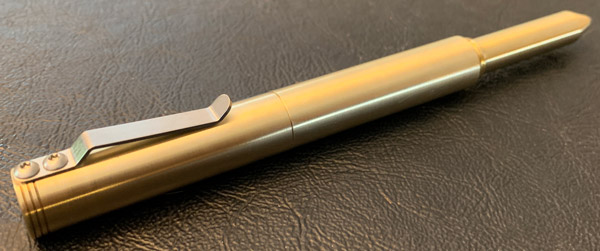 When the cap is screwed on the back, the pen is 5-3/4" long giving it a nice grippable length for writing.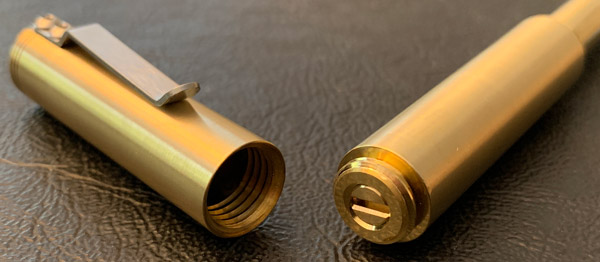 The Classic Machined pen has a set screw on its tail end for accessing/changing the ink cartridge.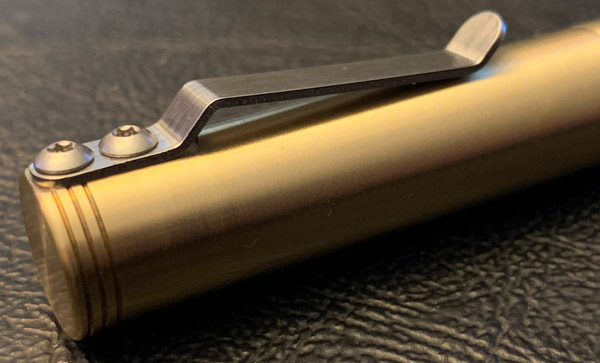 The clip is made from stainless steel and is robust yet not too thick. The length of the clip is optimized for a visually balanced look while also being able to hold a 1″ length of material inside of it.

Each pen comes with a PR4 Medium Black Fisher Space pen ink cartridge, easily replaced through the set screw in the back of the pen.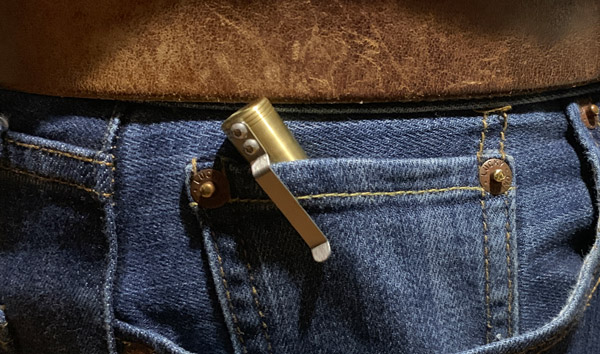 The Schon DSGN Classic Pen travels extremely well in the coin pocket of your jeans or pants. The stainless steel clip is strong and does a great job keeping the Schon DSGN pen securely in place. I have been using this pen for about a month and typically keep/carry it just like you see in this picture…where I do not always have my Navigator bag with me but still want a writing instrument by my side.
What I like
Excellent material and build quality
Smooth writing
Nice weight and feel
Cap screws onto each end
Made from a variety of metals
Available in multiple weights
What needs to be improved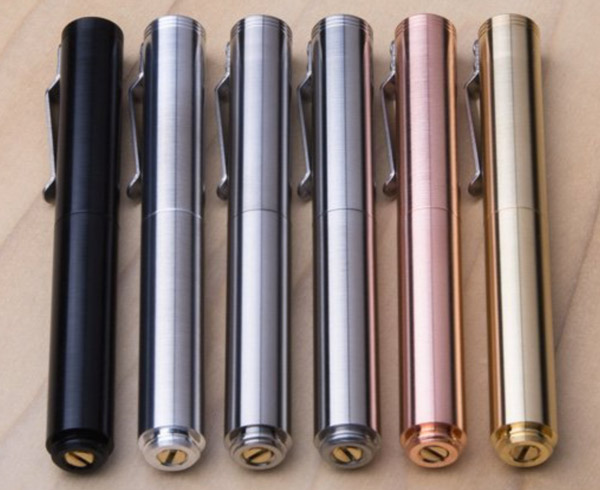 The Classic Machined pen is available in a multitude of metals from titanium to copper, each with its individual weights and characteristics.
Black Anodized Aluminum ($80) – 1oz – 1.1oz (w/clip)
Polished Aluminum Pen ($78)- 1oz – 1.1oz (w/clip)
Polished Titanium ($188) -1.8oz – 1.9oz (w/clip)
Tumbled Stainless ($108) – 2.8oz – 2.9oz (w/clip)
Polished Copper ($158) – 3.2oz -3.3oz (w/clip)
Polished Brass Pen ($138) – 3 oz -3.1oz (w/clip)

As I mentioned above, all Schon DSGN pens are 100% made in the USA, specifically Massachusetts.
According to his website, Ian has…
always had a fascination with heirloom objects or objects built so solidly that they could potentially outlast the user. I hope you enjoy this pen, forever.
As an interesting (@least for the watch-guy I am) side note, Ian also creates handmade watches @Schon Horology, a new division of Schon DSGN.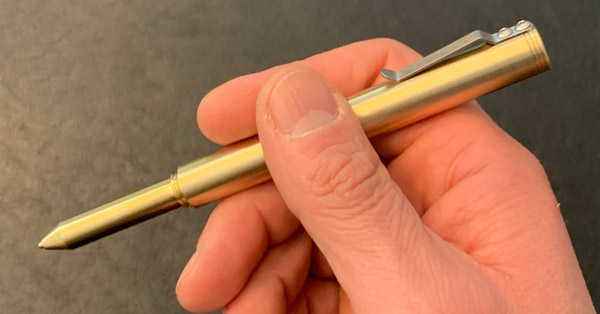 Final thoughts
I initially considered the stainless steel and titanium options but ultimately requested the brass version of the Classic Machine pen. And I am glad I did…I love the hefty weight and feel the pen has. I have many aluminum and titanium pens but none are this substantial. Add in the fact, the brass has already started to patina nicely and will continue to do so as it ages. I totally envision myself continuing to carry this pen with me in my coin pocket. The build, material, and design quality is meant to last a lifetime and agree this pen could easily be passed on when you're gone 😉 .
Price: Brass – $138 ($70 – $288)
Where to buy: The Classic Machine Pen is available at Schon DSGN.
Source: The sample of this product was provided by Schon DSGN.