We use affiliate links. If you buy something through the links on this page, we may earn a commission at no cost to you. Learn more.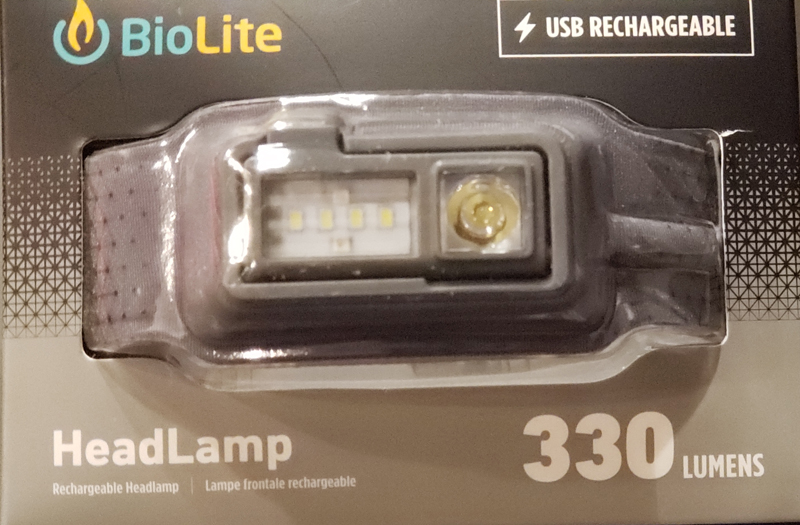 REVIEW – How many times have you needed extra light, either when working on a close project in a dark area, or, when walking or running in dim conditions? And, how many of those times did you not have an extra hand to hold the light, or, simply didn't want to carry one with you?  Those are the problems you can solve with the new BioLite HeadLamp 330.  For brevity, I will simply call it the 330 for the reset of the review.
What is it?
The 330 is a wearable, USB rechargeable head-mounted lamp. It is named for its light output, a maximum of 330 lumens (lm), or about the equivalent output of an older 20 watt incandescent bulb. That doesn't sound like much, with with today's focused LED technology, it produces a surprising amount of light.
What's in the box?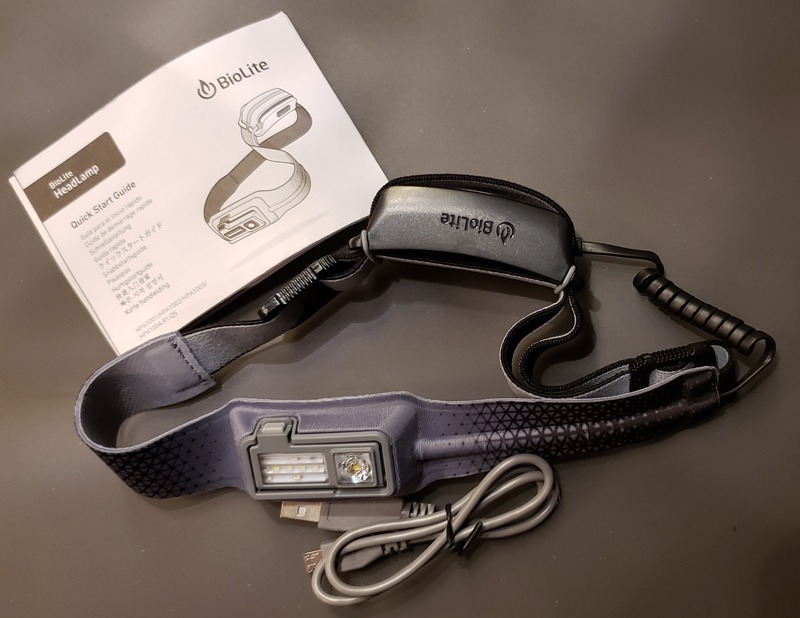 BioLite HeadLamp 330
USB charging cord
Quick start guide
Hardware specs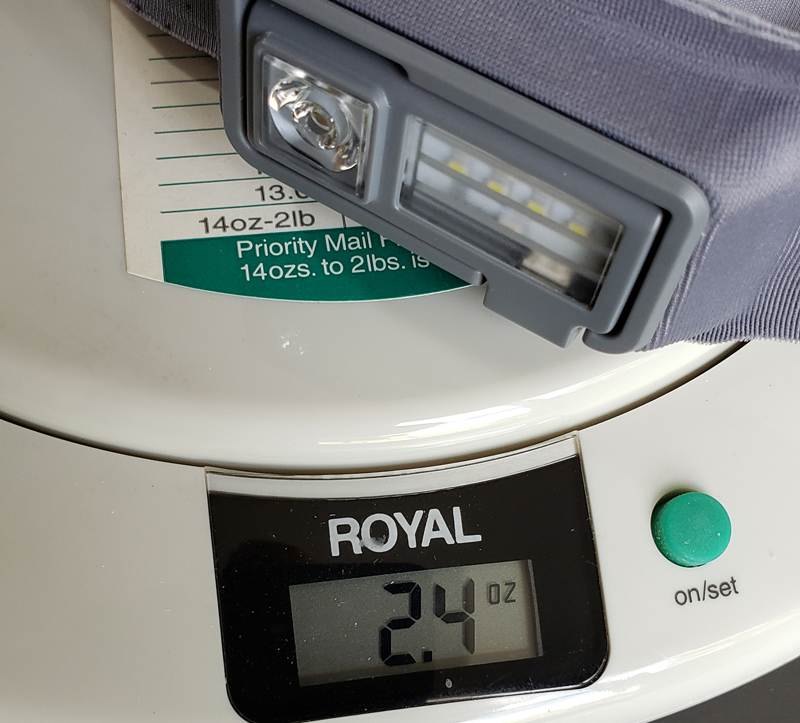 Output: 230 lm spot, 100 lm flood, 330 lm total
Lamp mount: tilting, approximately 45 degrees down in four steps
Battery: 900 mAh, 3.4 Wh Li-on USB rechargeable
Input: micro USB – cord included
Run time: 3.5 hours on full brightness, 40 hours on dim
Water resistance: IPX4 (protects from splashing water, no matter the direction)
Weight: 2.4 oz
Lighting modes:

White flood with dimming
White spot with dimming
White spot + flood with dimming
Red flood
White strobe
Lock mode

Power on memory: Last mode + dimming level
Beam effective distance: Flood, 16m; spot, 75m
Design and features
The 330 mounts on your head with its soft and stretchy, adjustable headband.  It comes in four colors, ocean teal, midnight grey (my sample), ember red, and sunrise yellow.
The lamp is mounted up front. The power/mode button is on top, as is the tab to adjust the tilt.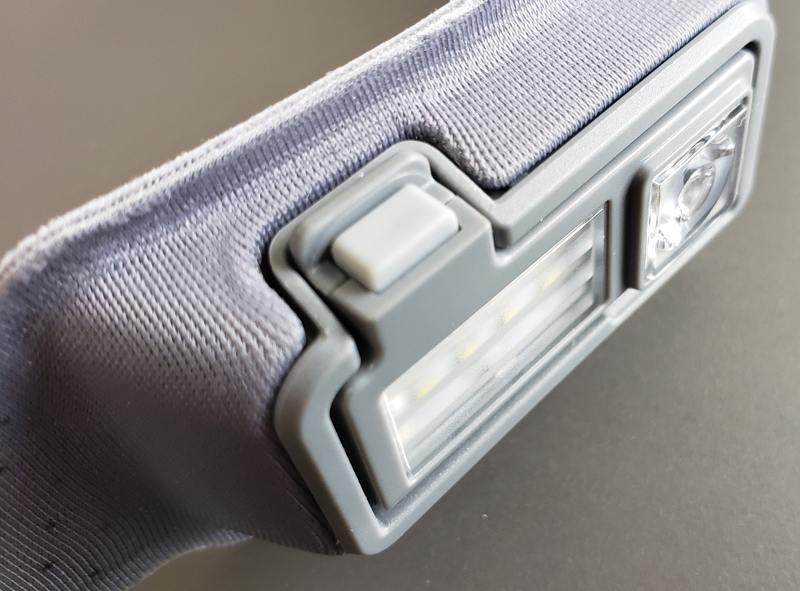 The battery is mounted on the back.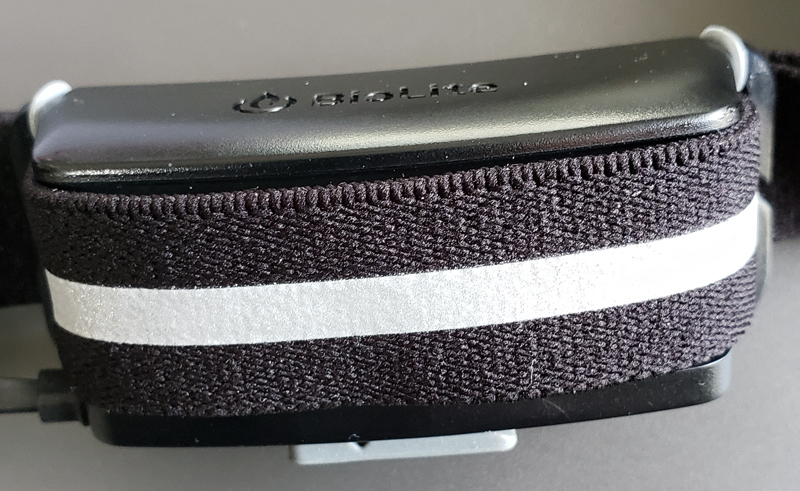 The white stripe is nicely reflective.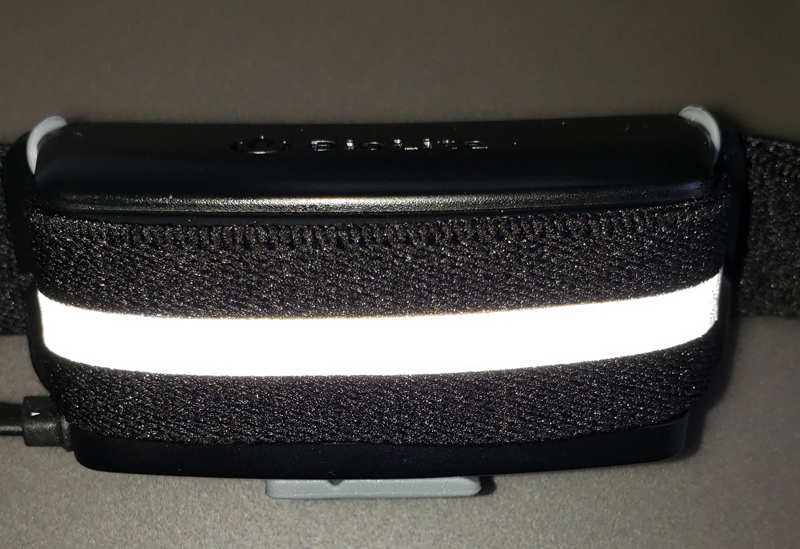 The grey tab below the battery covers the micro USB charging port.  There is a four LED charge indicator next to the port. It lights when charging, and also every time the lamp is turned on/off, showing the approximate charge in 25% increments.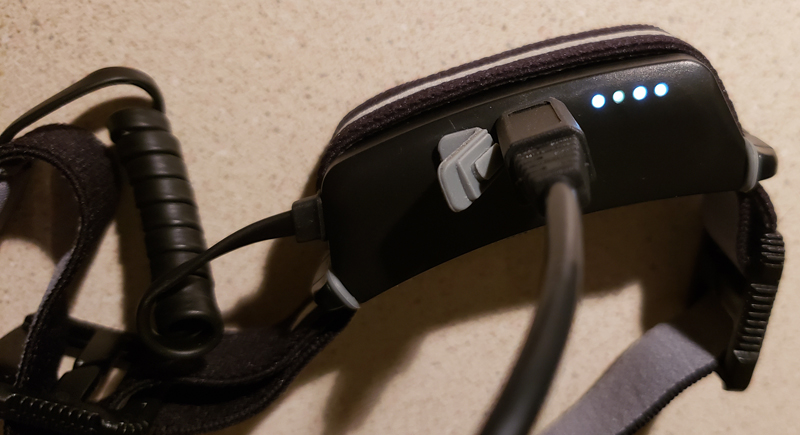 The lamp sits flush on your head.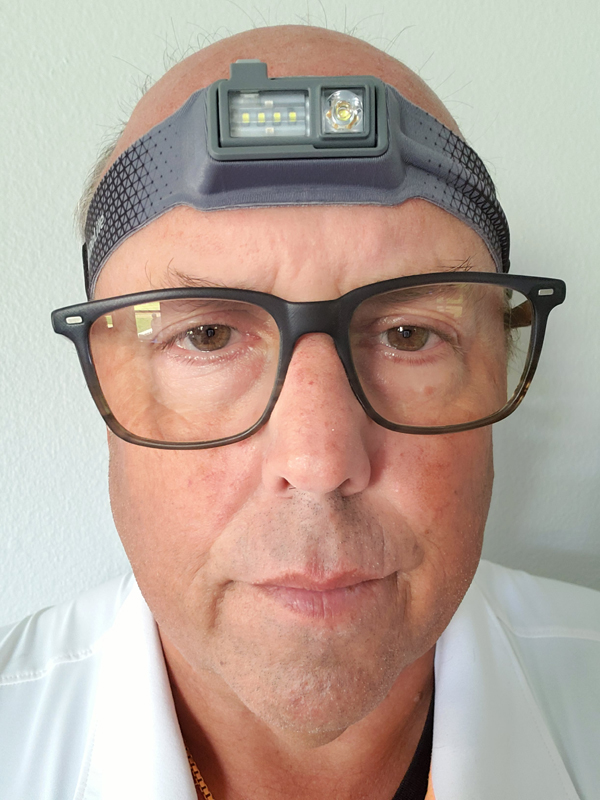 Looking at it from the side, it sure seems like the battery would make it feel back-heavy, but since the whole lamp weighs in at only 2.4 oz, I really didn't feel it after wearing it for a few minutes.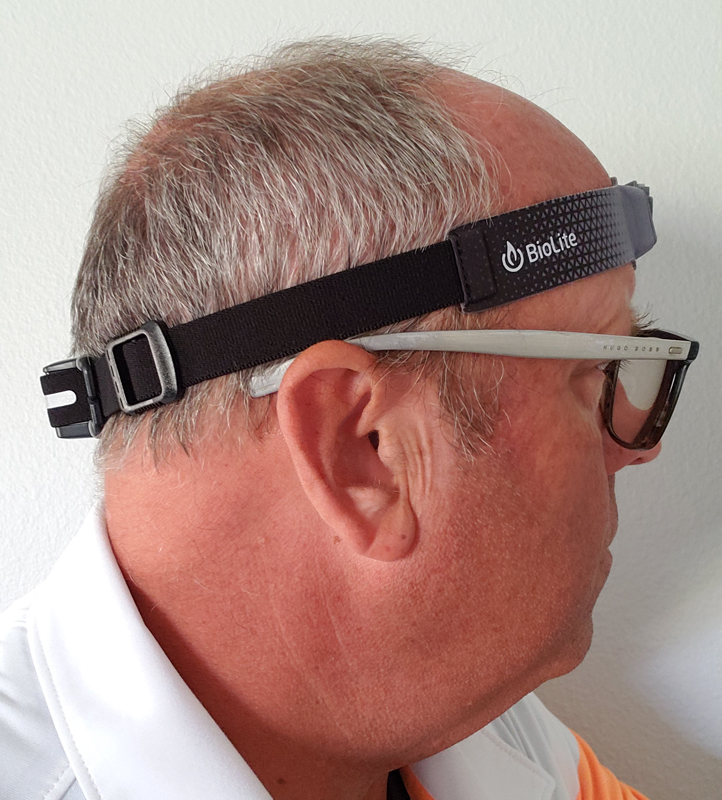 As the 330 sits on my melon, it points up a bit.  That tab above the power switch allows you to tilt it downward about 45 degrees in a four-step click adjustment. Below shows it flush on the left, one click, which essentially put the light facing forward, and four clicks, pointing the light angled toward the ground.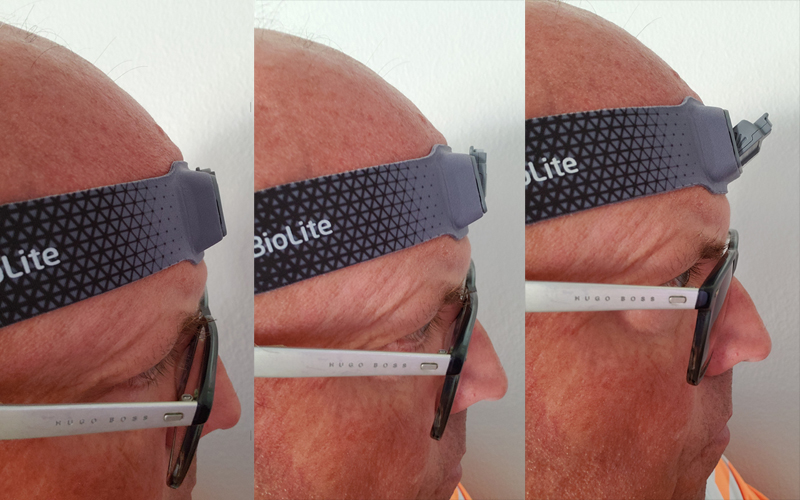 Setup
Setup is simple and has two steps.
Adjust the strap to fit your noggin. The strap adjusts several inches, so everyone should be able to get a comfortable fit.
The instructions say to hold the power button eight seconds to disengage lock mode, however my unit was shipped unlocked.
Operation
There is one button to control the 330. Lock mode is engaged by holding the power button for eight seconds.  When lock mode engages, the red LEDs flash twice.  In lock mode, when you press the power button, the red LEDs flash twice to indicate it is in lock mode.  At that point, that's all you can do, until you disengage lock mode. Holding the button again for eight seconds disengages lock mode, indicated by a single red LED flash. With lock mode disengaged, all lighting functions are again available.
With the power off, pressing the button turns the lamp on to the most recently used mode and brightness level, if applicable.  Pressing the button again, turns the lamp off.  With the lamp off, pressing the button repeatedly in rapid succession, cycles through the following modes:
red flood
white spot with dimming
white flood with dimming
white spot + flood with dimming
white spot strobe
off
With the power on, if you are in one of the dimming modes, pressing and holding the button will dim or brighten the lamp, ending with a single flash when it hits max dim or max bright.
Performance
The first thing I decided to try was to verify or disprove their battery claim. I elected not to go for the claimed 40 hour runtime on dim, as I expect that won't be the mode most folks use. I opted for the high-power, 3.5 hour runtime. I turned it on in flood + spot on full brightness.  Unfortunately, I was out of the room when it died, but, it was somewhere between 3:15 and 3:50, so the claimed 3.5 hour runtime seems pretty plausible. Based on that, I would expect the 40 hour claim on dim to also be plausible.
The 330 is really quite comfortable. As I mentioned, I really didn't notice it after wearing it for just a few minutes  Because the strap is adjustable, you can get a secure, but not-too-tight fit pretty easily.  The lamp also doesn't move. which would be a great asset for a runner.  For what it's worth, that isn't me.  If you see me running, try to keep up, as there is a reason…
I took the 330 outside after dark and took some photos.  Note that the exposure on all these is exactly the same, so the photos show the relative difference in lighting. I set the exposure to show the light pattern without blowing out the photos too much. What that means is that these photos go dark more so than the light actually did to the naked eye.  But, if I exposed for that dim light, the majority of the photos would just have appeared to be all white, so they wouldn't have been too useful.
Flood mode produced nice, even light over a wide area.  This is only 100 lumens, and it nicely lit the entire area in front of me for a good 25-30 feet with extended visibility out to 45-50 feet.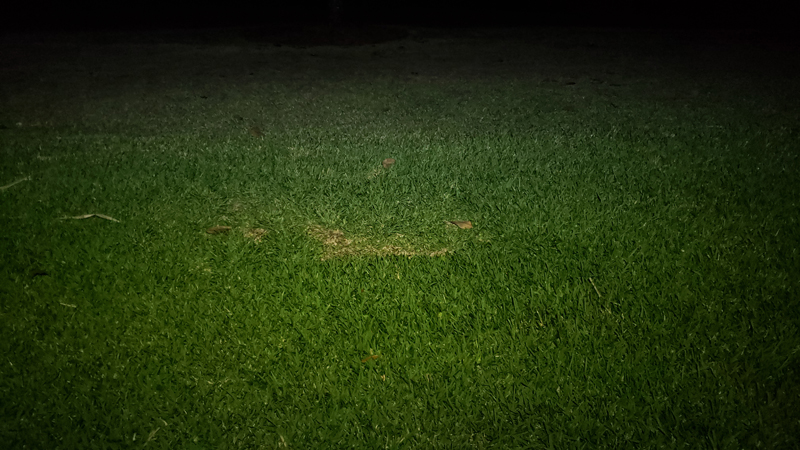 I then dimmed the flood light to its lowest setting.  As you can see, it was quite a bit dimmer, but while this doesn't show it, I could still see some detail in the grass.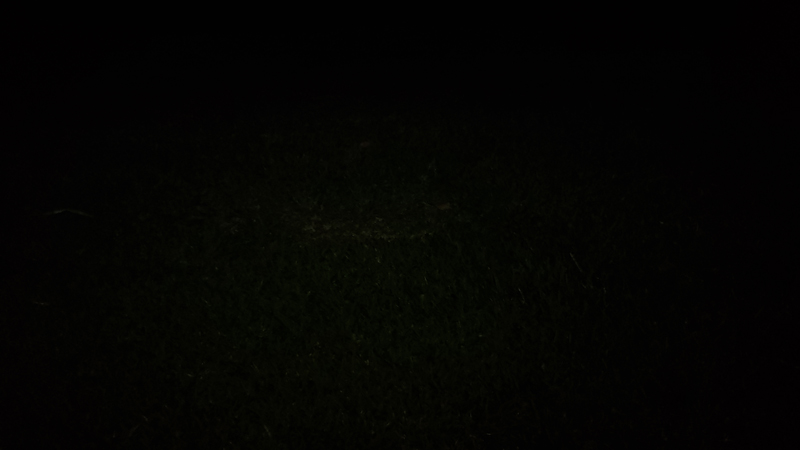 I then did the same thing in spot mode.  There is a pronounced bright area in the middle, illuminated with 230 lumens, and a quick fall off to the sides. The bright spot really lit up the area 20 feet or so out. If I looked up more, I could get a good view 50 feet or more out.  They claim a 75m illumination range with the spot, which might be a bit generous, but the spot did a good job sending out the light.  More importantly, it will make you visible to others for a long, long way.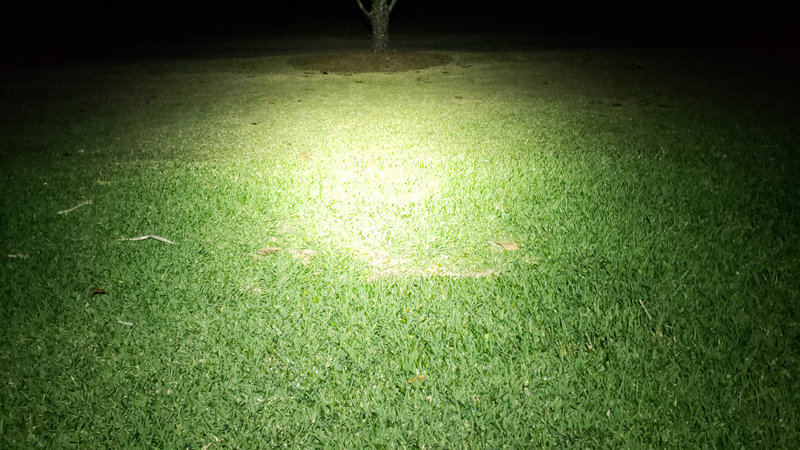 In dimmed spot, we again see the middle illuminated with light fall off to the sides.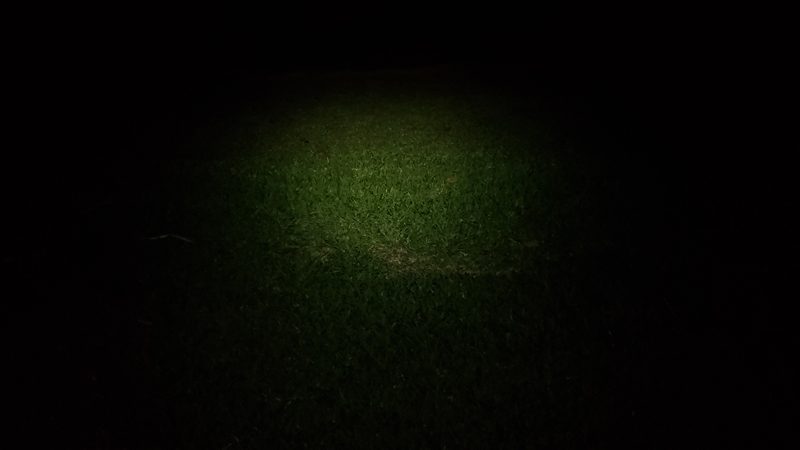 Finally, I tried flood + spot.  There was a noticeable increase in lighting to the sides when compared to the spot alone, thanks to the wide diffusion from the flood. But with only 100 lumens of flood and 230 lumens of spot, you have to look closely in the photo to see the additional side lighting.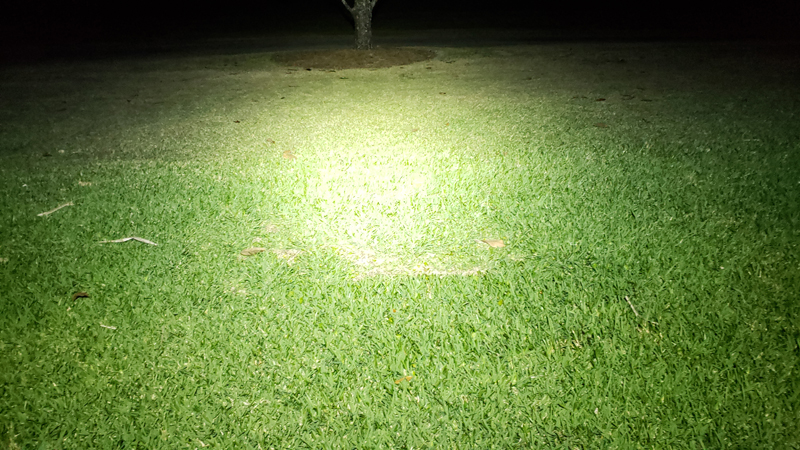 Of course, in dim mode, the spot is the only thing visible in the photo, but there was a nice, wide spread of the dim light to my eye.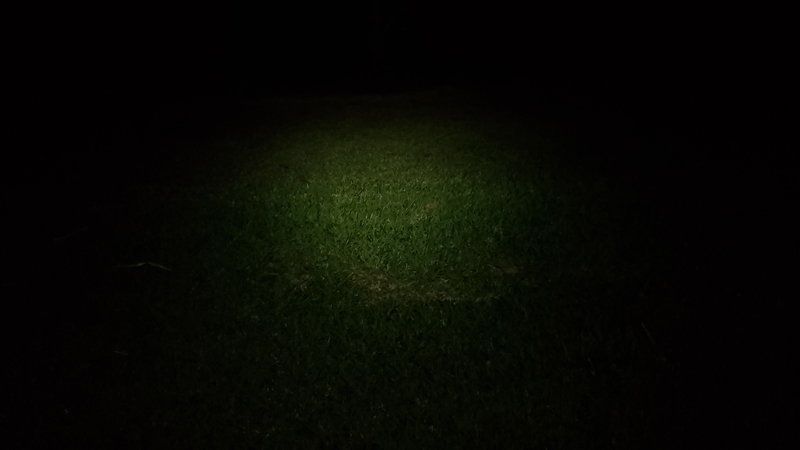 I did not attempt to photograph the red flood.  Red lighting preserves your night vision. I see this as a great tool for darkroom users (are there many of these still out there?), pilots flying at night or doing nighttime aircraft inspections, and backyard astronomers.  Being able to effectively light your workspace while keeping your night vision intact is invaluable.
For obvious reasons, I also didn't photograph white strobe mode.  The strobe uses the spot, and is terrifically bright at 230 lumens.  For daytime walkers or runners, this would provide a nice attention-getting flash to make you more visible in a high-traffic areas.
What I like
Great, comfortable fit
Nice selection of lighting modes
Powering on brings back the last used mode and brightness
Light goes where you look
Light doesn't move or bounce when you're moving
Good battery life
What needs to be improved
Personally, I would like to be able to change modes without turning the lamp off, but that's a minor quibble
The tilt tab makes it a little difficult to use the button when wearing the 330, but I expect that will become easier with more use
Final thoughts
I really like the 330.  I can see using this for nighttime walks with my honey, or when working on some of the stuff I have plugged in behind other stuff, where it is always too dark to see what I'm doing.  When I was in college and developing my own black and white film and prints, this would have been an awesome tool.  The same is true back when I was flying for fun.  Doing a pre-flight aircraft check in the dark would have been so much easier with the 330. Still, with its comfortable fit and multiple modes, I expect this will get a lot of use.
Price: $49.95
Where to buy: BioLite.com or Amazon
Source: The sample of this product was provided by BioLite.