We use affiliate links. If you buy something through the links on this page, we may earn a commission at no cost to you. Learn more.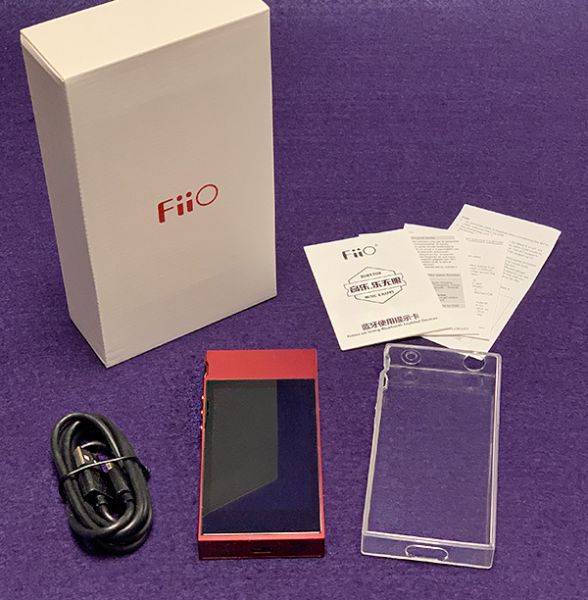 REVIEW – I'm not sure anyone has come out with as many different digital audio players (DAP) as FiiO has. In an age where almost everyone (at least here in the US) uses their smartphones for music listening, FiiO has stubbornly stuck to making DAPs in every price range and feature set. What began as me-too iPod wannabes have evolved into sophisticated, Android-based music players that can handle the most demanding high-resolution music files. 

What is it?
The FiiO M7 is a small, portable hi-res Bluetooth digital audio player with a built-in FM radio. It plays high-resolution music files and uses a pared-down version of Android as its operating system.
Specs
Formats: DSD64, APE, FLAC, WAV, AIFF, AIF, WMA, ALAC, MP3, AAC, WMA, OGG
FM radio
DAC: ES9018Q2C
Amp: ES9018Q2C
Inputs: USB-C (Charging and Data Transfer / USB DAC)
Outputs: 3.5mm Headphone Jack
Internal Memory: 2GB
SD Card Slot: micro SD (512GB max.)
Display: 3.2 inch TFT 480×800
Battery: 20 hours
Bluetooth: 4.2
Dimensions (HxWxD): 109 x 52 x 13 mm
Weight: 116 grams
Warranty: 24 Months
Package Contents
USB Cable, Clear Case, Quick Start Guide, Warranty Card
Design and features
The design of the M7 DAP's operating system is clever and mostly efficient, due to its use of Android as a base. Previous FiiO DAPs I've used had their own OS baked into the hardware and were not the most user-friendly interfaces. Since Android is used worldwide, its acceptance is pretty much guaranteed—even to this diehard Apple iOS user. 
Keep in mind that the M7 uses a bare-bones version of Android. FiiO smartly decided to only use what's needed and ditch the superfluous stuff that adds useless complexity. Good move.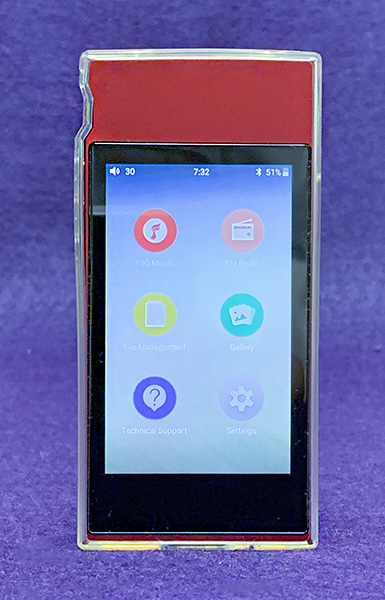 It's a bit slow to boot up, but once you get past the Welcome screen, you're greeted with six icons: FiiO Music, FM Radio (yes, it has FM), File Management, Gallery, Technical Support and Settings. Navigation is easy and fairly straightforward. Only a couple of times was I unsure of how to maneuver out of a screen and had to shut-down to return to the beginning. It was either my fault or a glitch that FiiO will fix. FiiO has an excellent record of updating firmware on a timely basis.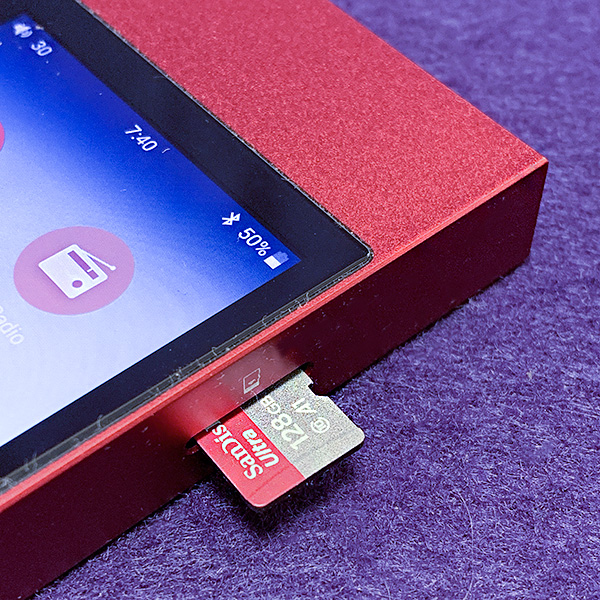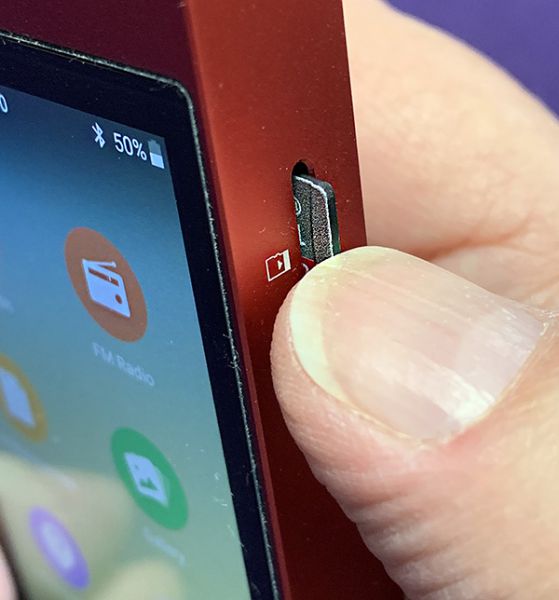 The FiiO Music icon deals with—you guessed it—music files. This is not as intuitive as I would like. When you tap the icon, you have to choose a folder called just "Folder" to access the micro SD card that holds your music—and you want a micro SD card. The M7 only holds 2GB of space, so there's not a lot of room for music. I'm using a 128GB micro SD card which is a good size. Note that the M7 will accept up to a 512GB card. There is only one SD slot and SD cards are not included.
The FiiO Music folder shows a lot of song info. It will tell you the most recent songs played, most played songs and recently added. It has separate Artist, Album and Songs folders, so it's easy to navigate to what you want to hear. It will also store playlists that you create on the M7. 
The Settings icon lets you turn on/off or customize various settings. The M7 can be set up as a USB digital audio converter (DAC) giving the M7 another use for those instances when you may want a better DAC than what's in your car or smartphone, for instance. The M7 can also be used as a Bluetooth DAC/amp to wirelessly connect almost any non-Bluetooth device to a Bluetooth source. Bluetooth was easy to pair with my Fugoo Style S speaker and various wireless headphones I tried. The M7 found the devices quickly.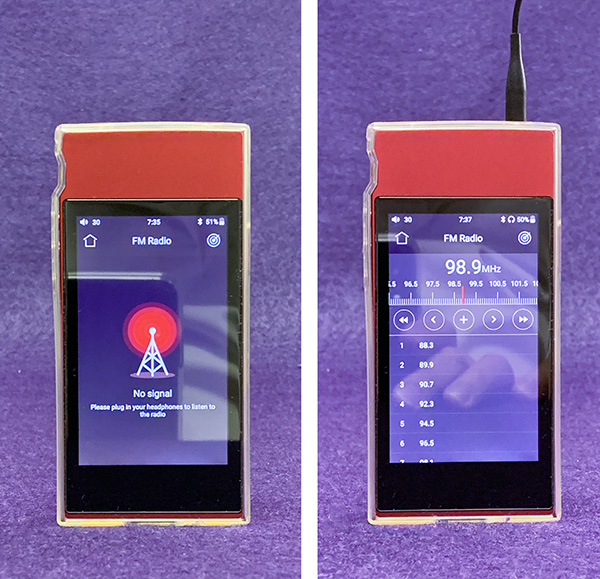 One nice thing about the M7 is the inclusion of FM Radio—if you're into that. I haven't listened to music on FM in ages and the M7 isn't going to change that. But some still listen to the radio, so it's a nice addition. However, it turns out that FM will not work with Bluetooth or wireless headphones. The headphone's cable becomes the FM antenna—limiting the FM radio's appeal. Once I plugged some headphones into the M7, the FM app instantly found all the local radio stations around me and listed them in order—way more convenient than manually dialing or searching. The difference in audio quality between FM and the M7's native music player is night and day. Music on the radio stations sounded muffled and boomy. It made me realize why I gave up FM years ago. Ugh.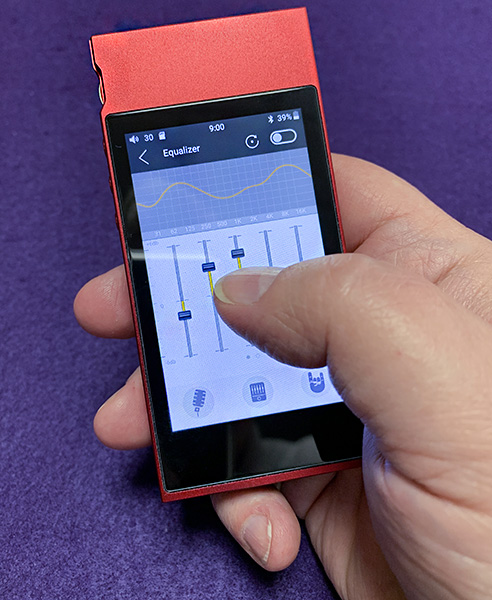 The M7 has a built-in 10-band graphic equalizer—difficult to find and difficult to use. Access seems to only be through the window showing a particular song that's playing. There are 8 presets plus a user mode that only sometimes would accept my finger attempting to access the EQ sliders trying to customize the settings. After fiddling with it, I just turned off all EQ and lived with it. Besides, no EQ sounded better than any of the pre-determined settings.
As intelligent as the OS can be, it's the hardware where FiiO shines. The M7 is almost beautiful to look at and a pleasure to hold in your hand. It's made from a solid piece of aluminum with minimal buttons. The large (for the M7's size) plastic screen is a 480 X 800 TFT color screen. No, it's not OLED or glass—it doesn't need to be. It's plenty bright and easy to read. Plus, the M7's screen does not show fingerprints as a glass screen can.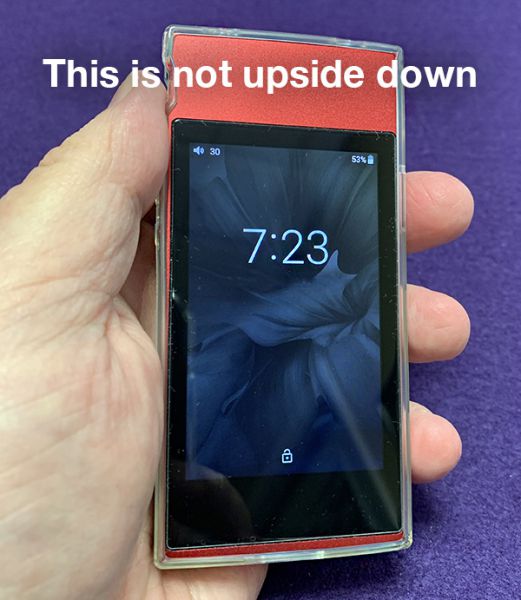 There's a "chin" above the screen which makes the M7 look upside down. It takes some getting used to since most players have the chin below the screen. It looks off-balance.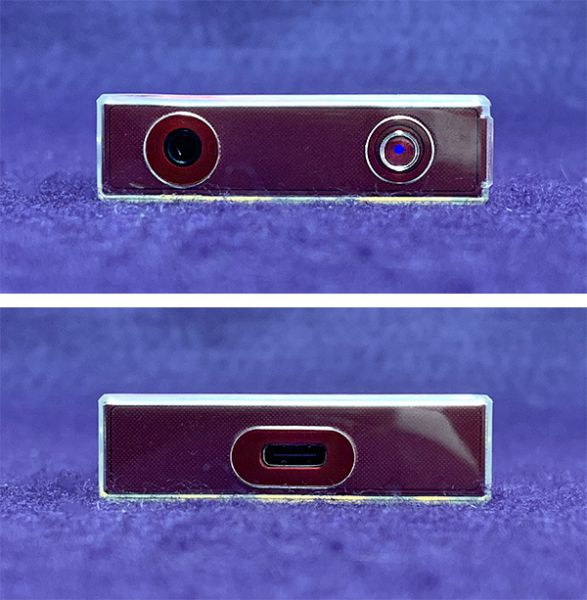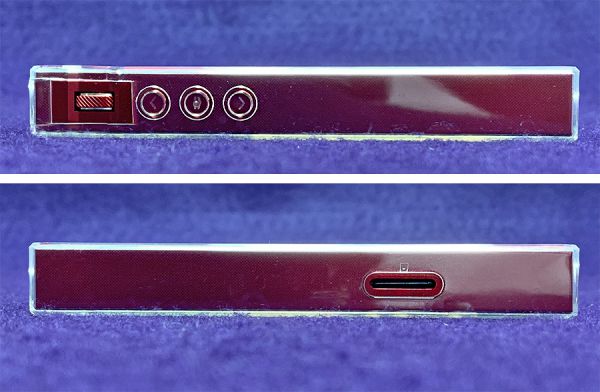 The M7 is thicker than most newer smartphones and has sharp edges—there's nothing rounded about it. Even so, it's comfortable and secure-feeling when held. FiiO includes a clear soft TPU plastic case for the M7. Some people despise the case, but I leave it on since the aluminum shell can scratch or dent easily if dropped. The M7 comes in four colors: Blue, red, black and gray. I have the red one which is the most striking looking and photographs better.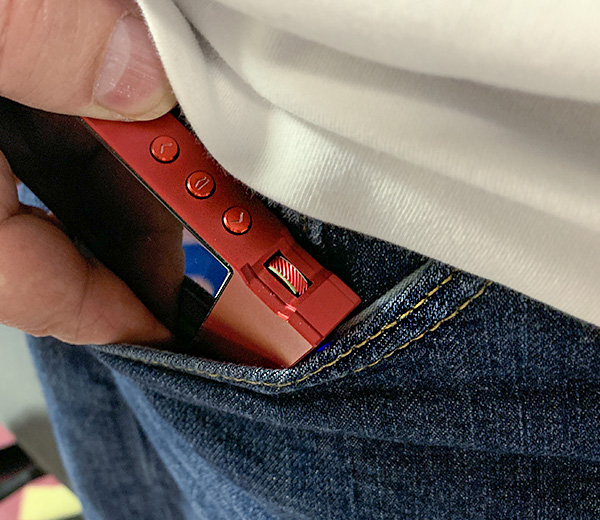 I had an issue with the side buttons on the M7. Unless you turn the buttons off in Settings, it's far too easy to accidentally press them which will either fast forward, pause or repeat a song. Fortunately, Fiio allows these buttons to be turned off as long as the screen is off, so the M7 can be left in your pocket without any accidental button pressing.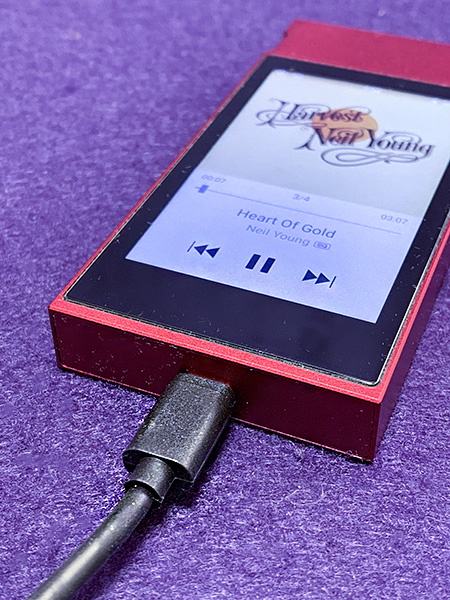 So how does the M7 sound? It is certified Hi-Res and can handle any lossless music file resolutions up to 192kHz/24bit. What this means in English is that the M7 will store and play files better than CD quality (44.1KHz/16bit). Knowing that some CDs can sound freaking good, does better than CD matter? Only in some instances. When listening to a high-res file, certain details can be revealed that may be missed in that same music file being played at a lower resolution. Keep in mind that this difference will be much more apparent when you compare a CD to a really low-res MP3 file. The difference between a CD and a 192kHz/24bit file will be minimal to audiophiles and not heard at all by most other people.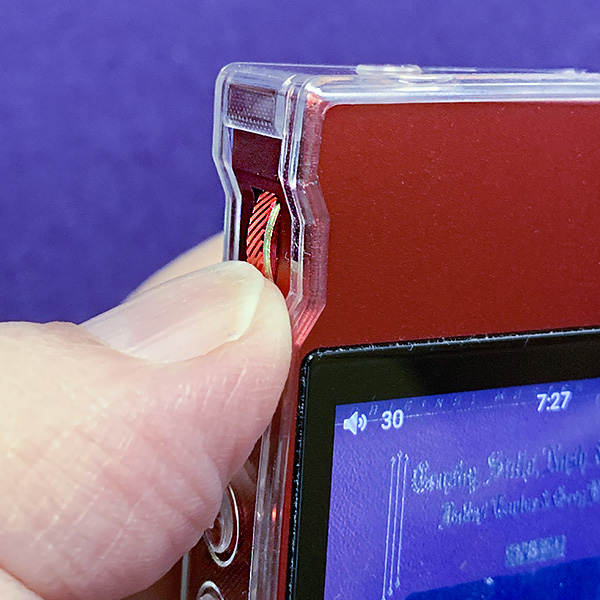 And if that isn't enough, the vast majority of a recording's quality is determined in the recording studio—long before the customer gets a version, be it high-res, CD or the lowly streaming format. It's no wonder most people stick with their smartphones for all their music.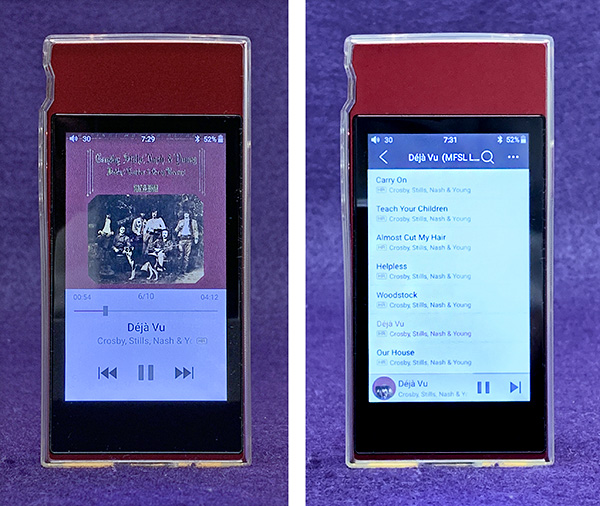 Even with all that griping aside, the M7 sounds great when fed high-quality music files. My hi-res version of Crosby, Stills, Nash and Young's "Déjà Vu" album sounds glorious whether listening with wired headphones or even over Bluetooth. The details hidden within each song is stunning. This is a carefully recorded album that can now be heard as I can imagine it sounded in the studio. Stunning.
Amber Rubarth's binaural album "Sessions from the 17th Ward" is another aural revelation on the M7. The soundstage of this recording places the listener right in the middle of the stage (credit the binaural microphone set-up for that) and the higher res recording adds clarity that is downright spooky. The M7 effortlessly exhibits the best this album has to offer. It's an audio cliche, but Ms. Rubarth really does sound like she is in the room with you.
It doesn't seem to matter what kind of music you're into—the FiiO M7 can make you smile and sometimes even give you goosebumps with what you hear.
What I like
 The M7 hits the sweet spot between features, price and audio quality. It's well-built, fairly easy to navigate and can sounds as good as the quality of music you feed it.
What needs to be improved
Even though the price is justified, the M7 is not cheap. Note that FiiO makes less expensive excellent players. The M7's software can be frustrating at times.

Final Thoughts
I haven't gone into everything the FiiO M7 can do, but if you're looking to separate your smartphone from your music collection and move it to a dedicated music player, visit fiio.com and check out their line of players—some more and some less expensive. You should be able to find one that gives you what you want in a player—even if it's not the M7.
Price: $199.99 US
Where to buy: Amazon
Source: The sample for this product was provided by FiiO.