We use affiliate links. If you buy something through the links on this page, we may earn a commission at no cost to you. Learn more.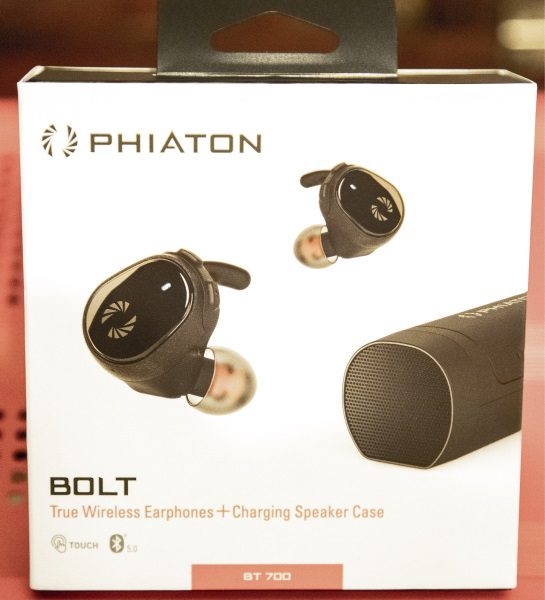 REVIEW – So here we go again. One of the most exciting testing series for me has been the earbud challenge and that battlefield where I enlist all earbuds to try out for the top spot. It is the battle to see which pair can be the best of the best for me and my personal taste. While individually subjective, it continues to be a great way to compare the various brands and what they offer. Now the Phiaton Bolt BT 700 Wireless Bluetooth Earbuds have entered the competition. Let's see how they perform.
What is it?
The Phiaton Bolt BT 700 Wireless Bluetooth Earbuds are like most earbuds that handle audio listening as well as phone call functions. These earbuds feature Balanced Armature Drivers and a charging case that includes a built-in speaker.
What's in the box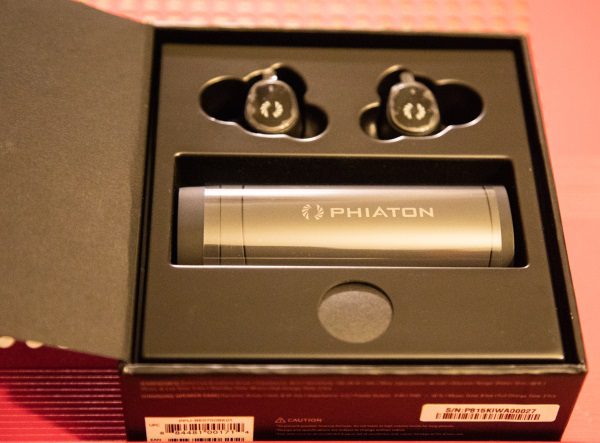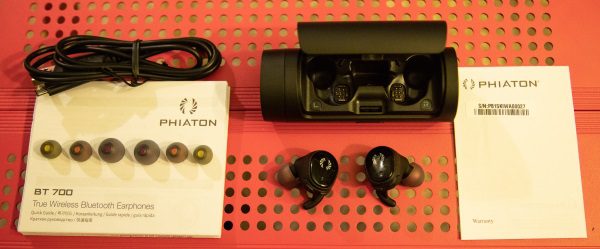 1 x Pair of Phiaton Earbuds
1 x Charging Case
1 x Micro USB Cable
4 x Pairs of Ear Tips
1 x Instruction Manual
1 x Warranty Leaflet
Design and features
The Phiaton earbuds are not tiny but not large either. They come in a charging case that is approximately 3 1/2″ x 1 1/2″ x 1 1/.2″. The left side of the case is longer than the right because there is a  speaker that is housed in the left side.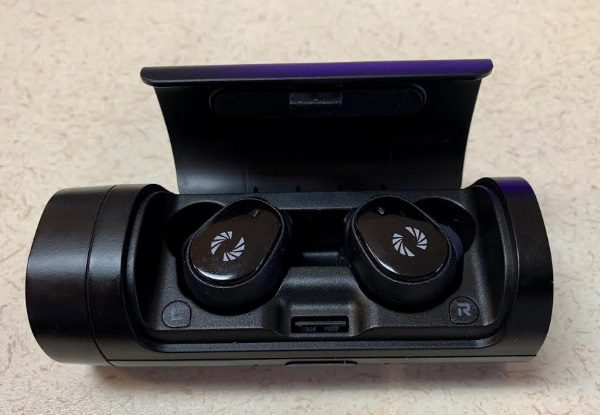 On the right side, there is a Bluetooth button, 4 blue led lights for charging status and remaining charge, and the micro USB charging port.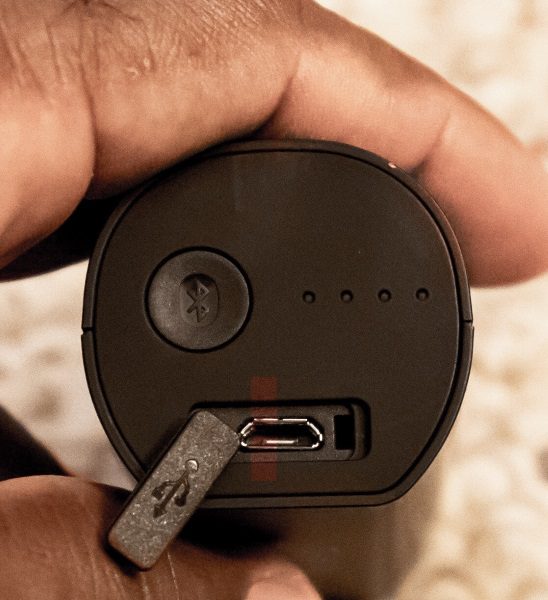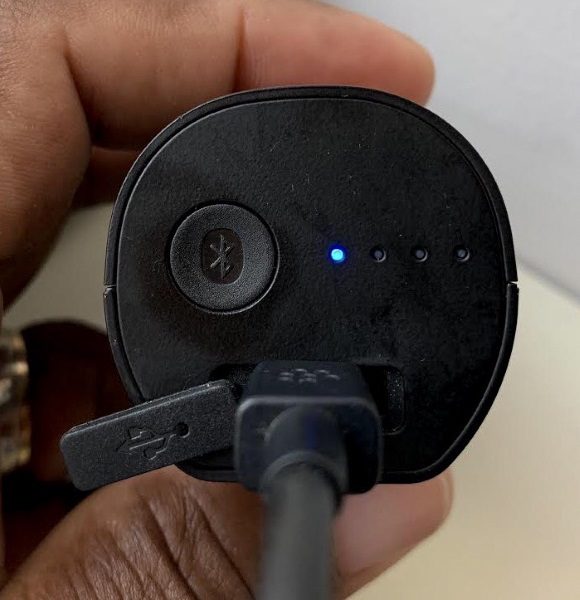 On the other side of the charging case, there is a built-in speaker.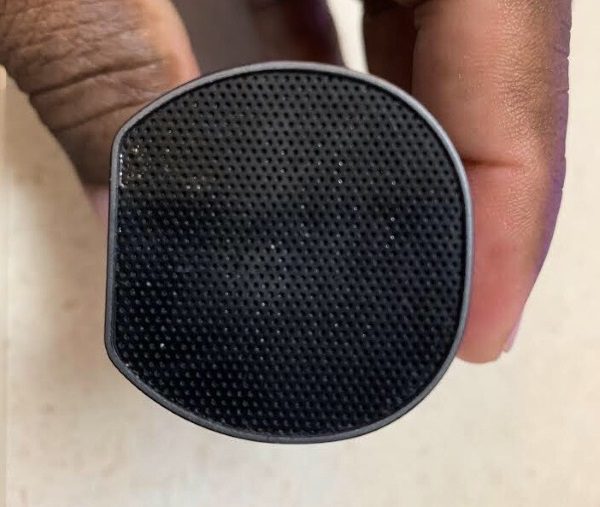 Performance
Specifications:
Communication Network: Bluetooth 5.0
Driver unit: Balanced Armature
Impedance: 40 Ohm
Sensitivity: 102 dB/mW
Driver Unit Frequency Response: 20 Hz ~ 20 KHz
Max. Input Power: 40 mW
Operating Range: Within 10 m / 33 ft.
Call Time: 5 hrs Max.
Music Play Time: 5 hrs Max.
Standby Time: 94 hrs Max.
Full Charge Time: 2 hrs (2.5 hrs including Charging Speaker Case)
Fast Charging: Support 10 min. Charging= 1 hr Playing
Audio Codec: SBC, AAC
Operating Frequency: 2.4 GHz(2.402 GHz – 2.480 GHz)
Earbud Weight: 6.5 g
Charging Speaker Case: Input Power: DC 5 V / over 1 A
Battery: Lithium Ion, DC 3.7 / 750 mAh
Full Charging Time including Earphones: 2.5 Hrs
Number of charges with the case: 3 times (4 X 5 Hrs + 20 hrs with fully charged earbuds)
Speaker Output: 3W Max.
Music Play Time via earbuds & Speaker: 8 Hrs Max.
Standby Time: 220 Hrs Max
IPX4 Sweat and Water Resistant
In terms of music, these earbuds fit comfortably in my ears, and they function quite well. They have a nice volume range that works for me for all of my favorite genres, with a maximum volume that does not overwhelm and will not cause any damage to my hearing. The lows, mids, and highs are good and without distortion, but if you want to experience the lows in their full capability, it is very important to use the correct size and properly fitting ear tips.
For phone calls, these earbuds work ok even for someone like me that has had issues with all of the earbuds that I have tested except for one set. These are decently clear for both parties as long as I raise the volume of my voice just a bit for the other party to hear me clearly.


The earbuds automatically pair with the Bluetooth connection when removed from the charging case, and the connection is consistently solid and did not once disconnect involuntarily. These earbuds like most others have voice commands that confirm the connectivity. You should keep in mind that because there is a speaker built into the case and because it also operates via Bluetooth, the earbuds do not automatically disconnect when returned to their respective place in the charging case. A standard function of earbuds is to disconnect when placed in the case and the charging contacts are engaged. With these earbuds, I can place them in the case, close the case and they will not disconnect until you press the Bluetooth button on the side of the case to disconnect them, or you disconnect via your phone settings. Otherwise, and as I experienced, when you receive a phone call, you are unable to hear the other party on the line until you realize that the earbuds you put away a while ago are still connected.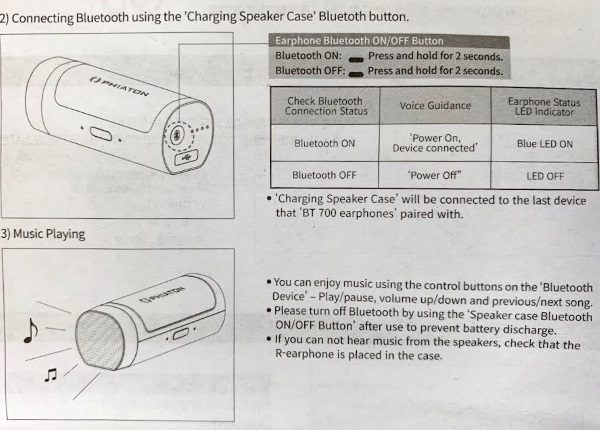 In terms of the built-in speaker, it sounds surprisingly pleasant albeit closer to a full range sound as opposed to the earbud sound that provides the easily recognizable separation of lows, mids, and highs.
What I like
The build quality
The sound
The comfortable fit
What can be improved
The ability to disconnect the Bluetooth connection when the earbuds are placed in the case without having to press the case button to power off/disconnect.
The manual is in such fine print that it is almost impossible to read
Final thoughts
The Phiaton earbuds do a great job with sound for all of the genres I tested including, jazz, R&B, Easy Listening, Reggae, Gospel. etc. They are well built and quite comfortable. They stay securely in my ears irrespective of any vigorous head movements, The only issue that bothers me is that they do not disconnect the Bluetooth connection when placed into the charging case. I quite understand the intended logic behind this design, but I would prefer them to automatically disconnect and I would re-engage them should I want to use the speaker that is built into the case. Since this is a challenge for the best of the best for me (my taste), this feature takes them out of the race for first place. If this issue does not bother you,  these would be a great buy and they still get two thumbs up!!
Price: $139
Where to buy: Currently available on Kickstarter with shipping in December.
Source: The sample for this review was provided by Phiaton.