We use affiliate links. If you buy something through the links on this page, we may earn a commission at no cost to you. Learn more.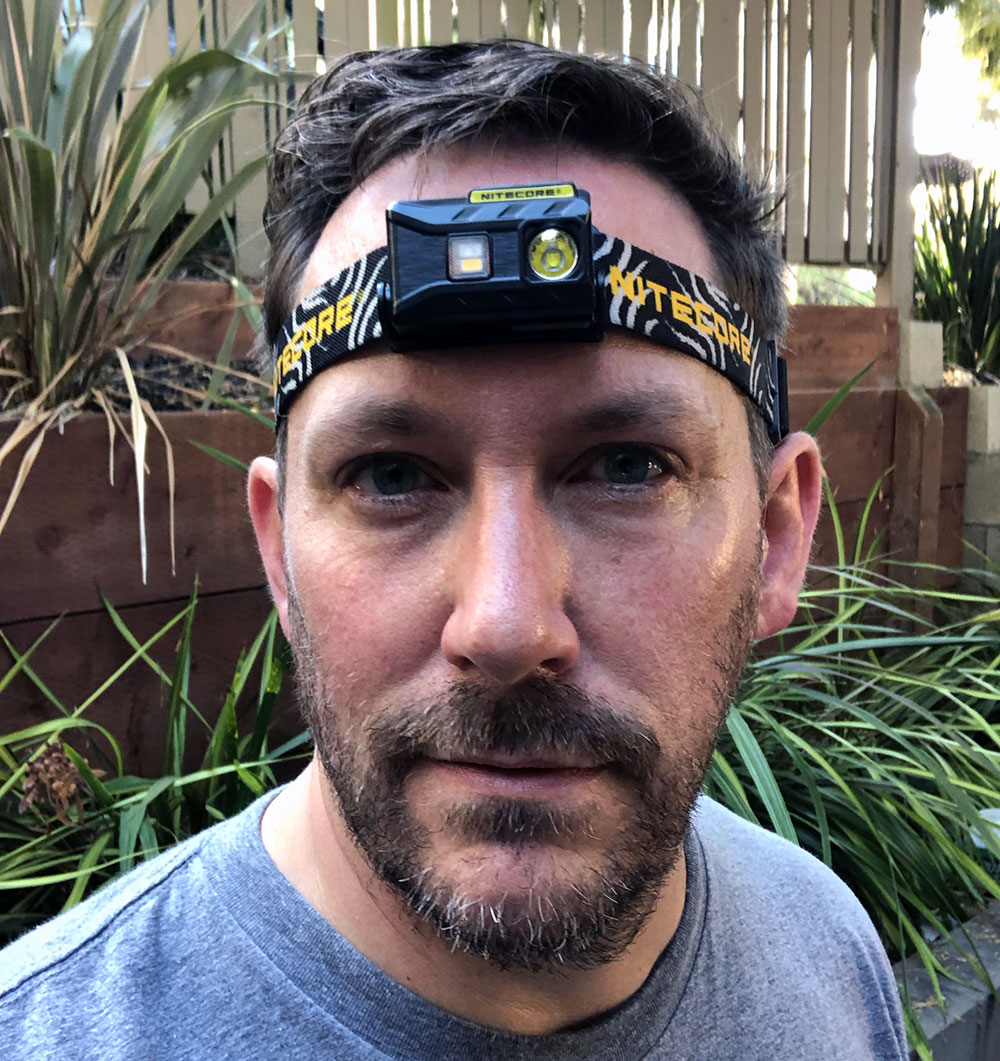 REVIEW – Sometimes a product is so universal that it's hard to imagine it needs a manual. Headlamps fall into that category for me. They have batteries, LEDs and buttons to turn them on and off. What more is there to know? In the case of Nitecore and their NU25 headlamp… Quite a bit, and I'm impressed. Join me after the jump to find out more.
What is it?
Nitecore's NU25 is a best-of-breed headlamp designed specifically for outdoor use. It's slim, fits well and does what it's designed to do very well. Read on.
Hardware specs
– Size: ~2.2″ x 1.4″ x 0.9″ including holder
– Weight: ~1 oz
– Lamp: CREE XP-G2 S3 LED
– Max Output: 360 lumens
– White Light: CRI ≥90
– Color Temp: 4500K
– Max Beam Intensity: 1650cd
– Max Beam Distance: 81m
– Battery: 610mAh Li-ion polymer battery
– Charging: Via micro-USB port
What's in the box?

Inside the refreshingly simple packaging are the following items.
NU25 headlamp
Elastic headband
Micro-USB charging cable
Instruction manual
Design and features
The NU25 is a very slim, rectangular headlamp. The low profile is a welcome feature as is the lightweight.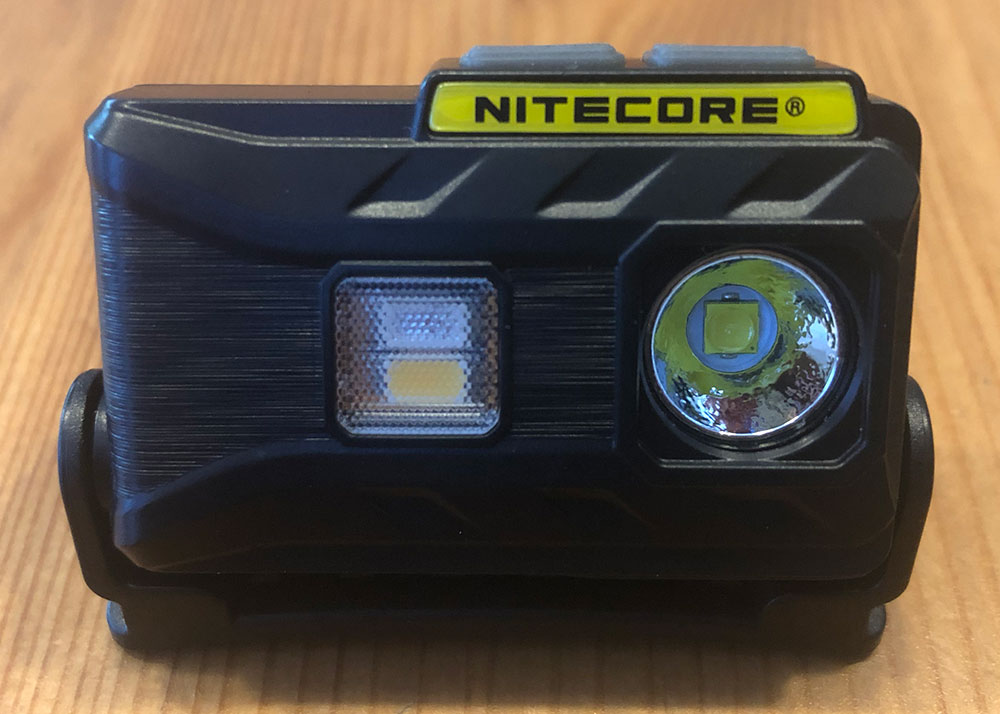 On the front, you can see the main light on the right and the auxiliary light on the left which provides both red and white lights independently.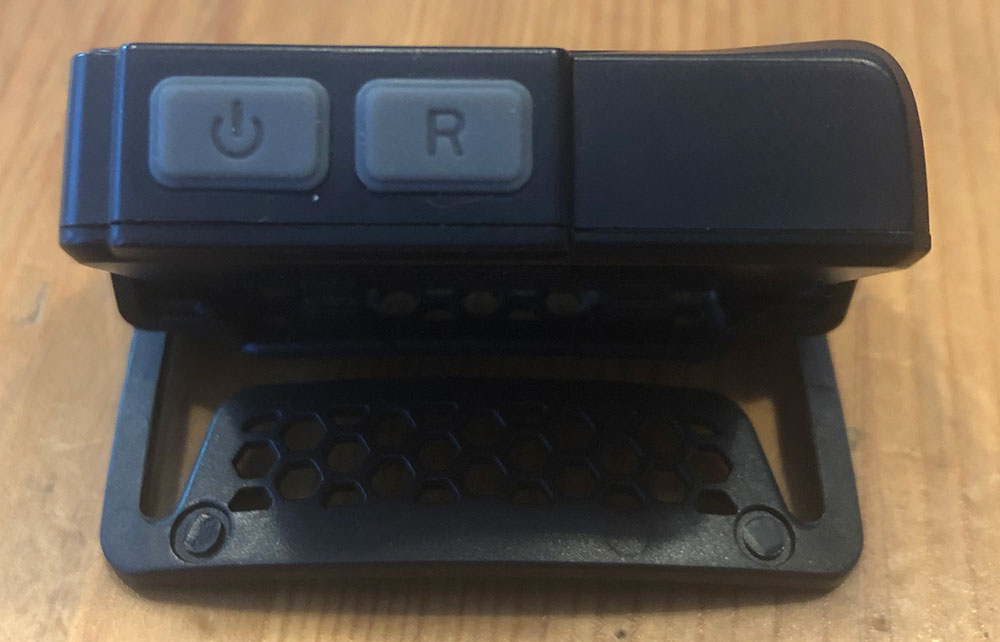 Two buttons. White on the left and red on the right.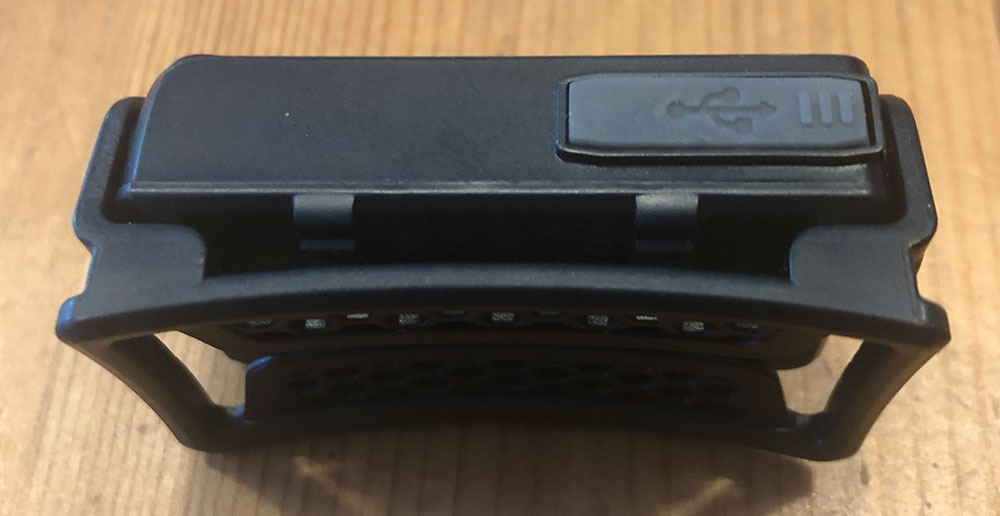 On the bottom is the Micro-USB port underneath the silicon tab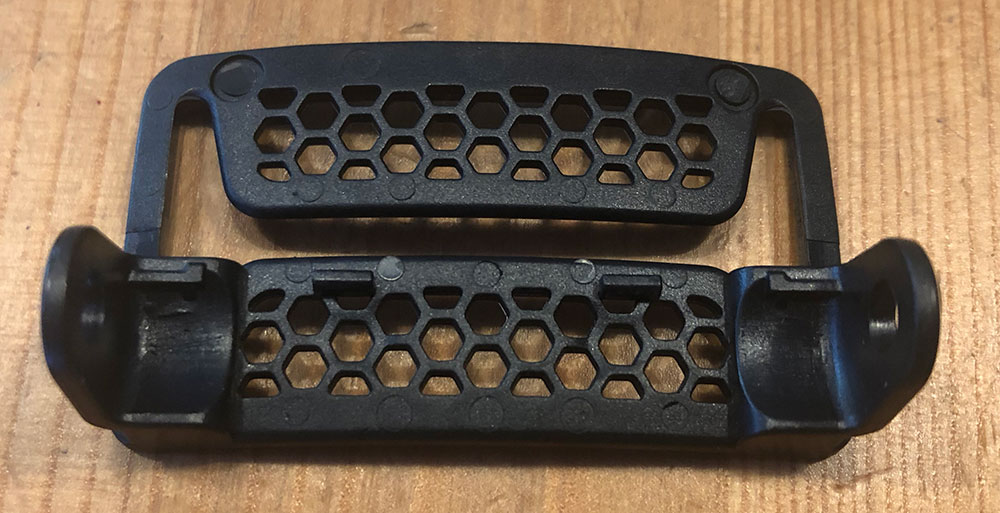 The holder pops off easily (but not too easily) for you to attach the headband.

Tuck it behind the lower section and then again under the top like so.

Here's a look at the different angle indexes within the 60º range of motion that the interface between the holder and the module provides.
Feature list:
– Lightweight design specific to outdoor activities
– Built-in rechargeable battery
– White (4 levels) and Red (2 levels) light options
– 1 SOS flashing mode
– Button lock mode
– IP66 rating against water and dust ingress
– 60º of angle adjustment
Setup
Out of the box, setup is as simple two-step operation.
1. Connect the USB cable to the micro USB charging port to make sure the battery is topped off
2. Slide the headband into the guides of the pivoting holder and adjust to fit
Performance
This review has taken me longer to get to than any other one that I've worked on for a simple reason. It works so well that I pretty much forgot that I was testing it. Let me explain a bit more.
Our family includes two dogs. A big sweetheart great pyrenees/shepherd and a very loud beagle. They get wound up pretty quickly on walks and are very vocal with other dogs to the extent that we now do the extended walks at 6am and after 9pm. For the last couple months that means that it's been really dark when we're out for our stroll, and headlamps are the solution for us to see and be seen. We've got 3 or 4 headlamps that are pretty typical examples of what you might expect. They have a bright LED and take 3 AAA batteries each. The odd number of batteries makes for interesting charging as we like to use rechargeable batteries and a lot of chargers require charging in pairs. But I digress.
The NU25 is… easy to size adjust, plenty bright, very comfortable, lightweight and its battery lasts. As a result, it's been going on my head every morning and every night and has become such a reliable part of our daily outings that it really slipped my mind that I needed to write a review. The second part of that is that it works so well that there aren't any negatives that were gnawing at my brain to talk about. And lastly, I finally got around to reading the manual (something I didn't think I needed to do) and learned about three new features that I didn't even know it had.
When I first put the NU25 on I noticed that the band was threaded differently than most headbands I've used. It's deceptively simple in that the adjustment slides effortlessly and then stays in place when on your head. This means that when not on your head the setting is likely to change. At first I was a little annoyed, but then I quickly realized how frequently I adjust the tension and it became one of my favorite features. The headband also has a thin strip of silicon printed on the inside of the band which helps to keep it right where you place it without being too tacky.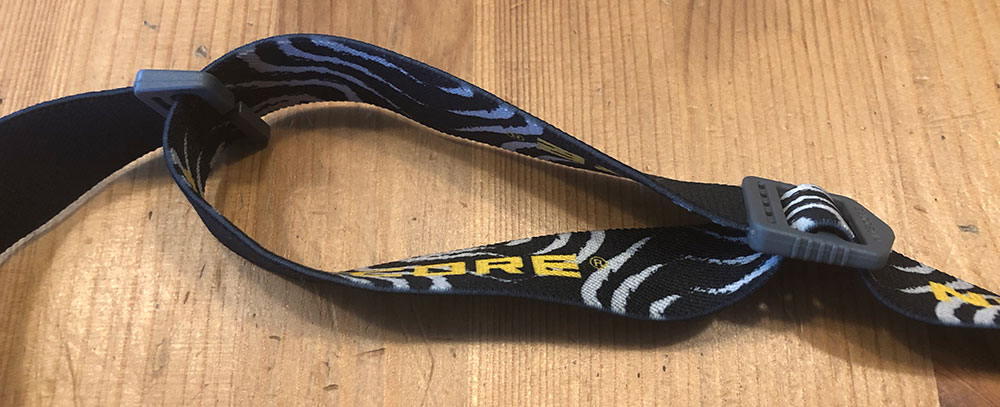 Next is the buttons. Really easy to press, and know you've pressed them. There are two buttons. One for the white light and one for the red. Each cycle through the different levels of each light. For white (off, level 1, level 2, level 3), for red (off, level 1, level 2). A cool intuitive feature you discover while using is that if you are idle on a setting for a bit (I generally use level 2), the next press will now turn it off. It's a quick learning curve that you adapt to pretty much right away.
You may have noticed that the features bullets listed 4 levels for the white light. Here's the first extra I learned reading the manual. A 1 second hold on the white light engages Turbo mode. This is full 360 lumens and will only run for 30 seconds to avoid overheating. The handy chart in the manual then explains the lumens for each level.  1 = 3 lumens, 2 = 38 lumens, 3 = 190 lumens. Here are photos to show what each of those looks like. I'll update this post with a Turbo photo just as soon as I'm back from traveling, as again as I wasn't even aware that it had a Turbo mode. I had just assumed the level 3 was 380 lumens.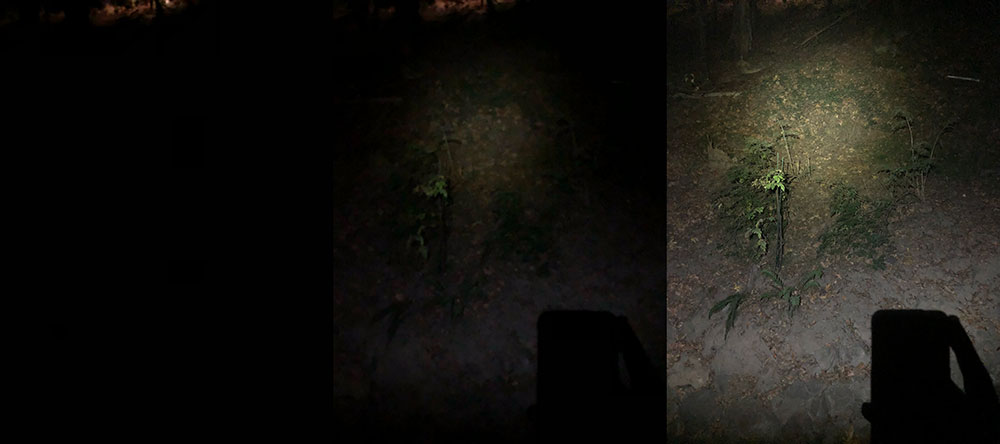 The red light is a really useful feature for visibility without the harshness of a white light. Best use example is probably camping and needing to find something in your gear without waking up your tent mates. It's also just very cool looking. Here are those two levels.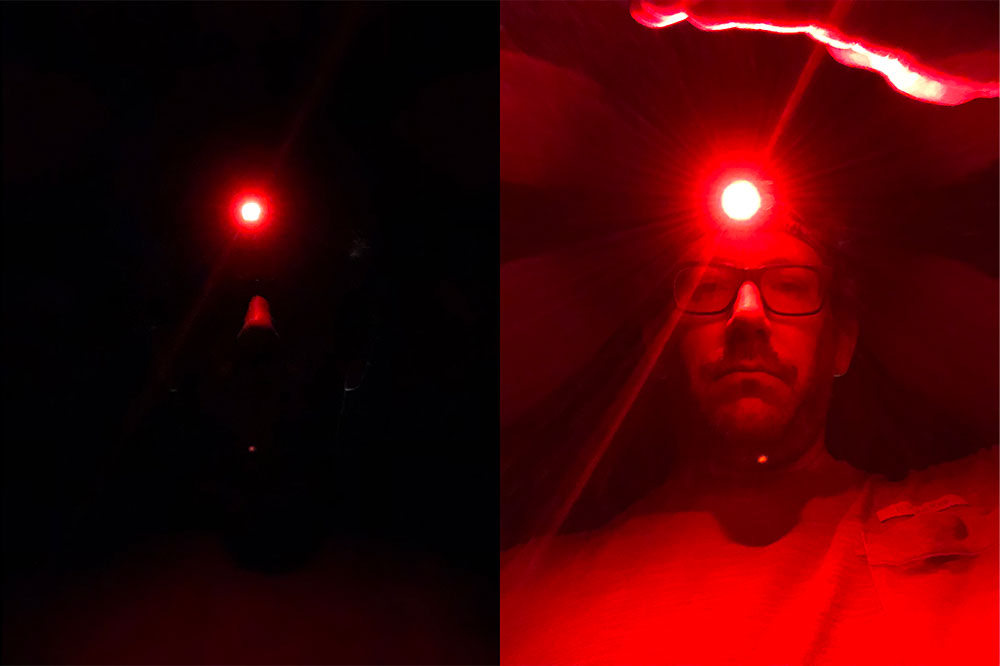 The next thing I learned from the manual (aside from remembering that I should always read manuals), is that there's a button lock. To engage this, just press both buttons simultaneously. This is a great way to keep the headlamp from turning on while in your bag. Instead of turning on, it'll just flash its status light once. Repeat the process to unlock the buttons again.
My last manual discovery was the SOS feature. A three second press of the white light sets off the well known ••• – – – ••• Morse code sequence. A very cool and potentially life-saving feature to have access to.
As for the battery, it just works. I was pretty used to charging batteries once a week and frequently finding a dead headlight when I needed it. With the NU25, it seemed very hard to kill the battery, and when it was running low, it would restrict access to the highest output white light first and then dim the 2nd level. It was pretty easy to tell that it was time to charge again which is a quick 2 hours to get back to full. Let's wrap this review up.
What I like
The ease of size adjustment
The many lighting options
Lightweight and comfort
Great battery life
What needs to be improved
Nothing that I could find
Final thoughts
It's really uncommon to find products that work this well and this thoroughly thought through. As I mentioned earlier, this is now in the daily kit as a product I can 100% rely on without surprises. I'll be picking up a second one for our daily dog rounds and probably a third to keep in my bike commuter bag.
Price: $36.95
Where to buy: Amazon
Source: The sample of this product was provided by Nitecore.