We use affiliate links. If you buy something through the links on this page, we may earn a commission at no cost to you. Learn more.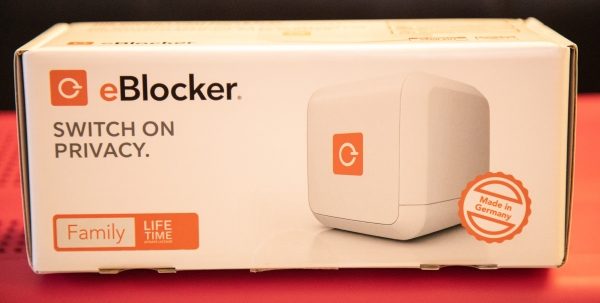 REVIEW – Whenever I surf the internet or go"window shopping" or even look up something specific online, I notice that shortly thereafter, the items that I viewed pop up as ads on other websites that I visit. I soon realized that the ads "follow me" as a marketing tool that companies customize based on my online viewing habits. Seeing this got me to start thinking about how much of my privacy and the privacy of my family is being compromised and wondering about what else "the eyes" on the internet are seeing and doing. This device promises to protect me and my family when online and to be effective enough to prevent any snooping. Let's see!!
What is it?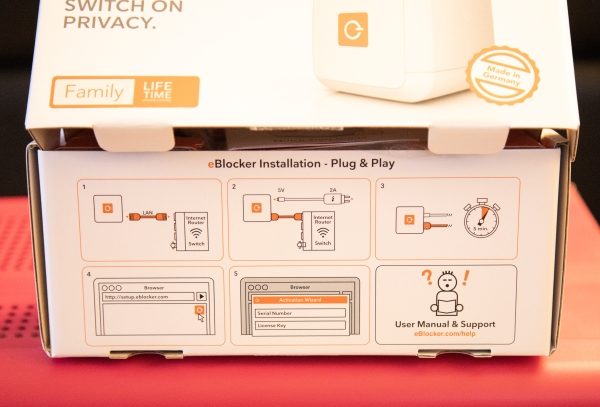 The eBlocker is a small computer, running the proprietary eBlocker Operating System. The eBlocker only needs to be connected to your router and it automatically protects all devices in your network. There is no software to install other than SSL certificates as needed for HTTPS. Even your mobile devices are comprehensively protected.
What's in the box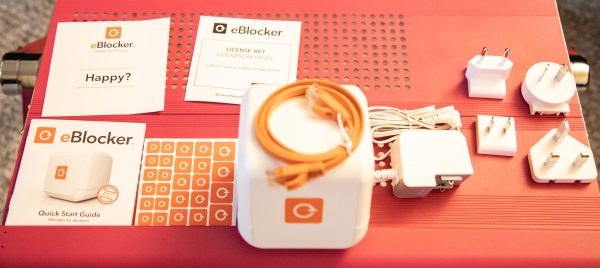 1 x eBlocker
1 x Power Adapter
1 x Ethernet Cable
4 x AC Plug Adapters
1 x Quick Start Guide
1 x License Card
1 x Feedback Card
Design and features
The eBlocker device is a small cube-like box that contains everything to perform its functions. Apart from the logo on the front side, there is an air vent and 2 USB ports, 1 ethernet port, one HDMI port (currently the manufacturer has not enabled this port for use), and the power port on the back.
Specifications
Processor: 1.2 GHz quad-core
Memory: 1 GB DDR3
Operating system: eBlockerOS 2
Usage: type 2 Watt, max. 10 Watt
Ethernet: 1 x Ethernet
2 x USB 2.0
Weight: 153 g
Dimensions: 9 x 9 x 9 cm

On the bottom of the eBlocker, there is the basic spec sticker that includes the serial number that you need to set up the device. There is also a mounting hole to mount the device to a wall.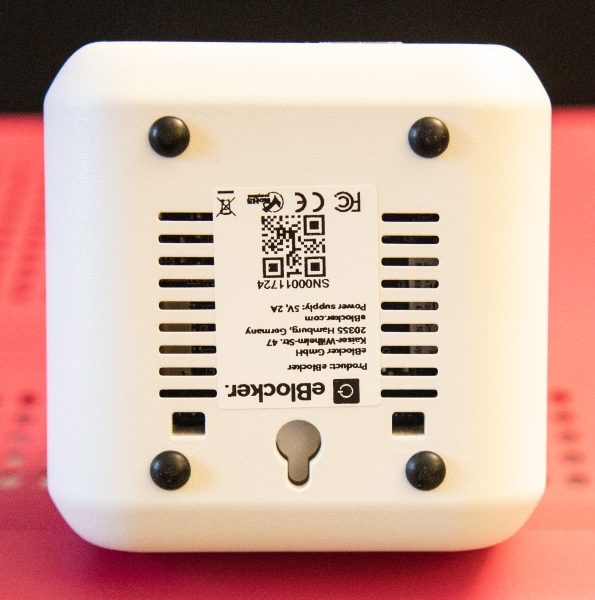 Installation and performance
Connecting the eBlocker to your network is beyond simple. It just involves connecting power and the ethernet cable to a network port on your router or switch. My network includes several switches in different areas, and I just chose an available port on one.
After the hardware connections are done, you open a browser on any computer on the same network and go to http://setup.eblocker.com.
This link eventually takes you to a browser screen that provides you with a dashboard with all of the metrics for the computer that you are using and provides a conduit to another browser screen that provides the metrics for all of the devices connected to your network.
When I loaded the setup page, I was initially lost because the page is not in English, and there is no initial option for you to choose a language or to translate. The issue is resolved by right-clicking on the page and selecting translate. However, I would prefer a clear and present selection option.
Never miss one of our posts again. Sent MON, WED, and FRI with the latest gadget reviews and news!
Once translated into the language of choice, you follow the prompts which take you to a dashboard for the computer you are using. There are several configuration options to customize the dashboard and once set up, it presents the metrics associated with the network traffic and what is being blocked. It is difficult in a review to provide details of what information is available because of the amount of information available and the type of information available
In addition to the dashboard for the computer you are using, you can open another browser tab that shows metrics related to every device on the network.
When I connected the eBlocker, most of my devices continued to work as normal. However, some practical web pages were blocked and I had to pause the device and create exceptions for those web addresses. Some of the blocked pages are within an online University Portal and have the .edu domain. Also, initially when I wanted to pause the eBlocker effect on the laptop that was trying to get to the .edu page, I had a bit of a hard time because I did not see its IP address in the device list. Eventually, I used the search option on that eBlocker page and searched using the IP address and I found the laptop under a different IP address. I am assuming that the IP was being masked via the IP Anonymous function. I will confirm this as I spend more time with the device. I can see this becoming a more tedious process if many web pages are being blocked. In addition, I have close to a dozen different types of streaming devices on my network, and out of 4 Roku devices, the one connected wirelessly one seems to freeze and stop working once the eBlocker is connected. I have not yet been able to figure out why this happens. The other Roku devices are wired, and so far there has not been a problem with their connection. There is a large number of options and features available for the eBlocker. If you would like to get a better understanding and learn more about the features and possible customization, you can find the instruction manual here.
Here is a list of some of the main features/options/categories, and below the list is a small screenshot sample of some of the screens:
eBlocker Icon – this shows the eBlocker activity on each site and provides access to the control bar by clicking on the icon
Whitelist – This option allows you to disable eBlocker process on websites that you deem safe
Trackers – With this option you can see which trackers are being blocked on the web page
Ads – This is an Ad blocker option to see which ads are being blocked
Anon (IP Anonymous) – this hides your real IP-address
Device Cloaking – makes it seem like you are using a different device to provide you with even more privacy
Pause – Pauses the eBlocker on the device you are using for 5 minutes
Messages – Appears when there are system notifications or messages for you
Settings – Includes advanced setting like SSL support and network configuration settings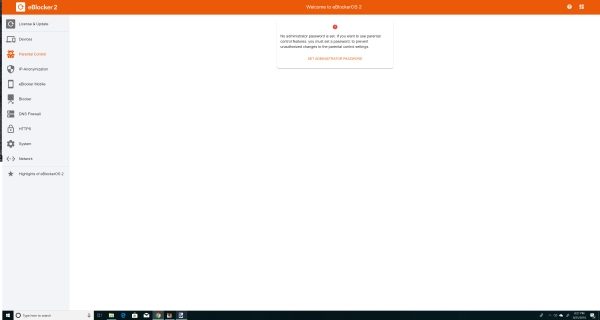 What I like
The size
The functionality
The lifetime license included with the Family device
What can be improved
Better software design so that additional information is available on the main screen for network devices
A language selection option on the first screen
Final thoughts
The concept of the eBlocker is great, and these days, we need to do all that we can to protect ourselves from the vulnerabilities we face when interacting electronically whether voluntarily or not. On a simple network with a couple of PCs and tablets, I can see the setup being very easy. My experience with it has been more complex, due to the number of and different types of network devices that are a part of my network. I feel very assured that this device does a great job at making your network presence mostly anonymous. It will take me some additional time to really get a sense of how to fully customize and take full advantage of the flexibility of the eBlocker, while still evaluating its ability to accommodate the unique challenges that some network devices and web pages can present. For now, I am giving it a conditional thumbs up, and I will follow up with an update if necessary and when I have spent quite a bit more time with it.
Price: $299
Where to buy: eBlocker.com and Amazon
Source: The sample for this review was provided by eBlocker.