We use affiliate links. If you buy something through the links on this page, we may earn a commission at no cost to you. Learn more.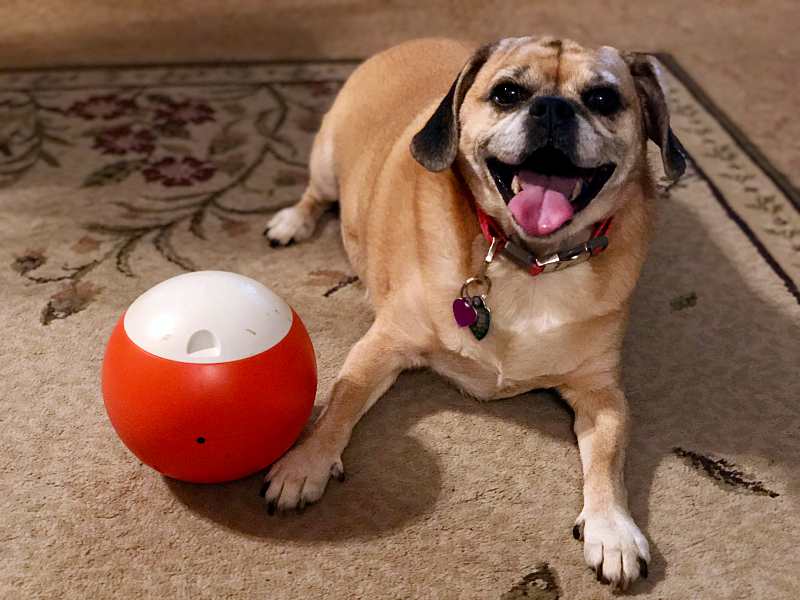 REVIEW – As a dog owner I'm always concerned whether or not my 9-year-old puggle Zoey is getting enough exercise. Her activity level isn't what it used to be, and the summer heat limits the amount of outdoor activity she gets. She's very finicky when it comes to her toys. Usually, if she can't eat or destroy it, she won't play with it. I thought a toy like the gosh! easyPlay would be great for her both physically and mentally. Let's see if I was right.
What is it?
easyPlay is a robotic remote ball designed to keep your pet active. It uses a smartphone app that lets you interact with your pet and even reward them with treats for playing with it.
What's in the box?
easyPlay robotic ball

Micro USB to USB charging cable

Feather cat toy accessory

User manual

Design and features
The easyPlay is made of a durable easy to clean plastic. The ball itself measures 6-inches in diameter and weighs just over 2-pounds.
The top of the easyPlay twists off to reveal the food pods. You can fill them with your pets food or small sized treats.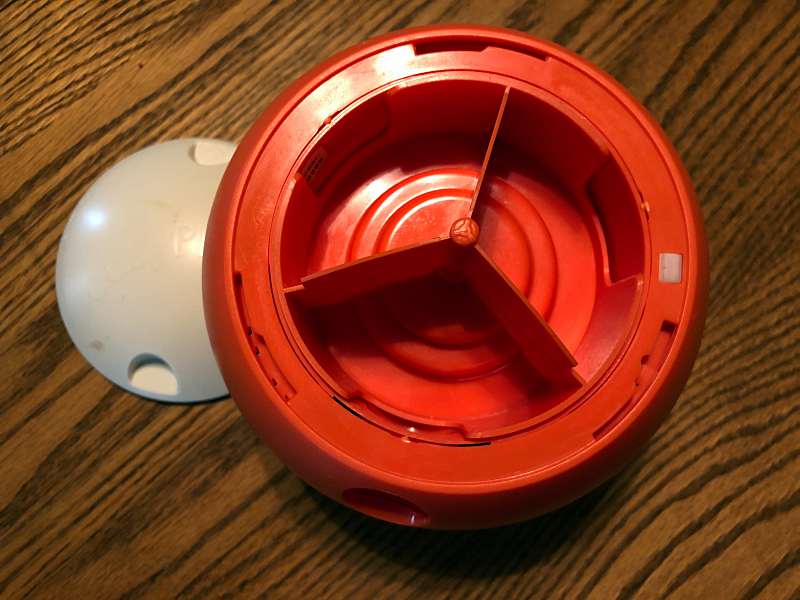 There's a 720P HD wide-angle webcam located on the front of the ball. Just below the cam, there's a speaker and microphone.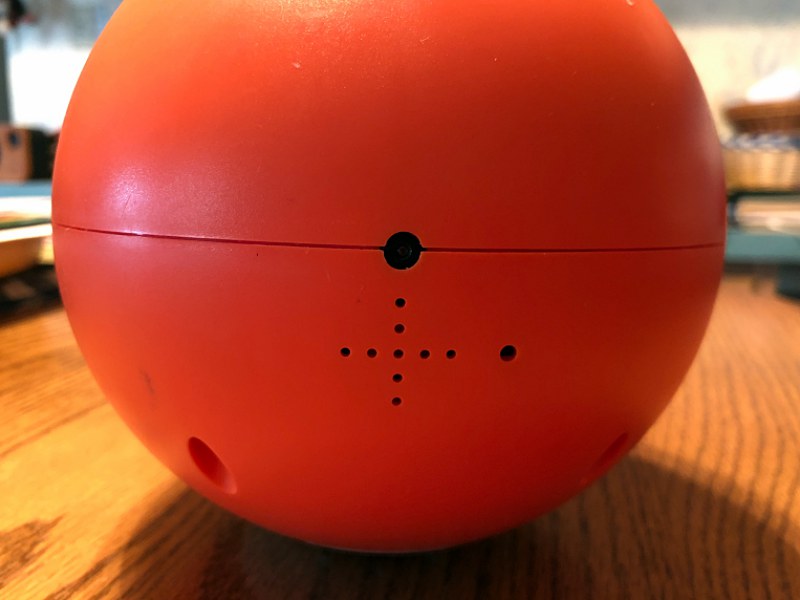 The backside of the ball is where you'll find the treat dispenser, micro USB charging port, on/off switch, and the reset button. There's also a battery LED indicator.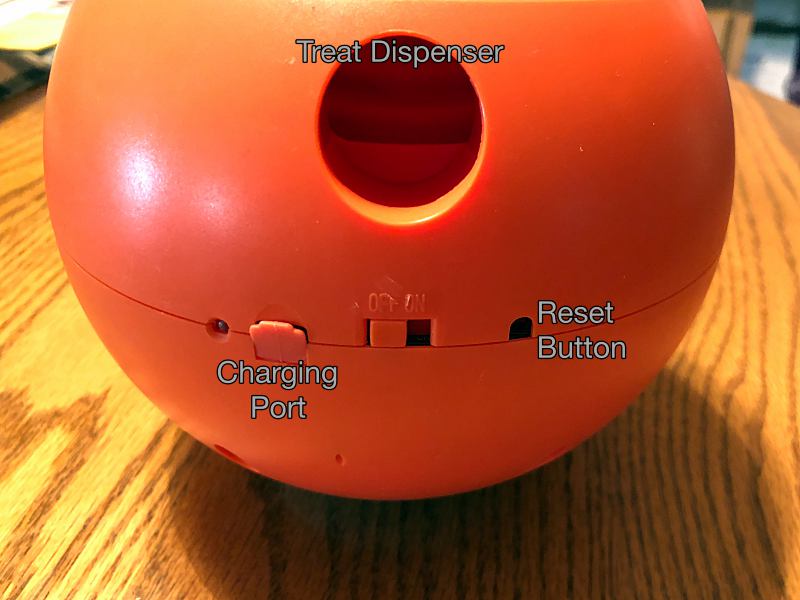 The wheel track, which is used to maneuver the ball is located on the bottom.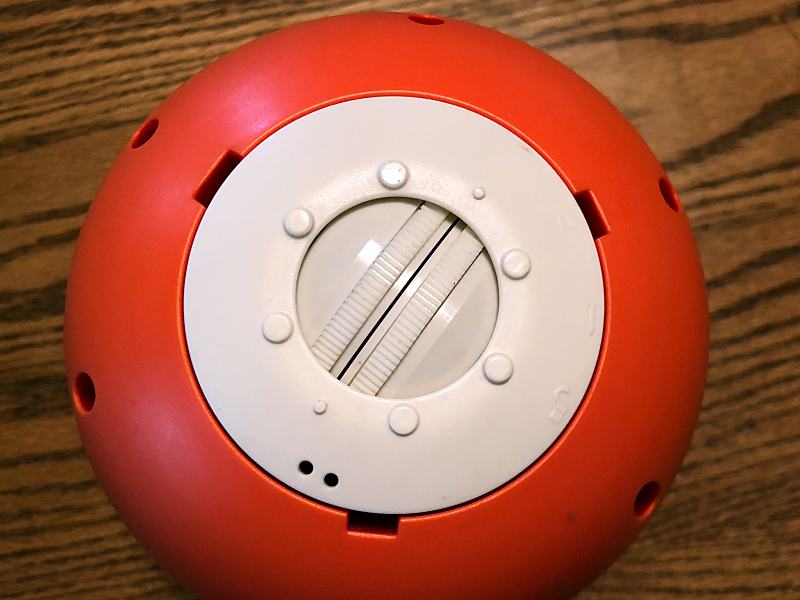 easyPlay app
To set up easyPlay, you first have to download the free app from the App Store or Google Play.
The app interface is simple and easy to use. The Homepage is where you access all of easyPlays features. You can set a profile pic, feeding times and even set and track your pets activity levels. It also allows you to see the network connection and the easyPlays battery level.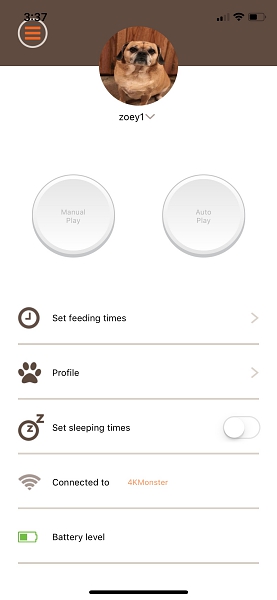 You can also select how you want to interact with your dog.
Manual play allows you to control the ball remotely and access the camera and speaker features.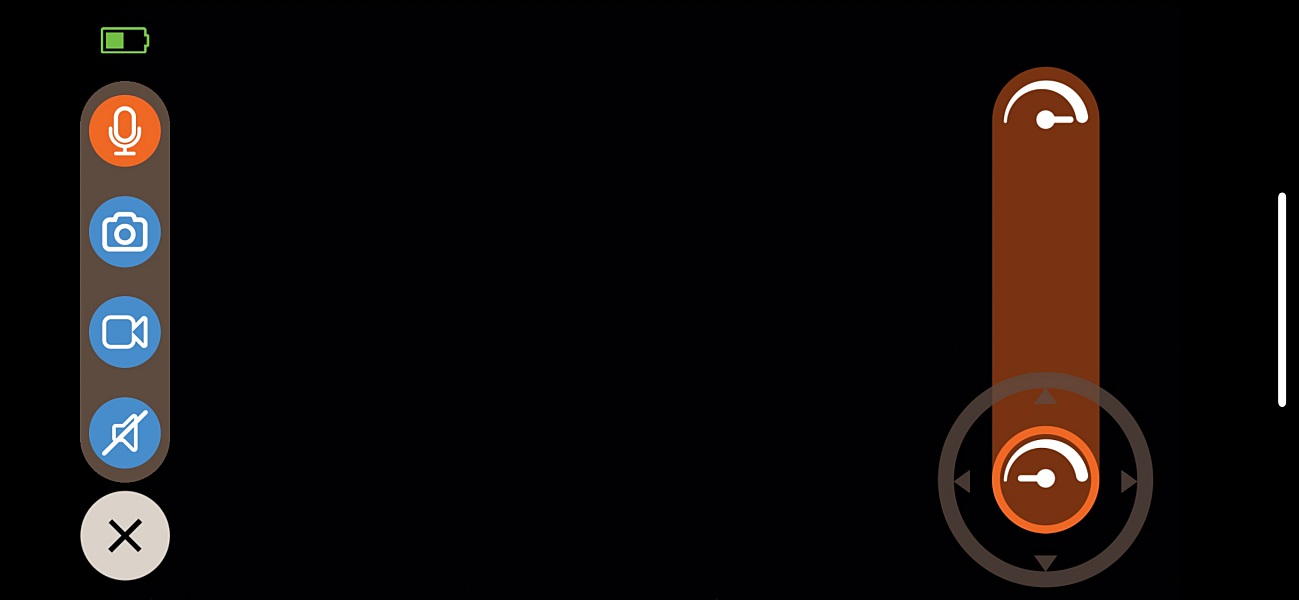 When autoplay is selected, the easyPlay will move on its own for 30 seconds. Profile allows you to track and set your dogs activity level. The app keeps track of how many plays your dog has for that day. A play is registered every time the ball is rolled, so 1 roll = 1 play. You can choose to set either a daily goal or a minimum play goal. You can even have an alert sent to your phone when your dog hits their daily goal.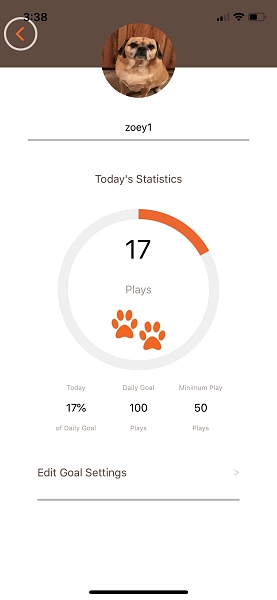 Performance
I was really excited to start playing with my dog Zoey using easyPlay. Unfortunately, my excitement was short lived. The first issue came with the fact that the easyPlay can only be used on a completely flat surface. Since most of my home is carpeted, I was relegated to using it in my kitchen where I have a small tiled area. So if you don't have tile or hardwood floors the remote control feature is unusable.
Controls
Although the app is easy to use and pretty responsive, no matter how hard I tried I couldn't get the ball to go straight. It always wanted to travel in a semi-circle. And the ball is easily knocked off its tracks and often becomes stuck in an unmovable position.
Treat / food dispenser
I was disappointed that there was no way to dispense a treat individually using the app. Instead, you have to set a specific time of day for this to be done. When its time the pod rotates so that it lines up with the dispensing hole. I use a small bite kibble, and Zoey was able to get all of the food out within a few rolls of the ball. I really was hoping it would be a little more challenging for her to get the food out. Even larger treats came out fairly easily, not much of a puzzle.
Camera
The camera works okay, but it's positioned a little low for you to get any quality still shots. Unless your pet is standing a few feet away, all you see are legs and paws. It's also located on the opposite side of the treat dispenser, so if your dog is like mine, that's the part of the ball they're most interested in. As you can see from the short video below it's really hard to make out what is going on when your pet is actually playing with the easyPlay.
The app does allow you to save pics and videos to your camera roll or post them on your favorite social site. Although it's hard to get any pics or vids worthy of sharing. Images below are unedited to give you an example of the camera quality.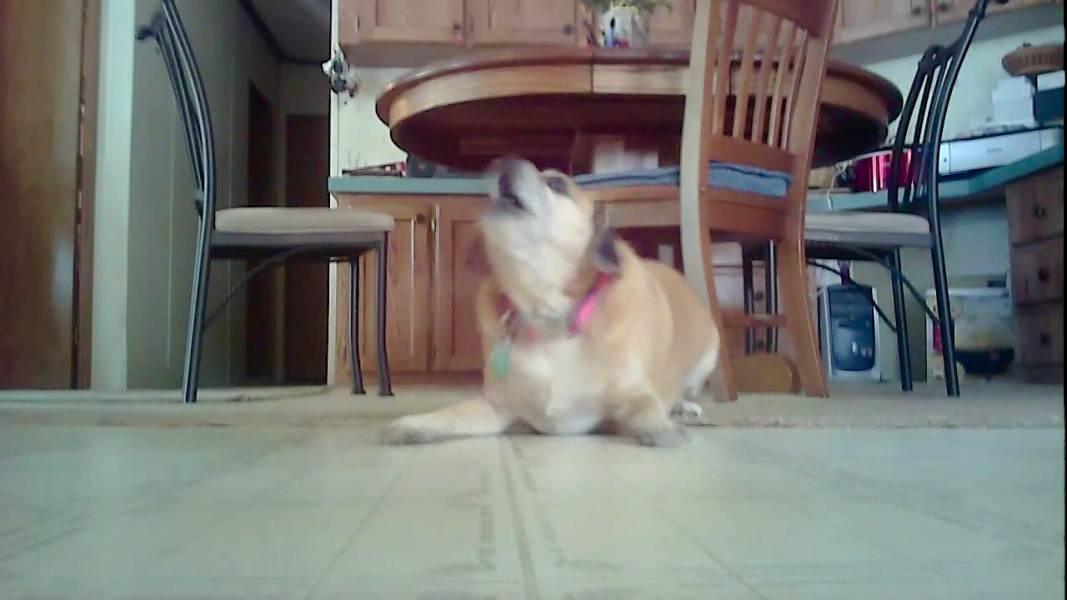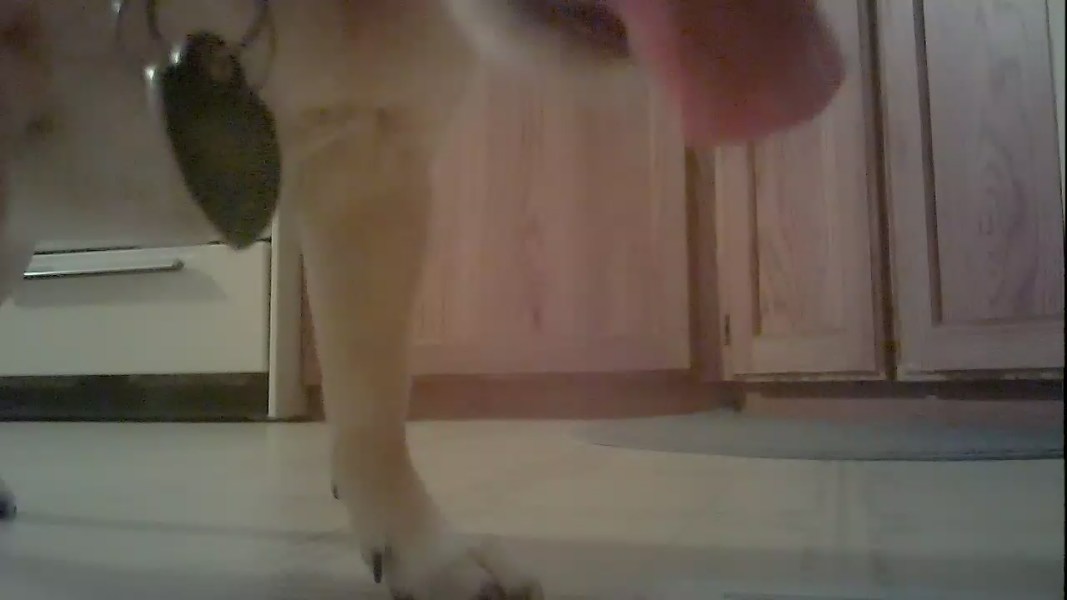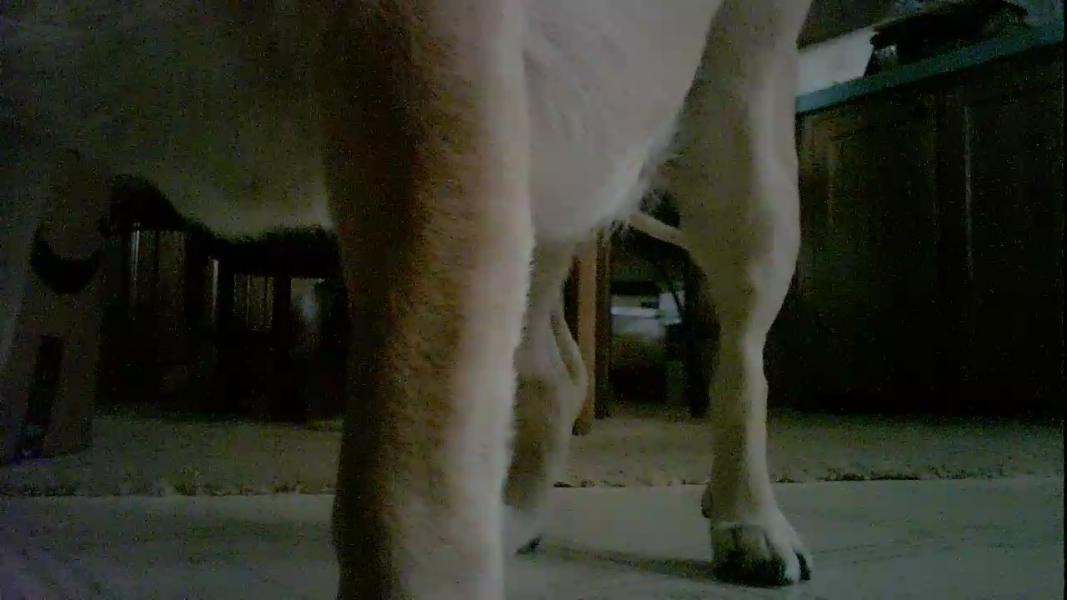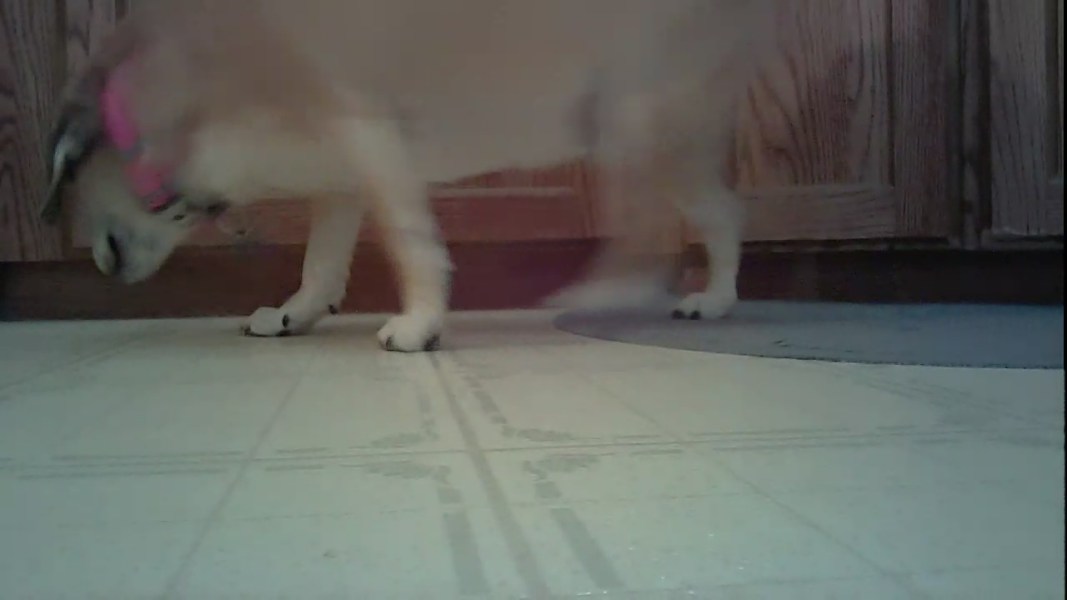 The sound quality of the speaker isn't very good, and the sound from the built-in microphone sounds like a garbage disposal, luckily you can mute the mic from the app.
Battery life
The easyPlay's rechargeable battery has a continuous play time of  4.5 hours and a standby time of 12 hours. You can put the easyPlay into sleep mode to save the battery but, this disables the WiFi meaning you can't access it with the app until the sleep mode timer expires. Another issue I ran into was the pop-up alert you get on the app when the battery is low. It pops up non-stop every few seconds, rendering the app utterly useless. Considering the app already has a battery indicator the pop-up isn't really necessary.
What I like
Durable, well constructed
Easy to use
The app interface
What needs to be improved
Too expensive ($150)
Remote control feature only works on completely flat surfaces
Poor camera placement and quality
Poor sound quality from speaker and microphone
Can't immediately dispense treats
Short battery life
Food and treats come out too easily, not challenging enough
Final thoughts
Conceptually the easyPlay is a great product, unfortunately, most of what it does suffers from poor execution. Sometimes MORE is LESS, and that's the case here. easyPlay does a lot of things, but it doesn't do any of them particularly well. I really wanted to like it, but there are just too many flaws that just can't be overlooked. However, Zoey does like playing with it if only for the food, so that's a positive.
Price: $149.95
Where to buy: Amazon
Source: The sample of this product was provided by gosh!.