We use affiliate links. If you buy something through the links on this page, we may earn a commission at no cost to you. Learn more.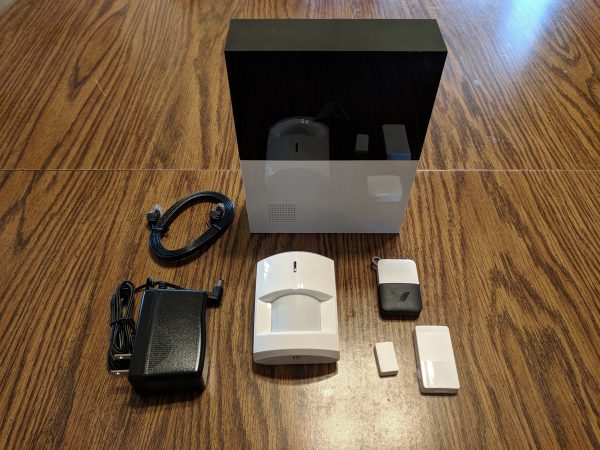 REVIEW – The Abode DIY Home Security System is an Internet-enabled, simple system of sensors, alarms, and cameras to help secure your home. It's very easy to set up and maintain and there are a number of affordable add-on modules and services. At $229.99 for the basic system and no monthly contract needed, it's a terrific bargain for those looking to add some security to their home or apartment.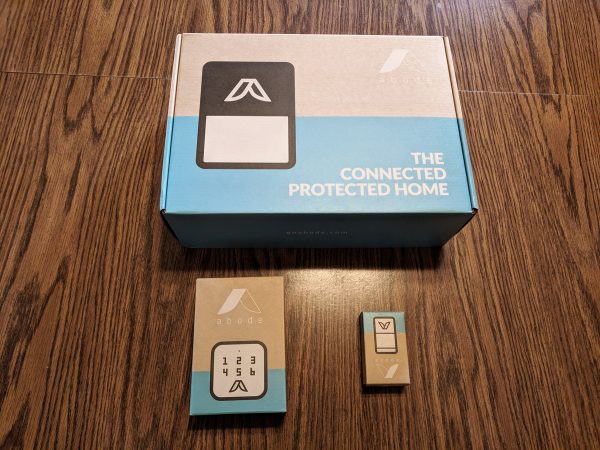 What is it?
The Abode Home Security System is a modular alarm system that connects to your modem or router and, with the help of a mobile app, helps keep tabs on the security of your home. The Basic Abode System comes with a Remote KeyFob, a Mini Door/Window Sensor, and a Motion Sensor. You can add as many cameras, sensors, and alarms as you like because of the modular design and easy setup process.
For such an affordable system, the Abode offers some high-end options such as battery backup, cellular connected monitoring, and online cloud storage.
There are three no-contract options for professional monitoring plans; free, $10 monthly, and $30 monthly. There's even an option for on-demand monitoring for vacations or times when you're away from home and want to have some extra peace of mind. The monthly plans are able to be paid annually for significant savings.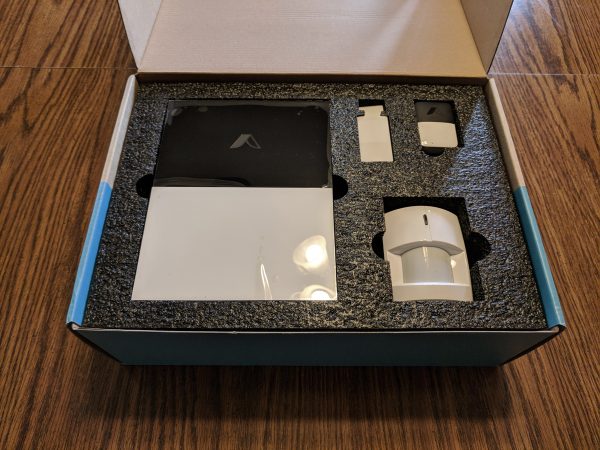 What's in the box?
1 Abode Gateway
1 Mini Door/Window Sensor
1 Remote KeyFob
1 Motion Sensor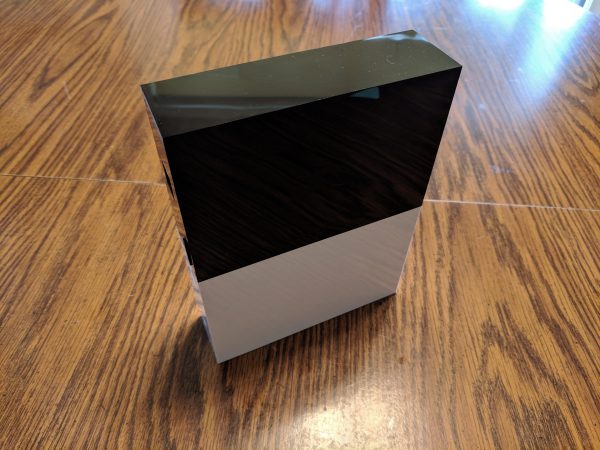 Setup
The Abode Gateway is the brains, and mouth, of the whole Abode Security System. It runs the entire system and contains a 93db built-in siren to alert you of activity on your network.
Never miss one of our posts again. Sent MON, WED, and FRI with the latest gadget reviews and news!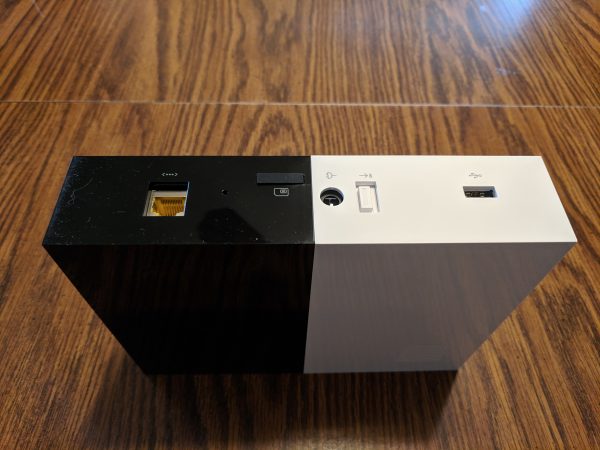 On the back of the Gateway, there is an Ethernet port, a USB port, a battery backup switch, a SIM card slot, and a power connection. The battery switch enables the internal Gateway battery backup which can power the unit in case of a power outage. The SIM card allows for an emergency cellular connection for the paid monitoring plans.
Once you connect the Gateway via ethernet cable to your modem or router and give it access to your network, it can interface with the Abode app and website. The Gateway itself doesn't use your Wifi network, it communicates with the Abode devices via encrypted long-range 433MHz, ZigBee or Z-Wave wireless protocols.
Abode makes a number of useful modules such as glass break/vibration sensors, temperature and light sensors, smoke alarm monitors, and water leak sensors. The modules are all powered by small long-life batteries.
The Abode system can interface with a number of third-party cameras and smart home systems such as Alexa, Google Home, and Nest. Abode is also compatible with an impressive number of Z-Wave and ZigBee devices such as garage door openers, fire alarms, and smoke detectors. Utilizing IFTTT can expand Abode's versatility even more.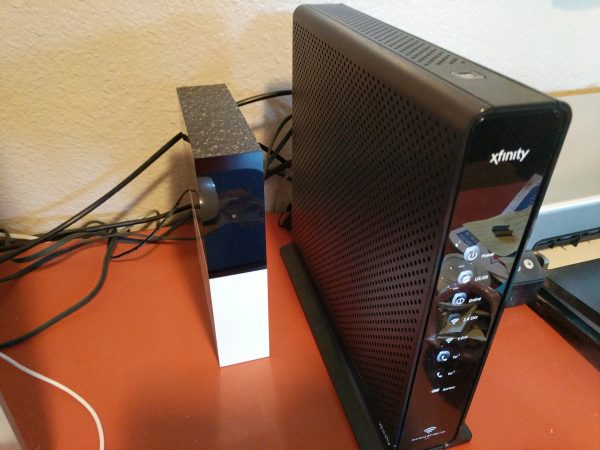 Once the Gateway is wired to your network, the rest of the setup happens via the Abode app. The Abode app walks you through the whole setup process and then allows you to add in individual modules as well. The app is available for Android and Apple iOS.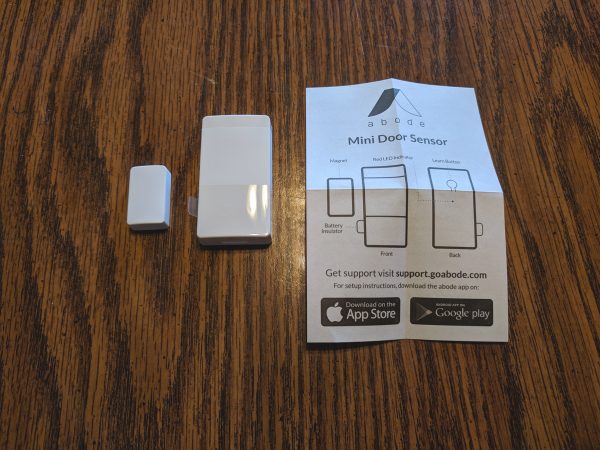 In addition to the Mini Door Sensor, Remote KeyFob, and Motion Sensor included with the Basic Kit, I added a second Mini Door Sensor and a Wireless Keypad.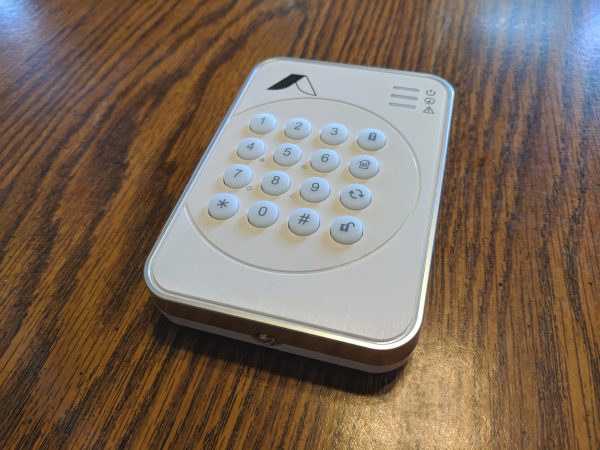 All of the sensors I installed had options to mount them with screws or double-sided tape. I opted for installing the modules with the double-sided tape because I wasn't sure what locations would work best and I wanted the ability to change the module locations.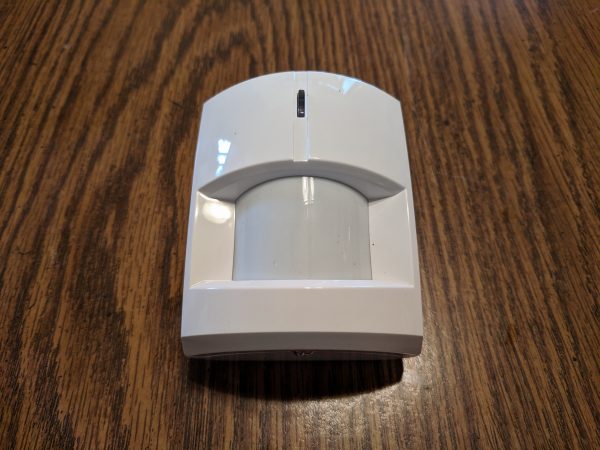 The included Motion Sensor utilizes passive infrared detection and can detect motion in most rooms up to 39 feet in a 110° field of view. It can be mounted flat on a wall or in a corner.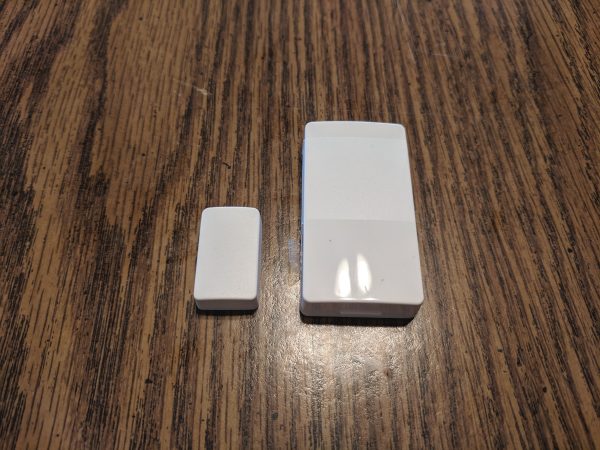 The Mini Door Sensors are able to be used on windows as well. Both sides of the sensor contain a magnet and when the magnetic field is broken because of too much distance, the sensor triggers the Gateway.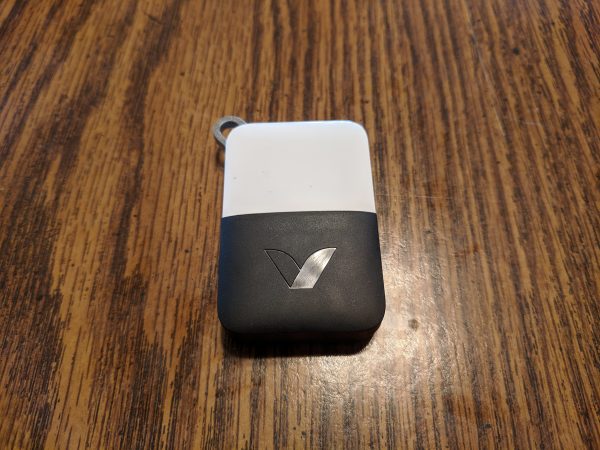 The Remote KeyFob looks just like a car alarm fob and acts much the same. There are buttons on the fob for arming, disarming, and setting the system to Home mode. There's also a fourth button earmarked for future development such as a panic button.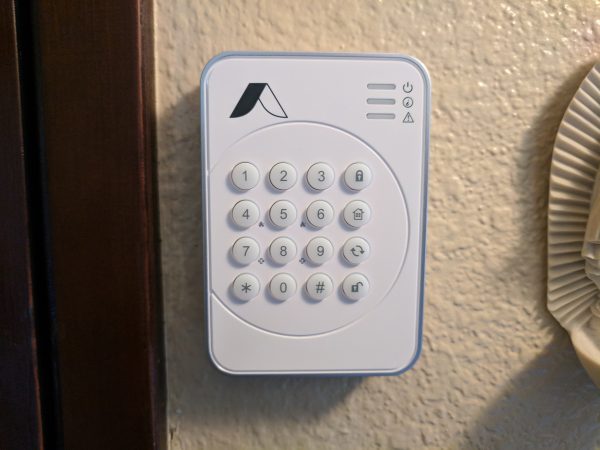 Mounting the modules was very easy once I found the optimum spots for them. The Keypad was easiest, I placed it by the main entrance to the house. The Keypad and web app allow you to assign different PIN codes for different members of your household. This helps keep track of who did what at what time. Of course, this only works if nobody knows the PIN of anyone else.
With the Keypad, KeyFob, and Abode app, you're able to set your system to Away, Home, or Standby. Away arms all sensors, indoor and out, and is used when you're leaving your property. Home arms all external sensors and is used when you're home and still want to be secure. Standby disables all security sensors; sensors like fire alarms and water detectors still stay active in this mode.
There's also a great option for adding a Duress PIN code if you're using one of the paid monitoring options. Entering the Duress PIN on the keypad will automatically alert the monitoring center. This is useful in a situation where someone is forcing you to disarm the system via the Keypad.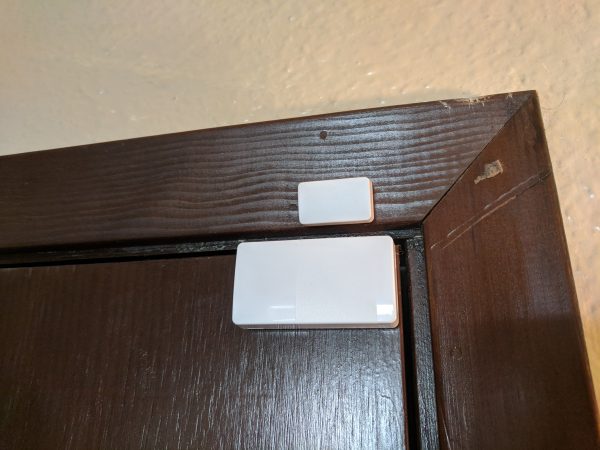 The Mini Door Sensors were a little more difficult to mount only because of the different types of door frames in our older house.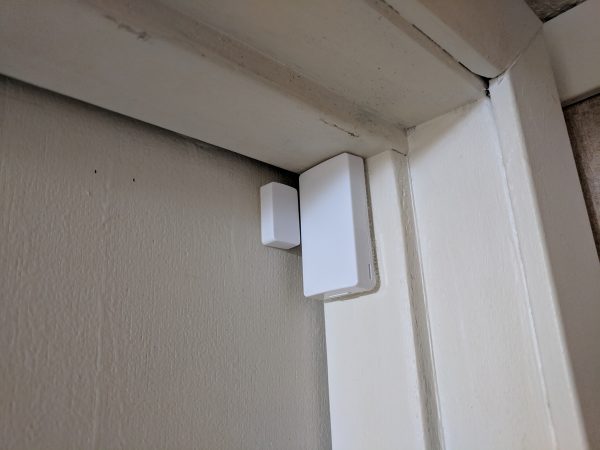 After some trial and error, I was able to find configurations that worked perfectly to trigger the sensors when the doors opened and closed.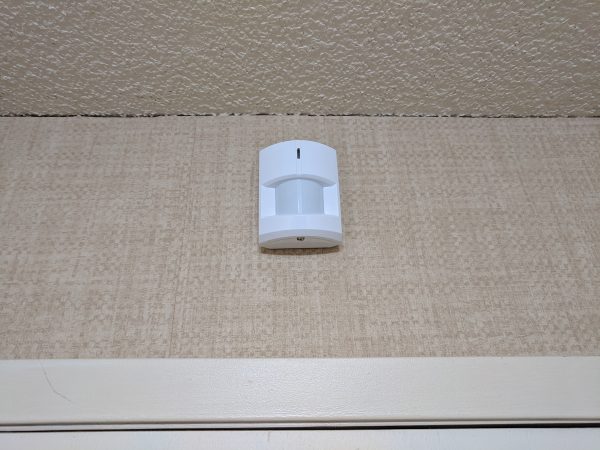 Having the option to mount the motion sensor flat in the center of a wall or tucked into a high corner is great and adds flexibility to where you can place the useful sensor.
Performance
From the second the Abode System was set up it has run flawlessly. The instructions are easy to understand for old and young alike and everyone in our family has quickly taken to making sure the system is set to Away when we leave, Standby during the day, and Home at night.
Using the Abode website I was able to configure all sorts of alerts and notifications to keep me informed about the activity on the system. If you opt for one of the paid tier monitoring plans, the customization goes even deeper.
Given the success of our testing, we're already planning on adding a number of other useful Abode modules to our system.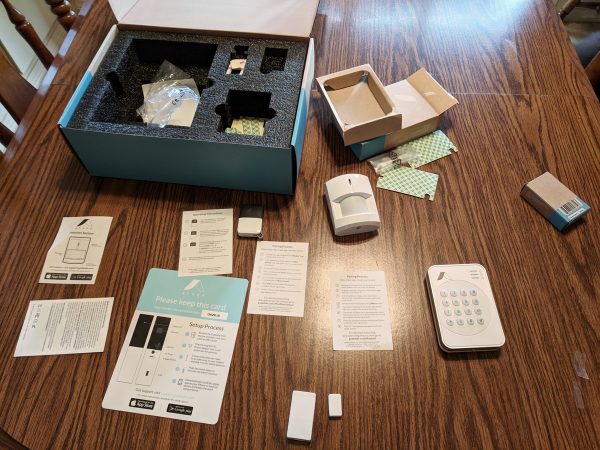 What I like
Super easy setup
Very reliable
Easy for all family members to understand
No required monitoring contracts
Modular design
A large number of compatible smart home products
Great customer support
Not reliant on WiFi
What needs to be improved
It would be great if the Basic System came with a few Door/Window Sensors
The website can be a little difficult to navigate if you're just looking for basic explanations of how the system works
Final thoughts
I love the Abode DIY Home Security System and I've recommended it to a number of friends and family members. The price is right, the functionality is outstanding, and the performance is flawless. But, the best part about this system is that it can be as simple or advanced as you like because it's completely modular.
Price: $229.00
Where to buy: Abode and Amazon.
Source: The sample of this product was provided by Abode.