We use affiliate links. If you buy something through the links on this page, we may earn a commission at no cost to you. Learn more.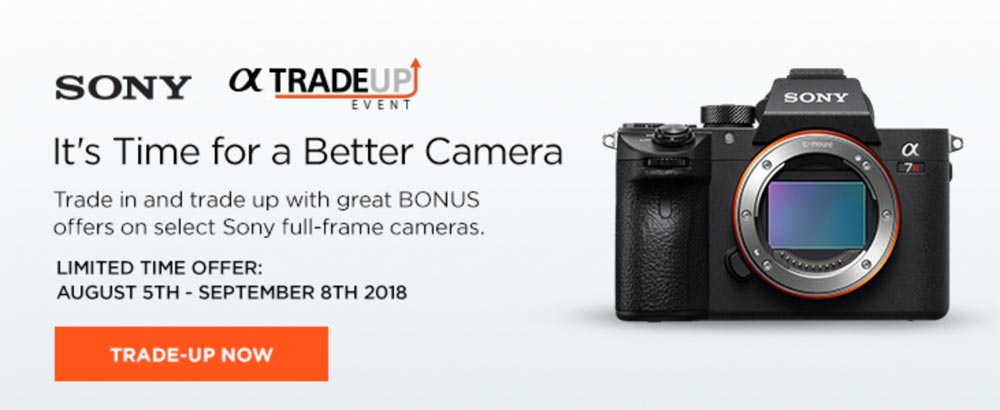 NEWS – Summer seems to be a popular time for taking photos.  People are taking vacations, attending sporting events, picnics, and these are all great photo opportunities.  They are also opportunities to discover the gaps in your set of lenses and the shortcomings of the gear you already have.  Adorama is offering great summer specials, trade-in offers, and rebates now, so you can afford the better Sony, Canon, Olympus, and Panasonic equipment you need.
Sony trade-in bonuses and lens sale.  Get up to $300 trade-in bonus, plus new Sony lens rebates
Sony Semi-Annual Lens and Accessories Sale.  | Expires 09/08
Trade in Bonus Special!  | Expires 09/08
Sony A7R3 – $300 Trade-in bonus
Sony A9 – $300 Trade-in bonus
Sony A7R2 – $200 Trade-in bonus
Sony A7S2 – $200 Trade-in bonus
Olympus Late Summer Savings – Expires 09/01
Save Up to $150 Instant Rebates on Digital M. Zuiko Lenses 
Panasonic 
$300 Instant Rebate on Panasonic Lumix DC-GH5 Mirrorless Camera 
Canon
Canon Summer Specials have been extended:
Special buyback offer on select Canon Cameras. Set up a Trade
Canon EOS 6D Digital Camera (Body Only) – $450

Canon 70-200mm f/2.8L IS II USM Telephoto Zoom Lens  – Trade in price $1000

Canon 16-35 f/2.8L EF "II" USM Autofocus Lens  – Trade in price $600

Canon 24-70mm f/2.8L "II" USM Zoom Lens  – Trade in price $900
Click the links above to learn more about these deals and rebates.