We use affiliate links. If you buy something through the links on this page, we may earn a commission at no cost to you. Learn more.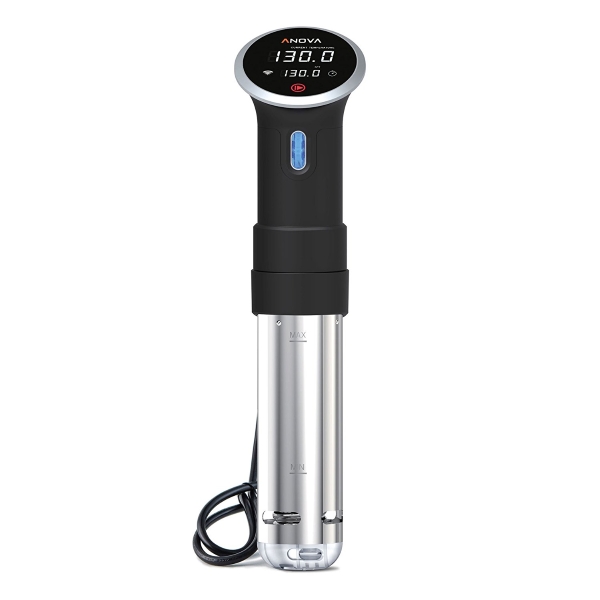 If your household is anything like mine, then you are used to the chaos of kids running around and us as parents trying to maintain control, while simultaneously attending to several other tasks. In one specific scenario, my wife, who loves to cook healthy and who created her own recipes, is constantly running out of the kitchen to deal with the kids, or something else, and running back into the kitchen when she smells something beginning to burn. Being so distracted, she forgets that the dish is still cooking. I have seen this happen so many times, that I could not help but be intrigued when I came across a device that promises to take all of the chaos out of the cooking process. I immediately thought about my wife and how it could help.
The Anova Culinary Sous Vide Precision Cooker claims to allow anyone to cook an amazing meal every time, without the perils for over-cooking or burning the food because of distractions, or maybe even because of lack of experience. According to the manufacturer, the way it works is, you clamp it to the side of a medium-sized pot filled with water, drop in a sealed bag or jar with the food inside of it, and then use the controls on the device or the app on your Android or IOS phone to control and monitor the food. It precisely maintains the desired temperature evenly throughout the contents of the pot. As stated in the description, "Precision Cooking enables you to produce results that are impossible to achieve through any other cooking method". "Continuous temperature control provides reliable and consistent results every time. Perfect for vegetables, meat, fruit, cheese and much more".
The app that connects via both WiFi and Bluetooth allows you to set the desired temperature and other functions, and even alerts you when the dish is "good to go".
If you are interested in purchasing the Anova Culinary Sous Vide Precision Cooker, you can pick one up at Amazon for $128.96.