We use affiliate links. If you buy something through the links on this page, we may earn a commission at no cost to you. Learn more.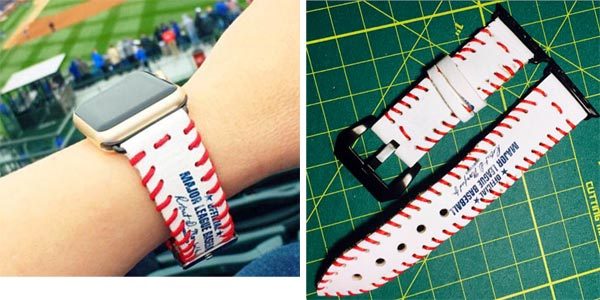 While I've never been a fan of baseball, I've always been a fan of the white leather and red lacing look of a baseball.  Apparently, I'm not the only one who likes the color combination, because I've seen a lot of leather goods made with that combination.  There's an Etsy shop, BaseballWatches, that offers a great Apple Watch band in the white/red combination.  But best of all, their Watch bands are made with the covering of a real baseball.
The straps are handmade, one at a time, by Baseball Time, LLC in Nashville, TN.  Although they aren't endorsed by MLB, the bands are made from the cover of an actual Major League Baseball-stamped ball.  The back of the strap is lined with a high-quality leather for comfort.
The bands are available to fit the 38mm or 42mm Apple Watch.  Both sizes are $64.00 from BaseballWatches.