We use affiliate links. If you buy something through the links on this page, we may earn a commission at no cost to you. Learn more.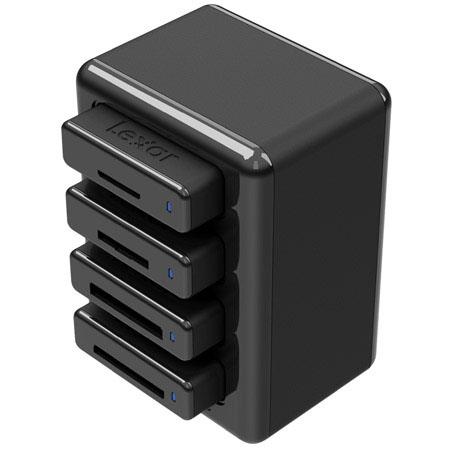 Whenever I am in the studio and I have to work on editing photos and footage that I have shot over a few days, I usually have a bunch of different media full of files that I need to transfer to my editing computer. At any given time, I may have a couple of SDXC cards, a couple of compact flash cards and even some micro SD cards. I used to find the process of transferring the files very tedious since I would normally use a small multi-purpose USB reader and copy each card one at a time.
Some time ago, I decided to examine the efficiency of my workflow, and the copying of files seemed like a logical process that needed to be made more efficient. After some research, I found and purchased the Lexar Professional Workflow HR1 Hub. This is a very nice, small and compact modular 4-bay hub that accepts up to four different types of card readers, and via USB 3.0, it is able to transfer the files from all 4 of the readers simultaneously. The modules that are offered for this hub include readers for SDHC, SDXC, Micro SDHC, Micro SDXC, CompactFlash, CFast and XQD cards. There are also two flash storage drives that are available in 256 or 512GB sizes.
The Lexar HR1 Hub is both MAC and Windows compatible, and it has been an amazing addition to my workflow and has definitely added much better efficiency to my process. You can pick one up at Adorama for $58.95.