We use affiliate links. If you buy something through the links on this page, we may earn a commission at no cost to you. Learn more.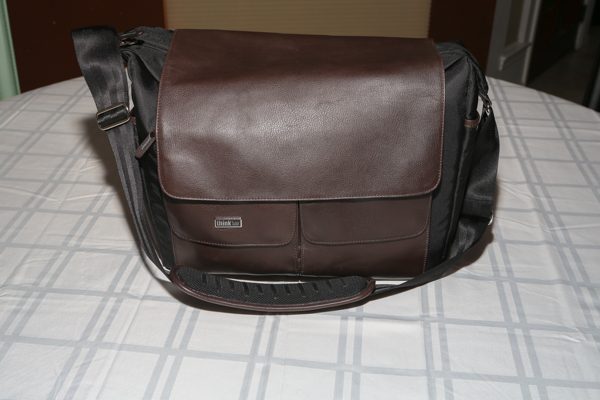 Over the past 30 years I have probably purchased and resold 15 different types of camera bags looking for that perfect bag.  I have looked at backpacks, over the shoulder bags and roller bags and have come to a conclusion: one bag will not 'cut the mustard' when it comes to my camera bag needs.  I have a great Think Tank roller bag that I use when I must carry 2 pro camera bodies, several lenses, flashes and a laptop to action shoot jobs.  However, I still needed a camera bag that I could use for fun day trips or even vacations where I was not taking so much stuff and did not want to look conspicuous.  I finally found what I think is my almost perfect bag in the Lily Deanne.  Let's take a closer look.
What is it?
The Lily Deanne is a camera bag designed by women for professional photographer women.  Honestly the looks of this bag really allow a man or a woman to use this bag.  Think Tank wanted to create a bag that did not look like a camera bag and would look professional enough to carry into events like weddings, meetings, corporate events or even on the street.  The bag comes in three different sizes.  The Lucido which will hold a single standard DSLR with 1-3 lenses and an 8in table.  The second bag is called the Mezzo and it will carry a single standard DSLR, a mid range zoom, 2-3 additional lenses and a 10in tablet or 11in laptop.  Finally, the bag I got the Tutto will carry a gripped DSLR, a mid range zoom, 2-5 additional lenses, 2 flashes and up to a 15in laptop.
Hardware Specs
The bag is made of full grain Dakota leather.  The black parts of the bag are 420 high-density nylon with a durable water-repellent coating.  The strap is made of nylon seat belt webbing that is adjustable in length and comes with a heavy duty nicely padded strap that has yet to cut into my shoulder.  All the zippers are YKK RC Fuse abrasion-resistant zippers.  The bag weighs 3.3 pounds.  Think Tank has some of the best warranties in the business and they will guarantee and warrant their products against any defects in material or workmanship for as long as you own the product.  I have had other professional photographer friends get new wheels for roller bags or sometimes an entirely new bag when a bag that is several years old and heavily used has come up with an issue.
What's in the box?
The bag came in a gorgeous box and was wrapped in some beautiful tissue paper.  The packaging of the bag could not have impressed me more.  In the box came the actual bag, some closed cell foam dividers and a nice seam-sealed rain cover that comes in its own pouch.
Design and Features
Looking at the intro picture you can see the bag is covered with a main flap.  That flap is attached to the bag via magnets.  Velcro is nowhere to be seen on this bag and it really makes my day.  I can't tell you how many times I have been at an event and wish to get into my bag and have tried to quietly open a Velcro attachment.  When you flip the flap back you can see there is a big main zippered compartment up top, a side zippered area and two smaller flaps.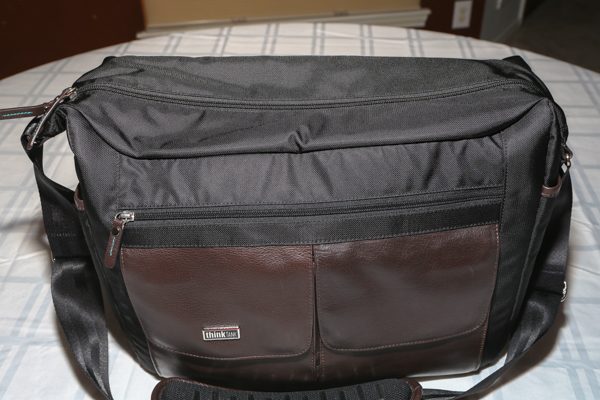 Once you unzip the top zipper, you are presented with the main storage compartment.  The entire inside of the bag is lined in a brilliant turquois blue.  That color really makes it easy to see what is inside the bag.  A lot of bags are lined with black material and in dim or dark environments it is nearly impossible to find what you need in the bag.   At the top of the bag you see a flap with a picture of a computer on it.  Simply flip the flap back and up to a 15 inch laptop can be stored in this area.  The divider of the computer area and the camera area is nicely padded.  The back part of the bag is not as well-padded but very sturdy feeling due to the full grain Dakota leather.  The bottom of the laptop compartment comes down to a V shape and is padded.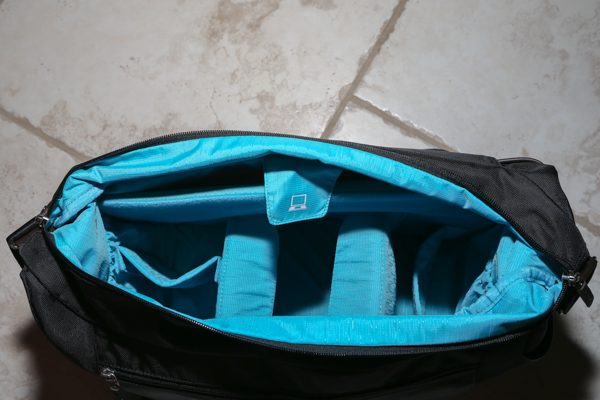 In the main camera compartment area, I currently have set up to hold a flash,  a bracket, a professional DSLR with a built in grip, and attached to it is a 24-70 lens, rain proof bag, and an additional 70-200 lens on the side.  All the dividers are fully adjustable.  Simply pull them out and arrange them as you wish.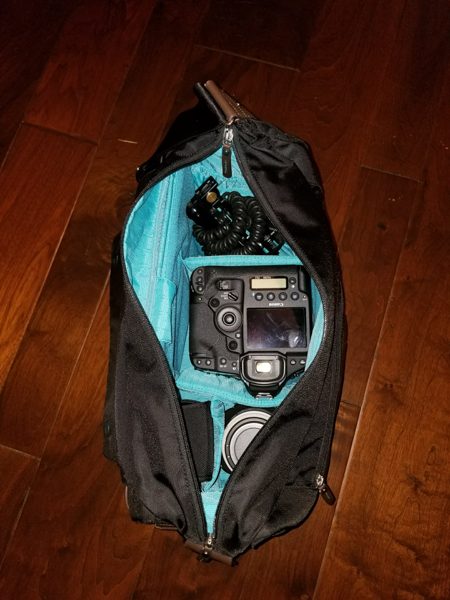 This front zippered area has a red loop on the upper left where you could clip key rings or the popular Think Tank compact flash card holder.  There is a small sleeve that you can see that will hold my Note 8 if I wished.  The rest of the area is just open to store whatever items you wish.  It is not super expandable and I would limit items in that area to fairly flat items.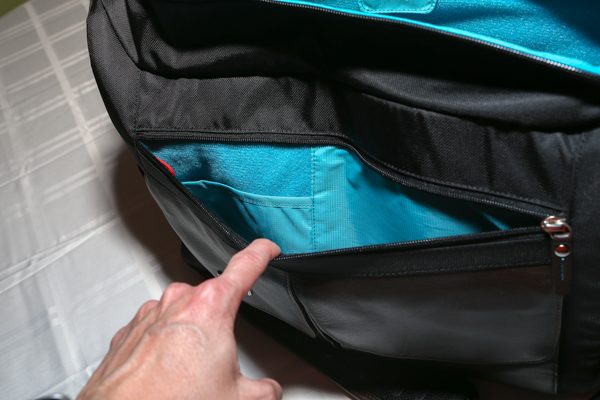 The two front flaps are also closed with magnets that you can see in the stitched blue circles as the top of each flap.  Inside the left pouch which is also lined with the turquoise material you will find a similarly sized slot that I use to hold filters and then in front of that slot I slide my lens caps.   The right flap has slots to hold pens and pencils and a couple of other small slots to hold various smaller items.  The sides of the bag have a single snap that can be undone to hold a standard water bottle or possibly a hard sunglass case.   You can also see the underside of the shoulder pad where it has rubber grips that keep it in place on your shoulder.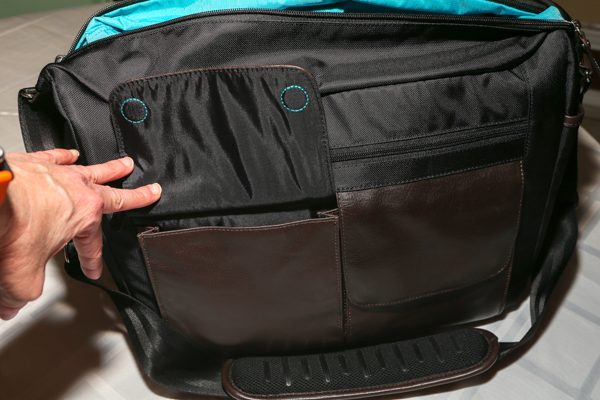 Finally, the back of the bag has a luggage carrier slot where you can slide the handle of a roller bag completely through and it will allow you to place this bag securely on top of a roller bag.  You can see the definition of this slot outlined in the turquois stitching.  There is also one additional storage slot behind that roller bag slot to put additional flat type items.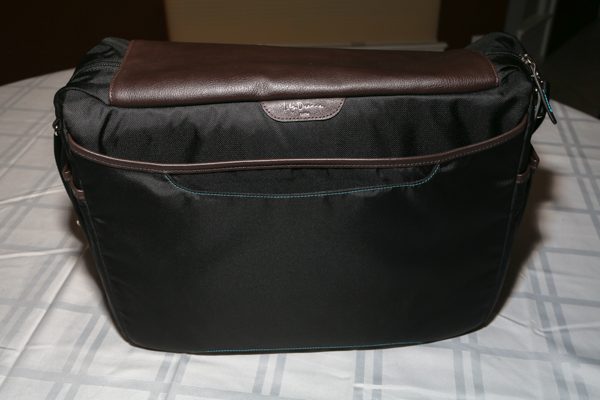 What I like
I love the looks of this bag.  I have received many compliments on it.  I really like how I can keep the bag on my shoulder and reach in and grab the camera equipment I need quickly and easily.  That was what I hated about backpack bags.  I always had to put them down to get what I need.  The bag stands easily on its own.  It certainly holds all I need and more.  I also love that no one realizes I am carrying around a lot of expensive camera equipment.  Finally, I love the warranty and quality of the bag.  I just have not found another company that beats the quality of Think Tank.
What needs to be improved
It does hold so much stuff that yes, I can overpack and the bag can get very heavy very quick.  I wish they had figured out a way to attach a grab handle to the top of the bag.  That would have been a nice feature when my shoulders were getting tired of holding all the weight.
Final thoughts
In conclusion, I use this bag when I have a lighter photo shoot or when I need to be inconspicuous.  Once the camera is out of the bag and I am taking pictures, I really don't notice the weight of the bag.  I can easily reach in and swap out lenses quickly.  I have used this for a couple of wedding engagement shoots and the bag was perfect in the public environments where the client wanted their pictures taken.
Price:  $299.75
Where to buy: B&H Photo/Video
Source: The sample of this product was purchased with my own funds