We use affiliate links. If you buy something through the links on this page, we may earn a commission at no cost to you. Learn more.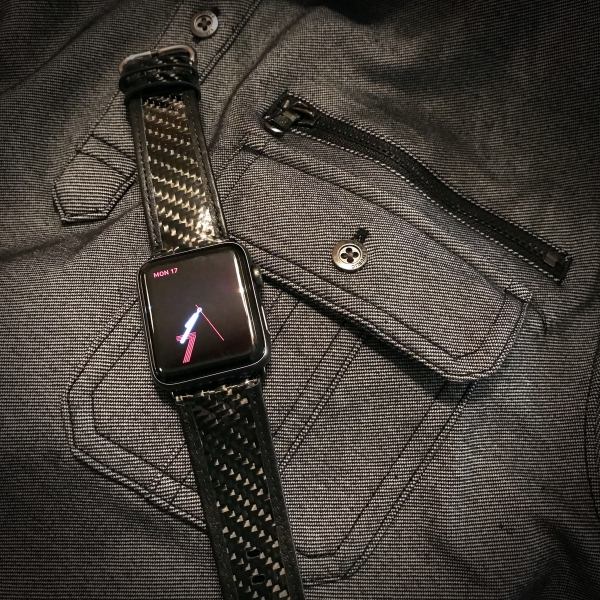 I really like my Apple Watch and about the only thing I like more is looking for unique bands for it. So when I had the chance to review the Carbon Fiber Apple Watch band from Real Carbon Fiber Gear, naturally I jumped at it. The band combines actually carbon fiber with a soft black leather. The result is a modern, high-tech looking watch band that's ultra lightweight and extremely durable.
Now you may be asking yourself (much like I did) what exactly is carbon fiber? Simply put, carbon fiber is a super-strong fabric that's used to make diverse products, where light-weight, strength and modern looks are valued. Some examples would be Formula One, Ferraris and Lamborghinis, yachts, MotoGP, and even items from luxury brands such as Chanel, Gucci, Montblanc and more. It is stronger than steel and lighter than aluminum. The strongest carbon fiber is five times stronger than steel. Carbon fiber also has other valuable qualities; It resists corrosion, is both moisture and heat stable and has super energy absorption. Now there's a lot more to carbon fiber, but I won't bore you with that here – But If you would like to learn more watch the video below.
The watch band arrived in a very nice carbon fiber textured box, with the words "Carbon Fiber Watch Band" inscribed in silver on the top. Inside the box, the band is nicely displayed on a satin material, a really nice presentation. You defiantly feel like you're getting something special.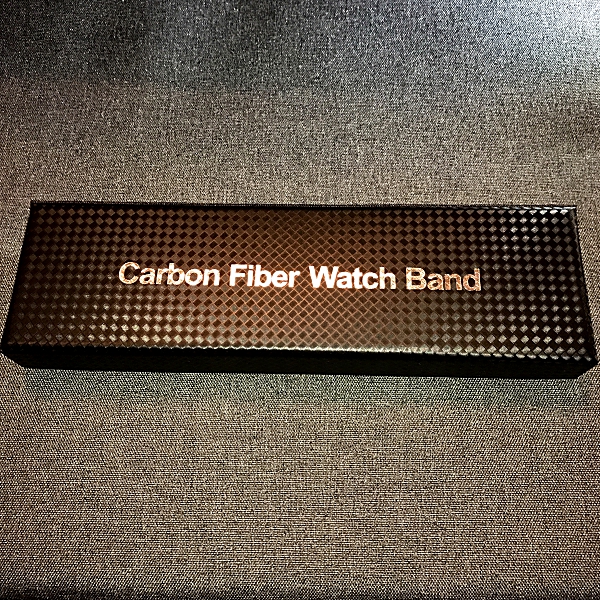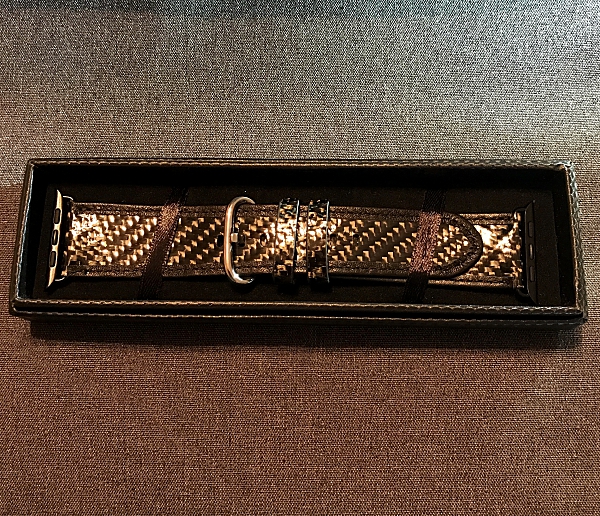 Taking the watch band from the box, the first thing I noticed was how incredibly lightweight it was. Feather-light. And it's incredibly thin, almost to a point of feeling cheap. But this watch band is anything but cheap. The woven design and sheen of the carbon fiber give the watch band a really rich look. I really like how the leather wraps around and is stitched into the edge of the carbon fiber. A small but nice detail. Add to that the silver oblong buckle and this Apple Watch band is as unique looking as any I've seen.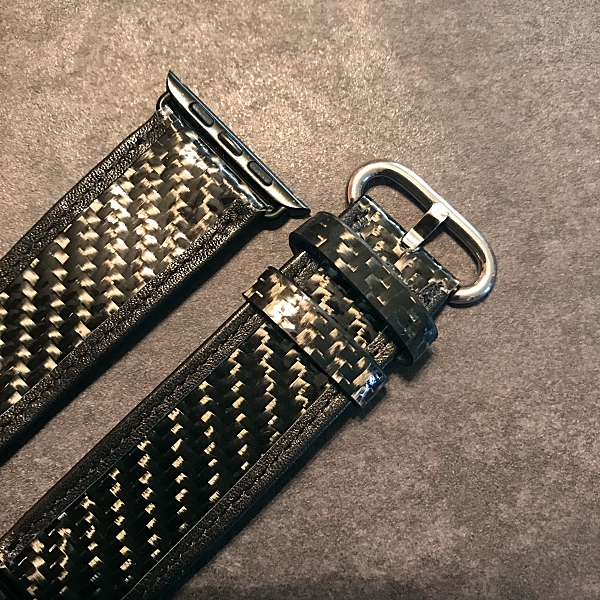 Installing the band is quick and easy. Simply slide the old band out and click in the new carbon fiber watch band. Voila!  You're done.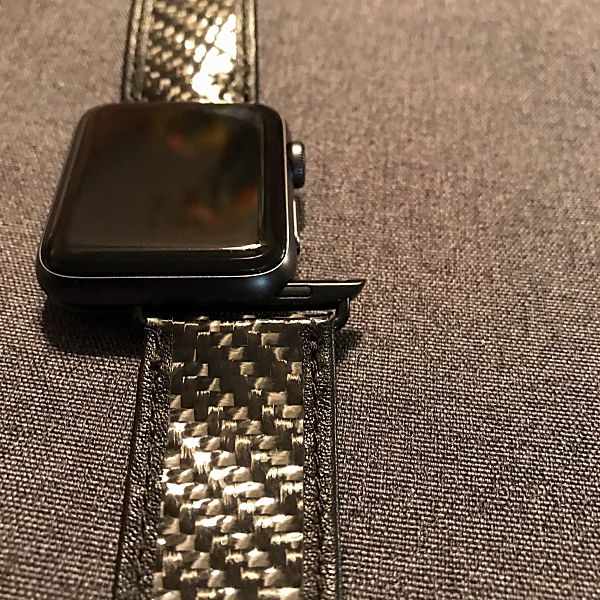 Wearing the Carbon Fiber watch band is like wearing nothing at all. It's so lightweight you hardly feel it on your wrist, and the soft leather backing makes it extremely comfortable against your skin. Definitely the kind of watch band you can wear all day long. I only have one small gripe. I have really small wrists (my own personal gripe) so I have to wear the band on the last notch available. This leaves a lot of excess watch band to deal with. My gripe is the second loop on the band is a little large and the excess band constantly slips out of the loop. I remedied this by doubling the excess band over and then sliding it into the loop. But it would be nice if that second loop were a little tighter. Other than that the band feels great. As strong as the carbon fiber material is it's also very pliable. There's absolutely no stiffness to the band, which is great because there's no break-in period. It feels great the first time you put it on.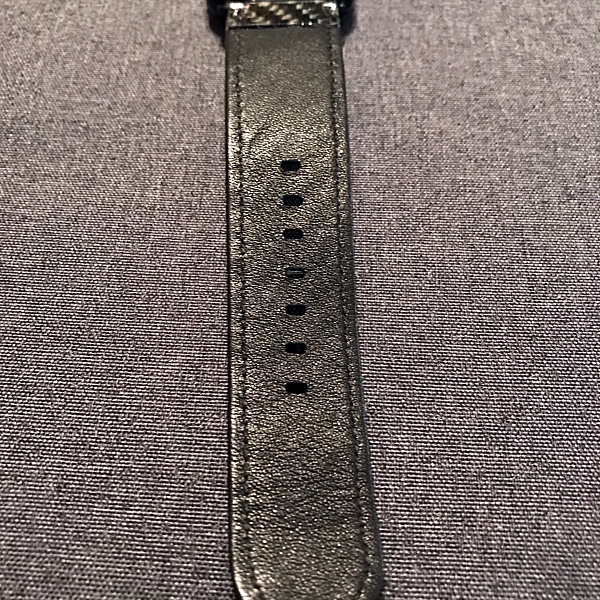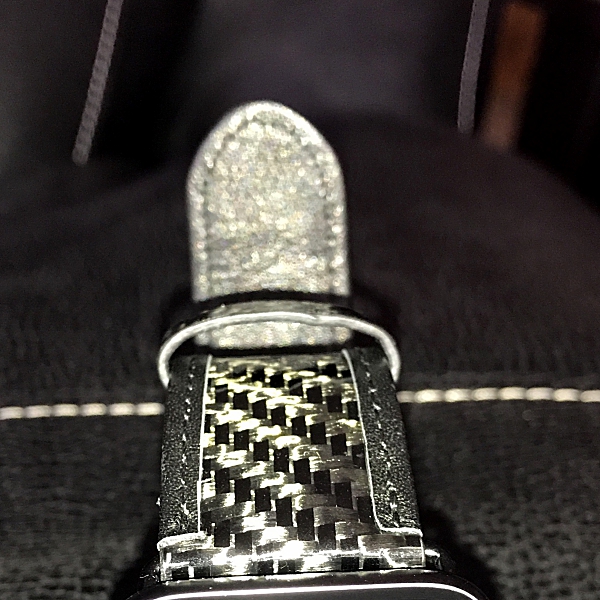 I really like how versatile this watch band is. Its modern, high-tech look makes it perfect to wear every day, but it's luxurious enough for a night out on the town.
This watch band has its own story to tell and is definitely a conversation starter.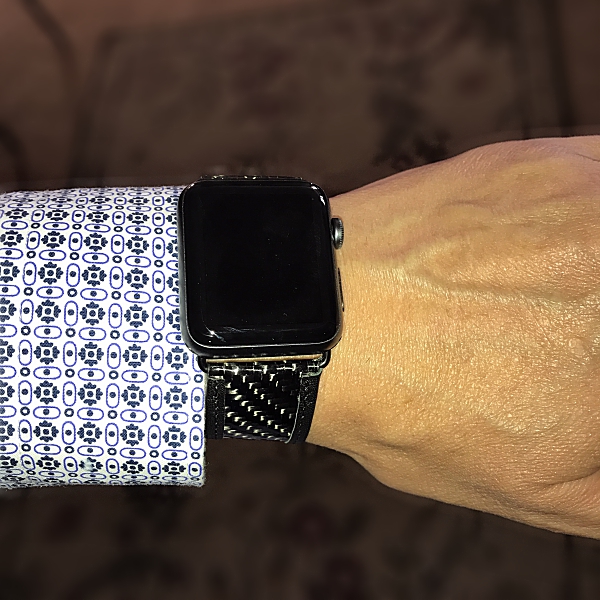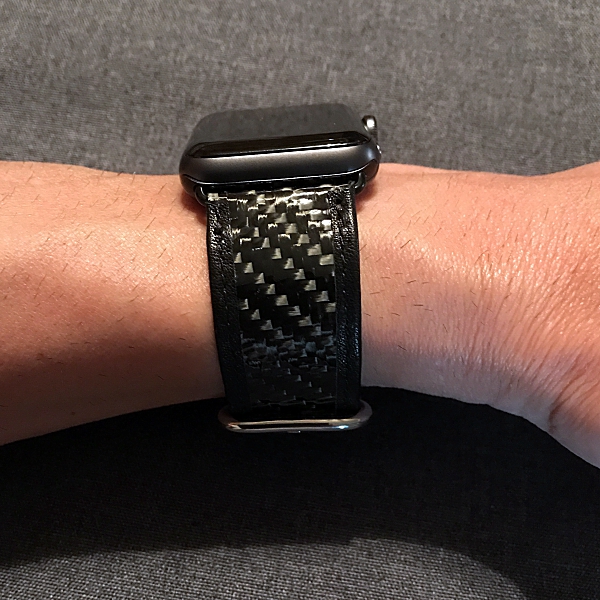 In closing Carbon Fiber Gear's Carbon Fiber Apple Watch band checks all of the boxes for me when it comes to what I look for in a watch band. It's unique (made of carbon fiber), versatile (you can dress it up or dress it down), comfortable (soft leather backing/ultra-lightweight), durable (carbon fiber again) and most importantly it looks great on my wrist. It certainly more than justifies its $59.95 price tag. So, if you're like me and like unique Apple Watch bands, this one should be in your collection. Currently, the band is only available for the 42mm Apple Watch series 1 & 2.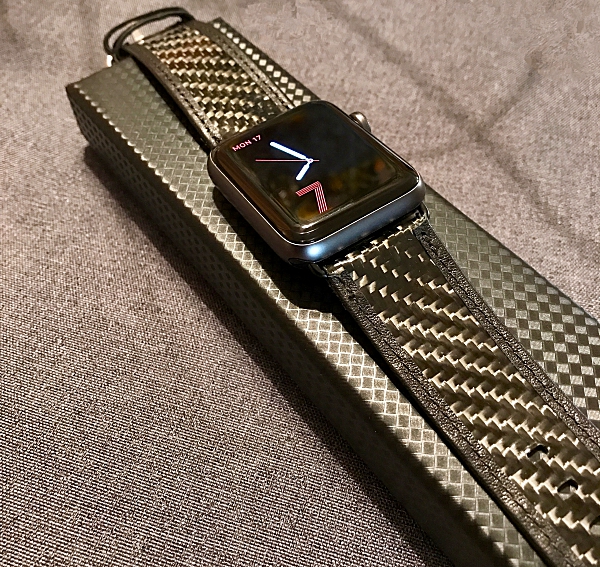 The sample for this review was provided by Carbon Fiber Gear. Please visit their site for more info and Amazon to order.
Product Information
Price:
$59.95
Manufacturer:
Carbon Fiber Gear
Retailer:
Amazon
Pros:

unique look
lightweight
durable
comfortable

Cons:

second loop a little large