We use affiliate links. If you buy something through the links on this page, we may earn a commission at no cost to you. Learn more.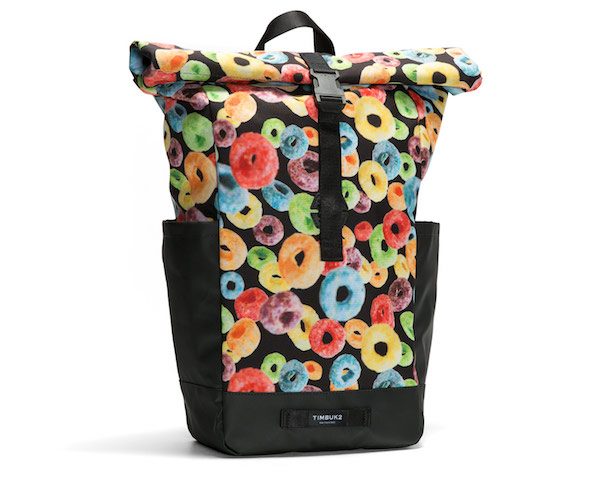 Since 1989 Timbuk2 has been producing top-quality messengers and backpacks, and they always have an eye towards new designs and new styles. They also have a reputation for diving into new and interesting collaborations, and this might be one of their most fun products yet: the Froot Loops Limited Edition Tuck Pack. As in the kids' cereal. How sweet is that? 
Inspired by the legendary breakfast treat of our youth, the exterior fabric pattern features a cascade of Froot Loops in all of their glory. As if it couldn't get any better, there's a treat hidden inside: Toucan Sam himself makes an appearance on the inside lining, along with a special sleeve for your box of Froot Loops (or a 15-inch laptop, if you had breakfast already). They even include a box of cereal with your order… you know, in case you ran out.
Behind all of this sugary goodness, you'll find the well-reviewed Tuck rolltop backpack. It's a 20-liter pack with two side pockets for water bottles and U-locks, an external zip pocket, and a hidden stash pocket on the back of the bag for your valuables. I have a closet full of Timbuk2 stuff. Their products are consistently well built and carry a lifetime guarantee; I would expect this to be the same, with a bit more sweetness added in for good measure.
Retail price for the limited edition bag is $100. Check it out at the Timbuk2 web site!