We use affiliate links. If you buy something through the links on this page, we may earn a commission at no cost to you. Learn more.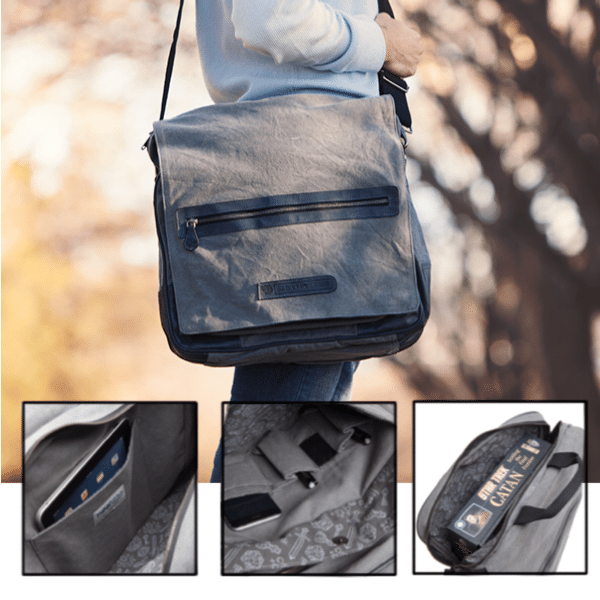 You've got to love ThinkGeek. There's no better place to find whimsical gadgets, gear, and collectibles related to all of your nerdy passions (gaming, sci-fi, fantasy, comics, etc.). They also design some pretty clever products. With the new iteration of The Bag of Holding, ThinkGeek seeks to improve on a messenger that has been very popular with both gamers and non-gamers alike. 
For those who don't know, the name "Bag of Holding" is an homage to a magical item from the Dungeons & Dragons role-playing game that has an infinite capacity to carry your stuff on your dungeon adventures. While ThinkGeek does not claim that the new Bag of Holding is actually "magical," it does have an enormous capacity at 16.5″ wide by 15″ tall by 7″ deep. The bag features multiple cavernous compartments and organizational pockets to store all of your stuff, including a huge padded laptop compartment. Hardware, handles, and zippers have been upgraded from the old model, and key stress points have been reinforced to handle heavier loads. The inside of the bag has an easter egg for the hardcore fantasy fans: the printed lining features hand-drawn gems, dice, shields, potions, and swords to lift your spirits as you go off to crawl dungeons and defeat monsters.
While the Bag of Holding does cater towards genre fans, the bag has gained popularity among non-gamers looking for a big, economical messenger bag ($50) that can accommodate large laptops and a ton of stuff. It also gets some great reviews. Check it out at ThinkGeek.com!