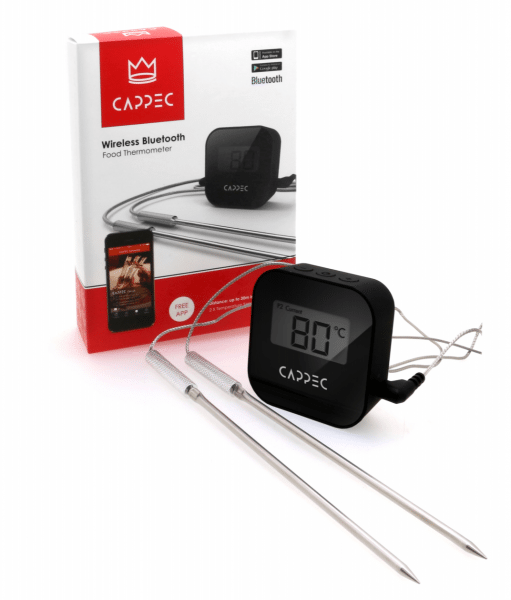 There are few things in life better than food cooked on the grill. Whether it be a steak, chicken, burger, or hot dog, there is just something about being cooked on the grill that makes everything a bit more delicious.
Of course, not all grills have accurate temperature gauges built into them. This can be an issue when trying to attain grilling nirvana.
Fortunately, Cappec has you covered with their Blaze Bluetooth BBQ grill.
I was recently given the chance to review the Blaze and attempt to take my BBQ skills to the next level.
Specifications
Bluetooth 4.0
Can withstand temperatures up to 600°F
Can read temperatures up to 393°F
Android and iOS compatible
Powered by 3 AAA batteries
2.6 x 0.9 x 2.6 inches
3 ounces
Splashproof
Design
The Blaze is a pretty small device. It's less than 3 inches tall and wide and weighs 3 ounces.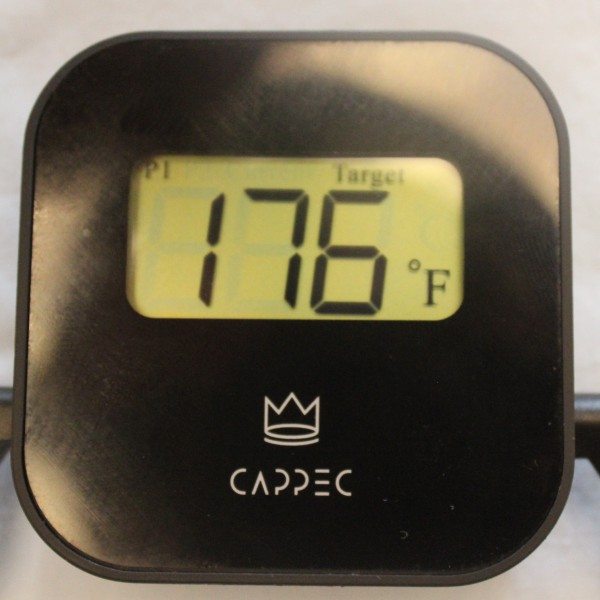 The front has a small LCD panel that displays current and target temperatures.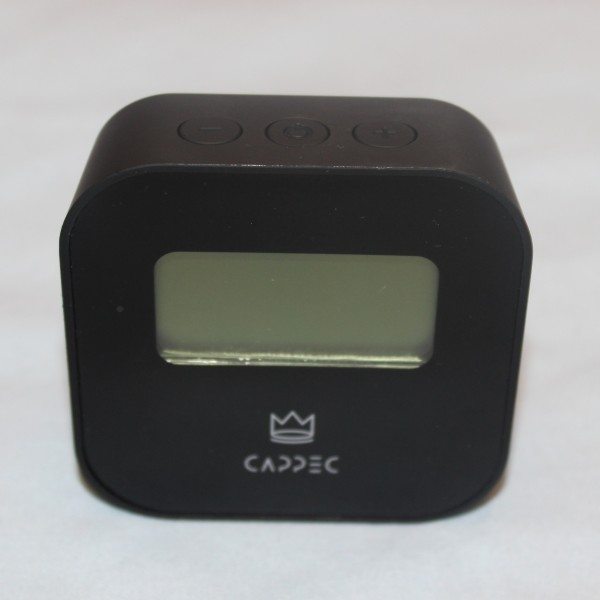 The top of the Blaze has a power/mode button and plus/minus buttons to adjust target temperatures.
Both sides of the Blaze have small ports that the temperature probes plug into.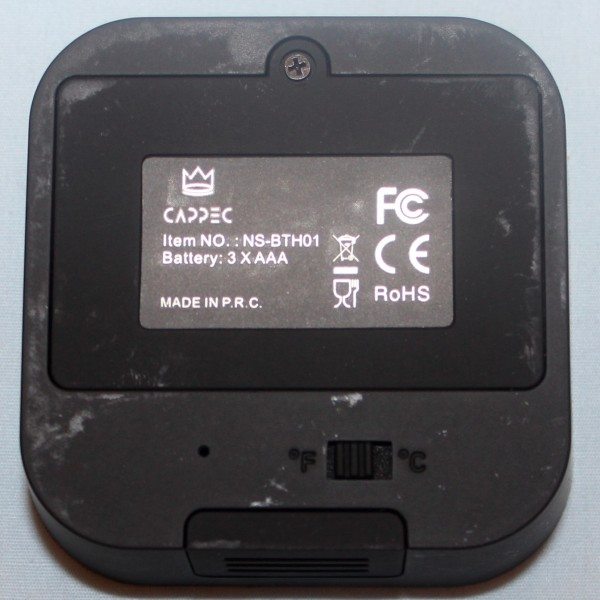 The rear of the Blaze contains the battery compartment and a Fahrenheit/Celsius selector switch.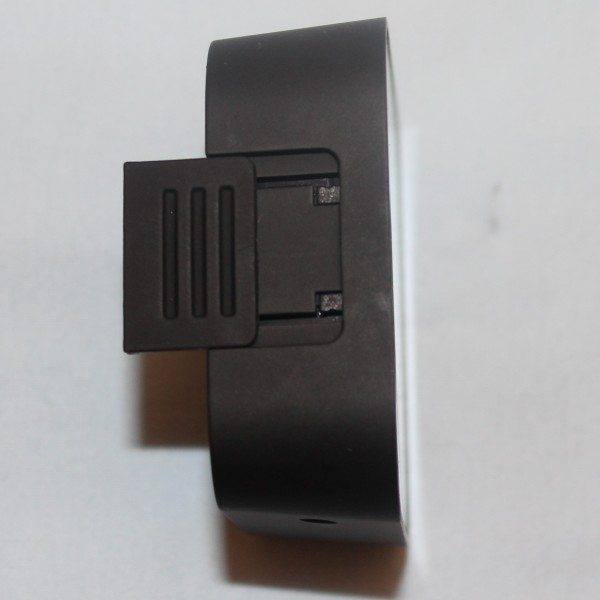 The bottom of the Blaze has a slide-out stand.
The Blaze is a rather plain looking device, but it's a fingerprint, dirt, and grease magnet. I had to constantly wipe it down to keep it clean. On the back, no matter how many times I wiped it down, it appeared stained and dirty.
Performance
Using the Blaze is pretty easy. You download the Cappec app from either the Play Store or App store. You then turn on the Blaze and it should automatically pair with your phone.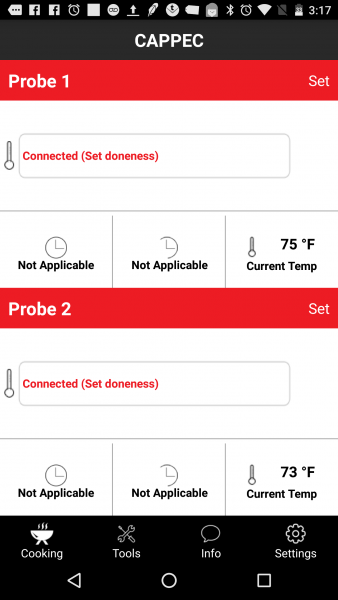 Above is the main screen from within the Cappec app.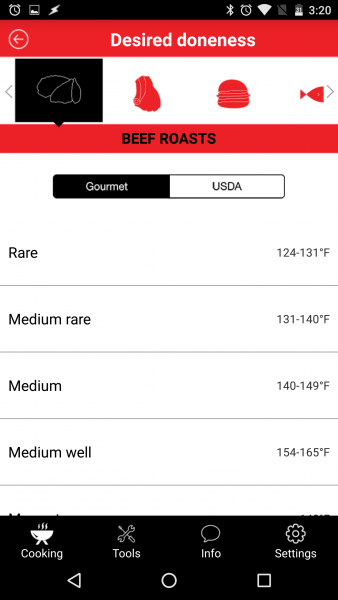 Clicking on either probe one or two will bring you to a meat selection menu. From here you can choose the type of meat you're cooking and how well you want it cooked. You have the option of choosing between USDA or Gourmet wellness temperatures.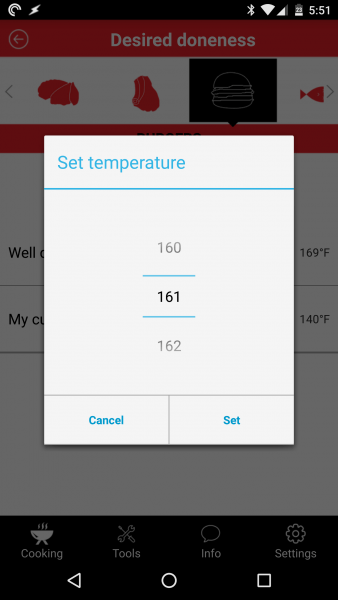 You also have the option to choose a custom temperature.
After you select select the type of meat you're cooking, the app will display a black bar under each probe. The bar grows as you approach your target temperature.
I'm not sure what the clock icons under each probe are for. At first I thought the far left one was an estimate of how long until the food reached your goal temperature; however, you can see it actually went from 0 minutes to 1 minutes when I reached my goal temperature.
Similarly, I thought the right clock icon was for manual timers, but that turned out not to be the case.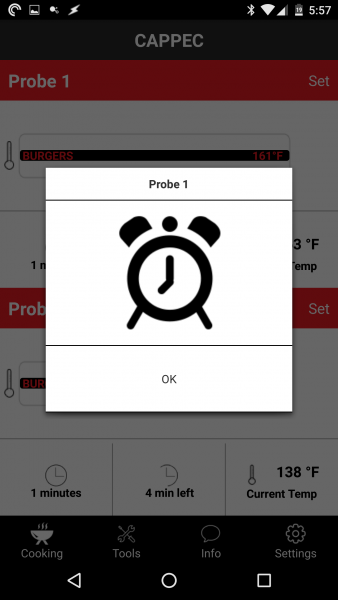 Once your meal reaches the target temperature, you receive the above on-screen notification, your phone beeps, and the thermometer itself beeps. It should definitely be enough to alert you that your meal is done.
Now that I understood how the Blaze worked, it was time to put it to use. One small note, my original plan was to test the Blaze on my grill; unfortunately, my area was experiencing freezing temperatures, snow, and generally awful weather. I wasn't brave enough to risk hypothermia; instead, I tested the Blaze on my oven.
I like my burgers medium, but that wasn't an option under burgers in the app. As a result, I decided to set a custom temperature of 161 degrees and began to cook. After flipping the burgers once, I inserted the probes. A few short minutes later, my phone and the Blaze were beeping, letting me know my burgers were done.
In the event that you do not want your phone near your cooking surface, the Blaze can also work independently.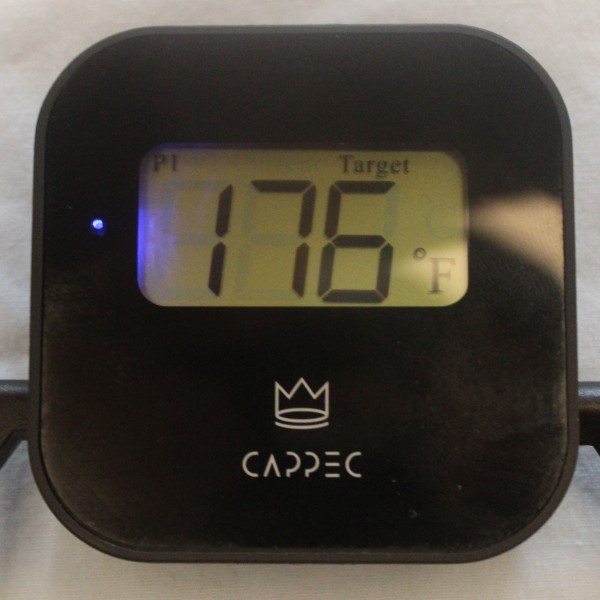 You can choose a target temperature directly from the Blaze by pressing the plus or minus buttons or you can set a timer by pressing the power/mode button and then pressing the plus button.
Either option results in the Blaze beeping when the target temperature is reached or the timer runs out.
Additional App Features
The Cappec app also has several additional features that can be handy.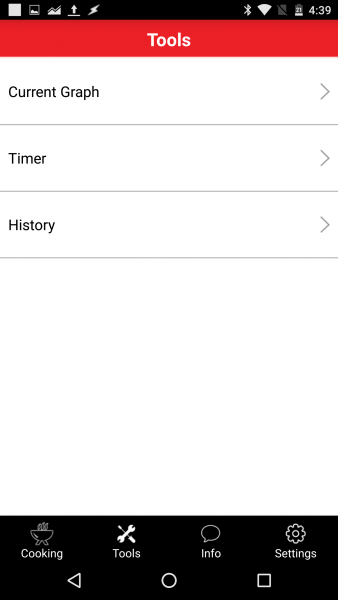 First, there is a tools menu that has options to view a temperature graph, timers, and history.
The graph is pretty self-explanatory; it is simply a graph of the current temperature of each probe over time.
The timer tool is also self explanatory. You can select a timer for each specific probe and set up to four timers per probe. The multiple timers will be useful if you're attempting to keep track of several meats or dishes.
When the timer is up, you are notified with an on-screen notification and audible alarm.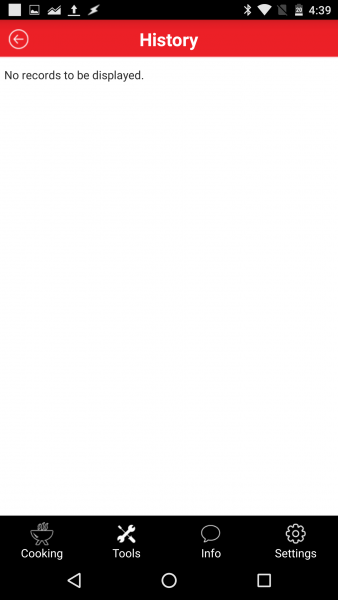 The history tab lists all the meals that you've cooked using the Blaze; unfortunately, I installed/uninstalled the app a few times while reviewing it and must have wiped the history data in the process.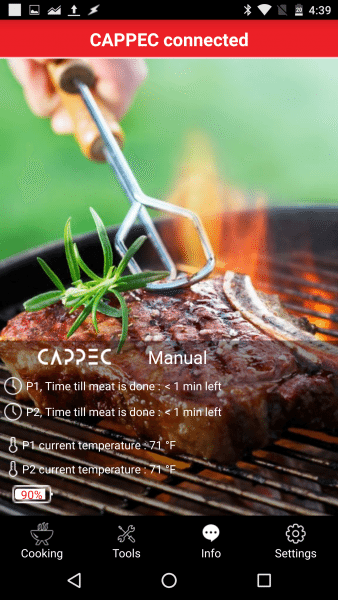 There is also an info tab which displays mostly redundant information. It lists the time until meat is done, the current temperature, and battery status, all information available on other screens. The only new information this tab provides is a link to the user manual.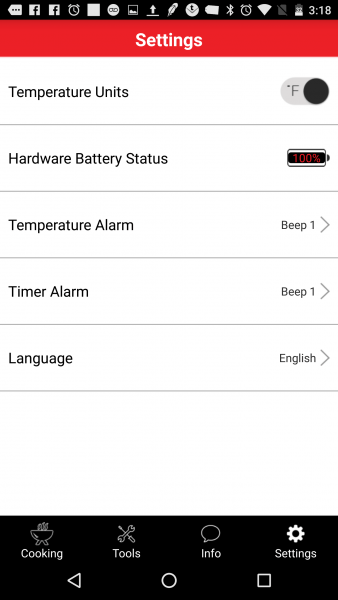 Last, there is a settings menu that allows you to select temperature units, displays battery status, allows you to change notification sounds, and choose languages.
Non-Bluetooth Thermometers

Along with the Blaze, Cappec also sent me two non-Bluetooth thermometers. I'm not going to go into too much detail about them; they function in much the same way the Blaze does when not paired with a phone.
The red one, the Flare, is a backlit, instant thermometer. You can set your desired temperature and have it buzz when that temperature is reached.
The second one, the Glow, is also a backlit thermometer. With the Glow, you can set a high temperature, low temperature, stopwatch, and a countdown timer. It too provides an audible alert.
I tested both thermometers and they worked exactly as you would imagine.
Conclusion
I liked the Blaze, it was easy to setup and use. The Bluetooth feature is really great. If you're hosting a BBQ, it allows you to set up the grill and leave it behind to socialize while your meal cooks.
Although the manual doesn't do a great job explaining what they do, the Blaze has several features. The preset temperature selection menu, along with the audible alarms, makes it almost impossible to overcook your meal, while the multiple timers makes it easy to grill several items at once.
At $39.95 I think the Blaze is reasonably priced and would make a worthwhile purchase for any grilling enthusiast.
Source: The samples for this review were provided by Cappec. For more information please visit their site and Amazon to order.
Support The Gadgeteer
:
We may earn a small affiliate commission from purchases made from buying through links on our site. As an Amazon Associate I earn from qualifying purchases. Learn more.