We use affiliate links. If you buy something through the links on this page, we may earn a commission at no cost to you. Learn more.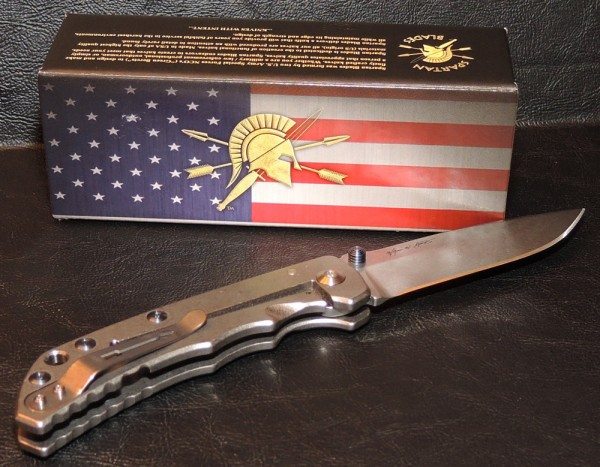 I have had many pocket knives over the years, from the first one I received as a cub scout to various sized and shaped ones I have strategically place throughout my world today. I have them stashed in my cars, desks, tool bag, EDC gear, etc. They are a very useful tool to have around without a doubt. Most of my knives range in quality from good to very nice but all pale in comparison to the Spartan Harsey Folder I received from KnifeArt for this review.
Note: Images can be clicked to view a larger size.

Spartan Harsey Folder was designed by award winning knife maker Bill Harsey. The Harsey Folder is manufactured by Spartan Blades here in the US. It has an elegant, minimalist design and is made from the finest materials to exact tolerances.
Specifications:
Maker: Spartan Blades
Desiger: Bill Harsey Design
Blade Length: 4.25″
Total Length: 9″
Blade: Stainless S35VN Steel
Blade Style: Spear Point – Flat ground main bevel with tapered top edge.
Handle: Titanium – stonewashed – Blue Anodized Fittings
Fittings: Titanium
Weight: 5.9 oz.

The Spartan Harsey Folder (SHF) has a large 4.25″ inch, stainless S35VN steel blade. The blade is forged from high quality American-made particle steel and is stonewashed to hide scratching. At the base of the blade there are dual blue anodized titanium thumb lugs for "ambidextrous convenience" and phosphor bronze bushings to ensure a smooth open and close. The blade is razor sharp ending in a spear like point.
(As an aside) Being the geeky scientist I am, I was intrigued to learn about the metallurgical process of creating particle steel. The particle steel forging process makes for a stronger, more resilient blade much less likely to fail under times of hard use.

The handle is made from two thick pieces of stonewashed titanium. Spartan uses blue anodized titanium screws, standoffs, and thumb studs to accent the stonewashed titanium and stainless steel that makes up the majority of the knife.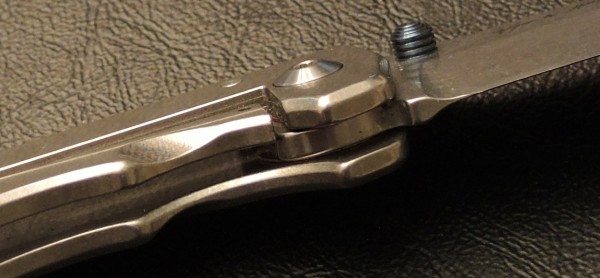 The Spartan Harsey Folder has a reliable, well-engineered framelock design. The lock bar on this knife has an internal stabilizer that prevents the lock from over-traveling outward. When the blade is extended, the frame bends inward to lock it securely in place with absolutely zero blade movement.

To close the blade, simply press the frame lock aside and the blade smoothly rotates back into the closed position. The Spartan Harsey Folder does not have a closed locking mechanism that keeps the blade from accidentally opening.

The handle is engineered with a reversible titanium pocket clip.

Enabling you to have the pocket clip on either side of the knife depending on your preference. There are also symmetric cutouts on both sides of the handle just behind the pivot point for better grip and comfort.

The Spartan Harsey Folder is just as gorgeous closed as it is opened.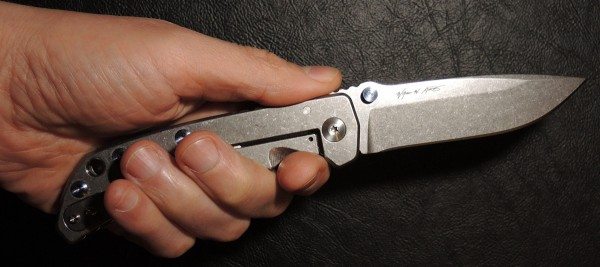 Back in late 2015, Julie reviewed the Chris Reeve Knives Small Carbon Fiber Sebenza 21, a small, light folding pocketknife that she thought would do well as part of her EDC gear. Being a much larger knife, I don't know if the Spartan Harsey Folder would fit in well in my daily gear bag. Its 4.25 inch blade and total extended length of 9 inches makes the Harsey Folder the largest pocket knife I have ever owned. That said, it is going to be the knife I carry with me when I need a blade unlikely to fail me under the toughest conditions.
The Spartan Harsey Folder has a simple yet bold design and is made from the finest materials, making it a strong and very well constructed folding knife. This knife is nicely balanced and comfortable to hold with a not-too-heavy heft to it. This level of quality and workmanship does come with a relatively eye popping price tag of just under $500. As Julie said, while both a Ford and a Ferrari can get you down the road, the driving experience is lightyears apart. The Spartan Harsey Folder is the nicest knife I have ever used, what I consider a legacy item…something that will last the test of time and can be pasted down long after you're gone.
Source: The sample for this review was provided by Knifeart.com. Please visit their site for more info.

Product Information
Price:
485
Manufacturer:
Spartan Blades
Retailer:
KnifeArt
Pros:

Excellent material quality
Very well made
Strong, minimalistic design
Engineered to last a lifetime
Smooth folding mechanism

Cons: