We use affiliate links. If you buy something through the links on this page, we may earn a commission at no cost to you. Learn more.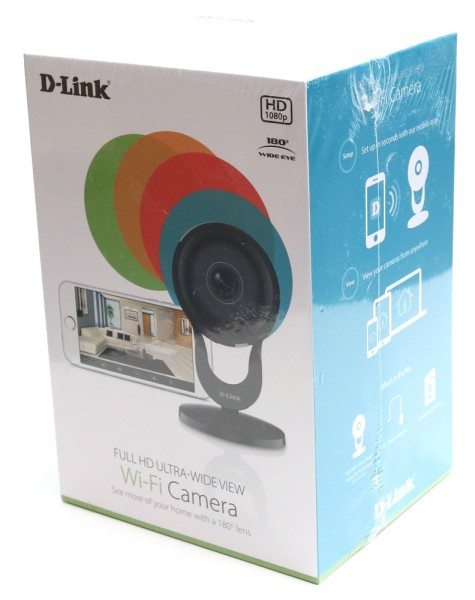 Years ago, the Dropcam security cameras in many ways brought easy to setup home monitoring to the mainstream consumer. But today we find ourselves with more choices than we know what to do with and sadly all too many of those come with a monthly subscription fee to store and/or view past footage of events. Though not so for the D-Link Full HD Ultra-Wide View WiFi Camera (DCS-2630L), which not only enables you to watch live footage and receive notifications but also view past events via its built-in microSD card storage. The DCS-2630L captures a full 180 degrees of viewing angle with its (relatively) distortion/fish-eye free lens and software combination. 
Note: Images can be clicked to view a larger size.
In the Box: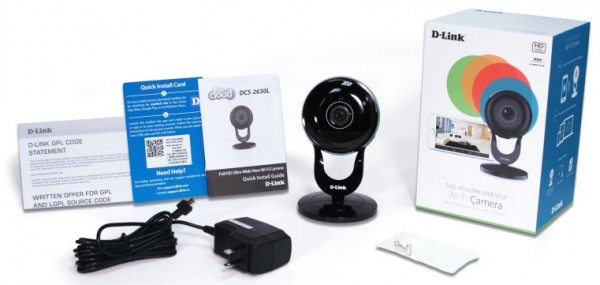 Full HD Ultra-Wide View Wi-Fi Camera (DCS-2630L)
microUSB power adapter
Mounting screws
Quick install guide
Hardware: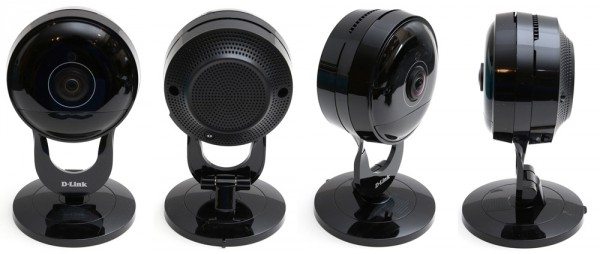 The D-Link Full HD Ultra-Wide View Wi-Fi Camera is very well built, composed of sturdy black plastic and metal with a gloss front face and a matte finish on the back. At three quarters of a pound and measuring 3.37 x 3.37 x 5.53 inches, the DCS-2630L is definitely not the smallest or lightest in its field of competition.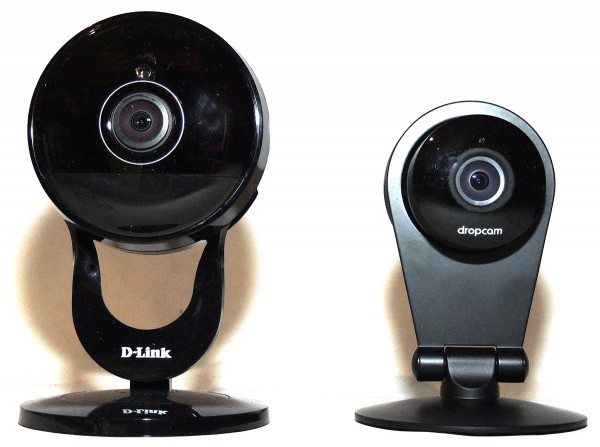 For those of you who have seen the Dropcam or Nest Cameras in person, I would compare the 2630 as their bigger, more talented brother. In that larger housing, D-Link is able to squeeze in a greater feature set than many of the DCS-2630L's competitors.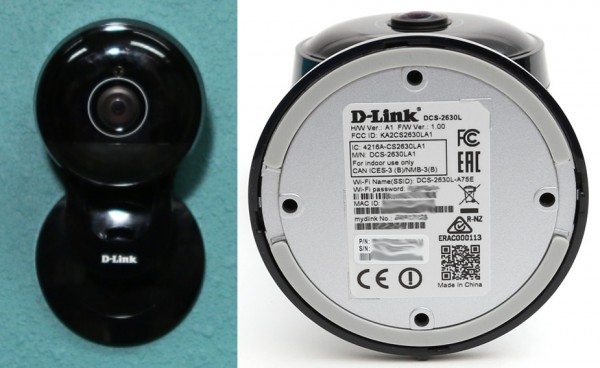 Never miss one of our posts again. Sent MON, WED, and FRI with the latest gadget reviews and news!
D-Link includes all the hardware needed to mount the DCS-2630L nearly anywhere in your house. The base of the DCS-2630L is heavy and made of metal. It is nicely weighted, enabling you to securely set the camera on any flat surface as well. Like many similar cameras on the market today, the two things the DCS-2630L requires is an outlet and decent WiFi signal. Where my Dropcam Pro struggled to get and maintain a solid WiFi signal in several locations around our house, the DCS-2630L has no connectivity issues at all.
Setup:
Setting up the DCS-2630L took a bit more effort than anticipated but not horribly so. Downloading the mydlink app to my smartphone, setting up an account, and getting the wireless camera logged into my WiFi network and operational was relatively easy. Getting many of the more advanced features tweaked required getting on my laptop and going to the mydlink website.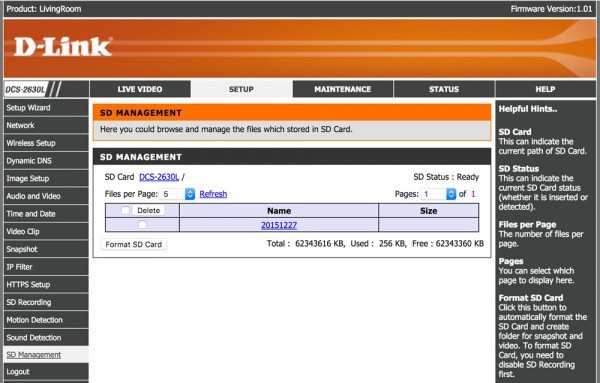 The final issue I had during setup was that the camera was not recognizing any of the microSD cards I inserted. Come to find out, that you must go into the advanced section of the web interface, to the SD management tab to format the card before the camera can record to it. After that everything worked as I hoped.
Specifications:
Camera Hardware Profile
1/3″ 3-megapixel progressive CMOS sensor
16 ft night vision with infrared LEDs
Minimum illumination: 0 lux with IR LEDs on
Built-in microphone and speaker
8x digital zoom
Focal length: 1.72 mm
Aperture: F2.0
Angle of view:

(H) 182°
(V) 112°
(D) 182°
External Device Interfaces
802.11ac wireless
Power LED

Reset button
WPS button
microUSB power connector
microSD card slot
Image Features
Adjustable image size, quality, frame rate and bit rate
Adjustable brightness, saturation, contrast, sharpness and hue
Configurable motion and sound detection
Time stamp and text overlays
Flip & mirror
Anti-flicker (on/off)
Video Compression
Simultaneous H.264/MJPEG format video compression
JPEG for still images
Video Resolution
1920 x 1080 at up to 30 fps
1280 x 720 at up to 30 fps
640 x 352 up to 30 fps
320 x 176 up to 30 fps
Audio Support
Network
Network Protocols
IPv4, ARP, TCP, UDP, ICMP
DHCP Client
NTP Client (D-Link)
DNS Client
DDNS Client (D-Link)
SMTP Client
FTP Client
HTTP Server
Samba Client
PPPoE
UPnP port forwarding
LLTD
HTTPs for configuration
Bonjour
Security
Administrator and user group protection
Password authentication
HTTP and RTSP digest encryption
Physical
Dimensions (H x W x D)
3.37 x 3.37 x 5.53 inches
Weight
Power Input
5 V DC / 1.5 A, 50/60 Hz through power adapter

The DCS-2630L incorporates a full HD 1080p camera with a 3 megapixel (MP) progressive CMOS sensor protected by a glass lens. As I mentioned earlier, its lens has a 180 degree horizontal field of view and the ability to see up to 16 feet at night using the built-in infrared LEDs. There is also a passive infrared sensor (PIR) that gives enhanced motion detection. The DCS-2630L has a built-in microphone and speaker, enabling two-way communication.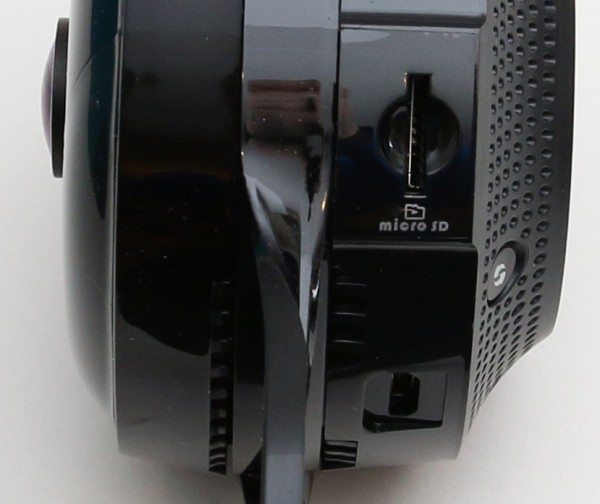 Video footage is recorded internally to a microSD card inserted into the camera. While D-Link does not include one, the DCS-2630L is able to use up to a 128gb microSD card. Which is excellent due to the space needed to store 1080p video.
The DCS-2630L is powered by a microUSB cable which is pretty standard these days.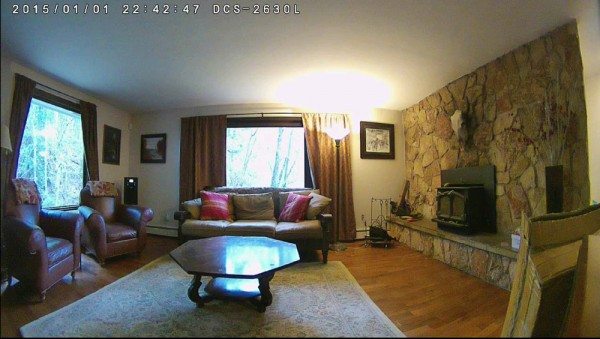 The video feed and image quality are very good. The DCS-2630L lives up to its name, providing "Full HD Ultra-Wide View" with minimal visible warping or distortion. You can still see distortion at the edges, but not horrendously so. The HD 1080p provides a clear detailed viewing experience. According to D-Link, a 128gb SD card can hold about 7 days of HD video before writing over the oldest content. The free mydlink Lite app is available for iOS, Android devices and Windows phones, enabling you to view, control, pinch to zoom up to 8x and communicate via theDCS-2630L's built-in mic and speaker.

Sound and motion detections can be sent via push alerts to the mydlink app or via email notifications. Motion detection can be triggered in both day and night situations. Surveillance video can be continuously recorded, but you can also schedule time periods when it records in addition to setting it to record anytime the motion or sound detection is triggered.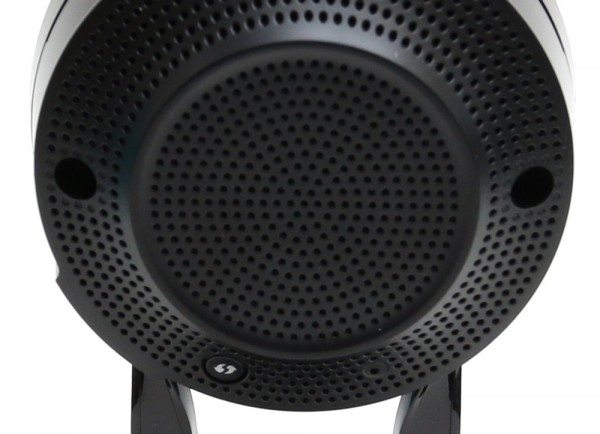 In addition to the speaker, there is also a LED status light and WPS button built into the back as well.
The only negative I find with this camera and the many others like it, is that it is for indoor use only. I prefer knowing who is coming up to my house vs who has gotten into my house.
Overall, the D-Link Full HD Ultra-Wide View Wi-Fi Camera is the best consumer grade WiFi surveillance camera I have used thus far. The DCS-2630L captures great HD video that spans 180 degrees of coverage with little warping or distortion. It has a strong feature set and great WiFi signal strength. Add in the fact, it records to a microSD that can be streamed to you anywhere on more or less any device without having to buy into a subscription service makes theDCS-2630L well worth considering.
Source: The sample for this review was provided by D-Link. Please visit their site for more info and Amazon to order.