We use affiliate links. If you buy something through the links on this page, we may earn a commission at no cost to you. Learn more.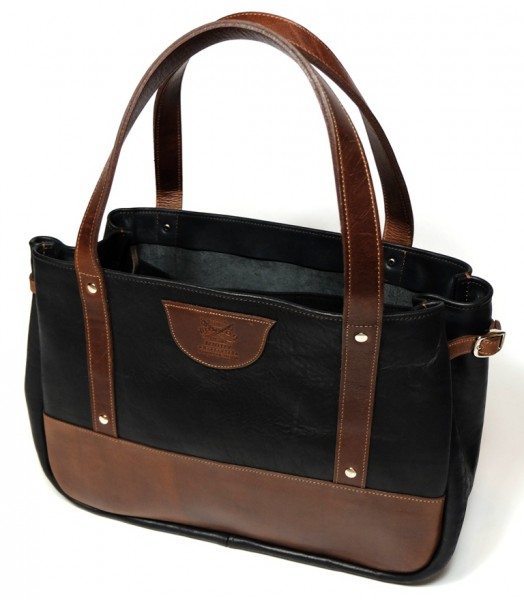 We all have things that we need to carry around to accomplish our daily tasks, and if you are a gadget lover you end up with a lot of collected devices to carry around too. One of my fellow Gadgeteers, Dave Rees, has reviewed several of the Colonel Littleton leather bags for men and now I have the opportunity to tell you about the Colonel Littleton Bentley Tote for women. If you are looking for an extremely well-made leather bag that has a touch of "rugged Americana" and class, and could be passed on from one generation to another, then this tote is the one for you, ladies.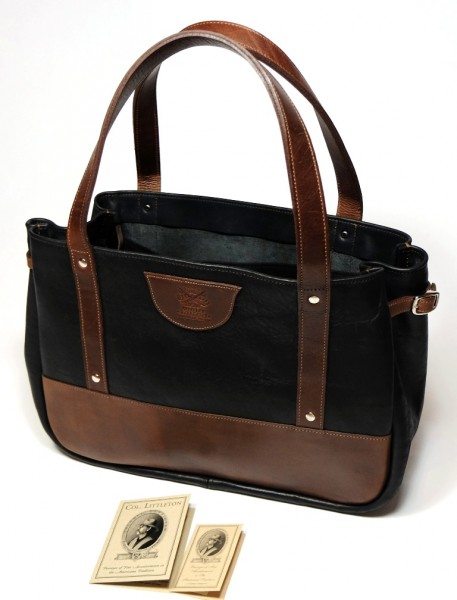 Package Contents:
Colonel Littleton Bentley tote
Information cards
Specifications:
Inside dimensions are 10"H x 13.5"W x 5"D
Two large inside canvas dividers to carry: iPad®, small laptop, books, movies, and magazines
Small inside canvas dividers to carry: business cards, pens, small electronic devices, etc.
Design & Build Quality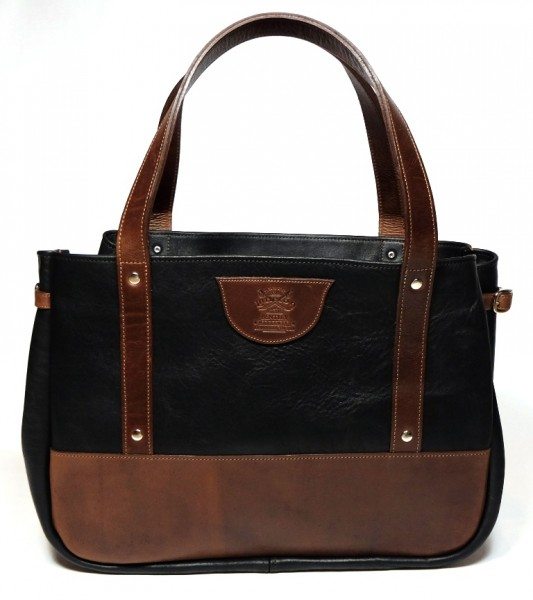 When I received the Colonel Littleton Bentley Tote, I was thoroughly impressed. I received the black with vintage brown trim Bentley tote (it comes in other colors like vintage brown and saddle tan, and there is an option to purchase the tote made from American Buffalo hide as well). The tote I received is made from "soft dry-milled leather and our more rugged polished leather". Colonel Littleton believes in altering the leather as little as possible and states on the website,
I don't want to see leather from what I call "condominium" cows . . . leather that is almost antiseptic in its perfection . . . citified and devoid of character. I want leather from rugged, Americana, John Wayne kind of cows – cows that have rolled in the dirt and kicked up their heels in the herd. Give me scrapes and nicks and insect bites and barbed-wire scratches. Show me some spirit.
My first impression was just what the company seemed to be going for – it appeared to be a rugged tote, made from thick high-quality cow hide. Even though it is a ruggedly strong, durable tote, it also has a classy touch to it in the way it was designed with the "vintage" brown leather trim sewn into the lower third of both sides of the tote and the Col. Littleton leather tag sewn on the front of the tote between the handles. The handles extend two-thirds down the length of the tote and are sewn in place as well. They are also riveted in place not just once but twice on each end of both handles. This not only adds to the durability of the handles but also adds a decorative look as well.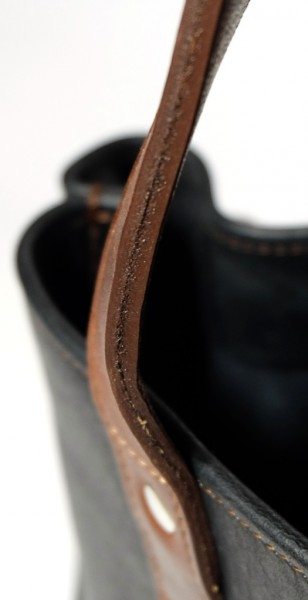 In fact, the handles, which are normally a weak point in most bags that we carry, are made up of two thick strips of leather that are sewn together. I LOVE the entire design and fabrication of the handles! Obviously, some thought was put into the handle design and they appear as if they will last a lifetime or longer. Finally, someone who understands our frustration with cheaply made handbag handles!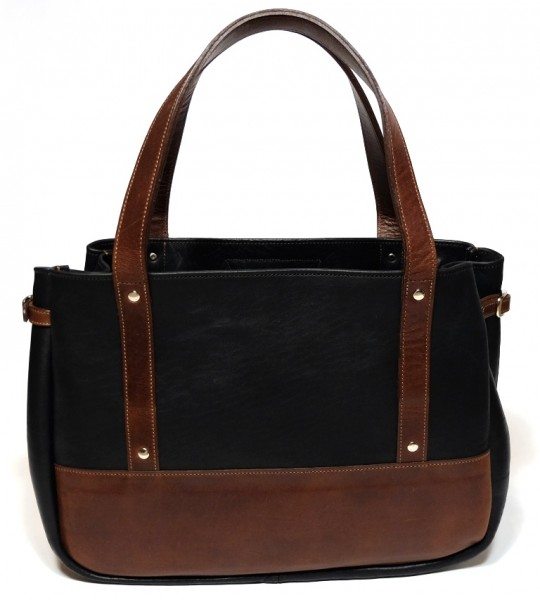 The back of the tote looks much like the front except for the lack of the leather label.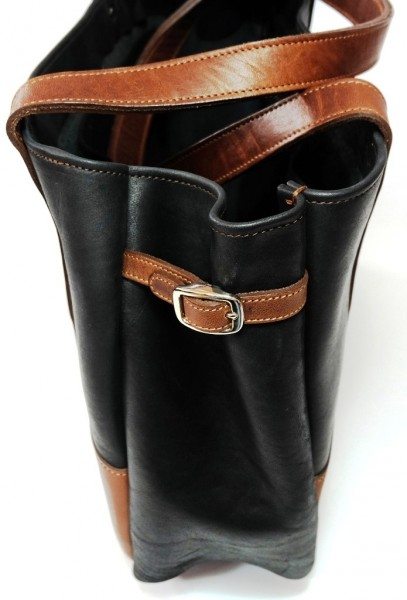 The sides of the tote show the added detail and styling of the small belted accents described as "nickel plated decorative buckles on side gussets pieces" according to the Colonel Littleton website. It would be nice if the buckles were adjustable, but they are not. However, I really didn't need to adjust it – I was just thinking about possible future needs.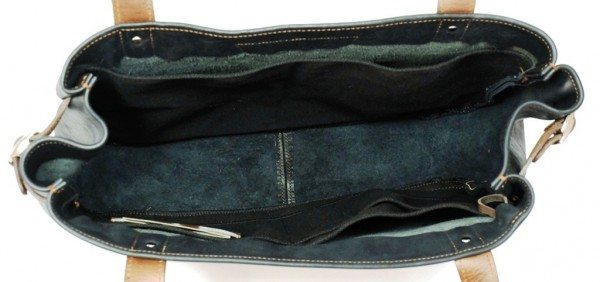 The tote wasn't lined with anything fancy or anything at all for that matter – all you see is the raw exposed material and true characteristics of the high-end materials used to make it: the leather, thread, and hardware.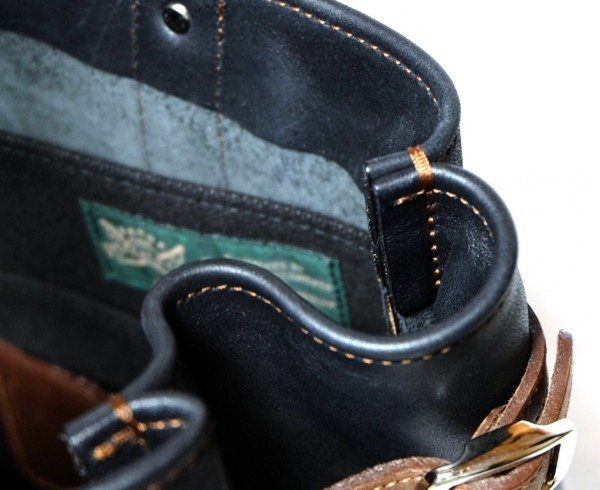 The inside sewn edges are raw and exposed but are trimmed very neatly – revealing the leather's thickness. You can also see the quality of the thread, stitching, and overall construction of the tote when observing the inside. Remember – this tote is handmade right here in America.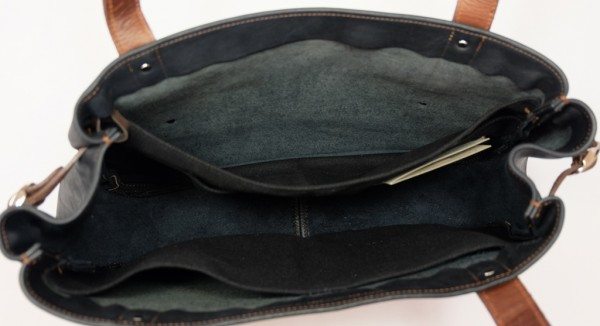 The Bentley Tote has two large pockets that are made with thick black canvas material sewn into the side of the bag. This pocket measures about 12.75″ in length and should fit a small laptop or full-sized tablet. This pocket (and all the pockets in the tote) are not padded, so you will need to have a protective case or sleeve for your tablets or laptop.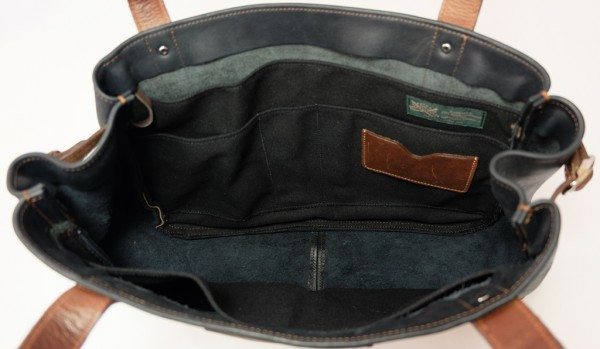 There are three additional small pockets made of the same thick black canvas material sewn into one side of the tote. These pockets will hold cell phones, pens, pencils, or lipstick; and the larger of the small pockets will fit an iPad Mini or other similar sized Android tablet or e-reader.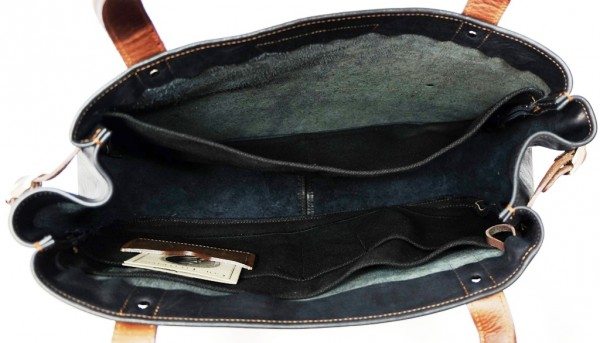 The other side of the tote has the second large sized pocket made from canvas as well. It measures 12.75″ like the other large pocket. Not only will it fit a small laptop but you could also easily place documents, magazines or thin folders containing your documents in these pockets.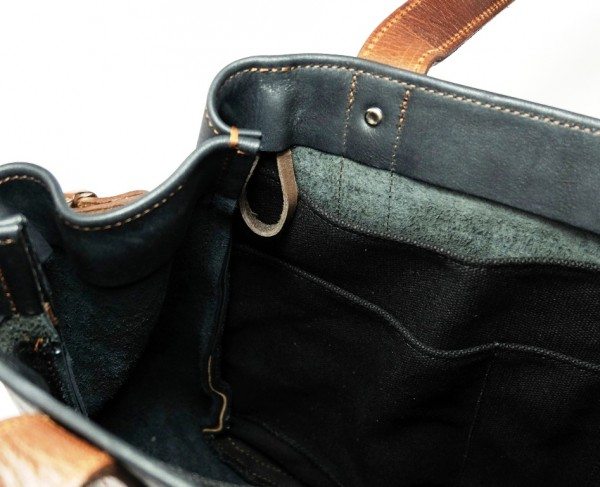 The Bentley also has an added key loop made from a thick strip of leather which is sewn securely into one side of the tote for easy access.
Use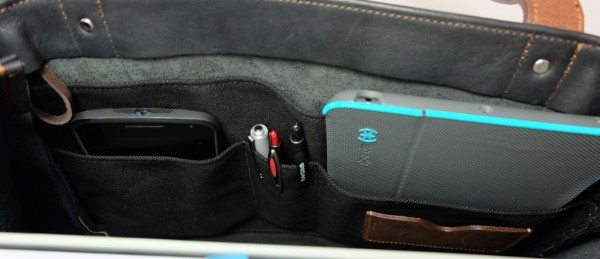 I so LOVE this tote! From the photo above, you can see that it EASILY accommodates my large Nexus 6 phone (with its case) in one of the three small pockets. There was also room for me to carry three pens in the smallest pocket and in the last pocket, there was room for and iPad Mini with its Speck protective case.  The pocket sizes and the way the tote is organized are such a thing of beauty for me!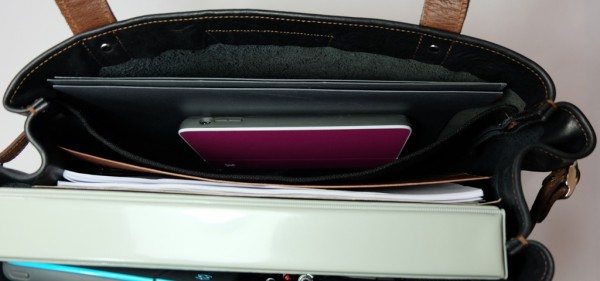 The large pockets fit a folder of documents and another iPad Mini as well. I also verified that a full-sized tablet (iPad) with a protective case fits in here as well. In the main portion of the tote, you can see that I have a one-inch binder and another small expandable folder with additional documents.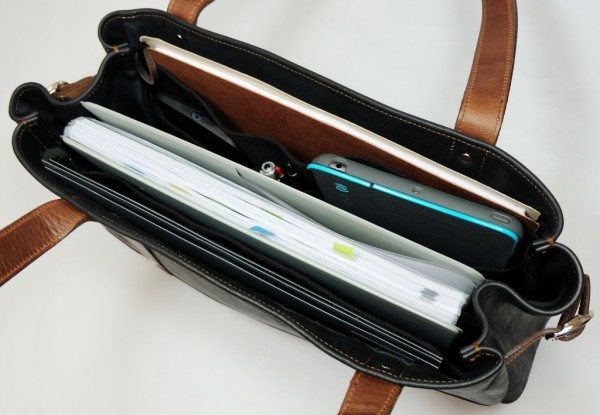 The above photo shows how it all came together for me. This seemly slim tote holds a lot of stuff (well, for me it does)!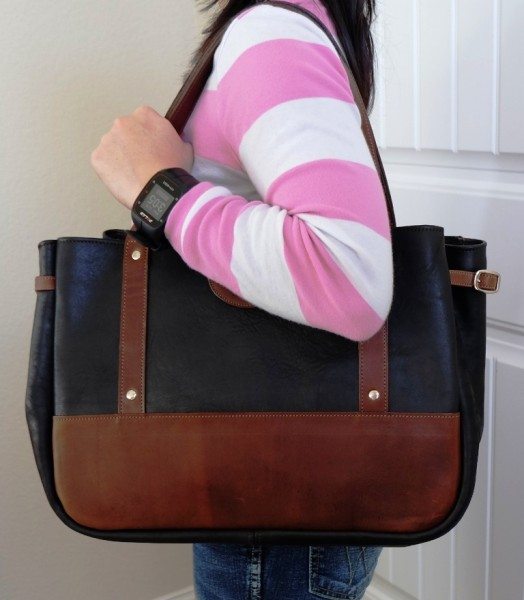 With the tote fully loaded with my paraphernalia, it did not seem very heavy, but I haven't had to carry it long distances, nor did I have a laptop to carry either.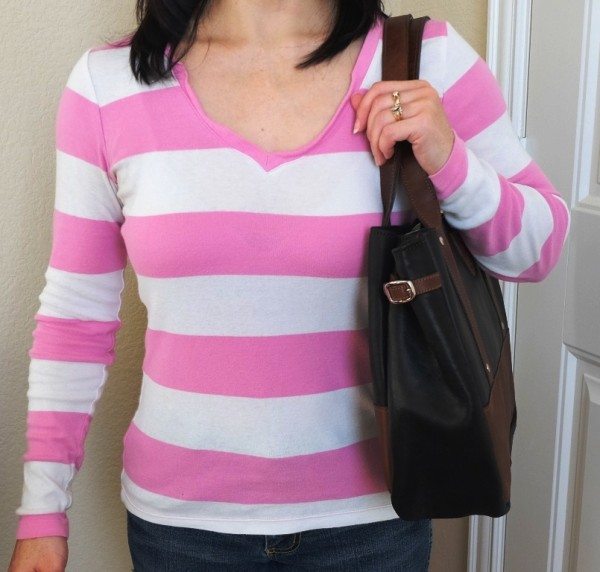 Even with all that I was carrying, the Col. Littleton Bentley Tote truly felt slim and so very stylish and classy! I did notice that the straps might be a little short for some when carrying the tote on your shoulder and that it is missing some kind of closure to help prevent things from being stolen (I'm paranoid that way) or to keep the contents dry when raining.
I contacted Colonel Littleton about how to care for the Bentley tote. I was told that for the most part all you have to do is to wipe it down with a soft dry cloth when needed. However, from time to time it can be "polished with a high-quality leather balm [e.g. Meltonian Leather Balm] if you want to blend any wear and use marks. Apply a very small amount of leather balm with a soft cloth, let it dry completely, then buff with a soft, dry cloth. (Please note that a little balm goes a long way, and should not be applied directly to the leather)." They also do not advise the use of any waterproofing materials. You obviously don't want to get your tote drenched, but when it gets wet, you can simply wipe it off with a soft dry cloth and let it air dry.
Conclusion
I must admit that the Colonel Littleton Bentley Tote is an absolutely fantastic tote and is just about perfect in my book. Let's just say that this is the most attractive tote that I have ever seen and because it is so well made, I cannot think that I will ever need to replace it or will even want to. And according to the Colonel Littleton website, their leather products become softer and more attractive over time, developing their own individual characteristics and patina, so it will only get better as the years go by. The only things that I noted about it that you may want to consider are that the side buckles are not adjustable, it does not have a closure to keep your contents dry and safe, and the leather straps may be a little short for some. The Bentley Tote is $495 and in my opinion, worth every penny – I cannot recommend it highly enough. I believe that it is well worth the purchase and could potentially last a lifetime or more. If only all the products that we purchase were as well-made, utilitarian, and beautiful as this tote!
Updates 08/08/16
This bag has held up so much better than other bags because of the wonderful quality of the materials and craftsmanship. The leather does, however, shed all over the papers within the bag, but this is certainly not a deal breaker! Hopefully, as time passes this will be less of an "issue". Awesome bag!
Source: The sample used in this review was provided by Colonel Littleton Ltd. Inc. Please visit their website for more information or to purchase one.

Product Information
Price:
$495
Manufacturer:
Colonel Littleton, Ltd. Inc.
Pros:

Made from high-quality materials: leather, thread, hardware
The leather is thick and leave you feeling like not only will this last a lifetime, but can become a family heirloom
Organization suits me
Spacious enough for me

Cons:

I wish the side buckles were adjustable
I wish the tote had some kind of closure to prevent theft
The handles might be short for some people