We use affiliate links. If you buy something through the links on this page, we may earn a commission at no cost to you. Learn more.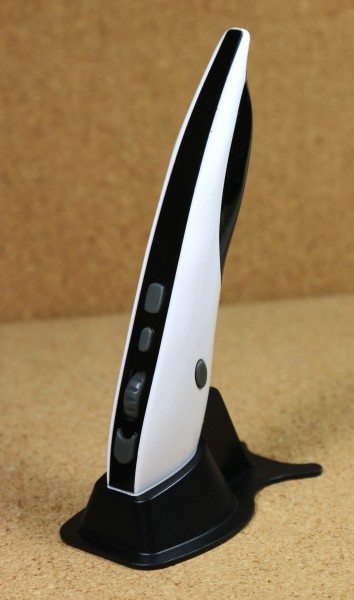 I have trouble with repetitive stress syndrome (RSS), and I have small hands, so finding a mouse that doesn't make my hand hurt can be difficult. On the surface, the iPazzPort Pen Mouse Pointer, Model KP-810-38, seems to be a potential solution to the problem. However, there is one issue that makes this pen mouse less than ideal.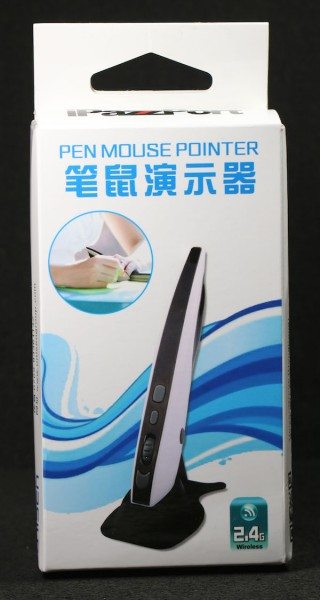 The pen mouse is a white, slick plastic stick that rests into a black base. The unit has four buttons – a button on the left side for a thumbed left click, a top button for right click, and another button further up to trigger a laser pointer.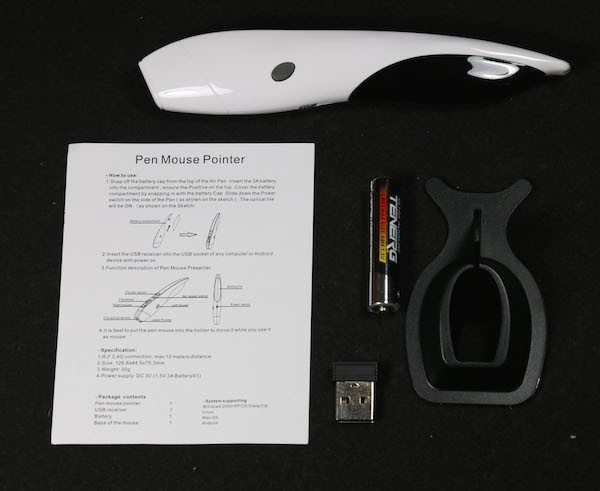 Also on top is a hard plastic scroll wheel. A power switch is on the underside of the mouse.

Good
Using the mouse was great, except for one issue that I'll describe later. The mouse worked equally well on both my MacBook and my Microsoft Surface Pro 3, without needing to install any drivers. All I did was plug in the USB 2.4 GHz wireless connector and turn on the mouse.
It tracked accurately on just about any surface. I even tried it out on my hand and on my jeans. It had no problem with skin, cloth, or any other surface I tried it on.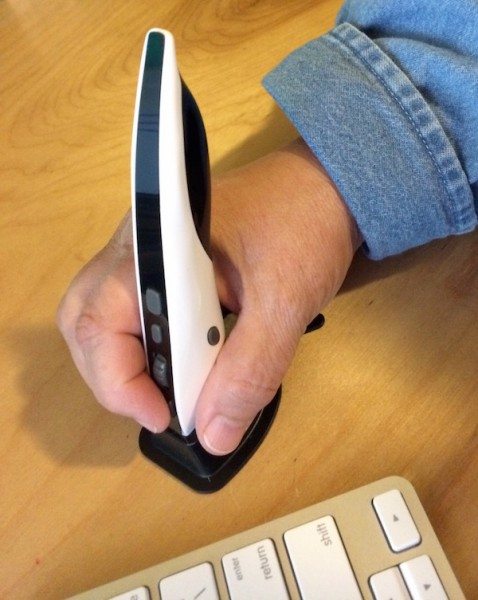 The buttons are well-placed. As I mentioned, I have small hands, so someone with normal-sized hands would not have any issues reaching everything.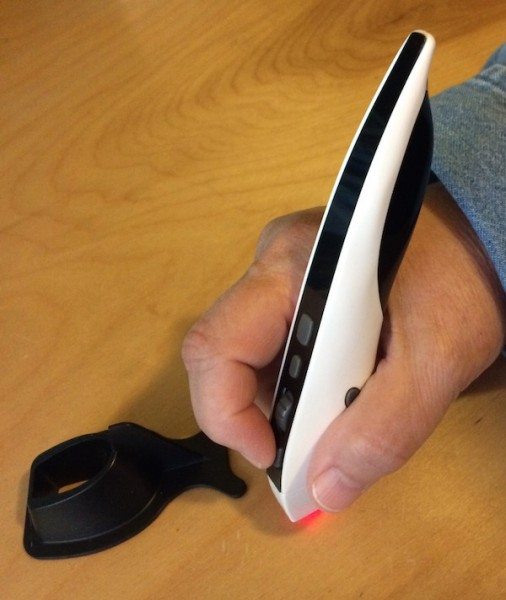 The directions recommend moving the pen mouse while it is still in the stand. However, I found it easier to use it without the stand, like you would a pen.
I tried it with various programs – Microsoft Word, Safari, drawing programs, etc., on both my MacBook and on my Microsoft Surface Pro 3. The pen mouse worked really well on both computers, and it felt really natural. The feel was similar to using a Wacom tablet, except it didn't have pressure sensitivity.


It takes one AAA battery, which was included in the box. I've used the pen mouse off and on for a month and haven't had to change the battery yet. There is no indicator to tell you when the battery is low.
The laser pointer worked very well. I don't give many presentations these days, but my youngest cat, Addy, loved it when I would take a break from testing to play with her.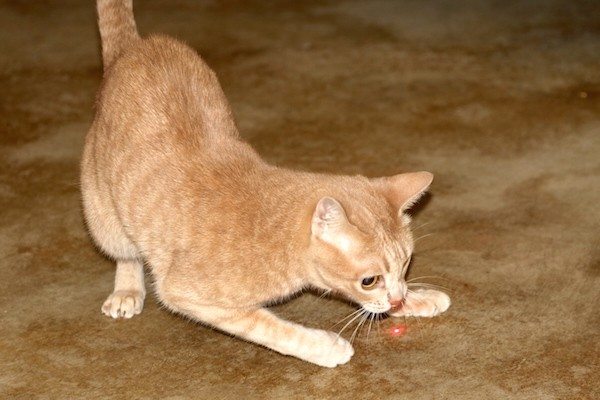 Meh
The DPI switch didn't appear to do anything. It is supposed to switch from 500 to 1,000 DPI. I tried it on both my MacBook and my Microsoft Surface Pro, and couldn't see anything to indicate that the DPI switched, or any difference in movement. This isn't necessarily a bad thing, as the pen mouse worked OK as-is.
Bad
For the most part, I really liked this input device. Unfortunately, there was one issue that made the pen mouse a less-than-ideal solution for my RSS. The scroll wheel did not work very well. It was hard to turn because it was a slick plastic, and it didn't turn smoothly when you got it going. Unfortunately, this is a deal-breaker for me, because I use the scroll wheel a lot.
A little rubbery texture on the scroll wheel would go a long way to making the scroll easier to use, but fixing the jerky movement might take a little re-engineering of the mechanism.
Source: The sample for this review was provided by iPazzPort. Please visit their site for more info and Amazon to order.