We use affiliate links. If you buy something through the links on this page, we may earn a commission at no cost to you. Learn more.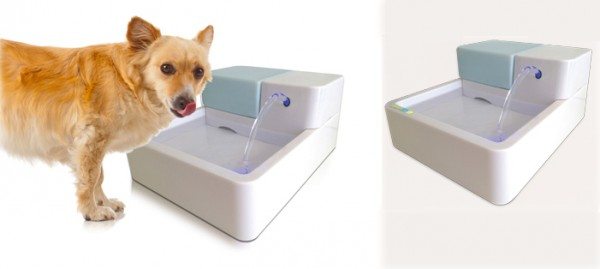 My dog, Teddy, seems to shed year round.  That means those darn dog hairs get everywhere, even in his water bowl.  He won't drink water with hair in it, and it's a pain trying to make sure his water meets his standards so he'll drink enough during the day.  And that's with me here with him all day.  If you have to leave your dog while you're at work, you can use the Naturespa UV Fountain for Dogs to make sure his water is clean and bacteria-free.  The Naturespa has a "charcoal filtration system that constantly moves the water through a carbon filter to remove debris and impurities, so water stays fresh and clean. When water tastes better, your small dog will want to drink more – and drinking enough water is one of the most important things a small dog must do to stay healthy."  In addition to the charcoal filter, the Naturespa UV Fountain has – you guessed it! – a "UV sterilization system that kills the bacteria and microorganisms that cause slime."  The waterspout provides "fresh aerated running water, like a faucet".  It has a blue LED nightlight (though dogs probably don't need that), a quiet pump, and an auto-shutoff function to prevent motor burnout when the water level drops too low.  It holds 58 ounces, and it's made of human-grade ABS plastic.  This fountain should work for cats, too.
The Naturespa UV Fountain for Dogs is normally $69.99, but Pet Healthy Store is currently offering it for $39.99.