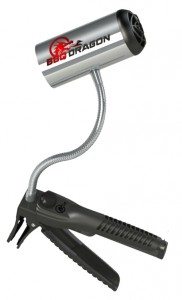 To me, nothing is better than freshly grilled meat and veggies at home during the warm (and cold) months. My boyfriend and I struggle to get our barbecue coals hot quickly using various tools, and have to wait well over 45 minutes for the coals to be ready.  I recently got the chance to review the BBQ Dragon, which should help speed up this process, so I was excited to see if it worked. Let's take a look.
Note: Images can be clicked on to view a larger size.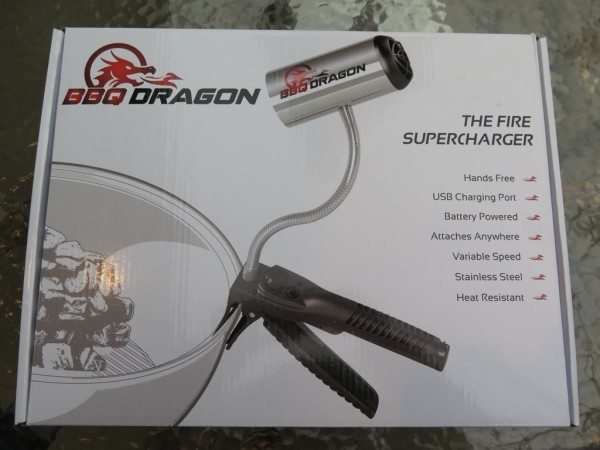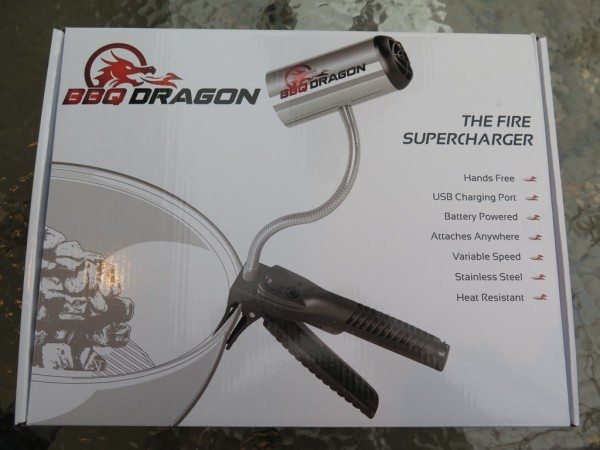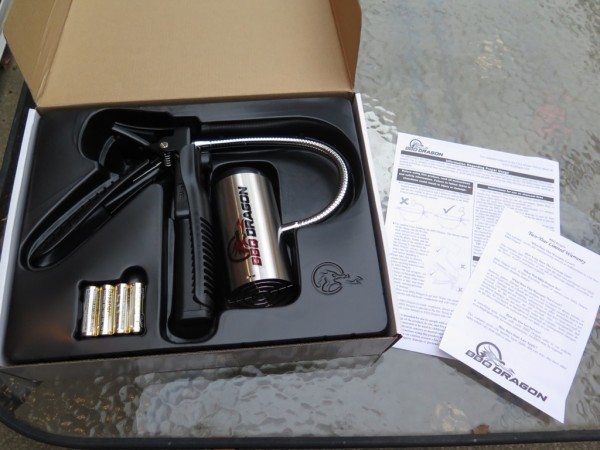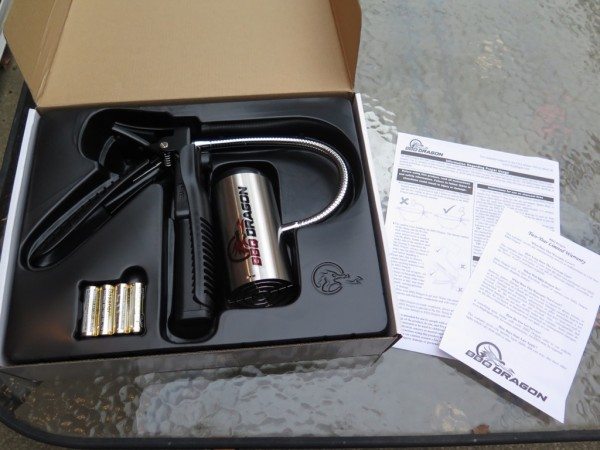 BBQ Dragon features:
1. High powered fan – Delivers a large volume of cool air at a low velocity to ignite the coals fast without blowing ash all over.
2. Inlet and discharge grills – Keep unwanted things out of the BBQ Dragon.
3. Micro USB port – To recharge the optional NiMh batteries using your existing home and car chargers.
4. Variable speed motor – For just the right amount of air to any size fire.
Ergonomic handles – Placed outside of the grill so they're always cool.
6. Versatile spring-loaded clamp – Opens wide and attaches to a variety of grills, fire pits and more.
7. Grill lock design – Locks onto the grill to hold tight and reduce movement.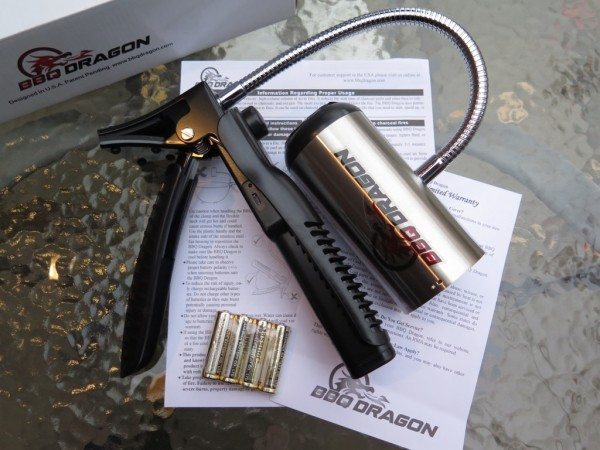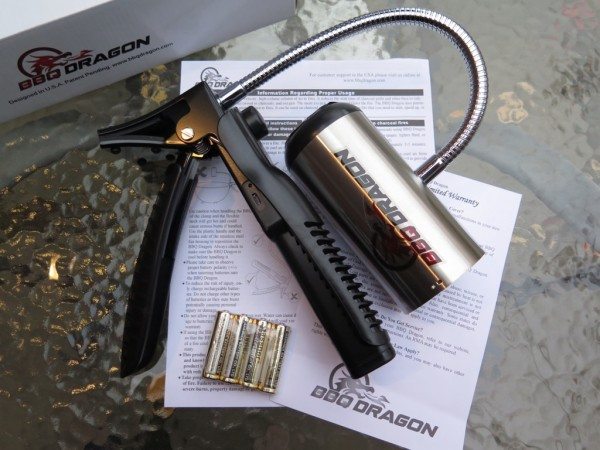 Upon opening the BBQ Dragon, I see that it comes with four (non-rechargeable) AA batteries and the usual paperwork.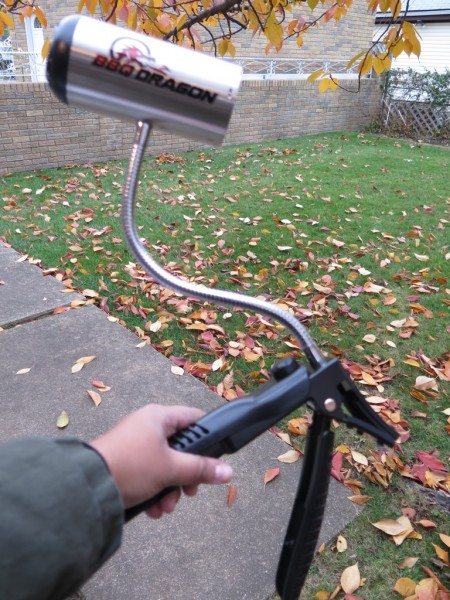 It has a stainless steel barrel with fan and long goose-neck design, along with a spring-loaded clamp to hook onto your grill.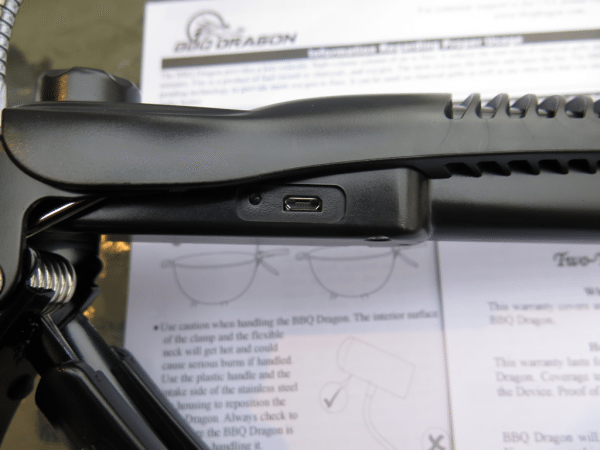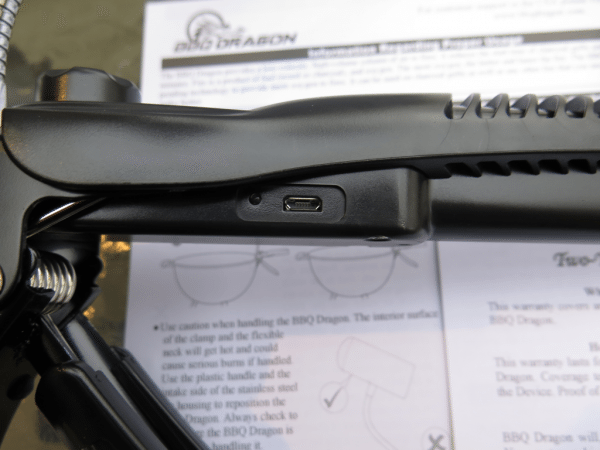 If you decide to use NiMh batteries in the BBQ Dragon, you can use this micro USB port to recharge them.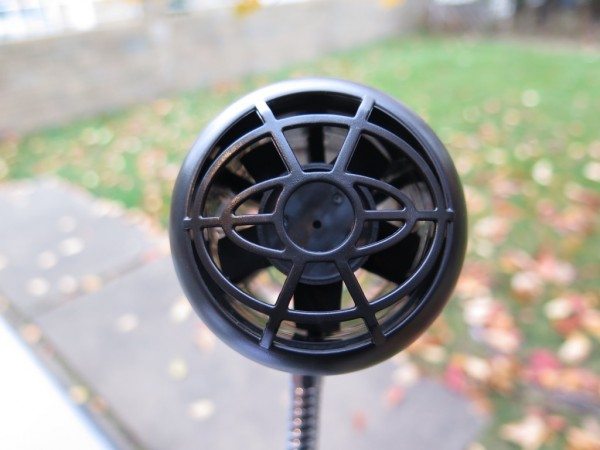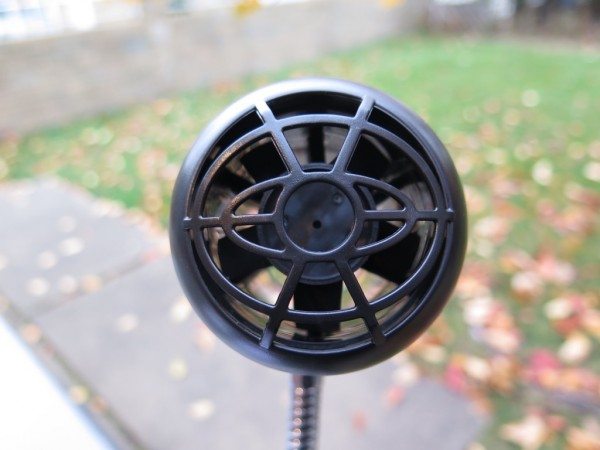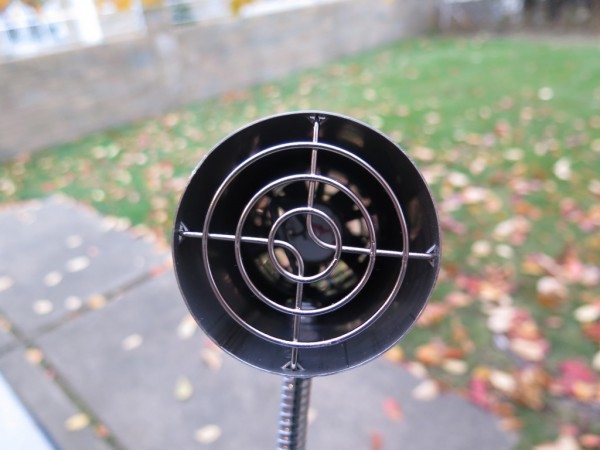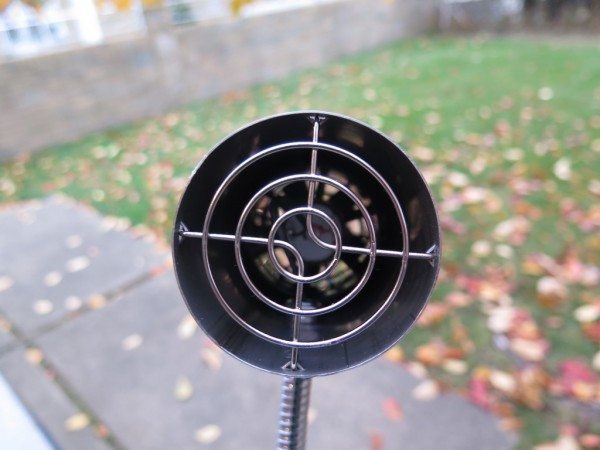 The back and front of the BBQ dragon come with grills to ensure nothing gets inside the barrel when the fan is on.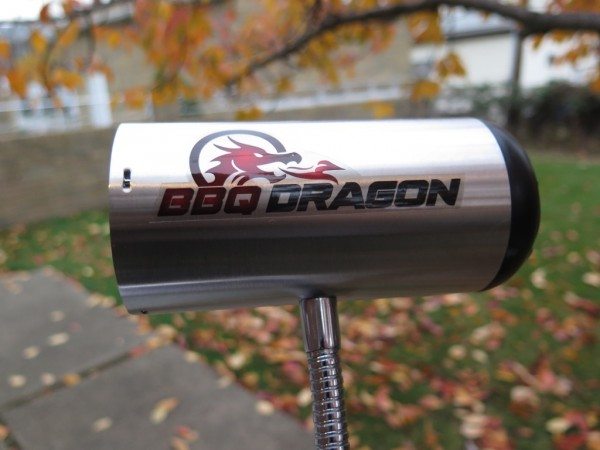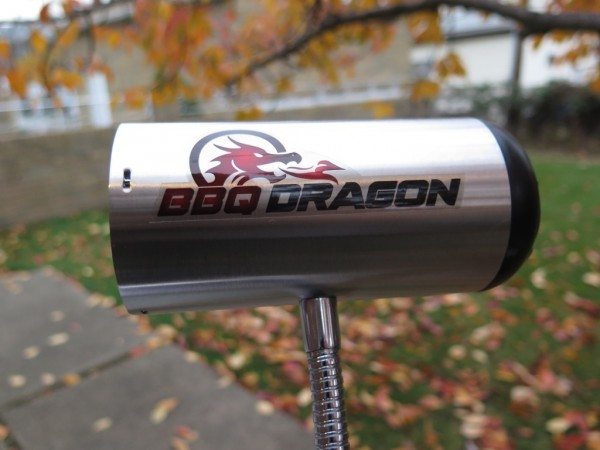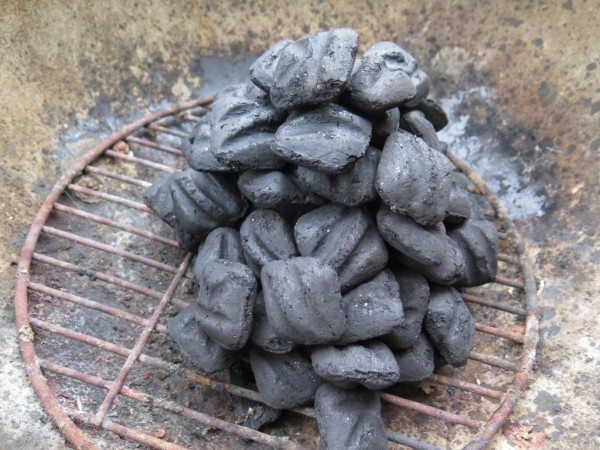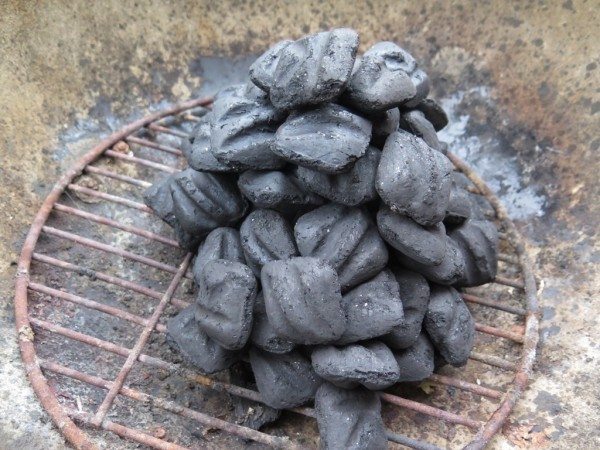 Time to test out this BBQ dragon – the coals are ready!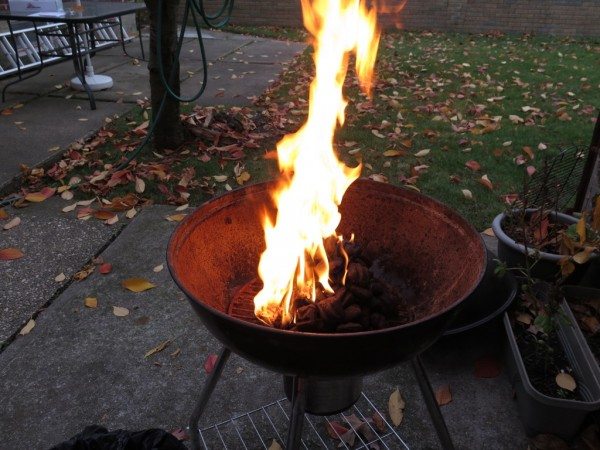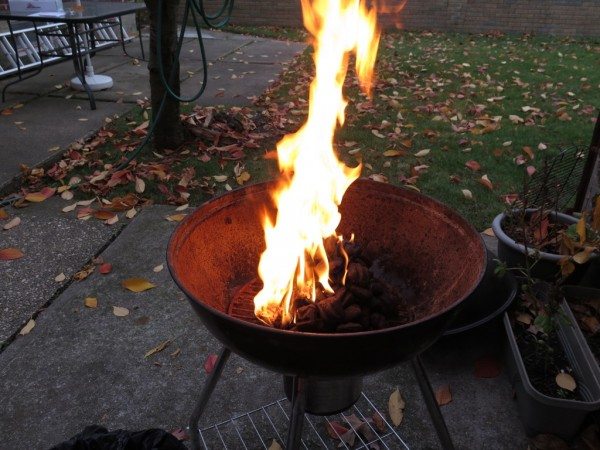 Nice flame to get everything started.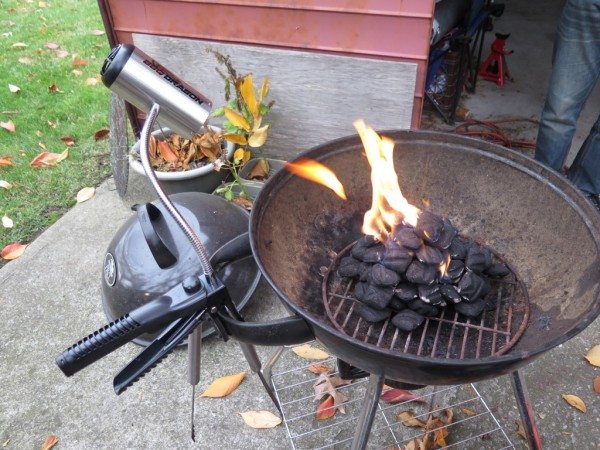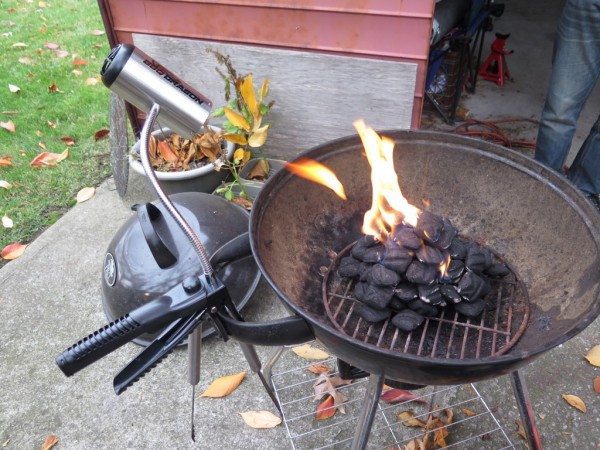 We decided to clamp the BBQ dragon to the handle of the grill and start the fan spinning on medium force.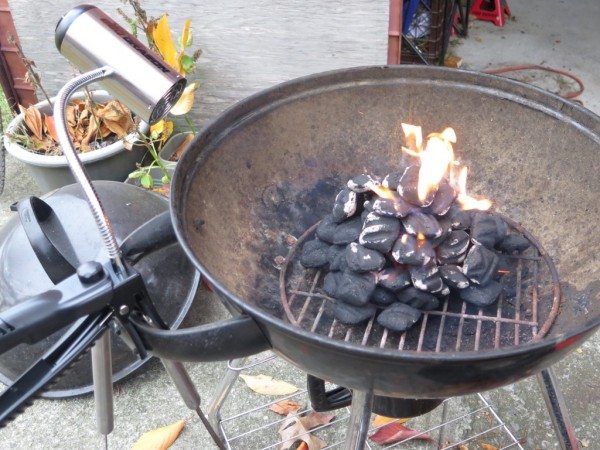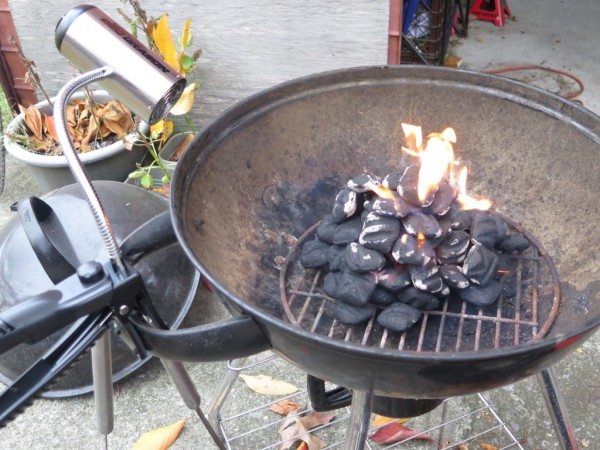 Already after a minute, the coals started to get white and the heat spread nicely.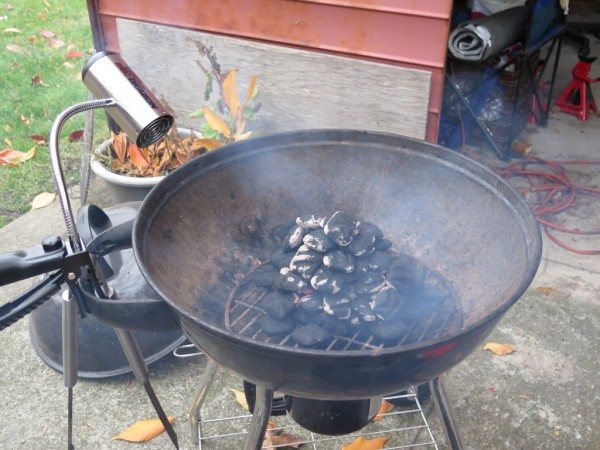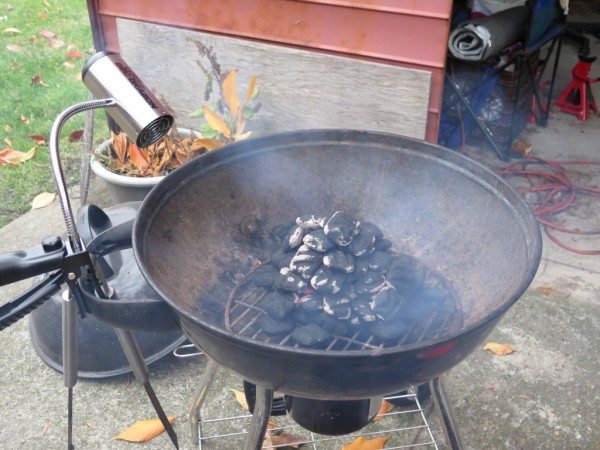 Coals still going after a few minutes…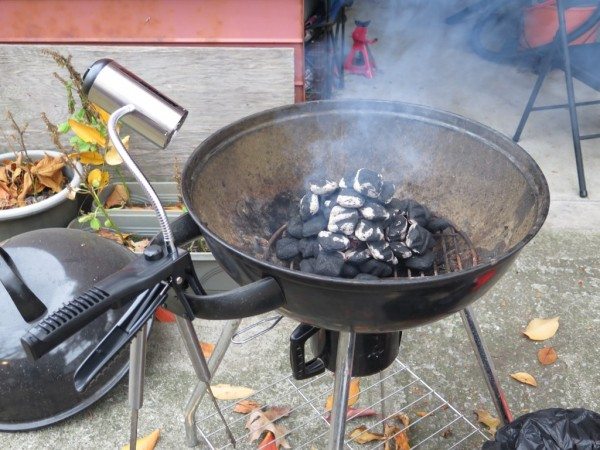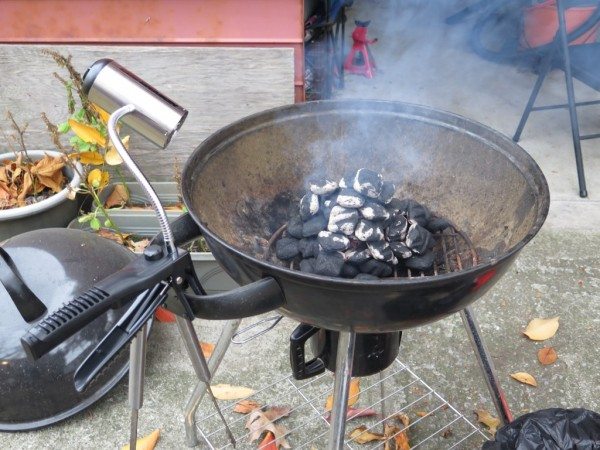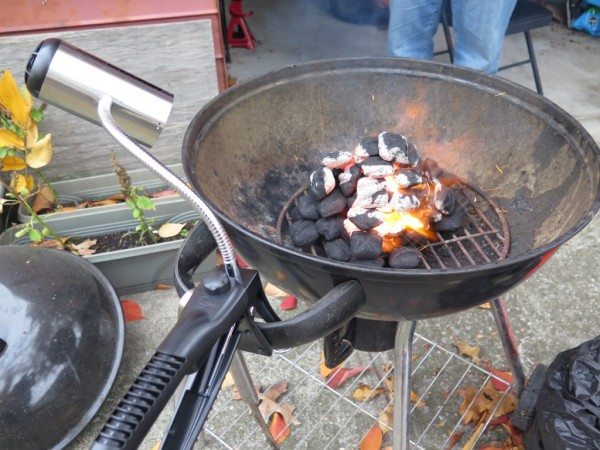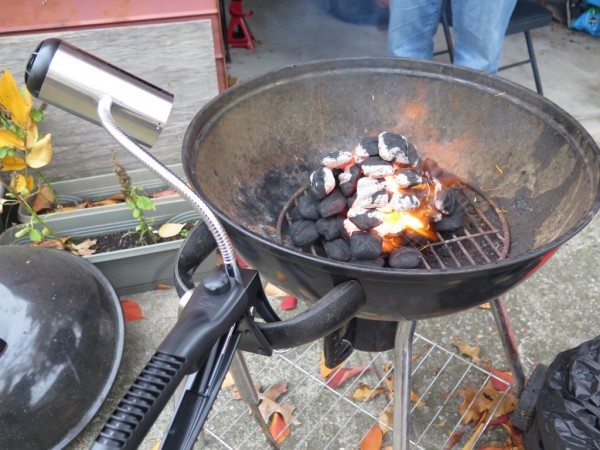 We swiveled the BBQ Dragon around to get more air flow to the darker coals.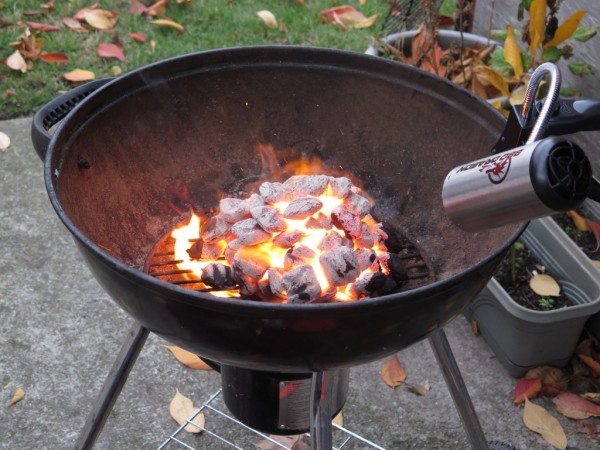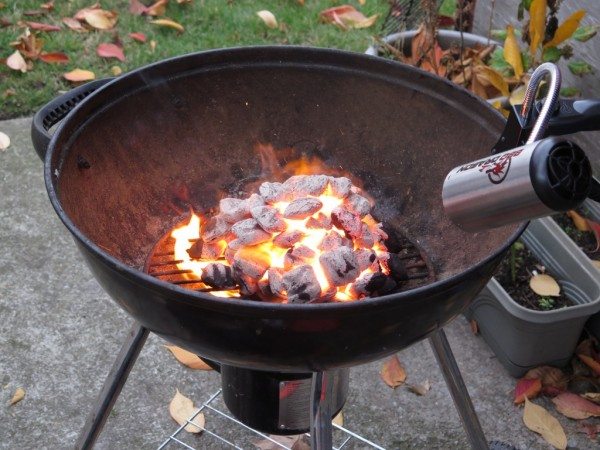 After ten to fifteen minutes, the coals were ready to go.  I was super excited at how fast this worked.  We usually can't get the coals ready for the grill until forty to fifty minutes of waiting and wafting the air with cardboard or a chimney bellow.  It also helped that this worked quickly since at the time of this review (November) the air is getting pretty chilly in Queens.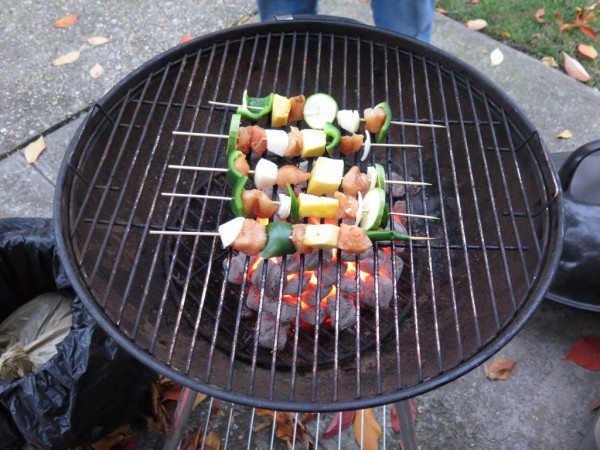 Our skewers all set on the grill!
I really liked this BBQ Dragon.  The spring loaded clamp made it easy to attach anywhere on the grill (even on the grill handle like we did) and the goose-neck design made it easy to move the barrel around to get good air flow, while keeping the clamp still. The handles and the barrel of the BBQ Dragon didn't get too hot either, which is great.
Now that the holidays are around, if you have anyone who loves to grill I'd recommend picking this up as a gift.  You can even use this anywhere you light a fire, such as a fireplace or smoker, and it's portable enough to bring to the beach or camping.
Updates 08/13/15
With summer and many barbecues later, the BBQ Dragon has been immensely useful to get us eating faster in the hot summer heat in NY! Definitely beats the "wafting with cardboard" method we used to use to get the coals going quickly. 🙂
Source: The samples for this review were provided by BBQ Dragon. Please visit their site for more info about this product.
Some of our links in posts like this one are affiliate links, which means that we may receive a small commission on purchases at no cost to you.
Product Information
Price:
$59.95
Manufacturer:
BBQ Dragon
Requirements:

already lit coals on a grill, fireplace or smoker

Pros:

Easy to use
lightweight
handles don't get hot

Cons:

Expensive - A hair dryer can do the same for much less