We use affiliate links. If you buy something through the links on this page, we may earn a commission at no cost to you. Learn more.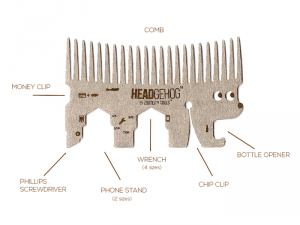 A comb, there's an item I don't see everyday. I am sure they are still around but they aren't as cool as the once were. The HedgeHog, a Kickstarter project from Zootility Tools may make combs cool again. The HedgeHog is a comb designed to also function as a multi-too, or is it a multi tool with a comb? Either way the HedgeHog is a stainless steel, 3.370 x 2.15 inch, 0.40 inch thick, wallet multi-tool that weighs0.6 ounces. Besides the comb, the HedgeHog has the following features as listed on their project page:
Money clip
Phillips screwdriver
Phone stand
Wrench
Chip clip
Bottle opener
The HedgeHog is seeking funding until January 2,2015 with a $12 pledge getting you a HedgeHog in a plain stainless steel color or your choice of blue, green or pink. If successful the Hedgehog is slated to ship in the February 2015 time frame.