We use affiliate links. If you buy something through the links on this page, we may earn a commission at no cost to you. Learn more.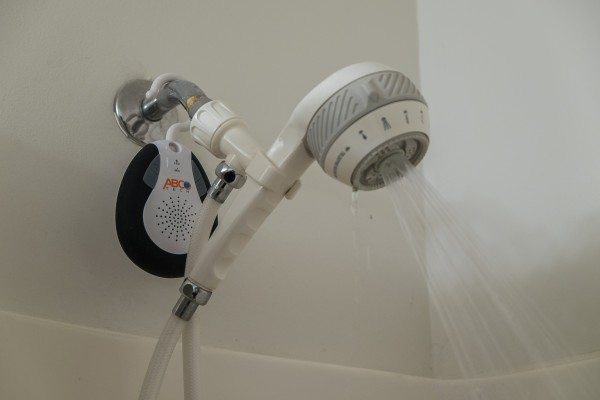 I am a big fan of audiobooks and podcasts.  I am an even bigger fan of listening to them while in the shower.  In the past, I have done this by cranking up the volume on my desktop stereo system that I have hooked up to my desktop computer's sound card.  This produces enough volume for the job but my poor kitties don't care for it much.  So when I got the chance to review a dedicated Bluetooth shower speaker, I jumped at it.  Enter the ABCO Tech Waterproof Wireless Bluetooth Shower Speaker Auto FM Shower Radio.  It's a mouthful but it describes what it does pretty well.
The device dangles from a swivel hook that has many degrees of freedom to it, so if you need to grab it and change the FM station or the volume or take a call you don't have to worry about the hook snapping off.  It's designed to hang from behind your shower head and can withstand splashing but I don't know if I'd want to get a full stream of water on this.  It's ergonomically pleasant, with large rubber buttons and surrounded by rubber around the edges to prevent it from slipping out of your hands when wet.  The speaker holes cover a 1.5″ diameter and there is a built-in microphone for taking voice calls just below the multi-colored LED indicator light.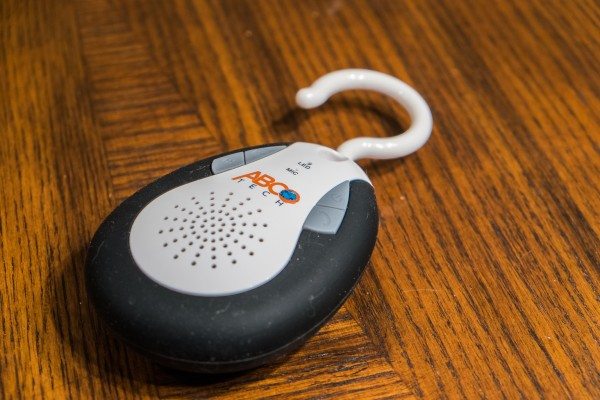 To get an idea of the size of this thing, here's a shot of the device in the hand: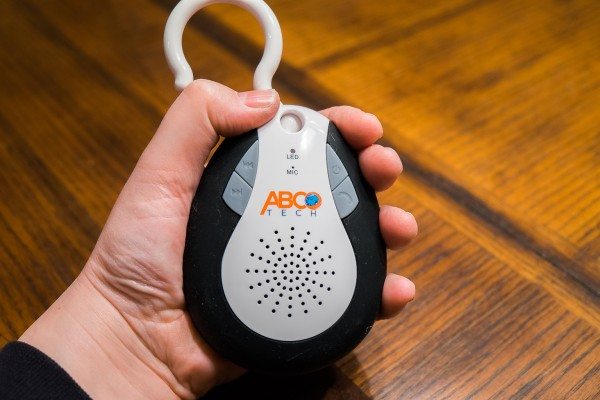 The device charges through a 5V USB cable that terminates in a round plug, which is included.  A wall adapter, however, is not included.  I use an Anker 4-port USB charger to recharge my devices, so I used an open space on that to charge it.  The charger port on the back can only accept the plug that is included with the device, so don't lose it (or allow your cat to chew on it) or you're out of luck.  The back of the device has a rubber port cover that helps keep the device sealed when in the shower.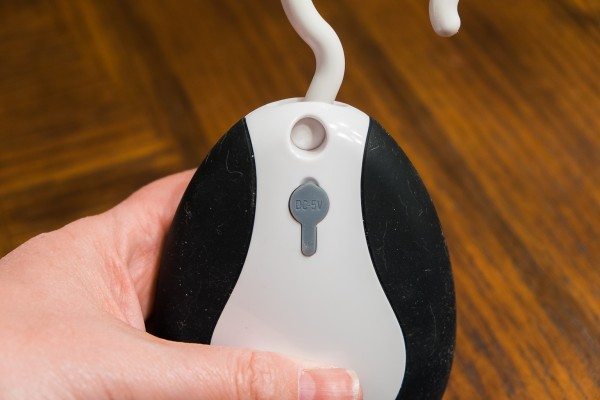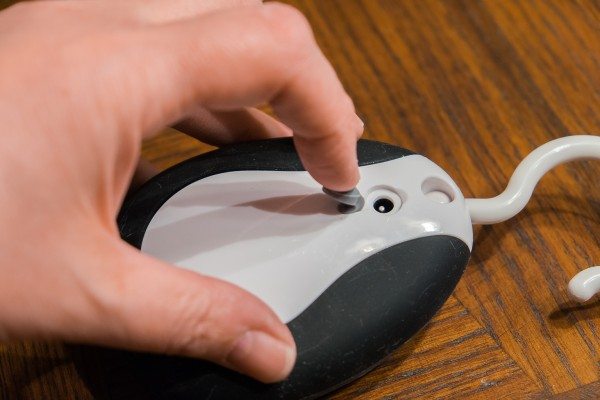 So, how does the device work?  I'd really suggest reading the included instructions carefully.  When I first got it, I did what I usually do and just played with it and missed the volume control feature.  For days I was convinced that this thing had no volume control.  When I opened up the instructions to get more information, I smacked myself in the head for missing it.
Basic operation of this device starts with pressing the Power button down for five seconds.  You will hear the start-up confirmation beep and the LED will start to flash blue.  At this point, you pair your Bluetooth device with it.  For this review, I paired my Samsung Galaxy S4 phone.  Pairing was quick and effortless.  Once you have the device paired, you can use it as any other Bluetooth speakerphone.  One quick press of the power button will switch you from your Bluetooth device to a built-in FM radio which has a strong antenna built into it.  Click the power button once more and you are back to your Bluetooth device.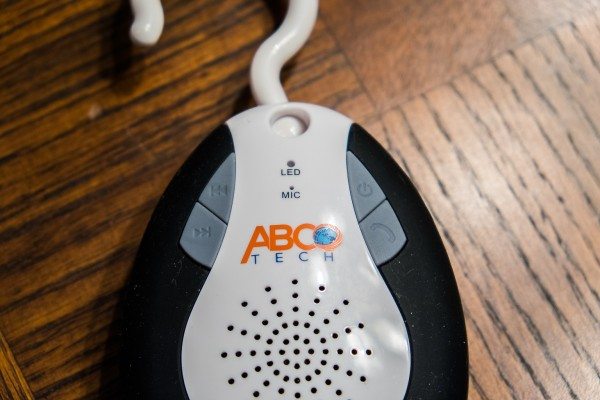 The button on the top left is the track backward/volume down control.  The lower left button pops your track forward or raises the volume.  In FM mode, the buttons seek out the next higher or lower frequency radio station.  The top right button is the power button, which also switches back and forth between connecting your Bluetooth device and the FM radio.  The lower right button is the call answer/reject/callback button.
The sound that comes out of this thing is IMMENSE.  It has a good range, kicking bass a lot more deeply than I thought would be possible with a speaker this size.  When my phone was at full volume, there was distortion which isn't surprising.  You can control the volume by pressing and holding down the Track Forward button to raise it (there is a beep when you have reached top volume) or the Track Backward button to lower it (no beep, the sound just cuts out).  Pressing the track forward and backward buttons briefly does just that, giving a small beep to verify the action.
The only area of this speaker that has given me trouble is the phone feature.  It has been very spotty.  When I get a phone call and press the call answer button, it will answer the call but half the time no sound comes out of the speaker.  The person on the other end of the line has told me that the quality of my voice from it is somewhat less than when I use my phone in speakerphone mode but generally understandable.  Understand that this is meant as an emergency measure for taking calls when you would otherwise not be able to do so.
There are a few downsides to this gadget.  The range is not all that large before the audio begins to seriously stutter.   You are going to want to have your phone nearby.  I keep mine on the window seat by my shower and that works well.  Just being ten feet away will cause the signal to break down and within twenty feet the signal is gone.  This is not even through walls so keep your phone close.  Sometimes the audio will lightly stutter at regular intervals even when the phone is close.  This has been the biggest negative I have found with the speaker.  I am comparing this to the Bose Bluetooth headset which, with the same phone, has far greater range.
When I first got the device, I plugged it in for a few hours and have used it off an on for a week and the battery is still going strong.  You will have no problem taking long calls from this if necessary.  You can even use it as a car hands-free speaker but I would hesitate dangling it from the rearview mirror as it will swing from side to side and cause a distraction.  Loud and simple to use (so long as you read the small directions sheet), it will have a place in your shower for a long time to come.
Would I spend the $34.99 at Amazon for this gadget?  Well, for the ability to have my audiobooks and music at my beck and call while I am taking a shower, I think it's definitely worth it.  The volume is loud and clear and the device is just so convenient and secure hanging behind the shower head.  If I were to use this primarily as a speakerphone, I would pass.  The call quality is sketchy and the ability for it to take calls, at least with the sample model I was sent, was spotty at best.  It comes in six colors, so you can make a fashion statement in your shower with this speaker.  Enjoy long, luxurious showers with the ABCO Tech Waterproof Bluetooth Shower Speaker!
Update 12/10/14
Gave this to my friend Ross to play with. He is making use of it!
Source: The sample for this review was provided by ABCO Tech. For more info visit their site.

Product Information
Price:
$34.99
Manufacturer:
ABCO Tech
Retailer:
Amazon
Requirements:

Any device that outputs Bluetooth, phone feature works with Android and iPhone devices.

Pros:

Very loud top volume
Easy to press buttons
Articulating shower hook
Resists splashing water
Battery lasts a long time
Allows you to take calls in the shower

Cons:

Call quality not as good as from phone itself
Power adapter is proprietary
Does not come with wall adapter
Limited range
Audio sometimes stutters