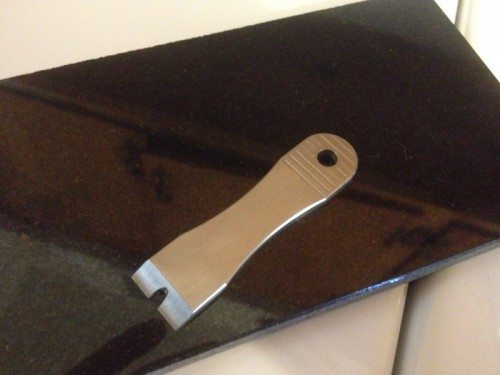 In the world of consumerism, we like to get the most bang for our buck. Take pocket multi-tools for example, we think the more things we can use it for the better and in most cases I would agree. But one designer has seen a short coming in one prominent feature of the pocket multi-tool, the pry bar feature and he has done something about it. The Fubar Baby, a kickstarter project by Scott Howard is a simple, single function pry bar. Now, I know you military types can relate to the acronym FUBAR (if you don't know ask someone who has been or is in the military) and maybe that was the point of this pry bar to be used in those types of situations. Made out of either stainless steel or titanium with multiple finishes available, the Fubar Baby measures 2.625″ length x .75″ width x .156″ thick, small enough to carry on your key ring, in your pocket or hand bag. The Fubar was thought up because the designer had seen another pry bar on a multi-tool break, realizing the weakness in the design of pry bars with multiple cutouts he designed the Fubar Baby to be small enough and strong enough to be used in similar situations without breaking. The Fubar Baby has several pledge points with a $19 pledge getting you a stainless steel version of the Fubar Baby in a hand polished or stone washed finish. Funding runs until December 19, 2013 and if successfully funded, is slated to ship in the February 2014 time frame.
Support The Gadgeteer
:
We may earn a small affiliate commission from purchases made from buying through links on our site. As an Amazon Associate I earn from qualifying purchases. Learn more.