We use affiliate links. If you buy something through the links on this page, we may earn a commission at no cost to you. Learn more.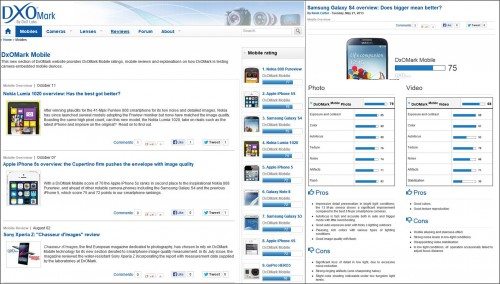 These days everyone and their mother has a camera, be it cell phone, pocketable point-and-shoot, or expensive DSLR with interchangeable lenses. The more discerning (geeky) photographer who is on the prowl for a new device will want to find a credible independent source for image quality testing. I have found such a place, DxO Lab's DxOMark. On the DxOMark web site you can find image quality measurements for the latest-and-greatest in cell phones, digital cameras, and interchangeable lenses. They score a number of different quality characteristics and offer an easy way to tag and compare devices from their extensive database. You can use separate scores to determine which cell phone has better individual qualities, like exposure or low-light noise performance. Pick and choose which individual score matters most for your type of shooting. 
Look for scores on specific qualities that are a problem for you with your current camera. It's interesting to find that competing cameras can use the same sensor, but the scores don't always compare from the different manufacturers. I like to look up a just released "version II" lens and find their tests very accurate comparing sharpness or chromatic aberration to the first-generation lens that I own and love. You can even compare how the same lens can receive slightly different scores when mounted on a different model camera. You might find that what you see in advertisements is often not the quality you find on your screen.
The new Apple iPhone 5S was recently tested and earned an overall DxOMark score that places it in the number two spot for mobile phone image quality. On the other hand the Lumia 1020 with its outrageous 41MP count, only reached fourth place. The 41MP Nokia 808 Pureview still holds the top spot for smartphones tested currently. DxOMark and Sony are currently offering a free license to DxO FilmPack 3 Essential edition until October 31st. Also there's a hefty discount on the latest release, DxO FilmPack 4 Essentials and Expert Editions.