We use affiliate links. If you buy something through the links on this page, we may earn a commission at no cost to you. Learn more.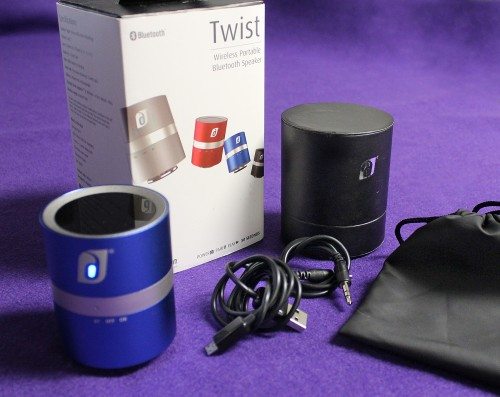 "It was the best of speakers, it was the worst of speakers". With apologies to Charles Dickens, that pretty much sums up my experience with the Damson Twist Wireless Portable Bluetooth Speaker. To say that this speaker will surprise is an understatement. There is no speaker on the Twist speaker. Yes, you read that right. The Damson speaker has no speaker as we know it. It uses what is called incisor diffusion technology, which was developed and patented by the US Navy to transmit sound via their submarine hulls. In simple terms, it means that whatever you place the Twist on becomes a resonator, or speaker. And therein lies the dilemma: Some surfaces sound terrific and some, well, not so much.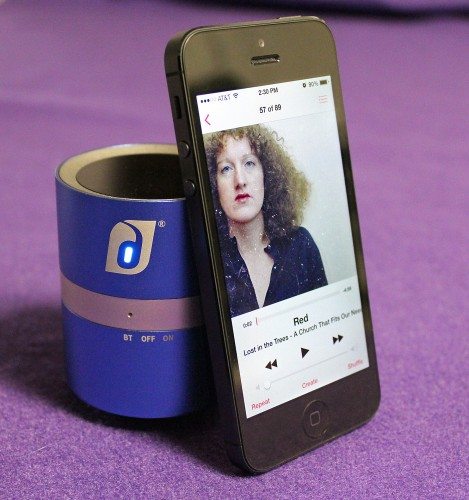 The Twist is made of aluminum, is quite heavy for its size (2.75-in tall and 2.25-in diameter), and feels solidly built. It's definitely not some cheap, plastic, lightweight speaker. It comes in 4 colors: Black, silver, red, and blue.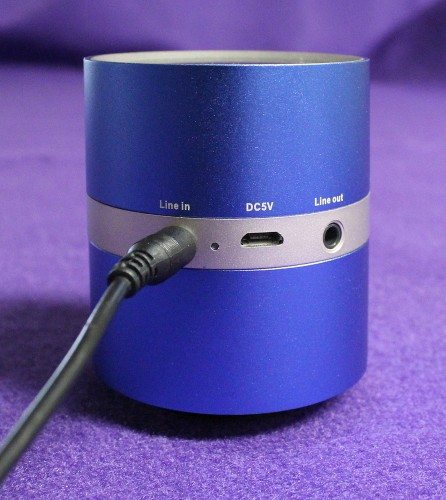 The front has three choices: Off, BT (Bluetooth) and On. The back has Line In and Line Out ports. Line Out allows the Twist to be connected to another Twist for fuller sounding audio. However, this connection will not provide true left-right stereo, only dual mono. There is  a 5V DC port for charging its 9-hour built-in battery, making it practical for all-day use. There is no speakerphone capability, which may be a deal breaker for some. The base of the speaker has a non-skid rubberized coating that keeps the Twist from literally walking across the surface as it plays.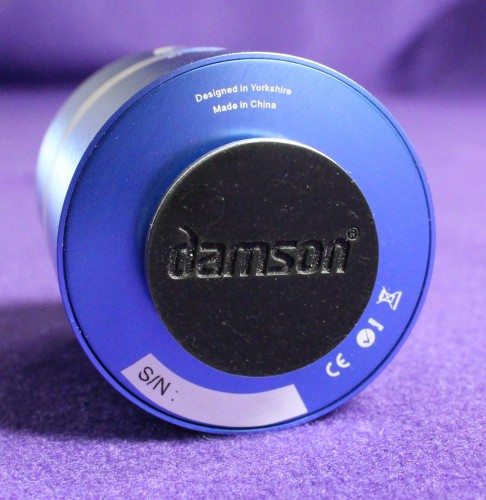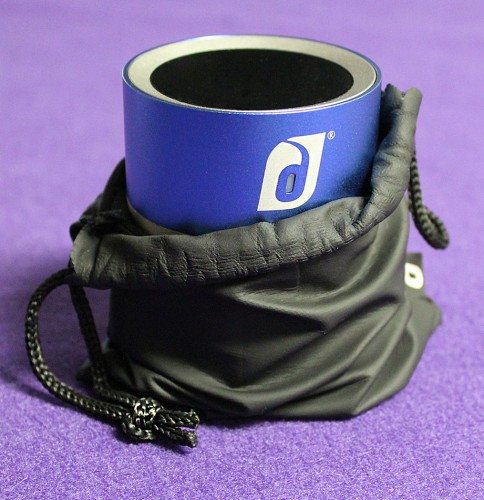 The tubular-shaped Twist couldn't be simpler to set up and use. A "twist" to the left starts Bluetooth pairing. Once paired, it's ready to go. A blue light hidden inside the printed "D" logo blinks until paired and then turns solid. Note that if it has been previously paired with a device, it's hard to pair it with a new device until the original has been unpaired. It's a pain to deal with. If a wired connection is desired, just twist the device in the other direction, connect the mini plug cable and press play. As I said, it can't be any easier. The blue light in the logo changes to white when hard-wired.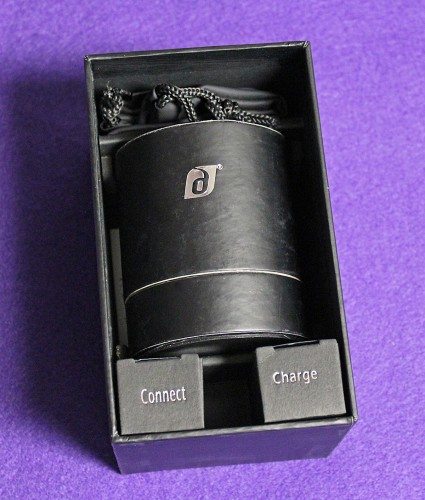 Inside the box, the Twist comes with a cardboard case that doubles as a speaker base when a hard surface isn't available, although I can't imagine this paper case lasting too long in real-world use. Also included are USB charging and mini plug cables and a water and dust resistant pouch with draw-string closure.
The Twist is barely audible when held in one's hand. The audio reminds me of a badly underpowered AM radio with no bass and little volume. It's only when placed on a hard surface that the magic happens. Half the fun of using the Twist is watching the faces of people in shock as they are shown the extreme difference in audio after it's set down. Those shocked expressions changing into smiles never gets tiring. The actual audio sounds much better than what the above video shows due to mic limitations.

As I said before, the Twist will only sound as good as the surface it sits on. For instance, I have a custom dining table with a half-inch glass top sitting on top of display areas where guests can view interesting family items under the glass. When placed on this table, the Twist truly sounds amazing, partly because of the glass, but mostly because of the hollow space under it. It sounds like a $200 to $300 speaker with bass to spare. It's that good. However, place it on a granite counter-top in the kitchen and the sound becomes flat with no life or energy. Granite is obviously not ideal. To get the best possible sound from the Twist requires some experimentation which can be a lot of fun.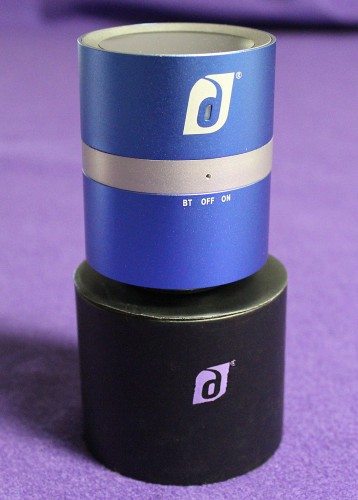 The Twist will always sound better if there is a hollow space under whatever surface you set it on. Wood is usually good. A desk or bookshelf works well, as does a cabinet or trunk lid. Again, place the Twist on anything you can find and you will get a sense of what will and will not work well. I noticed that when placed on the same desktop where I was working, I could feel the bass vibrating through the whole desk. It wasn't earth shaking, but that "bass buzz" could be distracting for some.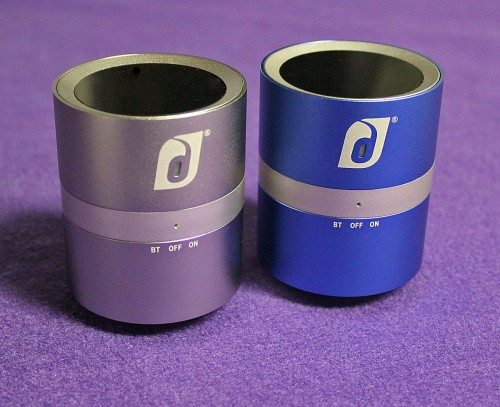 Make no mistake about the Damson Twist. It's not a speaker that can compete with the big boys. That's not its purpose. It's a portable speaker that can be taken practically anywhere with no hassle. It's a near perfect travel companion that takes up little space in a backpack or suitcase. All it requires is a hard surface, a music source, and some room for dancing.
Product Information
Price:
$69.99 US
Manufacturer:
Damson Audio
Requirements:
Pros:

Can sound amazing for its size
Solidly built
Easy to set up and pair
Fun to experiment with

Cons:

Can also sound awful - depending on the surface
Bluetooth range not great