We use affiliate links. If you buy something through the links on this page, we may earn a commission at no cost to you. Learn more.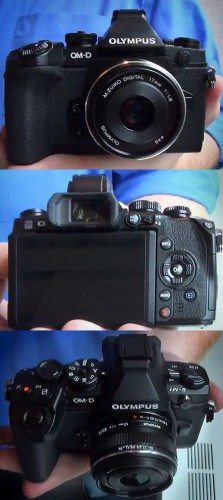 A prominent gear-related site was recently hacked, and a link to a "hands-on" video by Olympus technical specialist Rick Sasserath was leaked. The video demonstrated the not yet released Olympus OMD E-M1.  It has since been removed, but stills from the video are easily found.  If you do a search, it's still possible to even find the video available.
Olympus owners are giving the camera a mixed review, due partially to the larger size of the hand grip and the possibility of a $1500 body-only price tag.  In the pics, the grip appears odd or disproportionate to the body.  The E-M1 looks to inherit many of its features and its appearance from the very popular high-end OMD E-M5; it looks to be the same approximate size and weight as the OMD E-M5.
Reports from the video state that the E-M1 will focus with both Micro Four Thirds AND Four Thirds lenses with almost equal speed due to a new hybrid auto focus.  Currently Four Thirds lenses on a Micro Four Thirds body are exceedingly slow and tend to hunt.  The MMF-3 adapter will still be required to mount Four Thirds lenses to the E-M1.
This is fantastic news for current owners of what I consider, optically, the best lenses I've ever used, native Four Thirds lenses.  Enjoying bird photography as I do, the Four Thirds-mount Olympus Zuiko 50-200mm SWD f/2.8-f/3.5 (100-400mm equivalent) is simply outstanding. It's extremely sharp across the entire frame and versatile, and it remains sharp even when attaching the 1.4x tele.  Even better news: the lens can be had for as low as $550 currently on the used market, though that may rise quickly due to the capable E-M1.
Also notable is the addition of WiFi, the removal of the AA filter, and 9fps continuous drive.  Still to have a 16mp sensor and excellent 5-axis image stabilization built in to the body.
The appeal of Micro Four Thirds cameras such as the E-M1 to DSLR users continues to be size, weight, and a now top-of-the-line lens system.  When you talk about comparing total weight of the camera including lenses to either Canon or Nikon DSLRs, the Four Thirds system will almost always come out on top.