We use affiliate links. If you buy something through the links on this page, we may earn a commission at no cost to you. Learn more.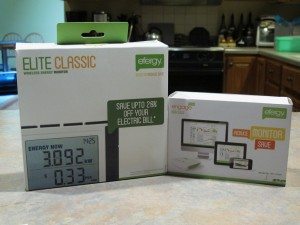 I'm always looking for ways to cut down on my monthly expenses, and one of the areas I've been having a problem controlling is electricity consumption.  The issue is that we don't really know what's keeping our bill so high, making it difficult to affect changes.  There are energy monitoring devices available, but most of them have some sort of contraption that connects to the utility meter and then transmits usage to a reader inside the home.   Efergy has what I believe is a more practical solution with their Engage Wireless Energy Monitor.  It reads the actual current flowing through mains at the breaker box in the house and calculates the power consumed.  I installed the unit in less than 15 minutes and now can see my electricity usage real-time.
Efergy offer several devices and accessories for power monitoring.  What I received was the elite engage hub system which consists of an elite classic energy monitor and the accessory hub that allows you to monitor your energy usage online.  The monitor is listed at $99 and the monitor plus the hub is $144.95.
elite classic features
Shows per hour calculations for a better understanding and feedback
Select up to 4 different tariff settings
Audio alert if you exceed your set maximum consumption target
Peak time symbol when the most expensive tariff is in use
Humidity and temperature functions added
Easy to read, portable compact display, can be placed anywhere in the home
View your real time energy consumption (cost, CO2 and kWh)
View historical daily, weekly or monthly data (cost, CO2 and kWh)
View daily, weekly or monthly average (cost, CO2 and kWh)
Up to 328ft (70 m) range
Portable or wall-mountable display
12 months minimum battery life (with 2400 mAh alkaline batteries)
Mains or battery powered options for the display unit
engage online platform features
Access your energy data anytime, from anywhere
See your energy data on our FREE platform and apps for Android and iPhone
Eliminate bill shock, monitor your energy costs in real-time
View your daily, weekly, monthly or average costs in easy-to-read graphics
Download your energy data into an Excel sheet
Set your monthly budget and see how close you are to meeting it
Compare your energy over 12 months and see where your costs are highest
Choose to view your energy data in $, kWh or CO2
Discover and reduce your carbon footprint
Teach your family about energy use and saving
Use the engage elite kit to track reductions in your household energy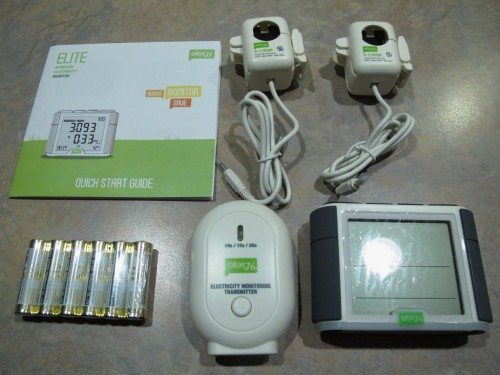 These are the components of the classic monitoring system.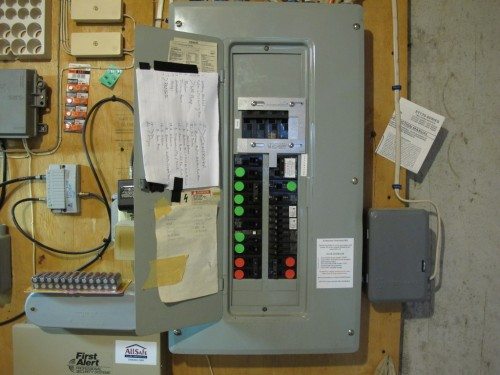 To install the energy monitor you'll need access to the breaker panel.  For me this was easy because the panel is in the basement and all sides are easily accessible.  If your panel is mounted in a way where there's wall board abutted to it, you may need to poke some holes in the wall board to run the wires.  Also, you may not be able to use this device if you live in an apartment where access to the breaker panel is restricted.  Might want to check with the landlord first.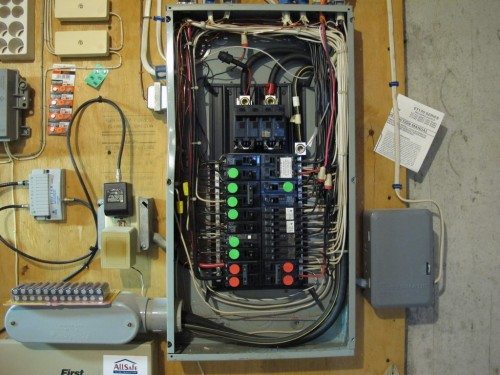 Here's my electrical panel with the cover removed.  HEADS UP!  Read the next sentence carefully!  If you are uncomfortable working around high voltages or it is illegal in your area for a non-licensed electrician to work within the electrical panel, please hire someone qualified to install the monitor sensors.  At one point in my life I was an electrician, so I felt comfortable clamping the sensors to the 220 volts mains.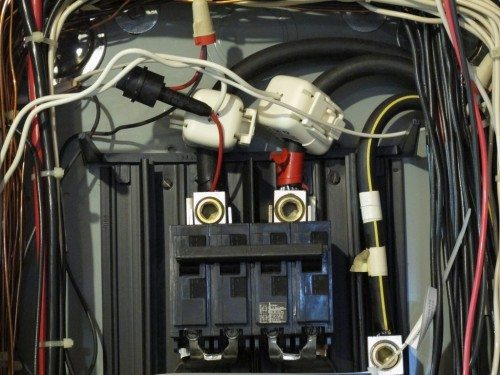 The sensors clamp around the incoming mains wires from the meter.  There is no modification required to the wires.  Be careful. The voltage across the two terminals with the brass screws is 220 volts!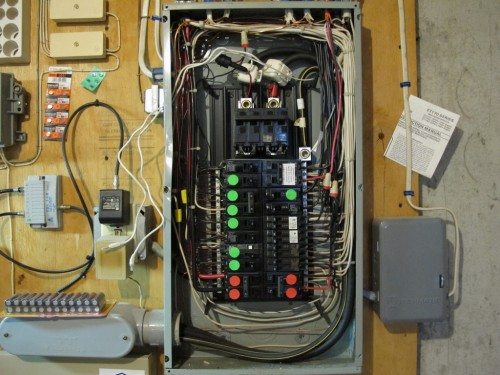 Here you can see the sensors with their wires run through a punch-out in the panel.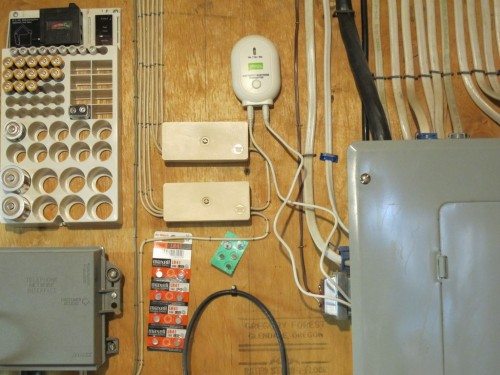 The next step is to connect the sensor wires to the transmitter after having installed the batteries.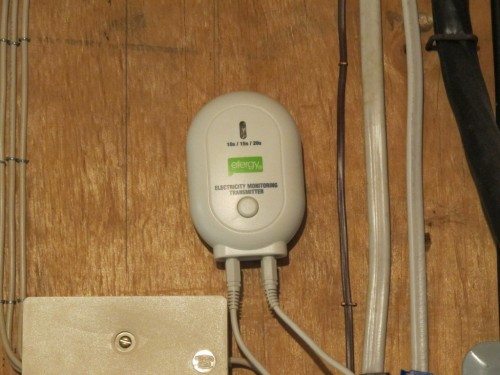 A closer look at the transmitter.  It is set up to send data to the monitor display every 10 seconds, but this can be changed to a longer period if you wish.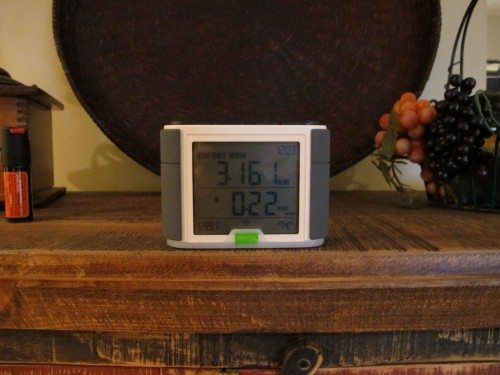 The final step to begin monitoring your electricity usage is to put batteries in the display and wirelessly link it to the transmitter.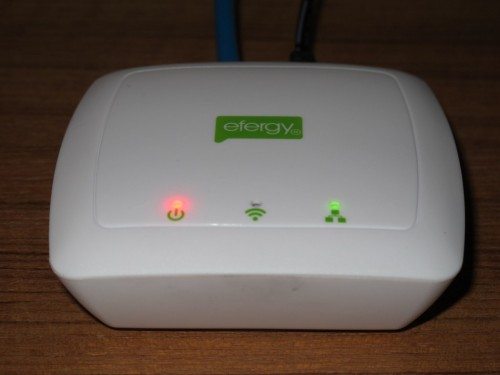 Because I received the hub kit, I had several other steps to take to finish my installation.  After connecting the hub to my LAN, I then created a free account at the efergy website and also downloaded an app for my iPod and iPad.  I could now monitor usage and plot trends using the apps and a web browser on my PC.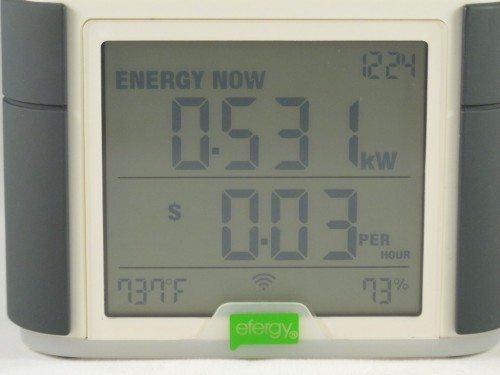 I've found that the data provided by the meter is more than enough.  You can set your per kilowatt-hour rates in the meter and you'll then get an approximation of how much you're spending per hour in real-time.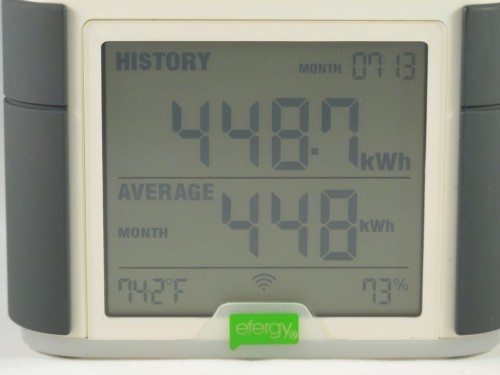 There is also provision for looking at historical data for week and month usage.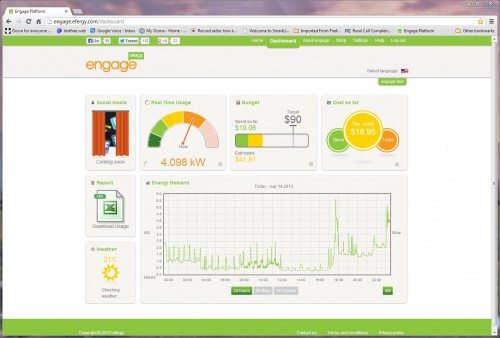 For those who opt for the hub accessory, you can really get into data collection and analysis.  From the browser app you can see consumption graphically and download the data to crunch using a spreadsheet.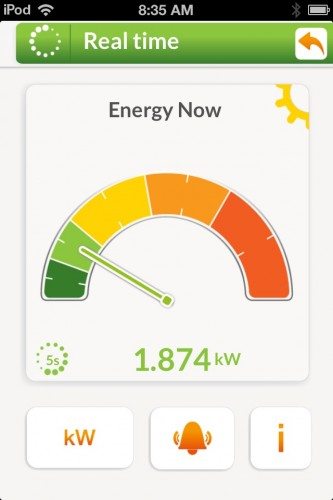 On your iPhone/Android phone there is less information.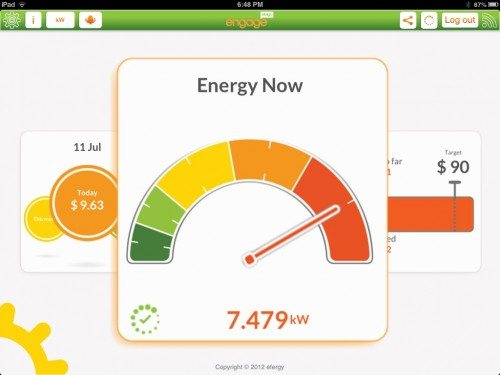 And if you have an iPad, the display is similar to that available on the desktop.
There are a couple of things to bear in mind when considering this device:  The power consumption is approximate.  It does not take into account voltage fluctuations or power factor, so it isn't meant for use to challenge your electric bill.  Efergy has a True Power Monitor that you can purchase, but for my purposes it's not necessary.  Most importantly, it does not control your electric usage.  That's completely up to you.  It does provide you with information so that you can change your power using habits.
I've found the engage wireless energy monitor a fantastic teaching device.  There are certain people in my household who now understand the consequences of leaving the oven on for 10 minutes AFTER the pizza has been removed.  We've also learned what it costs to leave the lights on when it's not necessary and the cost of all the charging devices we have plugged in.  I really am surprised at the change I've seen in attitude after I demonstrate the cost of their profligate ways. 🙂