We use affiliate links. If you buy something through the links on this page, we may earn a commission at no cost to you. Learn more.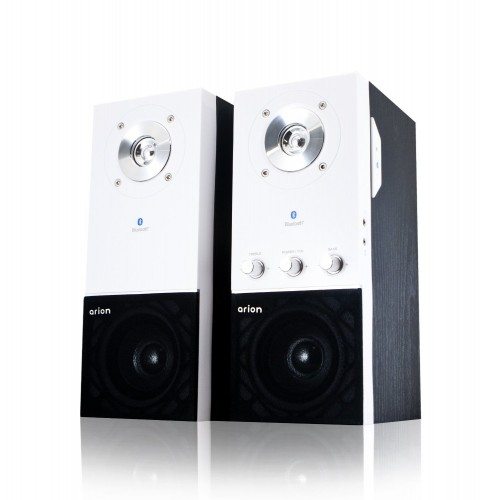 When I upgraded to the iPhone 5, my speaker docks suddenly became obsolete. Sure I could get an adapter, but what if the connector changes again? Since then, I have checked out a few alternatives, such as the EagleTech Arion ET-AR204B-WH 2.0 Bluetooth Speakers. Let's listen in and see how well they performed.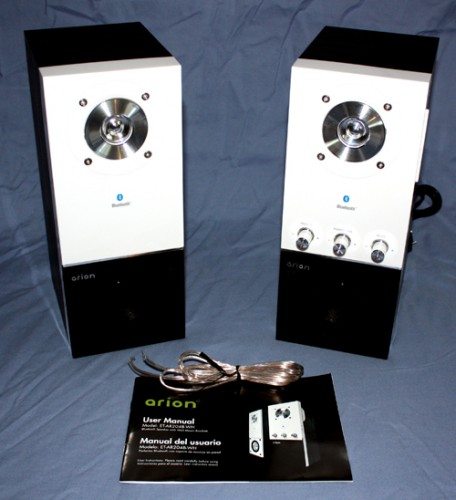 Specifications
Bluetooth Version: 3.0 + EDR
Bluetooth Profiles: A2DP 1.2 and AVRCP 1.0
Advanced Audio Distribution Profile (A2DP) for wireless music streaming
Audio Inputs: Bluetooth and 3.5mm microphone
Audio Outputs: 3.5mm headphone
Total RMS Power: 20 Watt (10 Watts x 2)
Total Peak Power: 30 Watt
Frequency Response: 60Hz to 18kHz
Drivers: 3-inch midrange and 1-inch tweeter
Cabinet Material: MDF (wooden enclosure)
Dimensions: 4.6 x 6.1 x 11.1 inches (each)
Net Weight: 6.7 pounds
The size of the speakers reminds me of the old shelf speakers (old is a relative term, since I'm still in my 20's) that came with my 5 disc CD changer. They are big enough to stand out in a room, but small enough that they can sit easily on a media stand. We have a smaller TV stand, so I placed them on the floor on each side, and it worked well. They seemed quite sturdy, and the wooden enclosures are of a good quality with a stylish look.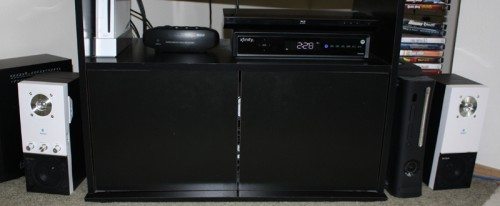 Connecting the speakers to my iPhone was easy, and the speakers handled changing devices between our iPhones with no problems. My husband reported a little bit of cutting out once while he was listening to the speakers a mere five feet away, but I was able to go about 15 feet before they really started cutting out on me. When my phone was in the same room, everything worked flawlessly. One thing I mildly disliked was the Bluetooth light flashing when the speakers were on and distracting me from the TV. Not a major annoyance, but noticeable enough that I felt it needed mentioning.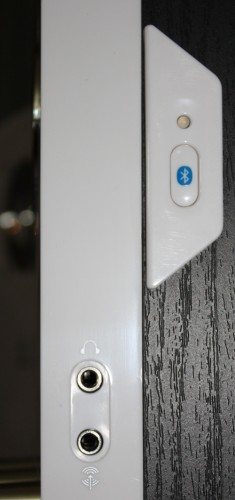 I had high hopes for the sound quality of these speakers. They have adjustable dials for volume, treble, and bass, so I thought I could customize my sound experience to heavy bass while my husband could listen to them his way (less bass) as well. The treble dial worked fine, but the bass dial seemed to just make the sound slightly louder or quieter, not adjusting the bass at all. This left me a little disappointed when it came to listening to music, but at least my husband loved the sound quality because he dislikes bass.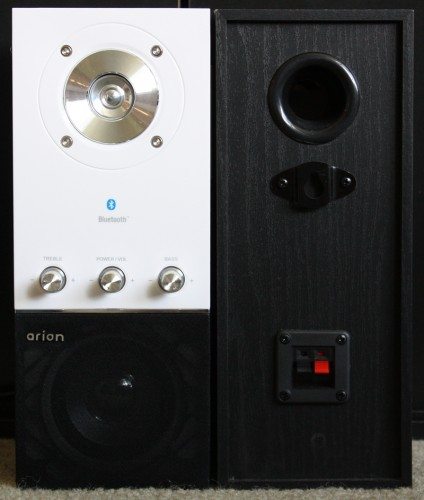 The included audio cord helped to connect to our older LCD TV, but without an adapter, it would not connect to our new TV. However, the older TV has much worse sound quality, so hooking these speakers up to it made the voices much more crisp and clean to hear. Overall, I can see these speakers working well in a kids room, or second den with them mounted on the wall near the television with the attached wall mounting brackets. If you are a bass junkie like I am, I recommend looking elsewhere, but if you are not, then these speakers may fit for you. You will not get the most amazing sound out there, but the speakers are around 100 dollars, so they are on par in price with several other lower to mid-range Bluetooth speakers.
Product Information
Price:
$99.99
Manufacturer:
Eagle Tech, USA
Requirements:

- Bluetooth-enabled device

Pros:

- Clear vocal sound quality
- Stylish

Cons:

- No bass
- No digital audio port