We use affiliate links. If you buy something through the links on this page, we may earn a commission at no cost to you. Learn more.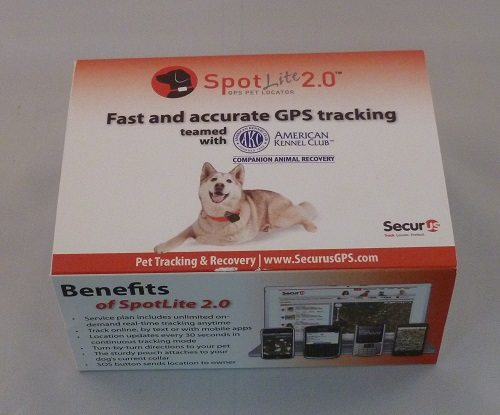 If your family is anything like mine, the dog is not just a pet, it is more like a child.  We celebrate birthdays, they get Christmas presents, and whenever possible, they are with us.  For dedicated pet parents, there is nothing worse than having a pet go missing.   Securus makes a number of GPS locating products for tracking and monitoring people, possessions, and pets.  The SpotLite 2.0 is Securus' second generation pet GPS tracking device.  They have teamed with the American Kennel Club Companion Animal Recovery (AKC CAR) program to provide 24/7 recovery of your lost pet.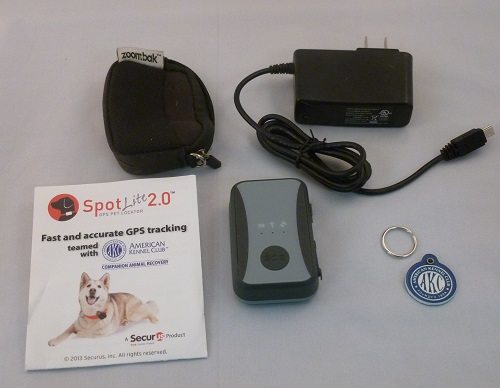 The Spotlite is a small (3 ounces), battery-operated device that fits in a pouch on your pet's collar. (See Comet – dog fashion model!)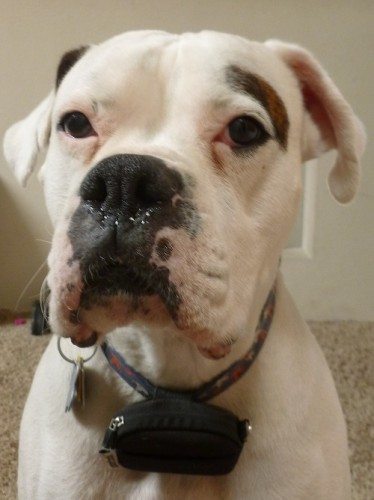 The GPS unit is waterproof and rugged.   In the box is also a charger and AKC collar tag.  On the unit are a power button, sealed charging connector, and a SOS button.  Three LEDs give you status of charging, tracking, and SOS.   If someone finds your pet, they can press the button sending the pet's location by email or text to you.   There are also Android, Apple, and Blackberry applications for your mobile devices that allow you to also send a text message and receive the location back.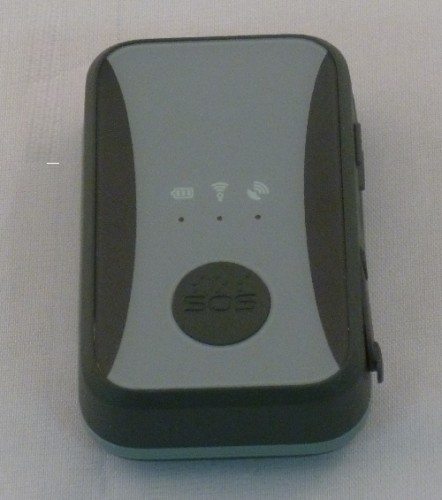 The website is the main interface to the service.  On the website, you can set alerts and see history for up to three months of location data.  The alerts are very useful.  For example, I was able to set a "safe zone" of 100 yards around my house.   Any time Comet left or entered the zone, I would receive an alert.  Multiple safe zones can be configured.  You can also set alerts for battery life and even for travelling speed to see if he was travelling in a car.  Alerts support multiple emails and texts so the entire family can monitor the activities.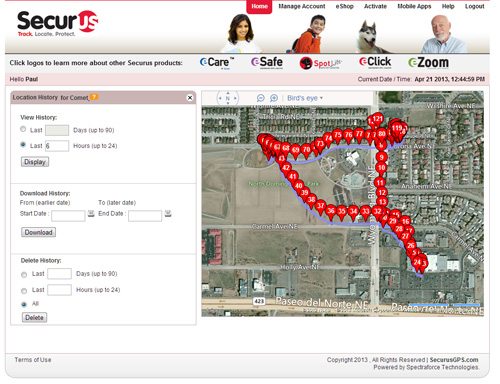 In the picture above,  Comet and I went to the store and then the dog park.  I received an alert when we left the safe zone, an alert that battery was down to 20%, and a safe arrival home.  As you can see from the track,  the GPS is very accurate, and there were no false alerts during my testing except at very low battery.
The Spotlite 2.0 is essentially the same as the eZoom product that is designed for tracking children (or teen drivers) or property such as business vehicles – hence the speed alerts. Mutiple zones such as school and work would be useful for children.  In my month of testing, I found the device very reliable.  I had one issue testing the SOS when the alert would not clear, but the Securus technical support was outstanding and we ended up reloading the firmware.  The unit works as advertised and performance is outstanding.  The GPS acquires quickly, and I found the battery life to be better than the advertised 1-4 days.
Luckily, Comet does not get loose very often and sticks around the house.  If I had a roaming pet or lived on a large rural or farming property, this would be very useful.  If you take your pet on vacation, it would be invaluable.  Our cat however, is another story.  We just got him back Wednesday after him being missing for a week. I can't wait for the ever-shrinking-electronics world to produce Spotlite 3.0 kitty version.  The 2.0 version is just too big for an eight pound cat.
Because the Spotlite is essentially a GPS phone without the voice, there is a monthly service charge and a one-time activation fee.  Service ranges from $19.99 a month to as little as $12.99 a month with advanced payment.   Given the multiple uses of the device, the charges are reasonable.  The only thing the Spotlite 2.0 needs is a way for Comet to activate and say "I'm at Fifi's house and ready to be picked up!"
Product Information
Price:
$119.99, plus service plan
Manufacturer:
Securus
Requirements:
Pros:

Compact
Rugged and waterproof
Accurate
Good battery life
Great application and software support
Multiple uses

Cons:

Probably too big for a small dog or cats
Service plans can be pricey