We use affiliate links. If you buy something through the links on this page, we may earn a commission at no cost to you. Learn more.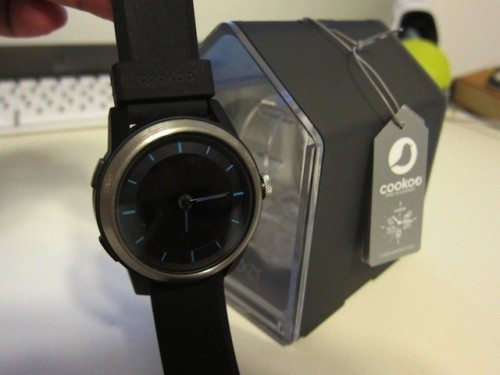 Do you like to always stay connected, but your phone is always in your jacket or bag? Then take a look at the COOKOO watch – a project originally funded on Kickstarter by Peter Hauser. The COOKOO watch is a smart looking and useful watch that always stays connected to your smartphone via Bluetooth 4.0, and alerts you when receiving a new email, alert, social media post, or call in real time.
Note: Images can be clicked to view a larger size.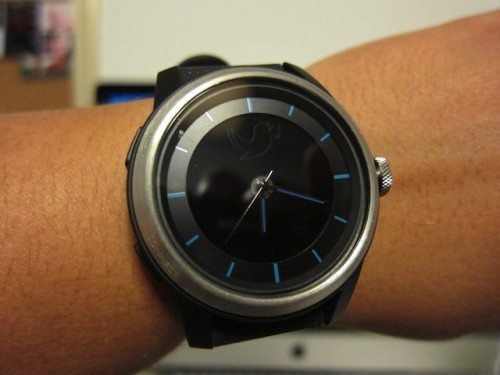 I received my COOKOO watch right before the new year.  It has a nice large face that displays various icon notifications, and comes in a clever, reusable birdhouse case.  I find it comfortable on my skin due to the flexible silicon band. It is a bit heavy, since the face is about 0.75in thick and made of stainless steel.  I don't wear it everyday because of that, so I hope that if there are future versions of the watch, they can manage to slim it down a bit and make it lighter.  I'd then be inclined to purchase the second version, even at the current price point – after all, many designer watches that don't carry Bluetooth technology can cost just as much!
I also do find that the current features are a bit limited at the moment, but more are promised in due time. I realize the iOS app is a work in progress, so I will wait for updates.  Right now the notification alerts available are battery alert levels, incoming call, missed call, Facebook post/message, and calendar reminder. Here are a few screenshots of available options in the iOS app:
You can also set your alerts to be audible (a beep or two), vibration, or both.  The following image is the watch face showing notifications for missed call alert and a calendar reminder.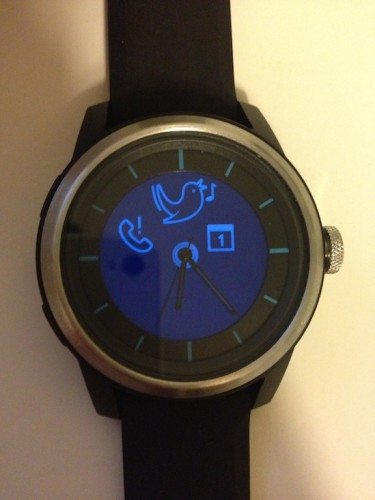 It's pretty easy to get the watch connected to your iOS device.  Ensure Bluetooth is enabled and select the "CONNECT" button on the watch. The app will then ask to pair, and you should be all set.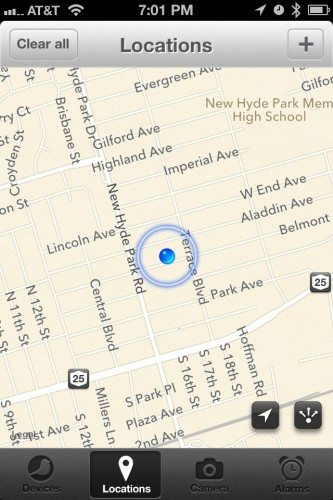 If you navigate around the app, you will notice that you can set your location from your watch via the "COMMAND" button (drop a pin on a map), and set an alarm. You can also find your iOS device if it's lost, by holding down the CONNECT button as a "medium press" (about two seconds).  When it's found, a humorous "cookoo" alarms chimes on the iOS device.
The COMMAND button on the watch can also be used as a remote camera trigger, so that you can rest your iOS device else where and take a photo.  I can see this being useful when wanting to take a group photo.
Right now the COOKOO app is available on the iTunes app store; an Android app is coming soon. Battery life on the device should be about three years, which is great considering you don't need to charge it! It uses a standard CR2032 button-cell battery that is easy to replace by yourself and without special tools.
In conclusion, I'd recommend this watch if you don't mind a thicker/bigger face. I like the fact that the battery lasts a while without needing to charge (like an analog watch), and even if the features are limited, I know more are coming soon!  Now that many tech gadgets rely on communication with smartphone apps, developers can send out updates frequently and improve devices that we already own.
Product Information
Price:
$129.99 - $249.99
Manufacturer:
ConnecteDevice Ltd.
Requirements:

iPhone, iPad, iPod Touch with iOS 5 or higher

Pros:

Notifications that are available are very accurate
Nice materials and build quality

Cons:

Watch is a bit heavy on the wrist
Not all promised notifications are available now
No Android app available yet