We use affiliate links. If you buy something through the links on this page, we may earn a commission at no cost to you. Learn more.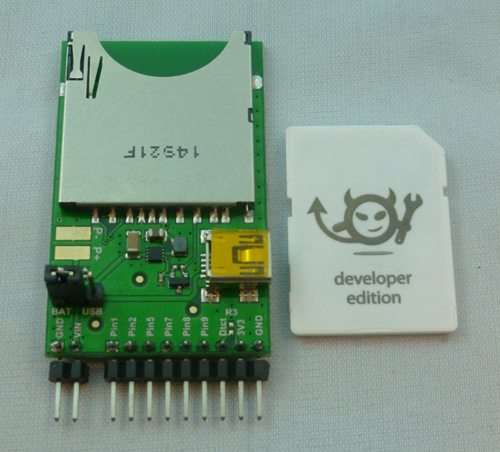 The Electric Imp is now out of beta and shipping developer kits. The Imp is an SD-card sized WiFi (802.11b/g/n) module with built-in antenna, 6 I/O, Arm Cortex M3 Micro-controller, and a Cloud-based infrastructure for programming and control. The I/O supports serial, I2C, SPI, A2D, D2A, and PWM interfaces. The Imp uses the Squirrel programming language, which is a small footprint C/C++ derivative for embedded devices. The programming interface is entirely web-based and offers both local, and server based API.
The "April" breakout board offers an SD Socket, 3.4-16v battery/DC input power supply, and USB power connections. There is also an Arduino Shield for interfacing to the Imp Card. All I/O is brought out on 0.1" headers for easy bread boarding and experimentation. The Imp and developer kits are offered at AdaFruit and SparkFun Electronics, starting at $29.95. What do you want to wire up to the web today?