We use affiliate links. If you buy something through the links on this page, we may earn a commission at no cost to you. Learn more.
This post brought to you by Fellowes. All opinions are 100% mine.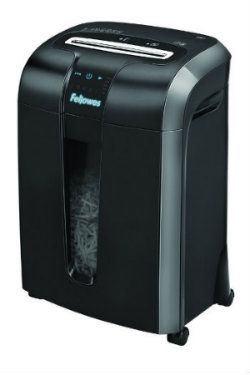 Last year, I was lucky enough to review the Fellowes Powershred 79Ci shredder.  I needed something to shred all those pre-approved credit card offers, receipts, bills, and other financial papers.  Other shredders I had tried were always jamming; it just seemed easier to tear the papers by hand.  The Powershred 79Ci was a workhorse that could rip through stacks of papers, even those with staples or paperclips, without jamming.  I'm still using it today.  This year, Fellowes is introducing the Powershred 73Ci, a shredder designed for small office or home office use.  The Fellowes 73Ci is loaded with performance and safety features to make protecting your fingers as easy as protecting your personal information. 
The Powershred 73Ci has innovative features that automatically sense and respond to your behavior to optimize performance and your safety.  You're protected by the shredder's SafeSense Technology.  An electronic sensor surrounds the paper entry, and should your hands touch this sensor, it will immediately disable to shredder to protect you.  It has powerful steel shredders and cross-cut technology that rends a page into 397 5/32" X 1-1/2" pieces (Security Level P-4) that will defy even Abby Scuito's (from the NCIS TV show) best efforts to read or reassemble.  The powerful motor shreds up to 12 pages at once, even with staples or paperclips.  It can also destroy credit cards and CDs or DVDs.
The 73Ci is 100% Jam Proof.  There is a sensor at the throat of the shredder that measures the thickness of the stack of papers and a lighted guide near the shredding head that alerts you if the stack is too thick before shredding begins.  Wrinkled or folded papers can cause problems for other shredders, but not the 73Ci.  It will either power the stack through or automatically reverse it out to prevent jamming.
The Powershred 73Ci has a capacitive touch screen panel for easy control and an Energy Saving System that minimizes energy consumption both while the shredder is in standby mode and while it's in use, where 80% of a shredder's energy usage occurs.  It has a 6-gallon bin with a window so you can see when you need to empty it; the bin pulls out for easy cleaning.  The Fellowes 79Ci will be available at office superstores and online retailers beginning January 2013; the suggested retail price is $199.99.
Everyone has documents they need to shred.  What features of the Fellowes 73Ci would most benefit you?