We use affiliate links. If you buy something through the links on this page, we may earn a commission at no cost to you. Learn more.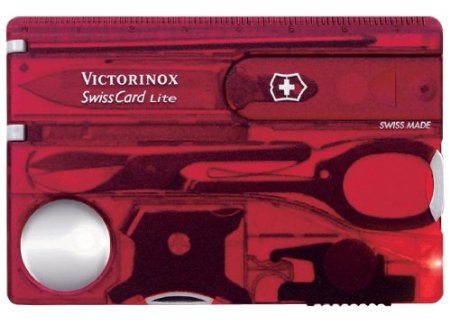 Have you ever needed a pair of tweezers, scissors or a ruler while out and about? How about a magnifying glass, light or screw driver? What if you could carry all these items and more in your wallet? You can, if you carry the Victorinox SwissCard Lite. The SwissCard Lite is a credit card-sized device with 11 useful tools. The tools or items included with the SwissCard are scissors, a 5mm screwdriver, a stainless pin, a magnifying glass, a letter opener (blade), a ruler (inch and cm), a LED light, a Phillips screwdriver (PH1 and PH2), a ball point pen, tweezers and a 3mm screwdriver. The SwissCard is 2.5″ wide, 0.2″ high and weighs 1 oz.
The SwissCard is available on the Victorinox website in 3 colors (Sapphire, Onyx and Ruby) for $46.00.