We use affiliate links. If you buy something through the links on this page, we may earn a commission at no cost to you. Learn more.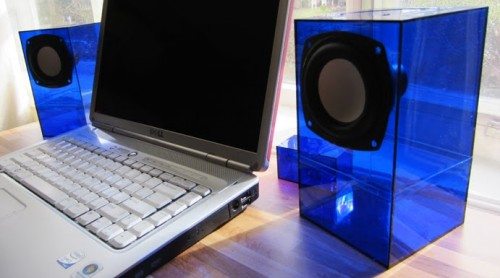 When I first saw the Colorsonik speakers, I was reminded of an old Steve Jobs quote: "They look so good, you'll want to lick them." These 60s plastic retro speakers are absolutely beautiful in all of their color versions and are sure to grab attention on any desktop. They're so unusual that they don't even look real – but they are.
Colorsonik's Bruce Nilson created the speakers as a result of his love for vibrant colors and wanted them to be eye candy when turned off. The audio specs look impressive, too. A 3-inch, full-range driver with deep bass delivers punch down to 60 hertz. "You may not want a subwoofer to clutter up your space," states a confident Mr. Nilson. Amplification is 15 watts per channel. Audio input is a standard 3.5mm mini plug from any device. ColorSonik will also offer an optional color-matched Bluetooth receiver for wireless use. Each speaker measures 4" x 4" x 7.25".
The interestingly named color choices are: BallsyBlue, FemmeFataleFuschia, RadiantRed, OrangeSlice, SlimeGreen, ClearlyClear, or SeeThruYellow. The Gadgeteer will be reviewing them in the near future. The Colorsonik speakers are available now at $249/pair, and the optional matching Bluetooth dongle is $35.