We use affiliate links. If you buy something through the links on this page, we may earn a commission at no cost to you. Learn more.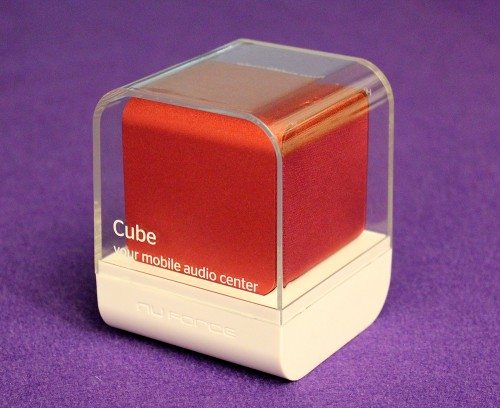 With the growing popularity of wireless speakers – both Bluetooth and AirPlay – many speaker companies have begun to release products that are redefining how we listen to music. Suddenly, there are very small speakers that can produce quality audio with decent bass. Until recently, this was almost unheard of. Jambox, Soundmatters, Braven, Scosche, Jabra, and a host of others have created a new market that is exploding in popularity. NuForce, a company that makes high-end home audio, has jumped into this market with their Cube portable speaker. However, NuForce has never been a company that follows trends. They pretty much do what they want.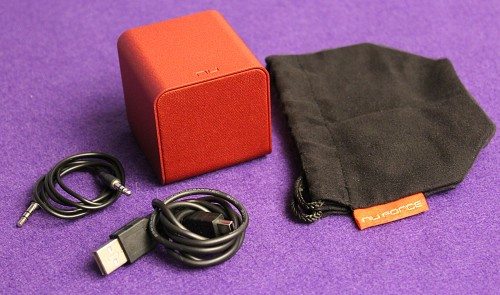 The Cube competes with many portable wireless speakers by managing to NOT include wireless functionality in the Cube. Huh? Before you dismiss the Cube entirely, there are a couple of unique features in the Cube that help it measure up – and surpass – many wireless speakers.
As cool and useful as wireless can be, sometimes it's more trouble than it's worth. To use Bluetooth on an iPhone as an example, you have to navigate on the screen to activate it. And truthfully, sometimes you just don't need to be wireless. With the Cube, all you do is connect the included mini plug cable. That's it. There is no ON button. Disconnecting turns it off. This is simplicity, Apple style. It's even packaged like an Apple device.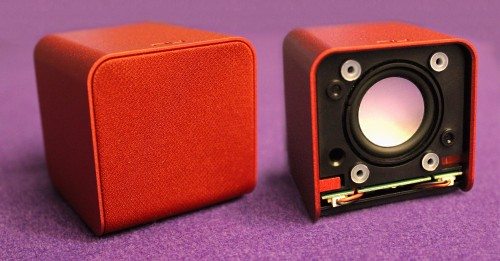 The Cube has a built-in battery for 8 hours of continuous use between charges, which is done with a mini USB-to-USB cord, also included. When the Cube is fully charged, a small, red LED burns bright. When it begins to blink, it's time to recharge. Charging can either be done through the USB port on a computer or using a USB/electrical plug (not included). There is a soft, draw-string bag for carrying that helps to keep out the dust. However, it won't protect the Cube should it be dropped.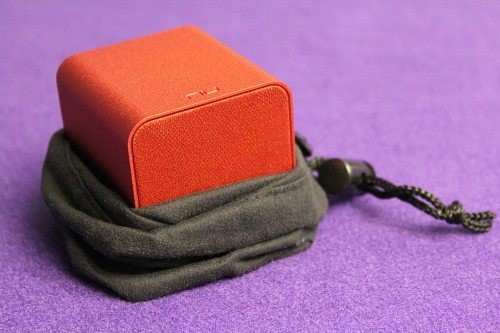 Now, here's the cool part. The Cube comes with a headphone port. While that may be interesting, a headphone port is not entirely unique. What is unique is the Cube comes with a built-in USB digital audio convertor (DAC) along with a headphone amp. What does that mean? It means that – especially with headphones/earphones – your music can sound much better. The Cube's DAC is capable of giving you CD-quality sound (16bit/48kHz, for you audio geeks), which is a big improvement over audio straight from the headphone jack on a laptop or desktop computer. The included charging cable does double-duty by allowing this connection. Note that using the miniplug in a laptop's headphone port bypasses the DAC, but the amp will still work.
Never miss one of our posts again. Sent MON, WED, and FRI with the latest gadget reviews and news!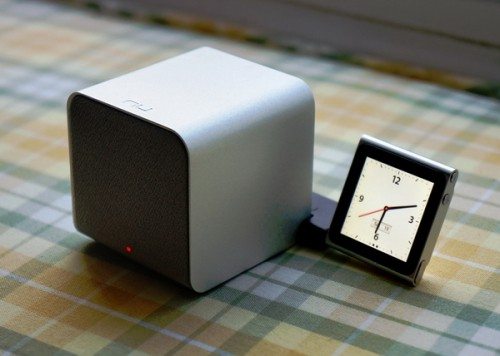 There is an optional previous generation iPod Nano connector that will allow the Nano to act as a mini alarm clock with the appropriate app. Note that with the release of the new iPod Nano, this accessory will soon become irrelevant.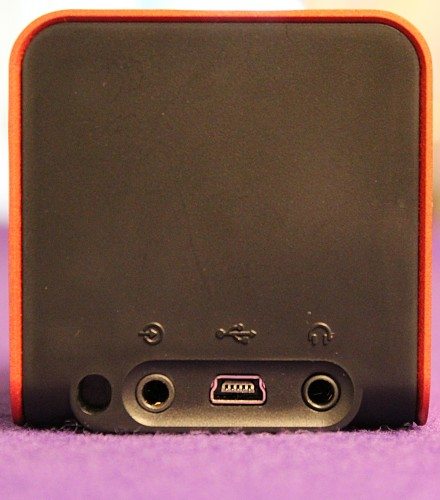 The top and sides of the Cube are made of tough aluminum. The back is black plastic, and it's where the three ports are located: A Mini USB charging/digital input, headphone jack, and mini plug input. The front has a color-matched, removable cloth grill. The color choices are Black, Silver, a bright Blue and Red, the color I am reviewing. Underneath the cloth grill is a one inch speaker along with a small bass port.
The Cube measures 2.25 X 2.25 X 2.675 inches, an almost perfect … cube. Don't let the diminutive size fool you. While the Cube can't compete with larger speakers, it can easily hold its own in the mini-portable speaker arena. It's a law of physics that you are not going to get earth-shaking bass from a small speaker. While that law has been stretched, it still holds true for the Cube. Yeah, there's bass; you can tell because if you cover the hidden bass port with a finger, the bass disappears completely. However, its the highs and (mostly) mids that you will hear. Thankfully, there is none of the higher frequency harshness that smaller speakers can exhibit.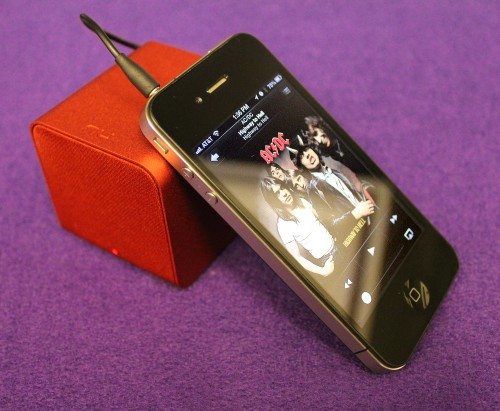 "You and I Have Seizures," from His Name Is Alive has a high, almost twinkling, string sound that could border on brittle, but doesn't. The song lacks some presence, but that's an issue with a lack of meaningful bass. Listening through the NuForce NE-600M earphones (to be reviewed later), it became clear that the song exhibited so much more than the Cubes speaker can project alone. The Cubes DAC with earphones let the song display all it had to offer.
Blue Oyster Cult's very humorous "Godzilla" sounds great using the NuForce earphones. Hearing the song through the Cube's speaker, the bass practically disappears. But so what? We aren't talking audiophile quality here, but a fun little speaker that's not made for serious listening.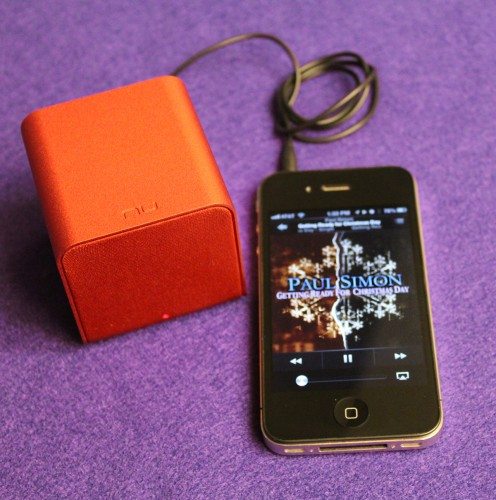 To emphasize this point, I played "The Rip" from Portishead. This is serious music, and too much is lost playing through the Cube. Using earphones connected to the Cube changes everything. That tells me the Cube can be used with headphones/earphones for even critical listening, plus the amp can provide enough oomph for more power-hungry headphones. Note: NuForce makes the uDAC-2 USB DAC, for those wanting an even better and more detailed DAC than what is on the Cube. I previously reviewed it here.
NuForce has a winner with the Cube. Maybe it would be more useful with Bluetooth, but for what it is and the fact that it only costs a hundred bucks (with an amp and DAC included!), how can you go wrong? It's perfectly priced for holiday giving.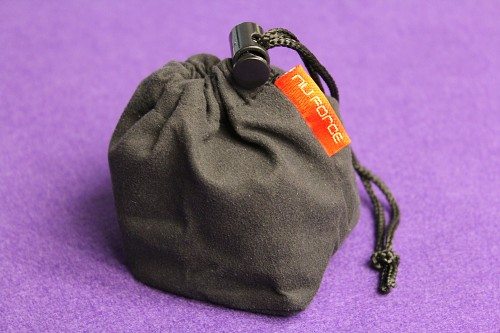 One more thing: I review many items that are cool, fun and amazing, but when the review is over, many of these items end up on a shelf to be used occasionally. The Cube is not on a shelf. It's in my backpack.
Product Information
Price:
$99 US
Manufacturer:
NuForce
Retailer:
NuForce
Requirements:
Pros:

Decent sound for its size
Much better audio when using the headphone DAC/amp
On-board digital audio converter (DAC)
Headphone amp
Good battery life

Cons:

Weak bass
Carrying bag will not prevent damage if dropped