We use affiliate links. If you buy something through the links on this page, we may earn a commission at no cost to you. Learn more.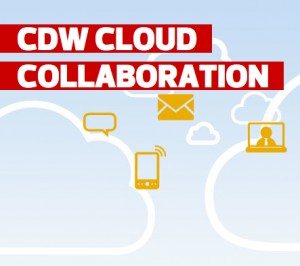 Today's businesses thrive on their ability to share communications and data within the organization.  Larger companies may have many business locations with employees spread out over the state, country, or even the world.  Smaller companies may not have as many locations, but they have employees who may need to conduct business while traveling or working off-site.  Modern communications take different forms – phone calls, emails, instant messaging, video conferencing, etc. – and each of those requires investments in money to purchase and maintain the systems and employee time to support them.  Time wasted while waiting for a response to an urgent email from someone who's working off-site or playing phone tag because you can't just IM someone for a quick answer.  Money and time that could be better spent.
CDW, a leading provider of technology products and services for businesses and government, has years of experience in providing communication and collaboration solutions to businesses of all sizes.  They've been providing Unified Communications solutions for years, having completed more than 4,000 Cisco Unified Communication deployments over the past decade.  They have recently introduced CDW Cloud Collaboration, which provides a tailored, integrated mix of services, including "voice and voicemail, mobility, video conferencing, contact center services, instant messaging and presence,"  which utilizes the Cloud to provide secure, flexible virtualized architecture to address drawbacks that are common to standard UC rollouts.
CDW hosts these services at their own Tier III-IV facility to provide "world-class virtualization, storage and optimization services. The components are fully redundant, offering four nines of uptime."  They maintain the systems, freeing your IT employees up for other tasks.  CDW can work with you to determine the exact mix of services you need.  You can incorporate everything at once, or adopt services one at a time.  If you see a sudden spike in your needs, CDW can seamlessly add services.  You pay as you go for just the services you need.  You can tailor which services you use (single-number reach; ad hoc audio conferencing; mobile clients for iOS, Android, and Nokia; video and Webex conferencing; instant messaging, and others), the number of employees, and the number of devices each can use to access the collaboration services (IP Phone, desktop client, mobile client, analog device, lobby or conference room device).  CDW's staff, including 50 Cisco Certified Internetwork experts, will help you ensure you get the services you need, when you need them, while freeing your employees from slow communications and stifled productivity.
[youtube http://www.youtube.com/watch?v=Vbyp_ze6ATY?list=PLAC3E94EAF4D5BE8D&hl=en_US]
Watch CDW's Cloud Collaboration video, then go read the CDW's Solutions blog to learn how CDW can solve your company's communications and collaboration problems.
CDW is a current advertiser on my blog.  All opinions are mine.