We use affiliate links. If you buy something through the links on this page, we may earn a commission at no cost to you. Learn more.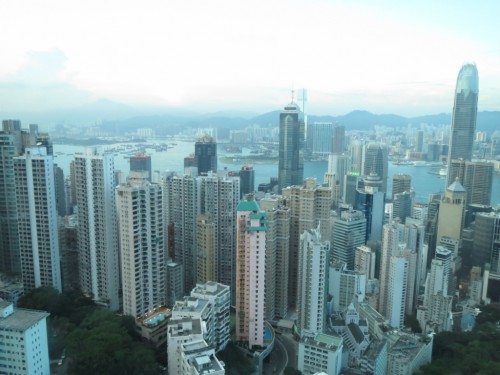 Hong Kong is a wonderful place to visit.  It has yummy foods, interesting people, and some unique technologies that are different from the USA.  I was there for the past 3 weeks.  I was born there, and this trip was for both business and visiting relatives.  I thought I'd write up some of the highlights of my trip and some interesting technology I experienced there.  The photo above was taken at my apartment, Dynasty Court on Mid-Levels.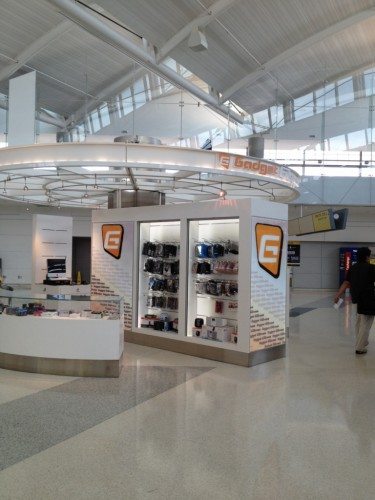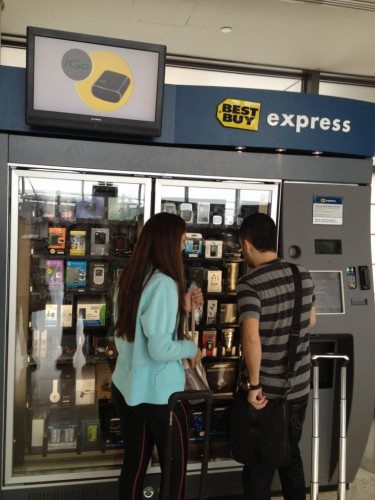 I flew out of Newark International Airport in New Jersey.  In the terminal they have a Gadget store and a Best Buy Express Kiosk.  The funny thing that I noticed in the Best Buy Express Kiosk is the iGo Charger, located behind that girl's back.  That box is a refurbished product.  I just find it interesting that Best Buy would sell refurbished products to flyers.
On a side note, the United Club Lounge was extremely disappointing at Newark, and I highly suggest not paying to get in unless you're a member.  But the United Club in Hong Kong International Airport is amazing and totally worth it.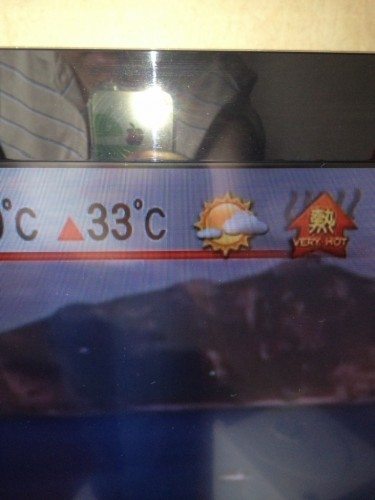 Landed after 16 hours and the outside temperature was 33 degrees Celsius.  Or as the right icon says…"very hot".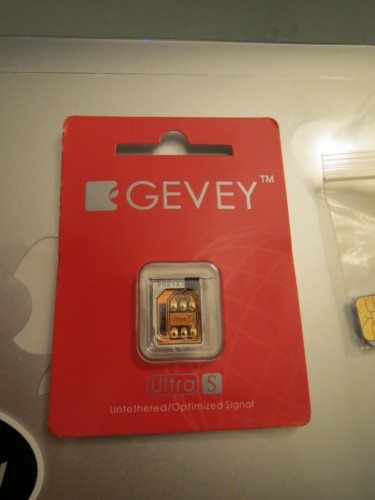 I brought along my AT&T locked iPhone 4S and was fully aware that it wouldn't work right away with a local SIM card.  So I went to a local computer store and got myself a Gevey Ultra S.  The Gevey Ultra S is a SIM tray that has an addition chip that gets sandwiched with a foreign SIM card and placed in the SIM slot of your iPhone 4S.  The Gevey Ultra S fools the iPhone 4S in to thinking that it's unlocked.  I got the Gevey Ultra S for around USD$15.  The pre-paid service plan costs only USD$10 per week for totally unlimited internet, text, voice calls and iPhone Hot Spot!  Why can't we have these great deals here in the States!  Also, the download speeds were going at close to 7.2 Mbps consistently.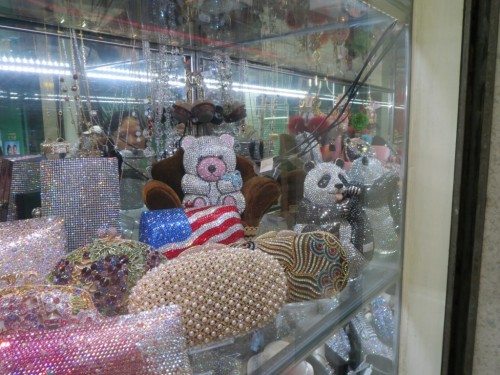 Sometimes you'll find great deals and interesting things on side streets in Hong Kong.  This side street has a mixture of small boutiques and street vendors.  Hong Kong people love their shiny things.  These are clutches with Swarovski crystals on them.  Yes, even the panda got blinged out!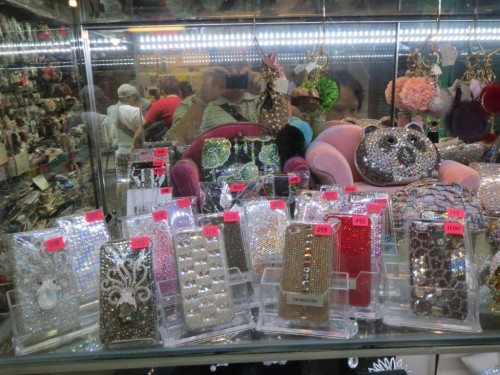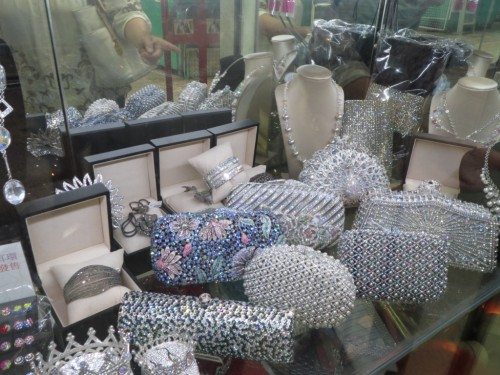 Yes, they even blinged out the iPhone cases.  Those numbers are the prices in Hong Kong Dollars.  Just divide by 7.8 and you'll get the US Dollars equivalent.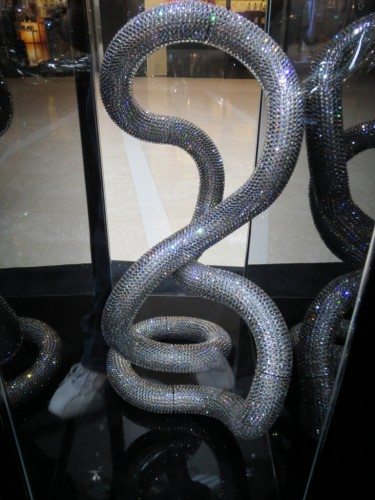 Since we're on the topic of Swarovski crystals, the IFC mall was showcasing some art by Richard X. Zawitz.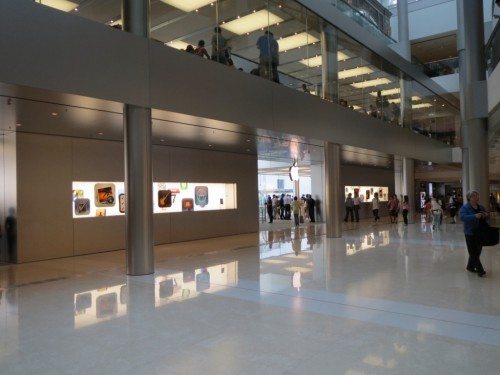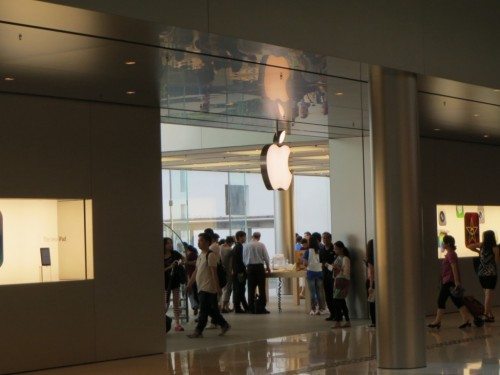 The IFC mall is also home of Hong Kong's first official Apple Store!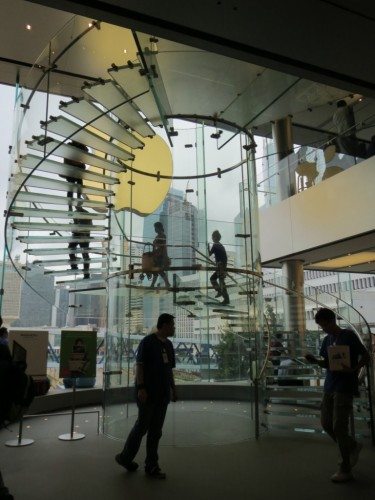 Yes, they even have a glass staircase.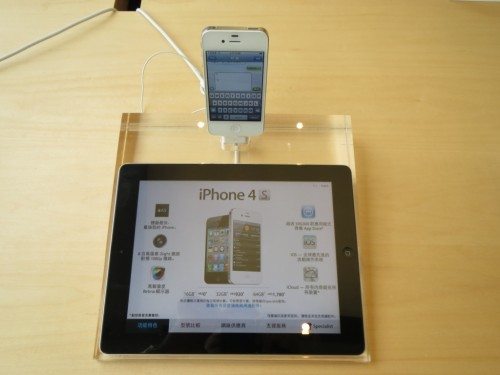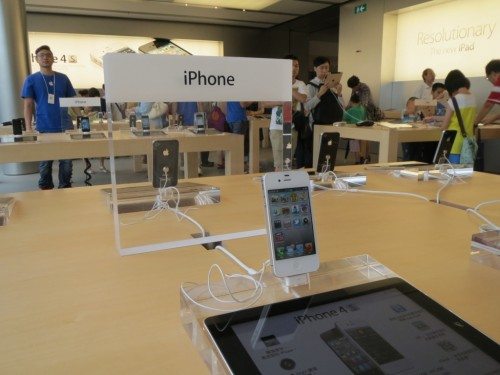 Display and layout of the store is similar to most Apple Stores here in the states.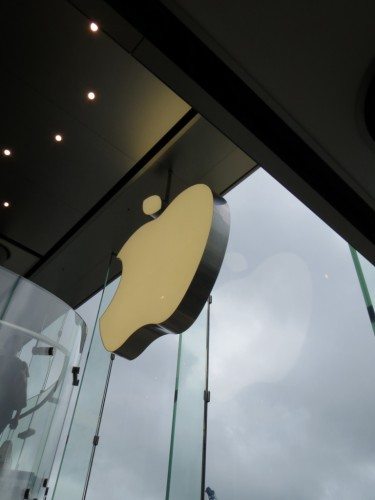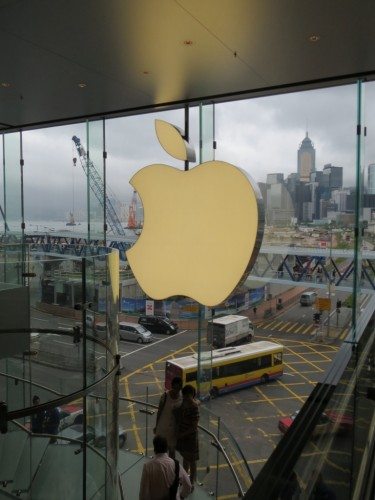 This location has a great view of the city and harbor.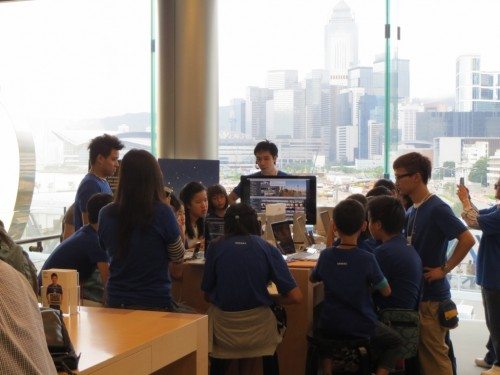 They even have classes for children to teach them how to use certain apps.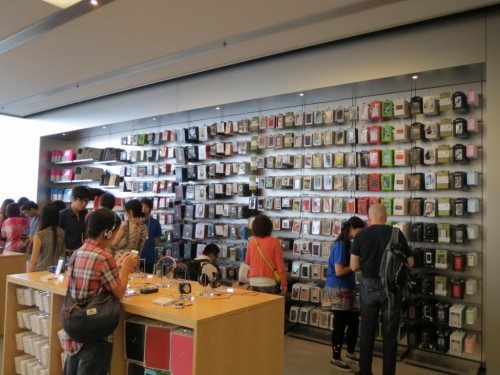 Accessories galore.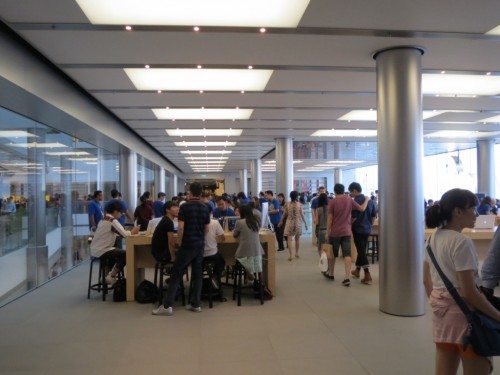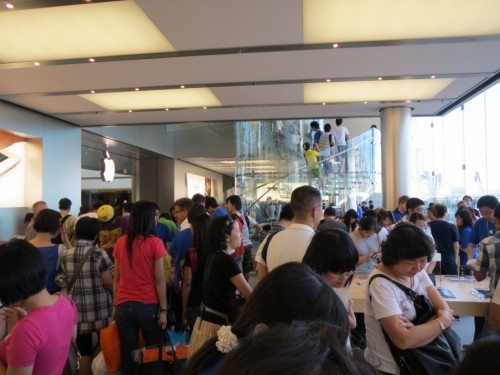 And of course it's always packed here!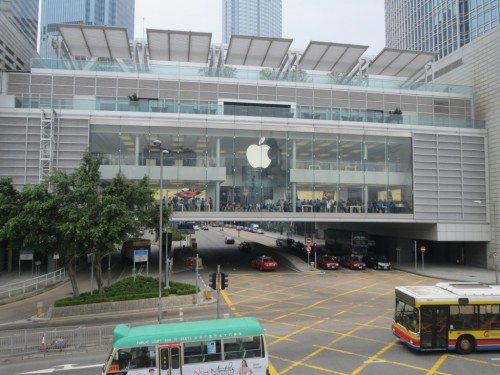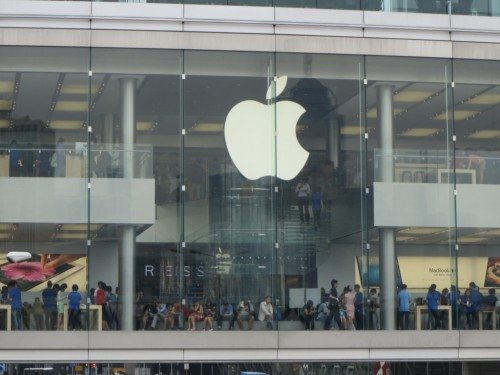 The Apple Store as seen from a walkway from the outside.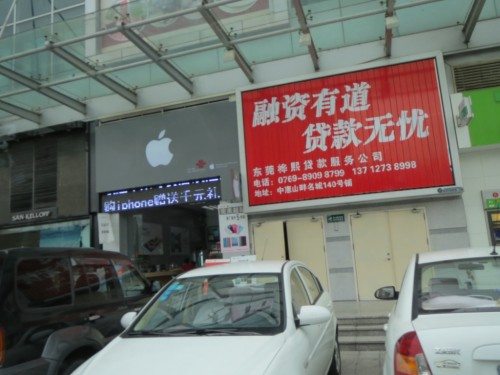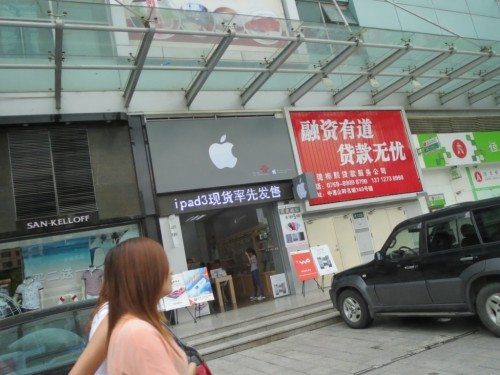 So there's only one official Apple Store in Hong Kong, but once you go over the border to mainland China, then it's a whole new story.  I was over in Guandong (in mainland China), for a few days to check out my uncle's new super-complex for his company (Pro-Technic).  During that time I saw a total of 6 bootleg Apple stores.  Tiny storefronts with the Apple logo and all.  Think of it as an Apple Store that's squeezed in a 200 square foot area.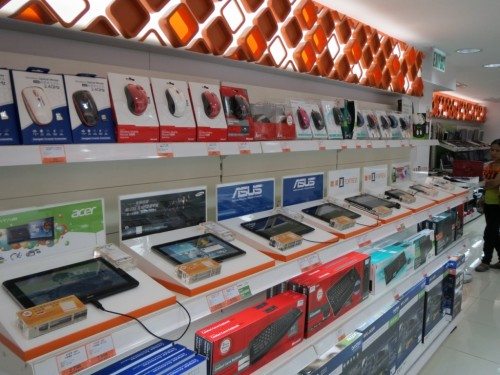 In Hong Kong, there's an electronic retail chain called Fortress.  Think of it as a Best Buy minus the music and movies section.  They always have an amazing selection of electronics at great prices.  Plus Hong Kong retailers are famous for giving incentives along with purchases.
Hong Kong is also famous for their amazing hospitality service.  I went to Fortress to purchase a Sony Tablet P and a HP LaserJet scanner for my cousin and aunt.  Each product came with a few incentives.  For the HP LaserJet, we got a Doraemon tea pot/cup set and a supermarket gift card worth the equivalent of USD$20.  For the Sony Tablet P, we got a Doraemon folder file set, 8GB USB flash drive, 16GB microSD card, screen protector, and Sony headphones (valued at USD$50).
It's pretty great shopping in Hong Kong, but here's where their hospitality amazes me.  Angela, the sales associate that I asked for help was just passing by the computer section of the store.  She actually works at the home appliance section, but she was willing to help me with my purchases and questions.  We all know that it gets quite annoying to put on screen protectors, so I asked her if she could do it.  Most of us will probably try to find a dust free location plus wipe our fingers down and such to prevent any oils, dust, etc. from sticking on the screen.  Well…she did it right smack in the middle of the store (which has a fully open door to the street that's undergoing construction), and with no need to wipe down her fingers.  Took her some time but she got it done without a speck of dust, fingerprints, or air bubbles!!  Most sales associates here will just tell you to go home and do it yourself.  But that's not all!  Collecting the free Sony headphones was supposed to be the customer's job – showing the receipt at the Sony Store to pick up a pair.  My aunt voiced her opinion that it isn't so convenient to go to the Sony Store (even though Hong Kong Island and New York City is about the same size).  Angela immediately said that she had the next day off and that she could go get it for us.  I was actually shocked and impressed at how friendly and dedicated she was to her work and customers.  So we went back the day after to pick up the headphones from her.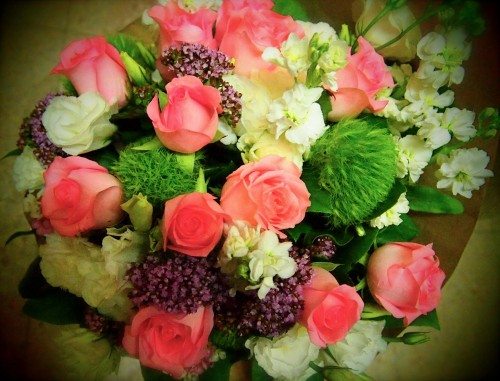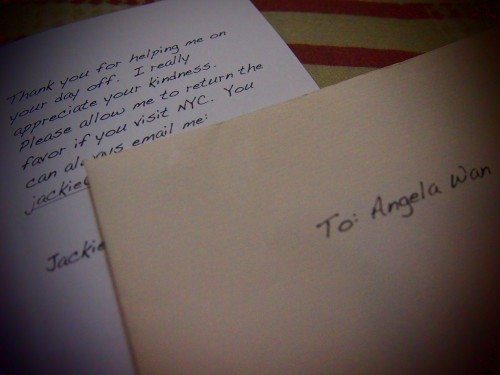 I was so impressed at her kindness that I sent Angela some flowers as well.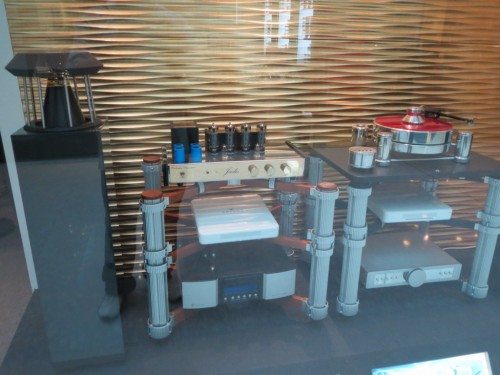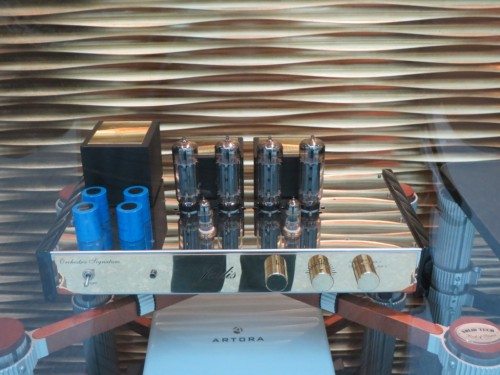 Hong Kong people love their music.  There were many professional audio equipment retailers around the island.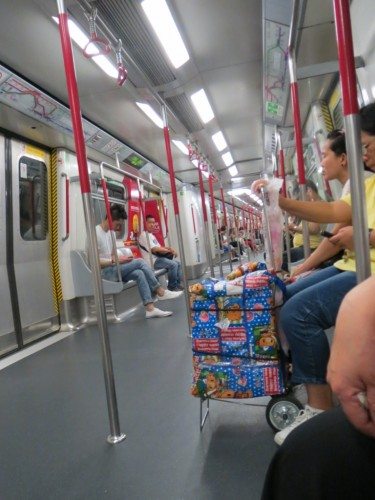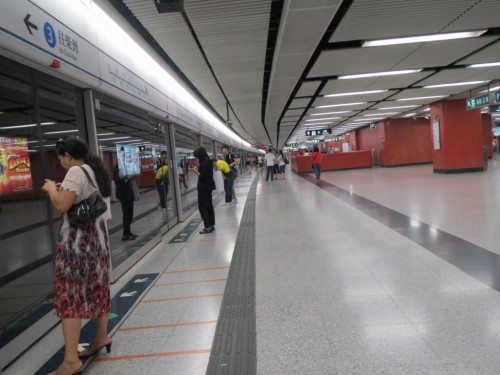 I'm not sure how subways are in the rest of the USA, but the MTR (subways) in Hong Kong are definitely much cleaner and safer than those in New York City.  There's even a glass partition to protect people from falling on to the tracks.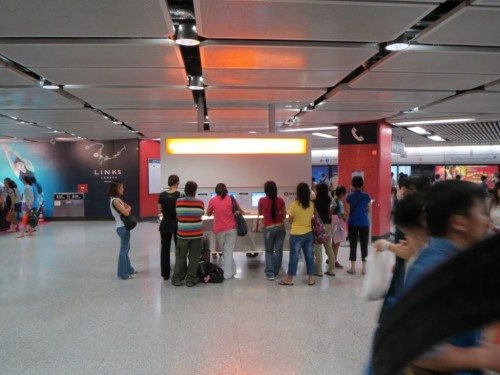 Some MTR locations offer free internet and computer usage.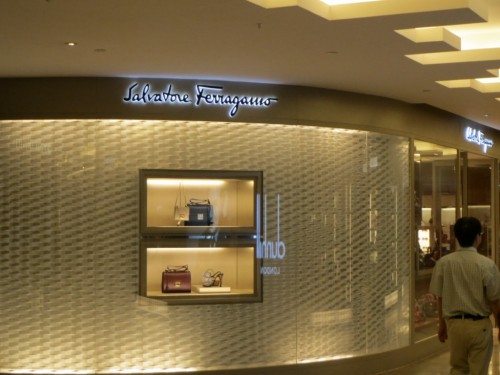 Hong Kong is like New York's 5th Ave.  Brand names everywhere.  So much so that I wonder how it can be sustained.  Pacific Place is one of the many malls that carries top-tier brand names.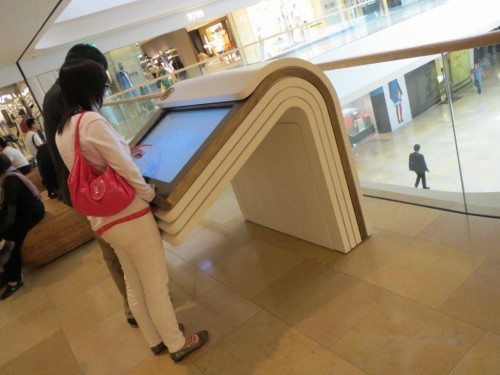 Also, Pacific Place has an interesting piece of technology.  Most of us have seen mall directories that are just a sign on the wall or a poster covering a soda vending machine.  Pacific Place has mall directories that are touch screen and fully interactive.  It shows you where you are and exactly how to get to a specific store.  Check out the video below on how it works.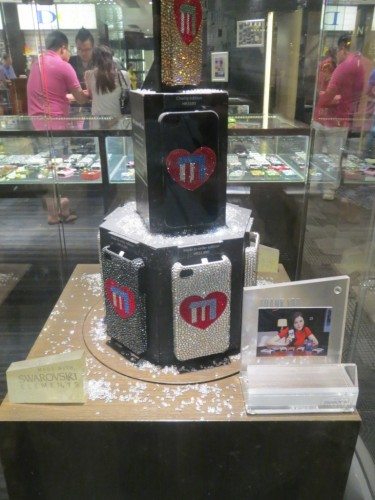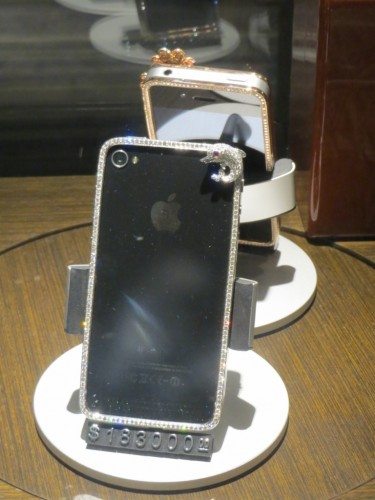 Inside Pacific Place is a store that sells high end iPhone accessories.  Yes, that price tag in the photo is correct.  HKD$183,000 is equal to about USD$23,461.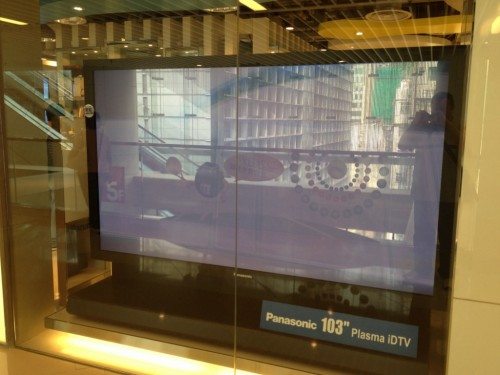 And I thought my 80″ TV was big.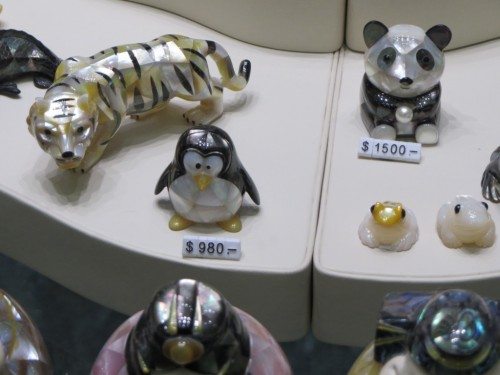 I found Tux!  These are made out of polished oyster shells.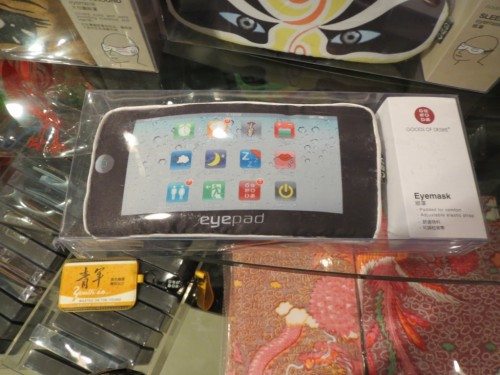 Need to take a nap at work?  Try the eyepad!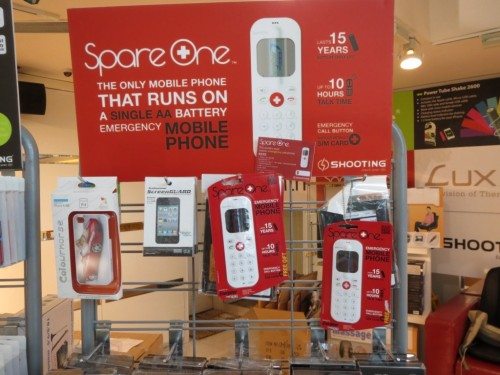 A few places are selling the SpareOne phone as well, which was mentioned before on The-Gadgeteer.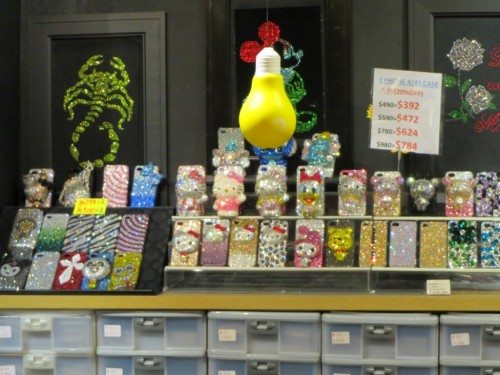 iPhone cases galore.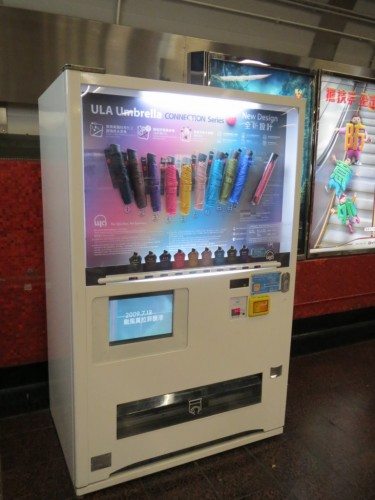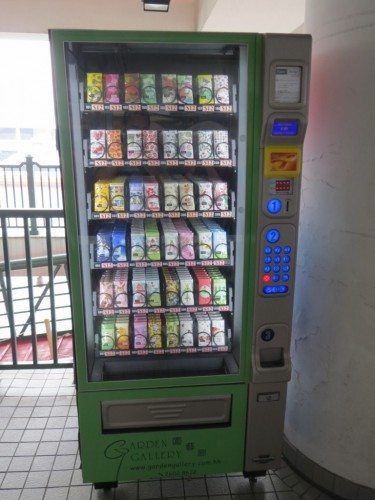 Vending machines here in Hong Kong always sell interesting things, including, umbrellas, tissue packs, printer ink cartridges, etc.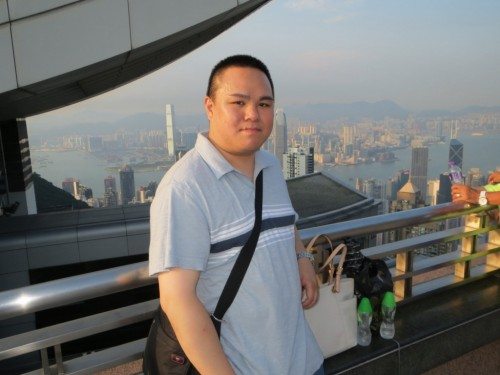 Hong Kong is a great place to visit.  If you enjoy great views, tasty foods, friendly people, and awesome shopping, then Hong Kong is the destination to go on your next vacation!